When we booked our trip to Paris, it was important to us to choose a central hotel from which we can easily get into the city but also back to the airport. The main reason for our stay in Paris this time was that we would continue to fly to the Caribbean from there. Here's how we experienced our stay at the 25hours Hotel Paris Gare du Nord.
25hours Hotel Paris Gare du Nord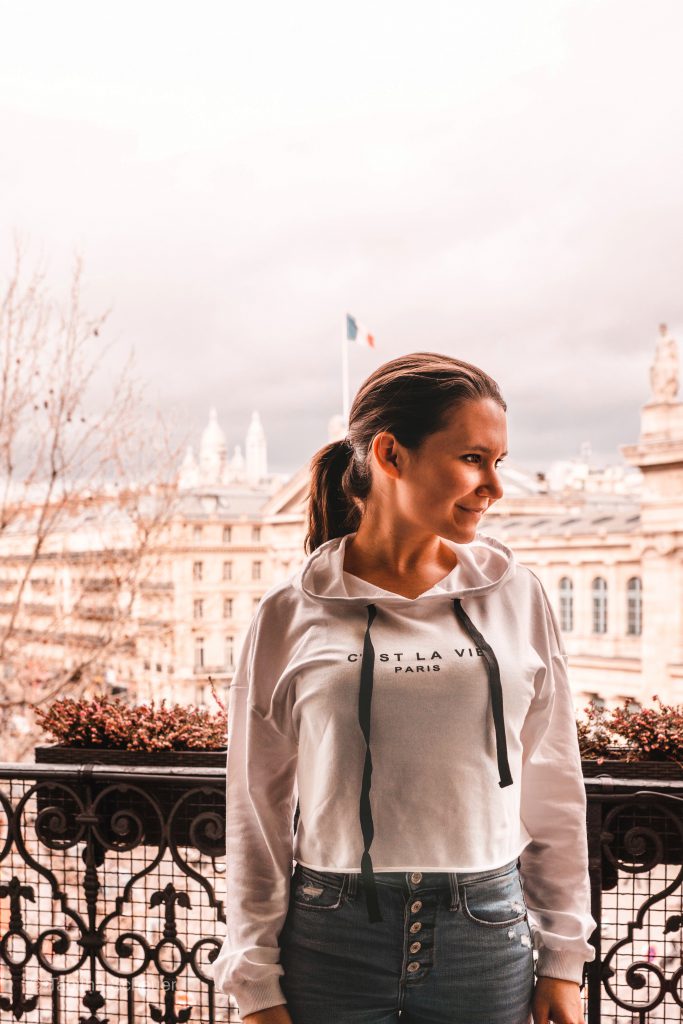 Transfer to the Hotel
Since we were traveling to Paris by train and the hotel is directly opposite the "Gare du Nord" train station, it was no problem to reach the 25hours hotel. If you want, you can book a transfer in advance though.
If you are traveling by plane, you will need to take the train or an Uber/Taxi to reach the city center. Most airport trains end at Gare du Nord station, making this hotel the perfect choice; especially if you travel with a lot of luggage.
Afterwards, you can explore the city by bike or by car, directly available at the hotel.
Check-In
On arrival at 25hours Paris we were greeted in the lobby (which btw looks like a super cool French kiosk) in a friendly manner, our luggage was brought to the room and although we were on site well before check-in (we arrived around 10am), our room was already done.
Design
From the outside, the 25hours Hotel Paris Gare du Nord looks typically French. Beautiful architecture that fits perfectly into the cityscape. From the inside, the 25hours then keeps its promise: it is really not an 08/15 boutique hotel, but rather extravagantly different.
While completely subjective, we personally like the hotel very much. Unusual, but stylish. Not too weird or cheesy, but unique and well-considered. In fact, it is super urban-stylish.
Rooms
We stayed in a standard double room, called "Medium Plus", which is one of the medium sized category (17-21 sq.m. to be exact) the property offers. The special thing about the Medium Plus room is the balcony, from which we could enjoy a great view of the Sacré Coeur.
Moreover, the room comes with a big rain shower which is perfect for a relaxing shower before dinner.
Common Areas
25hours Hotel Gare du Nord offers a total of three common areas: The lobby, a bar and a restaurant which offers delicious food inspired by Persian, Arabic, French, and Russian influences.
There is a plus for the different work areas that are on the first floor, so that you can sit down next to the work area in the room together with others.
We found the possibility to write a letter with the typewriter particularly cool. We tried and it took several attempts until we could finish our Love Letter. Can you make it faster? 😉
All in all, we found the common areas cozy, not too crowded or hectic and relaxing after a day in the city center.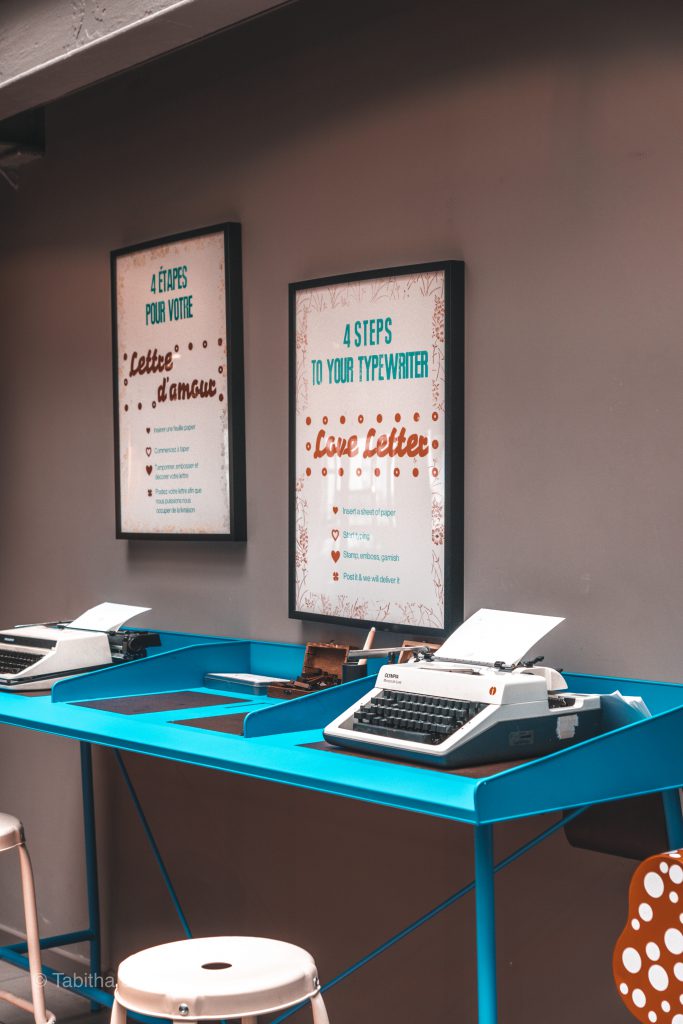 Location
Location is key when you visit a new city as you may want to see as much as possible. Don't make the same mistake as we did during our first stay in Paris and opt for a hotel that does not offer a good location. I'd highly advise you to spend a bit more money and go for a hotel that is not too far away from the sights you want to see.
For example, the 25hours Paris Gare du Nord is only 100m away from the train station, which is really good (btw, we had to walk 7km to our hotel during our last stay in Paris since the metros weren't running. Just imagine how much time we could've spend sightseeing.).
Speaking of sights, these are the sights nearby:
Sacré Coeur (1km)
Opera Garnier (2km)
Louvre (2km)
Notre Dame de Paris (3km)
Arc de Triomphe (4km)
Eiffel Tower (6km)
That the Eiffel Tower is 6km apart may sound way too long, but since you can rent a car or bikes at the property, it's – in fact – really fast & you shouldn't worry about longer distances.
Spa & Wellness
Since the 25hours is a business-oriented hotel with fast-access to the train station, it is not focused on Spa or Wellness. However, since we visited Paris for another reason anyway, we did not find this disturbing or missing in any case.
When you visit Paris for a layover or just want to see and explore the city, you won't miss the Spa & Wellness. Especially since the hotel offers so many advantages.
Food & Beverage
As previously stated, the 25Hours hotel offers a restaurant with delicious food with influences of Preien, Arabic, French, and Russian kitchen.
Breakfast comes at the property and consists of typical European food. Breakfast is served as a buffet, so that everyone can take the products they like best. With the large and varied selection, there should be something for everyone. We ourselves had orange juice, coffee, croissants, chocolate croissants, eggs, bread, and spreads.
Service
Generally speaking, the service was absolutely perfect. We were warmly welcomed, everything was explained to us in detail and we were even given some recommendations from the staff. Whenever we had a question it was answered immediately and even after the coffee machine was closed (at 12 o'clock; because they clean the coffee machine around this time), we were offered alternatives.
Although it wasn't our first stay in Paris, we felt super excited to be there. The team in particular is just super friendly and tries very hard for its guests which made us feel very homely in the 25hours Paris.
Value for Money
The hotel is in the medium price range and base rooms tend to go for ~€160 (with breakfast) per night whereby the largest room is around €250 per night. Given the fact that we're in Paris with a very good location, it is more than justified.
Especially if you compare the price of the hotel with other hotels that don't have this good location, the value for money is really good at the 25hours Hotel Paris Gare du Nord.
Summary
To us, the most important things when staying at a hotel are: the location, cleanliness, and the feel-good factor. This hotel could absolutely score in all points. In sum, we would definitely come back and stay at the 25hours Hotel Paris Gare du Nord again and recommend it for a nice and smooth trip to Paris.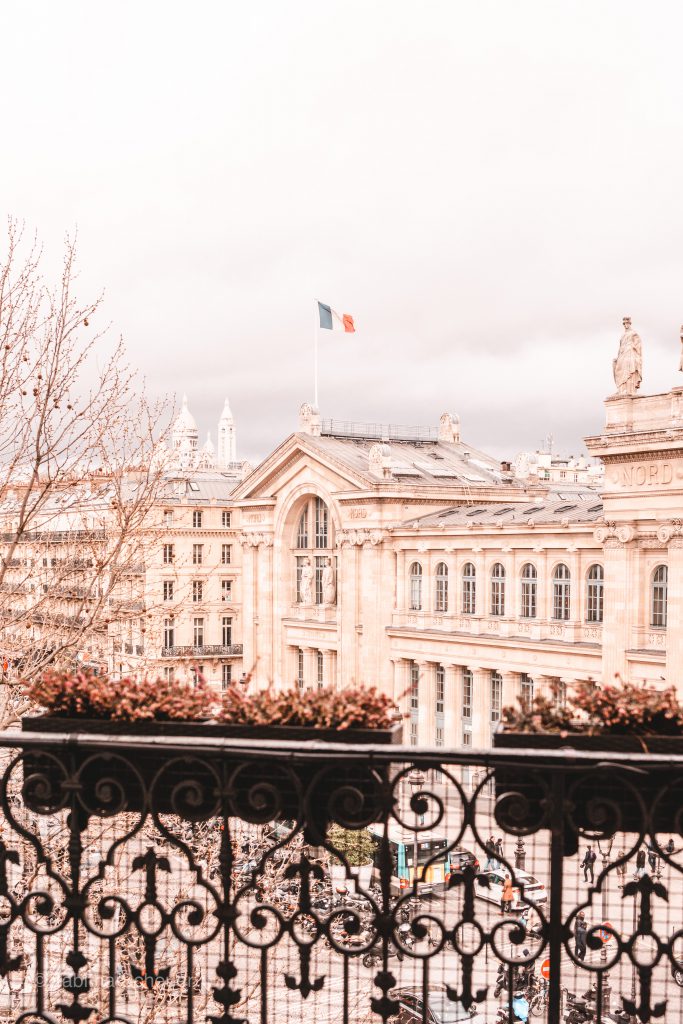 Can't get enough of Paris? Here are my best posts:
Found this post helpful? Pin & Share it!