Marrakech, also known as the "Red City", is one of the most iconic places in the world and definitely a must-see! From bustling souks to relaxing mint-tea, Marrakech has it all.
So, of course, it's a fantastic place with a unique and vibrant culture, but being as famous as it is, Marrakech became also touristy. Having that said, I decided to write a post about the things that you should skip in Marrakech and give you the alternatives that will save you time and money.
What NOT to do in Marrakech
1 – Jardin Majorelle
Why should you skip this experience?
Ranked number one in TripAdvisor about things to do in Marrakech, Jardin Majorelle was the biggest let-down I had in a long time. I remember myself going to the botanical gardens in Amsterdam, just because I've read about it online and being disappointed, but this was a whole new level.
Today, however, thee garden is way too overcrowded and overpriced. The entry fee is 70 MAD and you have to book in advance. Otherwise you won't have the chance to get a ticket.
As we went to Marrakech in December (off-season), we hoped to get some top-notch photos. Free of tourists. But no such luck, there was already a queue of 15 people waiting when we came there around 9AM in the morning (the Jardin Majorelle opens at 8AM).
Inside, if you want a picture, it is even worse and the crowd ruins every effort for a peaceful experience.
What to do instead:
Visit the Bahia Palace which is another famous Marrakech sight (number 2 in TripAdvisor) and actually worth it. If you go early enough, there is a huge chance that you have the palace to yourself.
2 – Marrakech Museum
Why should you skip this experience?
Housed in a 19th-century palace, the Marrakech Museum is a collection of everything that has some connection to Morocco. The first two halls are an art museum followed by a few rooms with weapons and artefacts, even some clothing.
The entry fee is 50 MAD which is totally unjustified by what the museum has to offer.
Note: The museum would be worth a visit in 2020 since the 50 MAD ticket also covers the Ben Youssef Madrassa.
What to do instead:
Visit the Photography Museum where you can spend a few hours into. Also, it is one of the most underrated things in Marrakech. If you are into photography, you should definitely give this tip a go.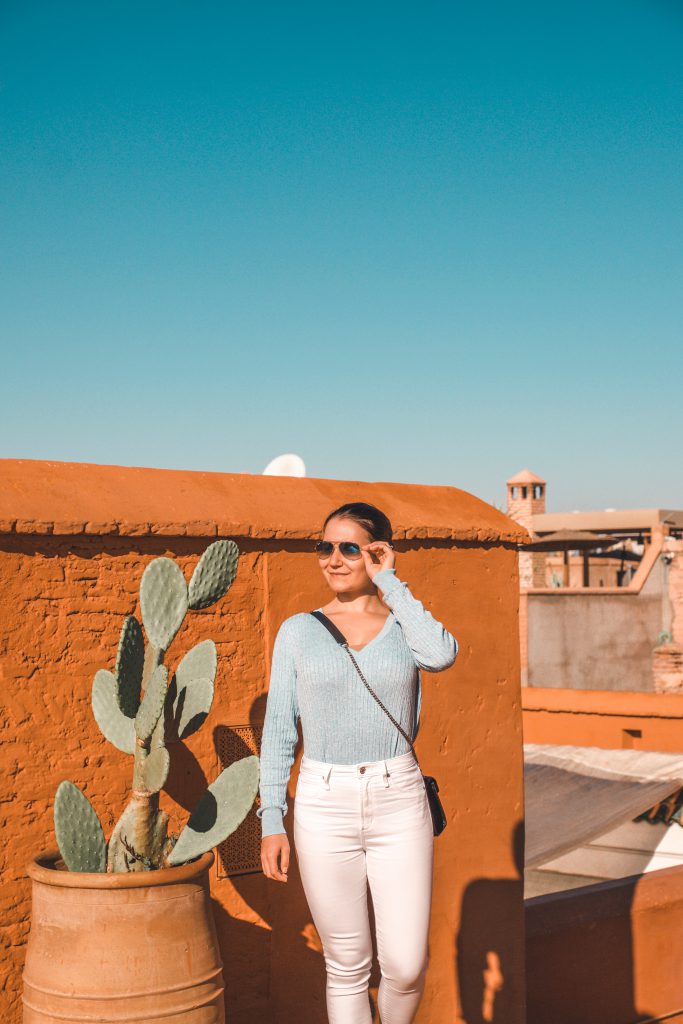 3 – Le Jardin Secret
Why should you skip this experience?
In fact, I had very high expectations on this one. However, they were not met. In other words, this garden seems to be a coffee shop with that charges an entry fee. You will pay 50 MAD to see: nothing.
With no entry fee, the Jardin Secret would not have made it into this list, but the fact that you need to pay 30 MAD extra for the view of the tower is ridiculous.
What to do instead:
Instead, visit the Saadian Tombs; the Saadian Tombs are one of the most prominent Moroccan architecture examples and are located right next to the mosque of Kasbah.
4 – Skip on hotels
Okay, in fact – there is nothing wrong with hotels, I just think that if it's your first time in Marrakech, you should absolutely try out a Riad. That's a perfect way to experience Marrakech.
We stayed in multiple Riads during our first stay in Marrakech and it was perfect; it is a very unique and authentic Moroccan experience.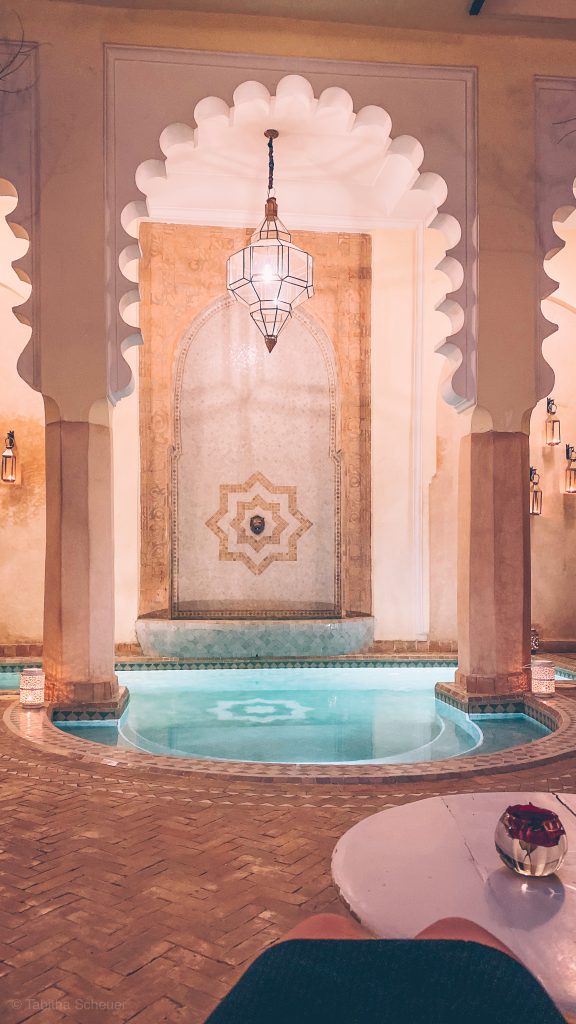 5 – Say no to the Street Food in the Medina
When visiting Marrakech, you will come to the point where you will find endless pyramids of sweet dates in the Souks and stands with typical Moroccan delicacies right at the Jemaa El Fna.
Now, I tell you to skip on this. But why? Normally, the hygiene of these places is absolutely abysmal and getting food poisoning is not a rare case. Actually, 75% of the Moroccan travelers will experience anything like that.
In sum, I advise you to drink bottled water and check if the seal is still intact and avoid eating food on the streets.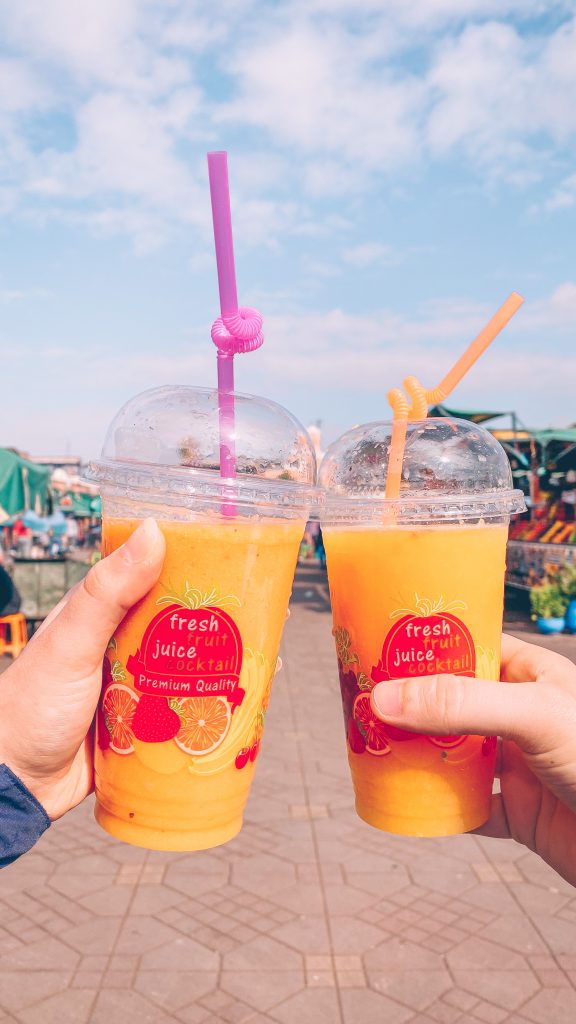 6 – Do not support animal abuse
Yes, I do say it this way because I want to drive awareness towards this topic. Been in Marrakech, there is no way you'd miss the Jemaa El Fna square. And whatever you do there, please STAY AWAY from the monkey businesses.
They are not only mistreating the animals, but they will also try to scam you and even rob you in some cases. How does this "trick" work? You won't think about anything bad happening, and someone puts a monkey on your back, encouraging you to take a picture with this beautiful creature. Once you did that, you will be ask to pay for the picture. If you refuse to pay, you will get in a conflict with the tamer and all his friends.
Same goes for snakes though. They will put it on your shoulder and then ask you to pay for someone who removes the snake from you. Plus, they will call you and encourage you to take a photo of the snakes – but remember: you have to pay.
Please, always inform yourself about responsible businesses and do not support animal abuse.
I hope this post on things to skip in Marrakech and what to do instead helped you out! Here are some more posts I think you'd enjoy:
Liked this post? Pin it & share it!