This Dominica Travel Diary will focus more on our own experiences during our stay on Dominica. We will take you with us as we bath in natural hot springs, get wowed by the enticing waterfalls and wander through lush green rain forest.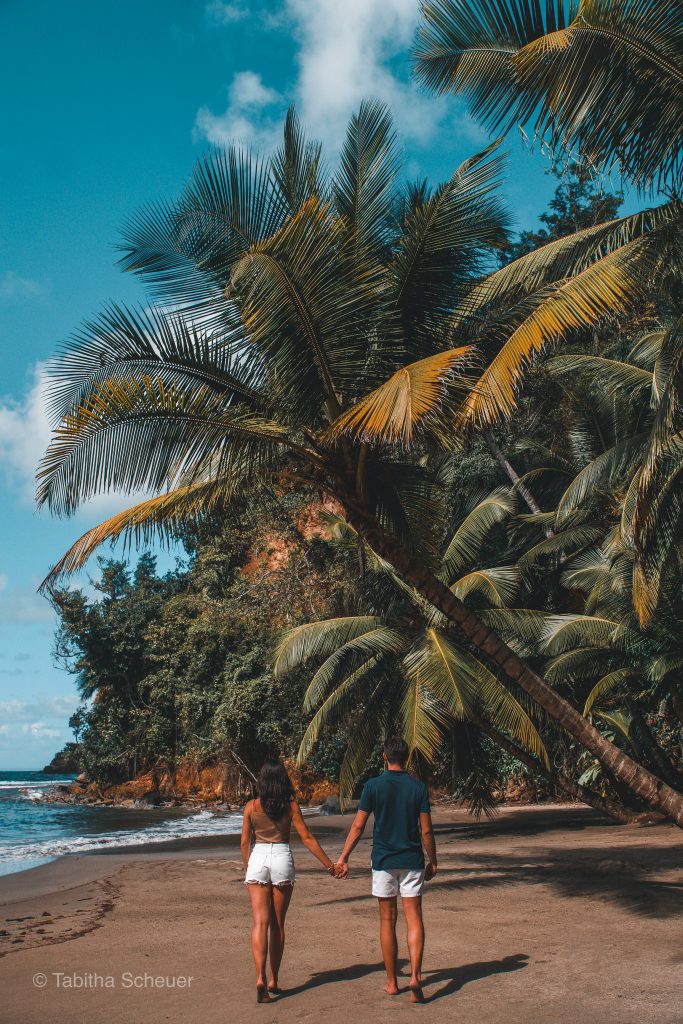 Dominica Travel Diary
Hi! Nice to meet you, we are Florian & Tabitha, and today, this will be something different on the blog. This post will summarize our experiences on Dominica instead of telling you what to do and where to stay.
So, let's jump right into it!
If you haven't read anything about our trip to the Caribbean yet, I will briefly summarize this.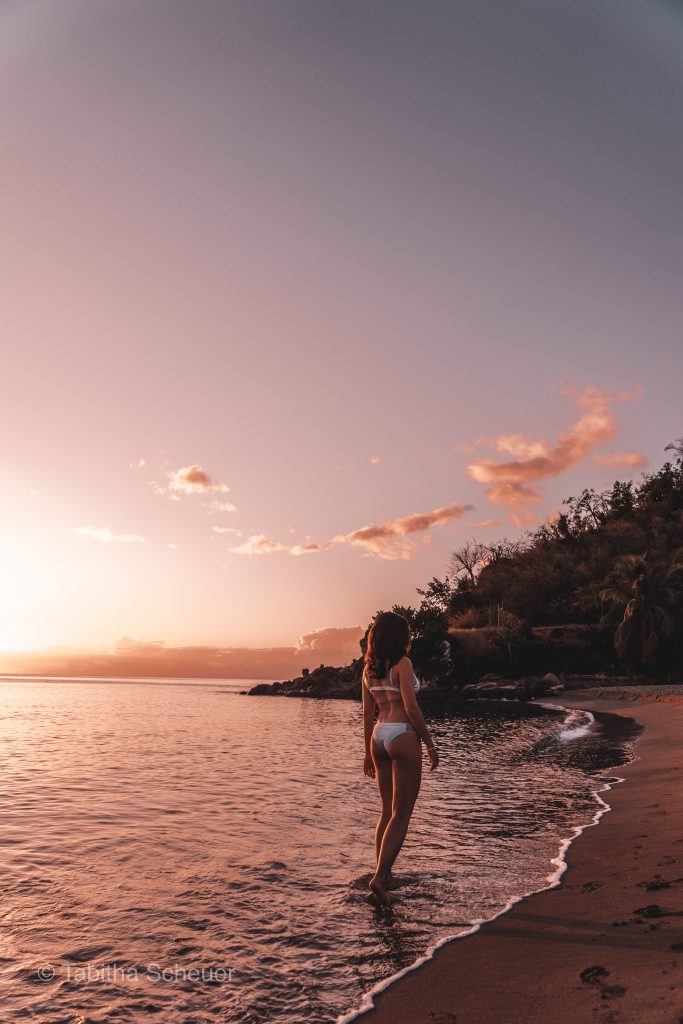 We are a travel couple from Germany who has never been to the Caribbean before and decided in the middle of the night to book a flight to the Caribbean. At this point of time, we still are in the Caribbean, enjoying the sun, cold drinks and the beautiful nature. We started our journey in Guadeloupe.
For now, that's it. This post is about our experiences on Dominica.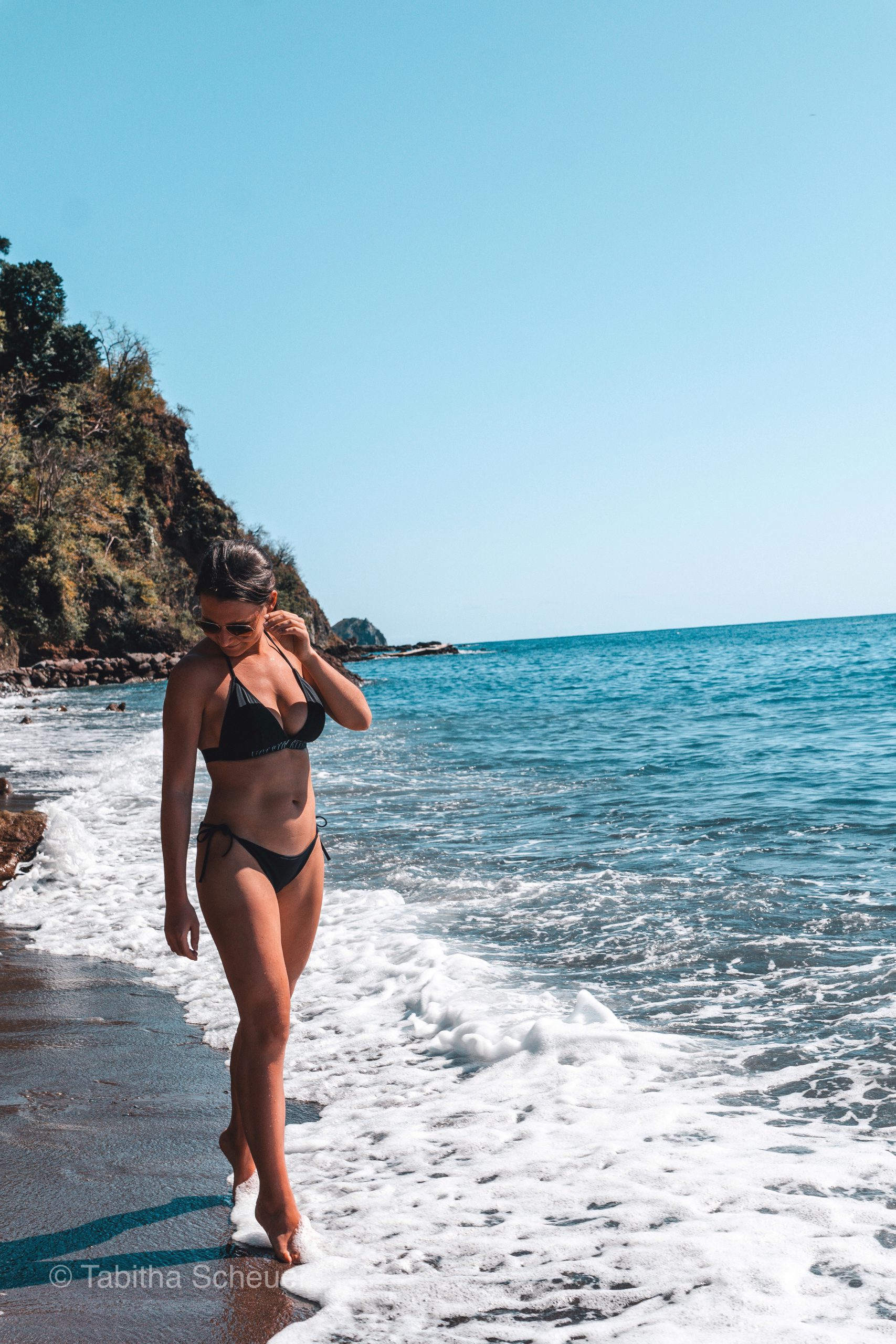 Day 0 of our Dominica Travel Diary
Today, we took the ferry from Guadeloupe to Dominica and arrived around 5pm at Roseau. As our accommodation is around 8km away from Roseau, we took a taxi to ensure that we arrived safe and smooth.
In the Caribbean, it gets dark relatively early and we didn't want to dare to experiment, we just wanted to go to our accommodation, eat something and plan the next day.
In contrast to other Caribbean islands (e.g. Guadeloupe, Martinique, St. Lucia), Dominica has a functioning bus system. Thus, you can easily skip on renting a car and use the bus if you're comfortable with this. It's a bit different than it is in Germany or Central Europe, but it's an experience I'd recommend!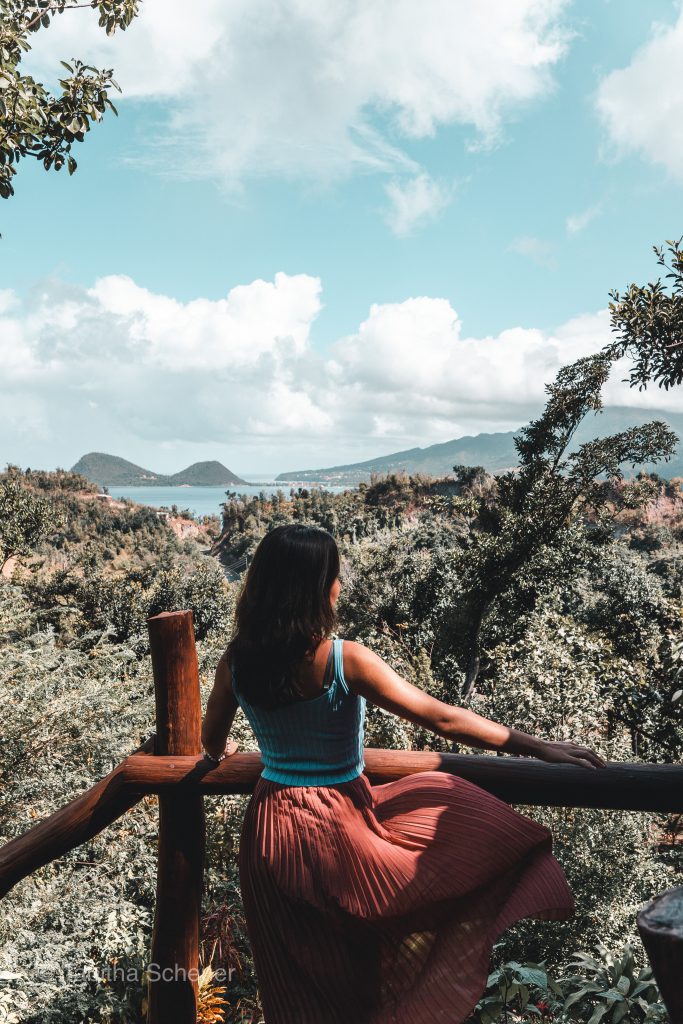 Day 1 on Dominica
Hello, fresh day! It's the first day of our Dominica Travel Diary – Florian and I got up early to hike to our first waterfall on Dominica. We've decided to have breakfast and then leave to see the Trafalgar Falls. Before we arrived on Dominica, we decided upon the things that had priority to us – just in case that we would not have enough time to see everything we planned. Speaking from the past, we extended our stay on Dominica. Originally, we'd liked to stay for 3 full days, but stayed 7 days in the end. It was perfectly fine, because otherwise we would have had a complete different opinion about Dominica.
Trafalgar Falls
6 AM – We are trying to use the day in the best way we can. This means: Getting up early to enjoy the Trafalgar Falls on our own. Hopefully. It is our first day here and we do not know what to expect.
Luckily, the Trafalgar Falls are just a short hike away from our apartment. It takes us around 30 minutes to get to them.
And we are blown away. In the middle of the rain forest, not far away from the city of Trafalgar, are two giant waterfalls, rushing so loud that you cannot hear your own words.
Unluckily, you only can see the Trafalgar Falls from the observation platform. You cannot go nearby. Hence, we only spent around 1 hour at the Trafalgar Falls and then opted for the next adventure.
Waitukubuli National Trail & Titou Gorge
8 AM – Back in our apartment, we decide on what to do next. Given that we haven't spent nearly as much time as we planned on spending at the Trafalgar Falls, we think that we can hike to Titou Gorge. On the map, it's only a finger's width away, but the footpath shows us that we need to hike around 5km, because Titou Gorge is located right above the Trafalgar Falls.
To get to Titou Gorge, you have several options:
Go by car, park right in front of it, see it and go.
Hike the Waitukubuli national trail.
You can also hike a part of the Waitukubuli national trail to Titou Gorge.
We decided to hike the path. Although we are not experienced hikers, we found the trail feasible. I am honest and say that it is not for someone who is afraid of heights, has no endurance or simply does not feel like it. The path took about 3 hours and led up a muddy path, partly at a 90° incline.
Through this experience, Titou Gorge became for us what he ultimately represented: the perfect refreshment and reward.
The water of the waterfall is very cold and before you approach the waterfall you have to put on a life jacket and swim through a dark gorge.
Evening
After we came back from Titou Gorge, we felt completely exhausted and were happy to be able to sleep.
Day 2 on Dominica
We planned our second day on Dominica a little further away. Today we want to see Scotts Head Bay and Champagne Beach. Since we don't have a rental car, we have to take the bus.
The bus does not run at certain times and does not stop at certain places. To ride, you just have to stand on the side of the road and wait. Yes, it is really that simple and works even better than "conventional" bus systems.
To travel from Trafalgar to Scotts Head Bay, you first have to ask for a bus to Roseau, the capital of Dominica. From there, buses run in all directions. The best way to find the right bus is to ask.
Scotts Head Bay
11 AM – We arrived at Scott's Head Bay around 11 am. This is the point where the Caribbean Sea and the Atlantic meet.
To be honest, I imagined this experience to be much more exciting and was somewhat disappointed in the end. However, what was positive: that you can dive and snorkel there incredibly well. I was not aware of this before and is hardly anywhere, but Scotts Head Beach has even been awarded more snorkeling awards. So do not forget your snorkeling equipment! You cannot lend equipment at this beach.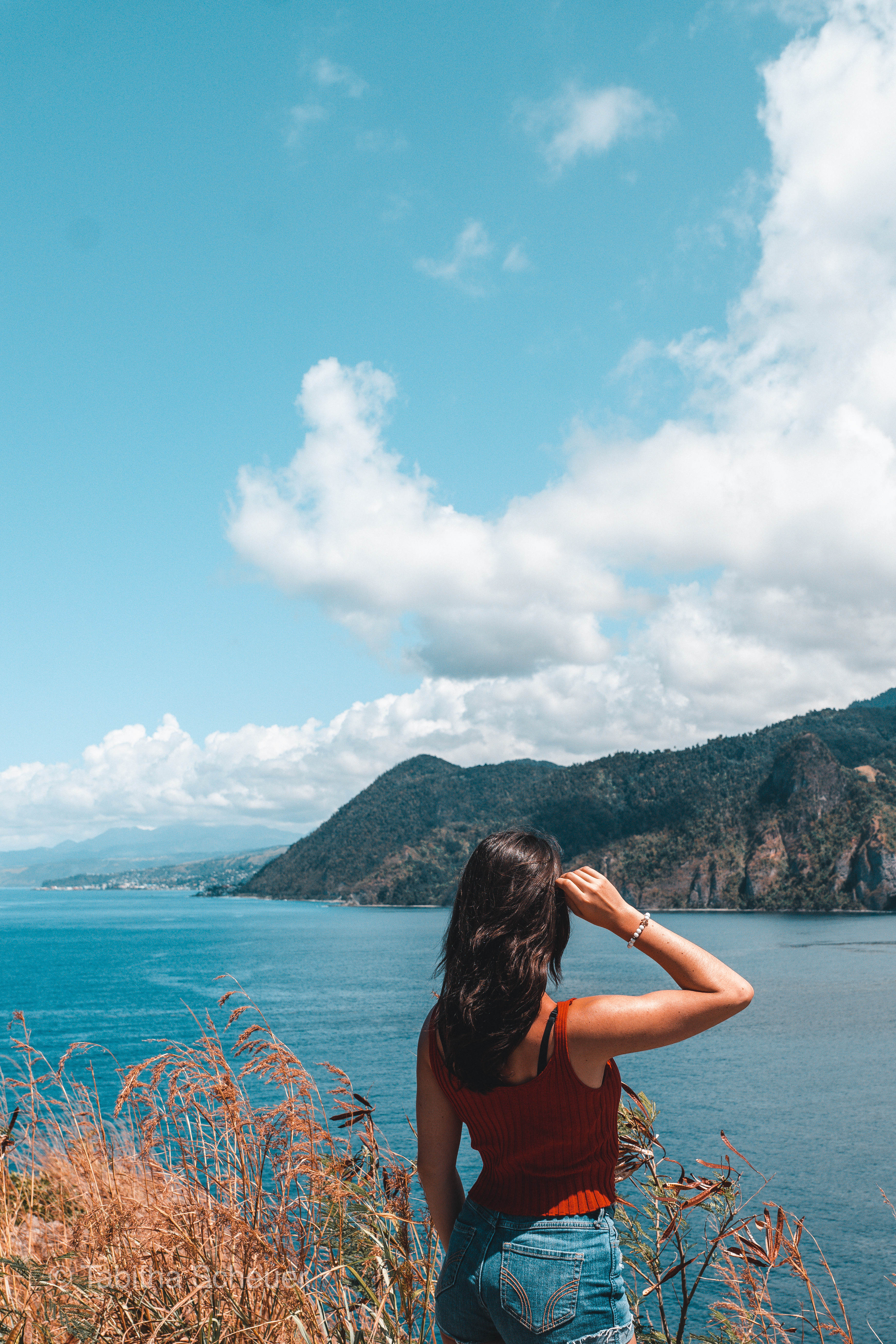 Champagne Beach & Champagne Reef
1 PM – Champagne Beach is only a few miles, about a 20-minute drive, from Scotts Head Bay. Champagne Reef is known for seismic volcanic activity and bubbling bubbles in clear sea water.
To get to Champagne Reef from Champagne Beach, you have to snorkel a few meters, because Champagne Reef is located directly on the stone coast. However, it is an easy route from the beach to the actual reef.
By the way, you can rent snorkeling equipment here and spend the day on the beach. To do this, you should organize enough sun protection and a place in the shade, as the shadow disappears completely at 12 pm. and only reappears in the evening.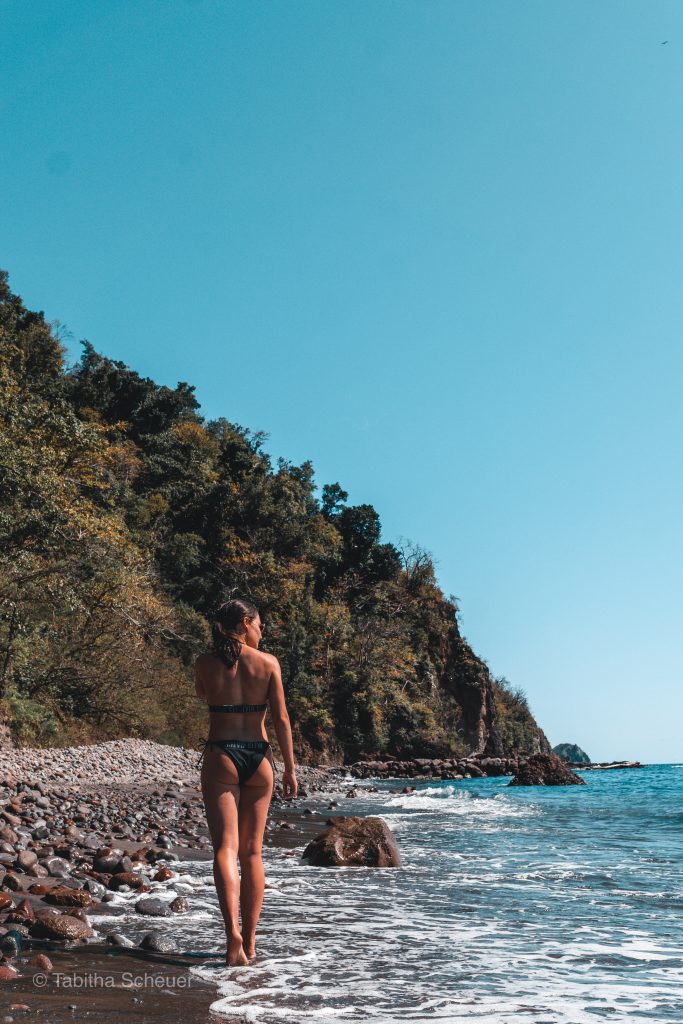 Day 3 on Dominica
We spent our third day in the capital Roseau and on Mero Beach, a volcanic beach between Roseau and Portsmouth on the west coast of Dominica, which is known for clear water, nice people and a relaxing environment.
Day 4 on Dominica
We spent the fourth day on this beautiful island with the so-called "Northern Loop". This runs from Portsmouth, a northern city of Dominica, to Calibishie, where you can see how Dominican chocolate is made.
It is a beautiful, scenic drive for which you should definitely have a rental car to be able to stop in beautiful places. You should definitely bring snacks, as the journey can be longer than you might think.
On our way we found beautiful beaches and discovered the culture of Dominica.
Day 5 on Dominica
We would like to use the fifth day again for some action and chose three sights: Cold Soufriére, as one calls a cold sulfur pool in the middle of a mountain area, Salton Waterfalls and Emerald Pool.
At this point, I'd like to note that most sights in Dominica are not free. Since Hurricane Maria destroyed 80% of the island, much has been done to restore Dominica to the island it once was.
Cold Soufriére
Unfortunately, you will only find this cold sulfur pool on maps.me, an offline map for travelers. In any case, Google Maps does not show it.
We opted for the short hike to this pool, since Boiling Lake involves a 6 hour hike, which should ideally be done with a guide. The cold pool is interesting, worth seeing and a nice change to numerous waterfalls on the island. It is also on the way to various waterfalls, such as Salton Falls or Spanny Falls or also Jack Falls.
10 AM – When we arrived at Cold Soufriére, we were amazed by what nature is able to do. We spent around one hour at the cold lake before we left again. We did not bath in the pool, but we heard that you can take a cold refreshing bath.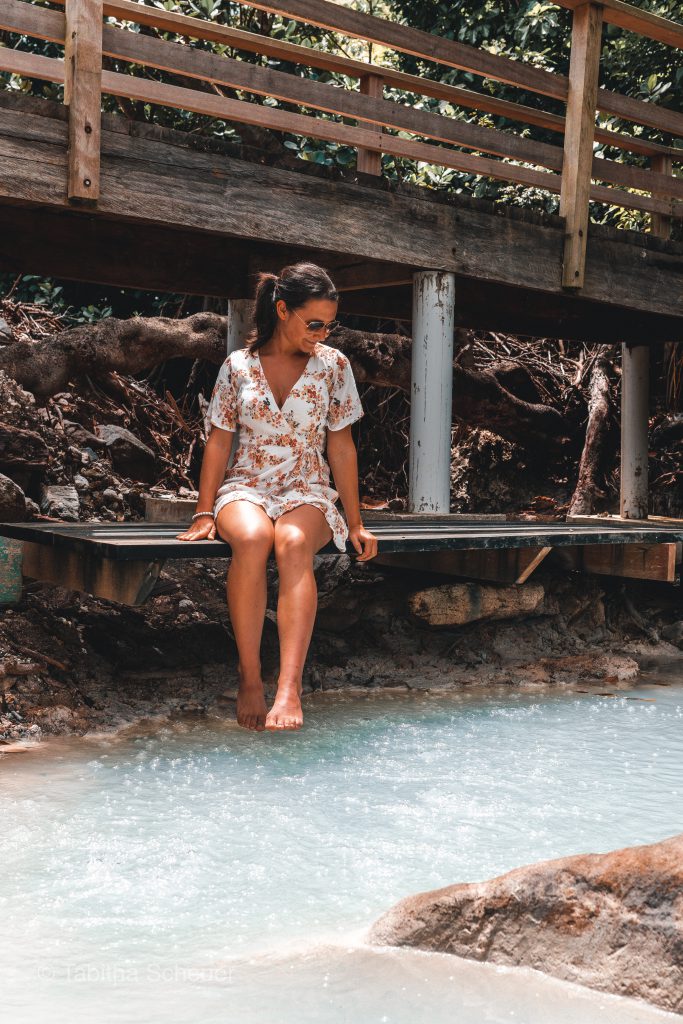 Salton Falls
Spanny Falls and Jack Falls are well-known waterfalls on the island. We were originally on the way to this one when we saw "Salton Falls" on the map. After I googled this waterfall for a short time, we decided to visit it directly.
12 PM – A short drive and about 30 minutes of hiking trail later you will find yourself in front of a large, impressive waterfall, in whose pool you can even bathe. It is not as clear and shimmering green as the Emerald Pool, but it is still very interesting and worth seeing.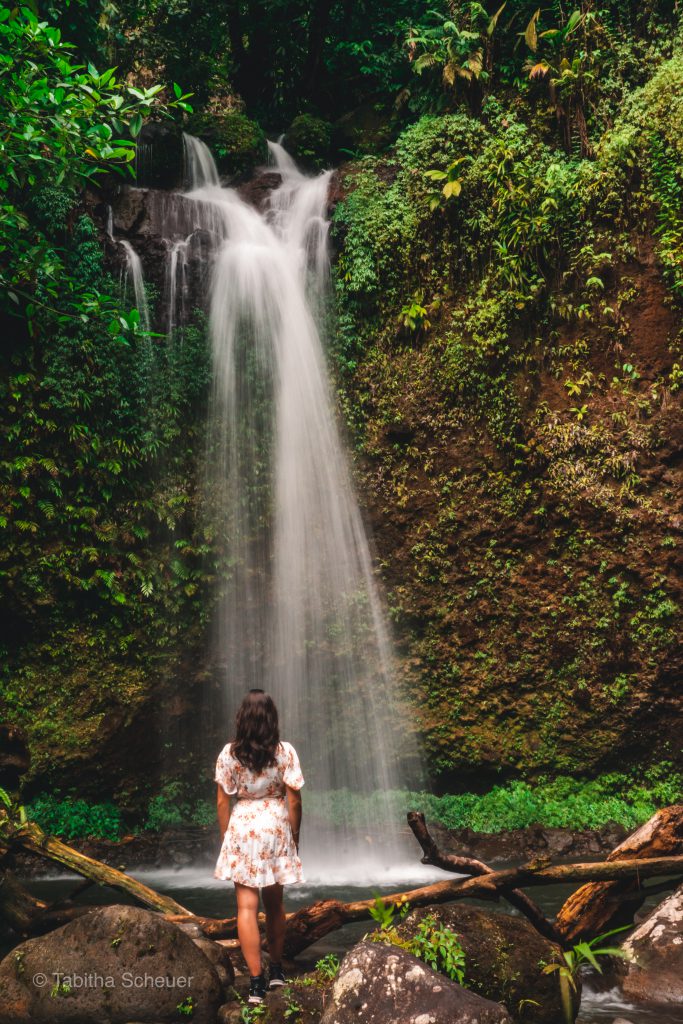 Emerald Pool
4 PM – It was rather late when we arrived at the Emerald Pool. Nevertheless, we still wanted to see it and, as so often, it is even worth arriving a little later. So we had the grandiose pool and waterfall completely to ourselves and were able to view and marvel at it from all angles.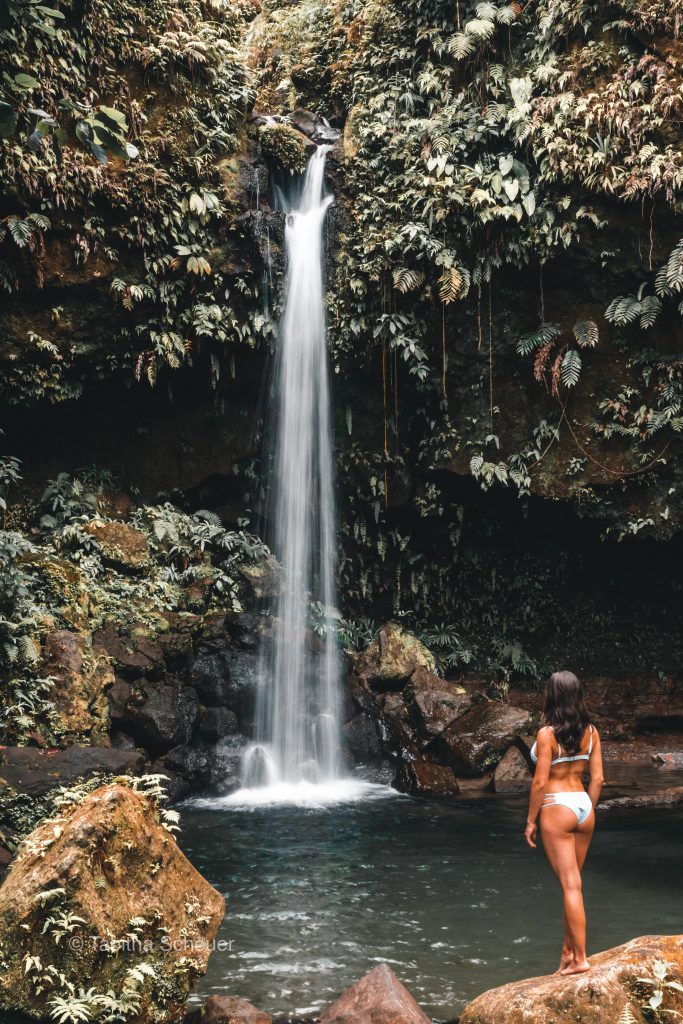 Day 6 on Dominica
Today we decided to spend a day on the beach again and drove to the west coast again. This is surrounded by beaches like Rosalie Bay, which are perfect for a short snorkeling session and subsequent relaxation.
Day 7 on Dominica
Can't believe it's the last day of our Dominica travel diary! Before we leave this beautiful and breathtaking island again we are drawn to the Dominican rainforest. We hiked and ended up at the little-known Chaudiere Pool, which was a welcome cool down on the last hot day on Dominica.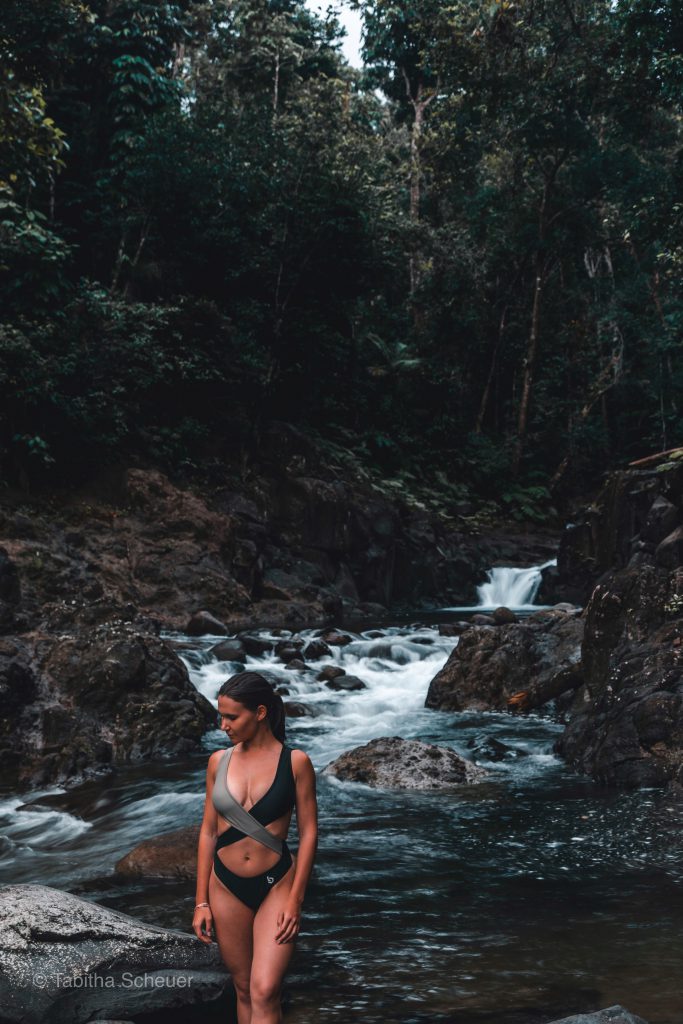 I really hope you liked this Dominica Travel Diary. If so, here are some other posts you might enjoy:
Liked this post? Then pin & share it to one of your boards!