A trip to the Caribbean is exciting. Diverse. Adventurous. It may surprise some, but yes – the Caribbean is more than just white beaches and rum. That is why here are 10 things you should know before traveling the Caribbean.
In case you are not sure which Caribbean island to visit, I recommend this guide.
This post is very general, which means that it will help you both for a trip to Guadeloupe or Martinique, but also for a trip to Antigua or Dominica – or wherever your heart may take you.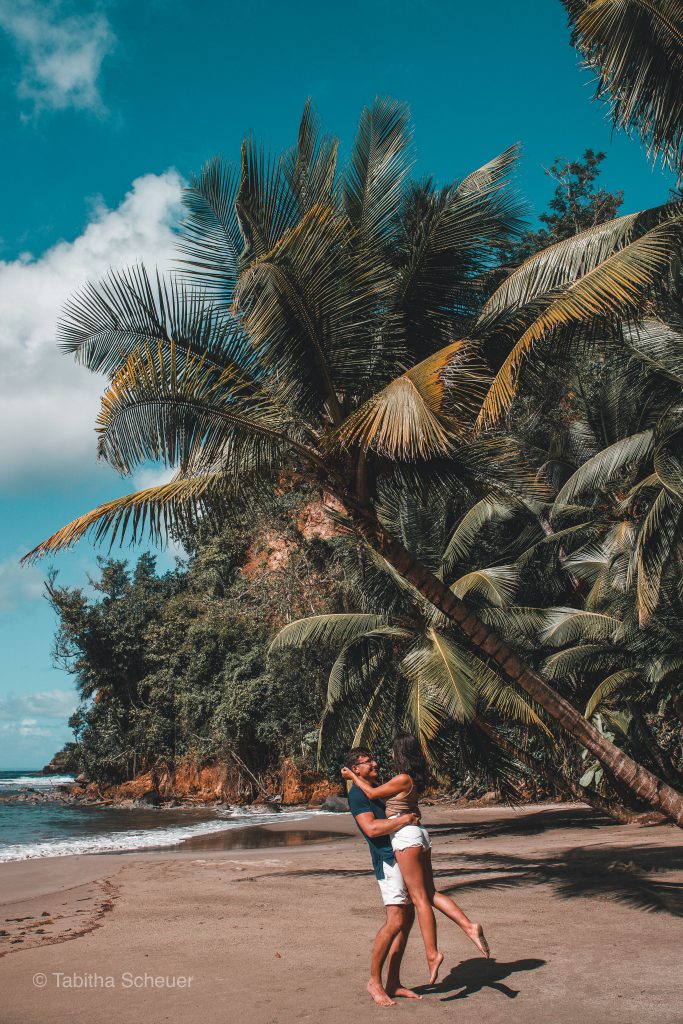 Things you need to know before traveling the Caribbean
1. Bring your passport – and money.
If you are from Europe, you won't need a passport to enter Guadeloupe or Martinique, but you will definitely need one if you want to take the ferry to Dominica or St. Lucia. Whatever you may plan to do, it's probably the best to have your passport with you. Most islands also require a return ticket.
When it comes to money, many islands accept US dollars and Euros. But be aware that you won't get a change then! If the price is 26 EC (East Caribbean Dollar) and you give them 10 US dollars, you won't get a change. This is why it is helpful to bring some money, but you should definitely withdraw money from an ATM.
Actually, there are 13 different currencies in the Caribbean: The Bahamas, Barbados, East Caribbean Islands, Cayman Islands, Jamaica, and Trinidad and Tobago all have their own dollars. Cuba and Dominican Republic have pesos and the French islands have Euros. The Dutch islands have guilders – although Aruba uses florin. Last but not least, there is the Haitian gourde.
2. Language barriers
It actually can happen that you have to deal with people who don't speak your language – or a language that you are confident in. I'm German and speak English as a native speaker, but my French is very basic.
Be aware that French is the major language on Guadeloupe, Martinique, St. Barths, St. Martin, and Haiti. You will also hear a mixture of French & Creole in Jamaica, Saint Lucia, St. Vincent, Grenada, and Haiti.
On the Dutch islands, you will hear both Dutch and English and Spanish is the most prevalent language in the Dominican Republic and Cuba.
3. Hurricane Season
I know that it is tempting to buy a ticket to the Caribbean during hurricane season because everything seems cheaper. Yes, it is because hotels have limited guests.
I also agree with the point that the weather in the Caribbean does not change much from month to month, but I would highly advise you to consider wisely if you want to go during hurricane season.
Especially September and October are known for their disruptive tropical storms.
4. … but not all islands experience it
Speaking of hurricanes, I'd like to note that not all islands experience hurricane season. Islands that don't get a direct hit may experience storm surge and serious flooding.
Barbados normally escapes hurricanes and Aruba, Bonaire, Curaçao, and Trinidad and Tobago are outside of the "hurricane zone".
5. Island hopping – by Sea or by Air
A multi-island Caribbean vacation or a day trip to a nearby island is very easy to accomplish, as many islands are in close proximity. Some Caribbean islands, just as the US Virgin Islands, the British Virgin Islands, Cayman Islands, Turks and Caicos, etc., are already multi-island.
Some are dual-island nations – see Antigua and Barbuda or Trinidad and Tobago.
And some have separate off-short islands, like Guadeloupe's Les Saintes or Marie Galante and Petit Martinique.
If you are not used to ferries, I'd advise you to take the plane.
Related: Island Hopping Tips for the Caribbean.
6. Beaches
The Caribbean is not only about white-sand dream beaches, but you will find them on the Anguilla, Antigua, the Grenadines, and the Bahamas.
On Puerto Rico, Jamaica, St Lucia, and elsewhere the sand is more golden in color.
Some islands with high volcanic geology (e.g. Dominica, Guadeloupe, St. Vincent) also have stunning black-sand beaches.
For pink-sand beaches go to Barbados, Bonaire, Barbuda or Bahamas.
Nude bathing is accepted on French and Dutch islands.
7. And everything besides lying on beaches
Beaches in the Caribbean are a must, but do not miss out on all the other activities and adventures. There is hiking, mountain biking, bird-watching, snorkeling, exploring rain forests, diving, and volcanos.
You have plenty options when in the Caribbean, do not miss them!
8. Renting a vehicle
If you are staying in a remote location but plan to explore, eat out or visit distant beaches or sights, then you should consider renting a car or jeep. Be aware that driving can be challenging as some roads are very narrow, winding and nothing like our streets here.
Taxis and more inexpensive public buses are a great option; drivers are generally well-informed and will take you right where you want to go, but you should keep in mind that you are always relying on others.
9. History & Culture
Wherever I go, I always make sure to inform myself about the local culture and history. Some people mistake the Caribbean for uninteresting islands, but they are not! If you wish to read more about this topic, click here.
10. Coral Reef Safe Sunscreen is a Must
Nowadays, coral reefs are dying at an alarming rate. Unfortunately, most of the sunscreens use the chemicals oxybenzone and octinoxate that will harm the coral reefs.
Check labels before you buy your next bottle and make sure to buy a sunscreen that is coral reef safe.
Additionally, I'd like to add that you may want to bring an insect repellent. In the Caribbean, some diseases and viruses are predominantly transmitted via mosquitoes, which is why it is important to protect yourself from their bites. Some very well-known diseases are dengue fever and Zika Zika virus. We've used a repellent with 50% DEET in all our travels and were very happy with that!
Bonus tip: Most islands in the Caribbean do not rely on tourism
… and some people even do not want tourisms on their islands.
Yes, it's absolutely true. Before we traveled the Caribbean, we automatically thought that all people are used to tourism and would appreciate it since we thought that the Caribbean islands would be most likely rely on tourism. That is absolutely not the case. Some people even do not want tourisms on their islands, because they think that tourisms bring diseases and problems to their country.
Please always be respectful during your visit – to human and nature.
Related: Best Beaches on Guadeloupe.
Love this post? Pin for later!