Photography Poses for Women is not without reason one of the most searched terms. I mean, have you ever stood in front of a camera and even though you have an incredible number of ideas before, do they suddenly disappear like in a black hole? As you hear the click of the camera, you feel more and more insecure, asking yourself questions like where to put your hands, how to look, and where to place your feet. I've been there as well. That's why I want to help you with this post and show you easy-going women posing ideas for your next photoshoot!
Photography Poses for Beginners
First off, let me tell you that we all start somewhere. When I look at pictures my fiancé took a year ago, I just can't understand how I could think that this would look cool, casual, or fashionable. But I started to recognize that all I need is practice. And believe me, you'll see progress very fast! Once you get comfortable in front of the camera, you'll be able to do different kind of poses, look absolutely relaxed and fun in front of the camera and this, in return, will make your photos a lot better.
My Story & How I improved
In 2015 I started blogging, about food. That's easy, because at least you don't have to worry about your own appearance, posing, hair, looks. You still need to practice a lot, but you don't have to spend hours and hours posing and trying to get comfortable in front of the camera.
Someday, I wanted to give my profile a more personal touch and took photos of me in a nearby area. I had no idea how to pose, how to search for a good location, what's important about lightning or simply anything else. I just grabbed my camera and off I went.
Well, news alert: My photos looked absolutely terrible. I was so nervous and scared about my looks, my appearance and what people might think about me that I also reflected this in my photos. It even got worse when people started crossing my place. The project of adding a personal touch was closed.
You are beautiful!
But instead of practicing and aiming to get better, I completely refused to take photos of me. I told myself that I just don't look good in photos, and even started to think that I could only look pretty with a filter. DON'T DO THIS! Regardless of whether you think it yourself or someone else is talking to you, let me tell you one thing: NO! You ARE incredibly beautiful! Right now you just weren't able to show it in front of your camera. But that wasn't your fault and you should NEVER doubt yourself!
Related: Couple Posing Guide.
At some point I decided that I need to try it again! I wanted to make it this time, because why should everyone be able to take photos? Just not me?
So I chose a few places in the surrounding area, and thought about which poses might fit well, I thought about outfits and planned everything exactly. Don't worry, I don't do this anymore since I learned a lot during my journey but it's necessary to get you started, because once you see your results, you will become more confident and you will have a lot more fun.
Of course, this will also effect the photos since you will look more relaxed, fun, cool, casual, whatever you want to convey. Always remember: photos are a way to tell a story. And what do you want your story to look alike?
Photography Poses for Women
Here are a few tips I like to consider before taking photos:
Act natural
Do not let yourself get distracted
Adjust your poses to the environment
Photography Poses for Cities
These two photos are from the exact same location. Therefore you can see the effect of the different poses particularly well.
In the photo on the left, I created a triangle through my legs, while my hands shape it as well. This creates a more interesting picture and people tend to spend more time looking at it.
On the right, I look more relaxed, like I simply enjoy the view or the atmosphere.
Sunglasses
I really like to wear sunglasses for my photoshoots, because they are the perfect – natural – prop and prevents you from looking completely ridiculous when looking in the direction of the sun.
If you decide to grab your sunglasses with one hand, it typically should be the hand that is not facing the sun – otherwise your face will be in shade.
Walking
Most of the times, snapshots are just the best. In cities, I like natural poses that you would normally do in these spots either way. That's why I usually always do a 'walking session' when visiting a city.
You simply put your camera on burst mode and walk towards the camera or along the path. I promise you, you will at least get one good picture.
If you're feeling a little extra, you can also do a very exaggerated walk like I did in the left photo. Moreover, you could simply get a more sporty touch by running diagonally to the camera.
Wear props
Actually, this is a pretty good example where a bag can make all the difference! In the left photo, I simply stand in front of the building, but the bag makes it look much more like a nice Sunday city stroll. So does the right photo, where I actually walked towards the camera.
Photography Poses for Nature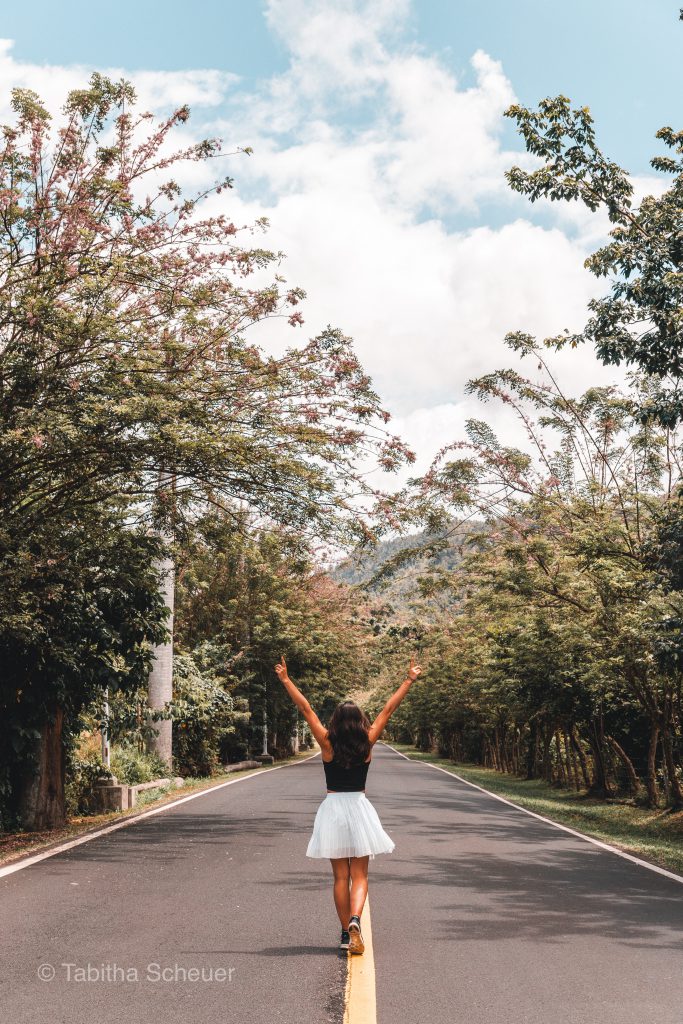 And that's on: Simply throw your hands in the air. In the picture above, it creates a more 'feeling free' vibe that I like very much.
Create a triangle with one of your arms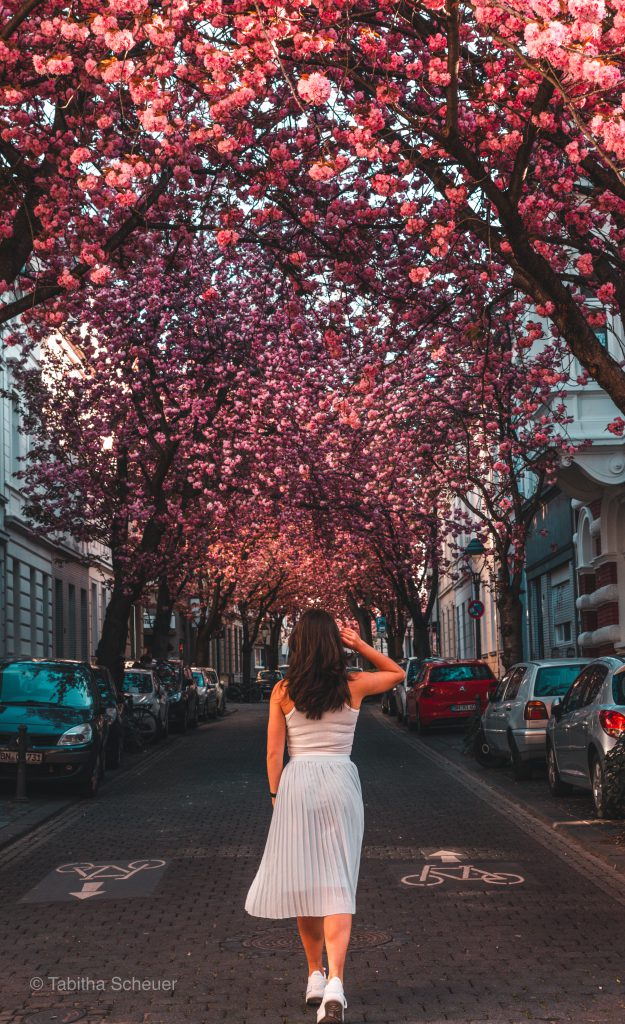 Another easy photography pose is when you just attempt to put your hair behind your ear. You can also wear sunglasses and use this for creating a triangle.
Running
Remember: It's nature. When we are in nature, we usually want to feel free. Hence, it makes sense to run to create this feeling in your pictures.
Wear a skirt or a dress
The best thing about skirts and dresses? These floating skirt pictures where you need to put your camera in burst mode and keep shooting. It oftentimes takes several attempts until you have the final shot, but it is totally worth it.
Act normal
What would you normally do? I know it's hard to 'act normal' in front of a camera, but these are often the best pictures! Photos that look posed are not as interesting as these photos that look easygoing, normal, and free.
Take some minutes, appreciate the beauty of nature and take a deep breath. Smell flowers, let the surroundings impact you, just behave normally.
How to pose at the beach
Again, it's the easiest part to simply throw your hands in the air. No matter if it's a 'peace' or a form of stretching. If you can, you could also do Yoga Poses.
Here are some of the previously mentioned poses also performed on beaches.
Other posts I think you might like:
Liked this post? Pin & Share it with others!