There are countless photography locations in Düsseldorf, a beautiful, modern, urban city. Luckily, you'll also find some of the best restaurants and bars in the area to relax after your photoshoot.
However, sometimes it can be more difficult to find good photo spot, which is why this post should help you find the best ones and discover new spots you didn't know yet!
Photography Tips for Shooting in Düsseldorf
Düsseldorf is perfect for you if you like the urban, cool style of cities and, above all, find very clear surroundings beautiful.
Don't be shy & be prepared!
Düsseldorf is a larger city, which is why you simply have to get used to people nearby you. I don't know how the residents do it, but even in Milan you cannot see so many people early in the morning.
So, even early in the morning, you will find many people going for a walk or simply enjoying the view from the Medienhafen Düsseldorf.
Usually people say that people in Düsseldorf think that they are something better. This may apply to one or the other, but it is not the rule. In general, you shouldn't worry, because the opinions of others shouldn't interest you in this case.
Best times for shootings
By the way, the best times for shootings are late afternoon or early evening, especially when the sun goes down.
During these times, most of the popular spots are at least partially in the sun and you don't have the problem that half of the location is in the shade and you don't have to look hard at the sun.
For the sunset you should definitely be at the Medienhafen, because you can see a wonderful sunset here.
Best posing tips for Shootings in Düsseldorf
Unlike Cologne, Düsseldorf is a rather cold city. That's why urban poses are more suitable. You can see the difference between the two cityscapes very well below.
Related: Women Posing Guide.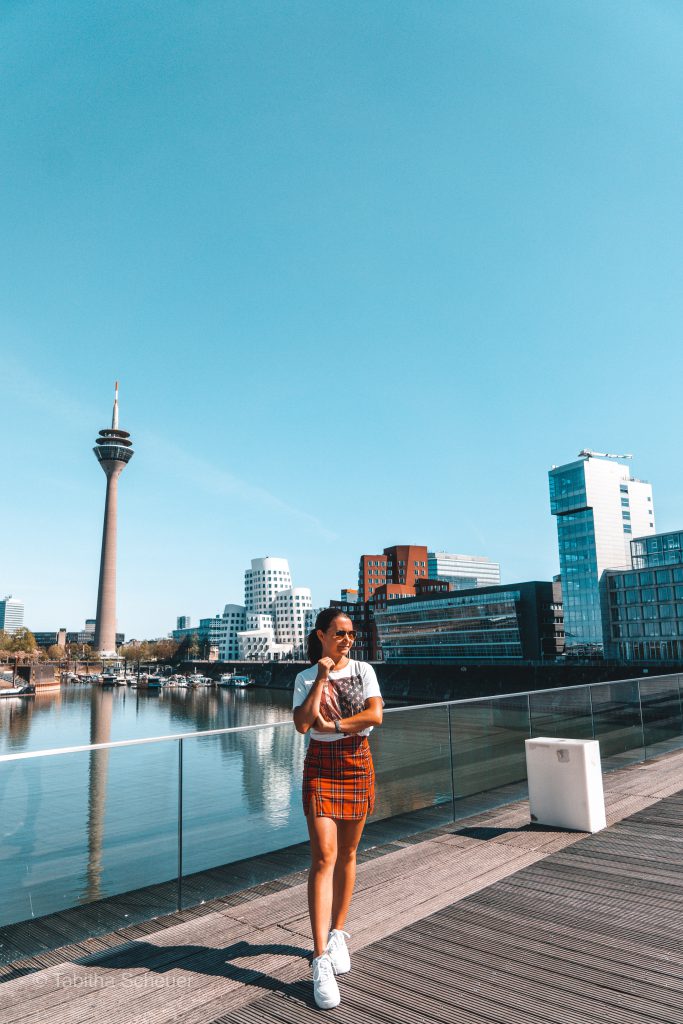 Don't be afraid to drive to lesser known districts
For example, we never thought that Düsseldorf Benrath with Benrath Palace would be this beautiful! Unfortunately, we decided rather late to drive to Benrath Palace and it was very croweded, but it was worth it.
The castle park is very beautiful and you can absolutely spend some more hours here, enjoy the surroundings and beautiful nature.
Best Photography Locations in Düsseldorf
Let's come to the actual photography locations in Düsseldorf. But first off, I want to encourage you to find more individual and your style matching spots. There's nothing better than finding a beautiful photo spot that most people don't know yet! So always keep your eyes open if there's a photo location that might suit your style very well and isn't listed in this post.
Another reminder: This post gets updated regularly, so it's best to save it for your next visit!
#1 Medienhafen Düsseldorf
The Medienhafen is one of the most popular hotspots in the whole city. Don't ever expect this spot to be empty! If you want to take photos here, you should definitely not choose a warm summer evening, because then you will end up with people in your photos – for sure! This may not be that bad in general or simply won't bother you, but please also note that not everyone wants to see photos of themselves on Instagram or websites.
When taking photos in the Medienhafen Düsseldorf, please always be respectful and don't scream like you're ten years old. Doesn't mean you can't have fun while taking photos, but in that case, your surroundings are made up of countless office buildings. With people who – just like you – want to work right now. How sad would you be if they suddenly come out and just sit in your photo?
#2 Hyatt Regency
The Hotel Hyatt Regency is one of the most popular once in Düsseldorf and a very nice photo spot! It's just around the corner from the previous spot and perfect for photos. Plus, you will hardly see anyone here because there's usually little sunshine and/or people just don't know how to use this spot.
To me it's one of the best photography locations in Düsseldorf as the overall vibe is just so urban, cool, clear, and matching.
#3 Benrath Palace
Benrath Palace is actually very far away from the city center. It feels like you're not in Düsseldorf anymore, but it still is. You will find the pink palace in Benrath district and it's particularly well visited in spring in summer.
If you want to take photos without the crowds, I'd highly recommend to come early. For example, the left photo was taken during morning hours and the right in the afternoon.
For the left photo, we arrived at 8am and there was barely anyone which was perfect because we didn't manage to take photos from the front or back when we visited the first time (as there were too many people).
#4 Schloss Mickeln
Schloss Mickeln – or Mickeln Palace – is located in the Himmelgeist district of Düsseldorf. Nevertheless, it's one of my favorite photo spots in Düsseldorf as it's so calming, beautiful and connected to nature.
Personally, I loved shooting at Schloss Mickeln and will probably return!
Related: The best rooftop bars in Düsseldorf.
Liked this post? Pin & Share it with others!