Today, I'm going to show you 13 fairytale villages in Germany that spread out their vibes with winding cobblestone alleys, medieval townhouses and countless photo spots.
Those of you who have Germany on their bucket list probably dream about enchanting castles and palaces, alpine views in Bavaria, attending the Oktoberfest and drinking beer or the industrial culture. But there is so much more that Germany has to offer.
Fairytale Villages in Germany
1. Rothenburg ob der Tauber
Rothenburg ob der Tauber is a small village in Bavaria, southern Germany. It is characterized by winding cobbled alleys and half-timbered houses shining in all colors.
This fairytale town doesn't just draw the crowds in the summer months, but is particularly popular during the Christmas period.
Tip: Since there are many day tourists, I recommend that you stay in the Old Town and visit Rothenburg ob der Tauber in the morning, late afternoon or evening.
2. Monschau
Monschau is particularly famous for its Christmas market. Every year thousands of people come to Germany solely for this.
The village in western Germany is also worth a visit in spring, summer or autumn, because the half-timbered houses and the unique charm of the city will enchant you.
Tip: Monschau is an easy day trip from Cologne, Düsseldorf or Aachen. If you are interested in visiting one of these cities, you can easily add Monschau to your itinerary. Plus, it's very near to Belgium.
Read more about Monschau here.
3. Bamberg
Bamberg is an old Bavarian village which history begins in the year 1002 when the Duke of Bavaria became the King of Germany. He decided to make Bamberg is grand seat of government and the construction of impressive buildings began. These can, by the way, still be found at the top of the hill overlooking Bamberg.
Tip: One of the highlights in Bamberg is the old Town Hall building.
4. Quedlinburg
Quedlinburg, Germany is not far away from popular Leipzig and is another fairytale village that you should know!
Legend states the first German kings were offered the crown here and with a large collection of half-timbered houses, this tiny village has an enchanted flair.
The buildings in Quedlinburg span more than five centuries offering a rich history and paired with quaint streets and hearty German food, Quedlinburg offers everything you probably want from a vacation to Germany.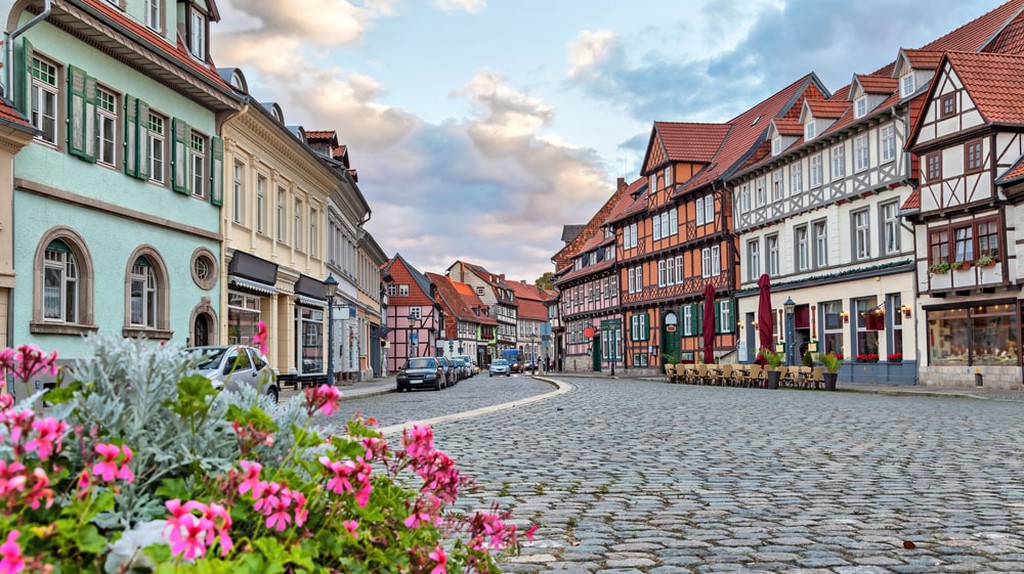 5. Konstanz (Constance)
Konstanz is another beautiful town in the southern corner of Germany. Directly on the Lake Constance (German: Bodensee), Konstanz has views of mountains from Austria, Switzerland, and Liechtenstein. Whereby the city itself has beautiful architecture all kept perfectly intact for decades already.
During the summer months, Konstanz is one of the most charming places to be in all of Germany. I was lucky to live there for a part of my childhood and I can absolutely recommend it.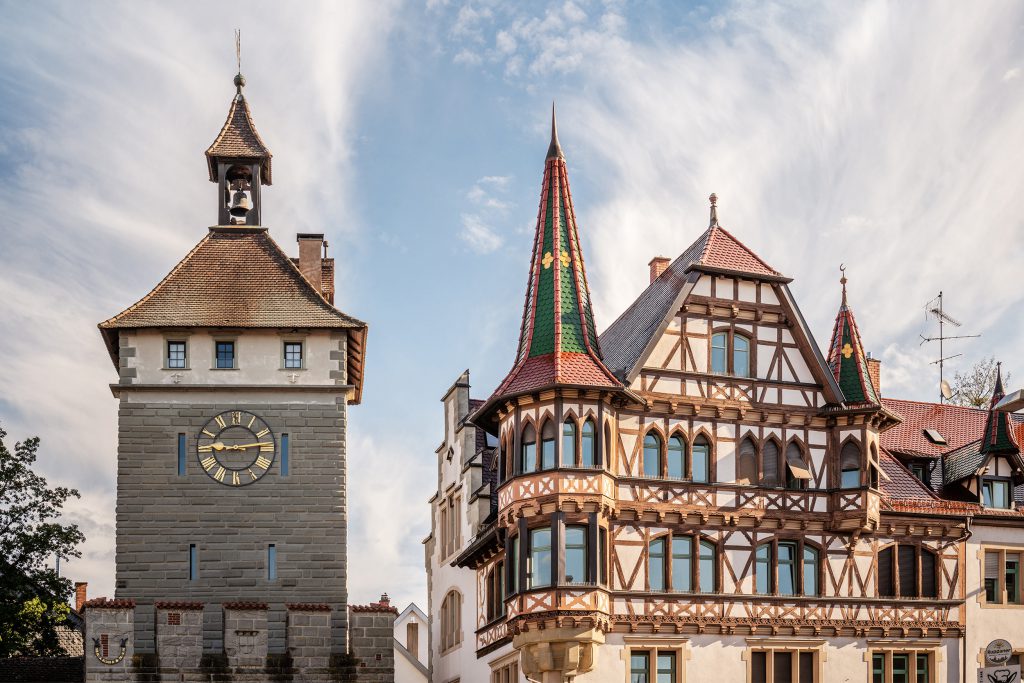 6. Monreal
Monreal is a another tiny village in western Germany that's part of the Eifel region and actually not far from Cologne, Düsseldorf, Bonn or Aachen.
When you visit Monreal, you will feel like this city has been stuck in time and still offers great insight into its cultural past. This village just has to be on our bucket list for fairytale villages in Germany!
Read more about Monreal here.
7. Miltenberg
An hour away from both Frankfurt and Würzburg, Miltenberg once was a strategically important location.
Today, the town itself charms with half-timbered houses, scenic views of the Main River and a historic market square.
8. Dinkelsbühl
Somehow, this fairytale village escaped the World War II bomb raids and the medieval town centre came out unscathed.
Located halfway between Nuremberg and Stuttgart, Dinkelsbühl is a popular day trip from both cities.
Tip: Christmas markets in Dinkelsbühl are extra magical. Don't miss out on them.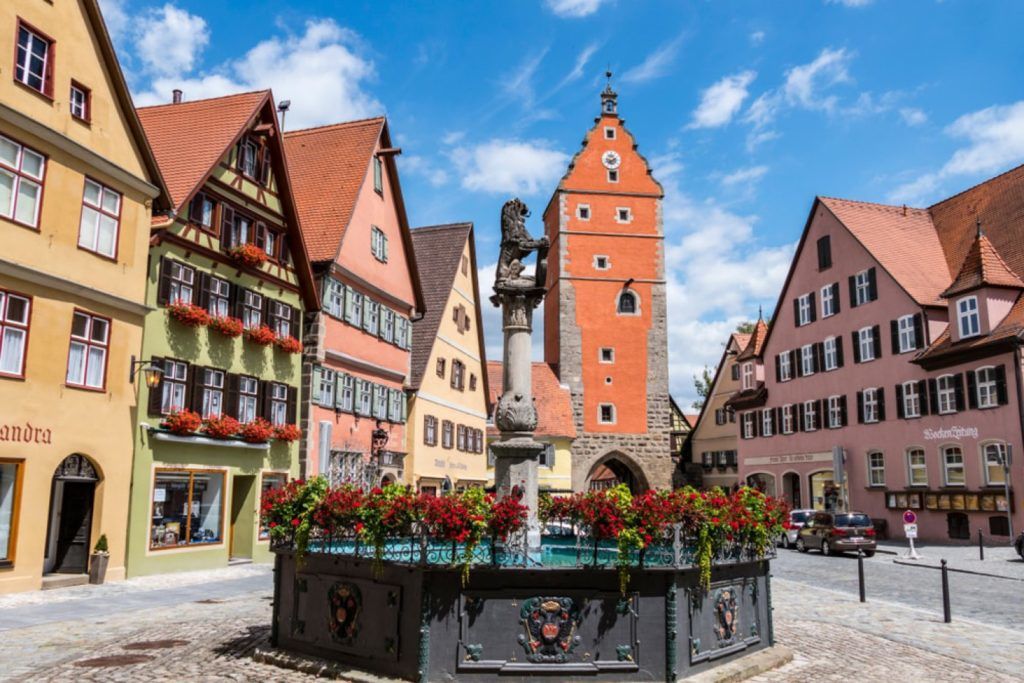 9. Trier
Trier, again in western Germany, is one of the most ancient town Germany has to offer. Once founded by the Roman Emperor Augustus in 15 BC, Trier quickly became well known for its rich cultural life.
When you arrive in Trier, a fortified gateway leads your way to the historic center that is nowadays famous for its busy restaurant life and many shops. Moreover, you will find antique half-timbered houses and a medieval marketplace.
Tip: You can easily combine a visit to Trier with a visit to Cochem and Bernkastel-Kues.
10. Heidelberg
Heidelberg is not only known for it's university and medicine, but also for its castle – the Heidelberg Castle (Schloss Heidelberg).
Looming over the entire Old Town, Schloss Heidelberg gives you some of the most fantastic views that Germany has to offer.
Tip: If you are interested in Frankfurt am Main, you can easily visit Heidelberg as a day trip or the other way round and make Frankfurt your day trip.
11. Bernkastel-Kues
Beautiful Bernkastel-Kues in the Moselle area of Germany is a tiny village that is popular for its beautiful half-timbered houses and fairytale vibe.
Tip: Since Bernkastel-Kues is a smaller village, I'd highly recommend to visit it half-day and combine it with a nearby city such as Cochem or Trier.
12. Bacharach
The little town of Bacharach is a very romantic place with cobblestoned alleys, half-timbered houses and a fabulous Town Wall Walk (the Stadtmauer-Rundweg).
For the Town Wall Walk, you will need around 1-2 hours to take it all in. Both Castle Stahleck and the Lookout Tower (Postenturm) offer great views over the town and part of the Rhine River Valley.
Tip: It's a popular day trip from Frankfurt am Main, Mainz or Cologne.
Read more about Bacharach here.
13. Cochem
Cochem is above all known for its good wine, so it's a great trip to do in fall! October is particularly great since the trees are changing its colors and you can enjoy Cochem in the most beautiful orange and brown tones.
The village of Cochem is located on the Moselle River and known for its well-preserved medieval and Roman buildings. Cochem Castle is situated above the river surrounded by sloping vineyards. It's one of the most beautiful castles in Germany and definitely worth visiting when you're in town.
Tip: Spend a whole weekend in the Moselle area of Germany and get to know some other villages nearby! Plus, Burg Eltz is just a short drive away.
I hope you enjoyed this post about fairytale villages in Germany! Here are a few more blog posts you might enjoy:
Love this post? Pin & Share it with others!