Cologne (Köln in German) has everything you could want in a European city. Rich history, impressive architecture, beautiful parks, delicious pastries, riverfront dining… the list goes on and on.
While it is the inspiring Cologne Cathedral why most people visit this unique city, you will enjoy so much more in equal measure. I designed this itinerary for one day in Cologne to showcase my favorite parts of the city for first-time visitors. You can easily spend a lot more time in this beautiful city but what if you only have one single day? Then this is the perfect itinerary for you.
1 Day in Cologne Overview
DAY 1 AM / History & Culture
DAY 1 PM / Rhine Promenade & best views in Cologne
DAY 1 EVENING / Enjoy drinks at the Rhine promenade & nightlife in Cologne
Why go to Cologne?
UNESCO World Heritage Cologne Cathedral
Kölsch Beer
Shopping on Schildergasse
Galleries and Museums
Picturesque houses near Great St. Martin's church
Day 1 AM / History & Culture
Assuming that your itinerary starts at Kölner Hauptbahnhof, begin the day by grabbing breakfast at Merzenich Bäckerei which you will find strewn across Cologne. There are tons of pastries to choose from, but you should try the 'Nougat Brezel', which is a sweet pretzel coated in almond flakes. I recommend to avoid the Merzenich behind the Cathedral, which is always crowded; the one on the nearby Minoritenstraße is much quieter.
During World War II, Cologne was on of the most heavily bombed cities in Germany. The war not only flattened the city, but it also didn't spare the cathedral, which was one of the highest structures in the world and still has the world's largest church facade. The building of the cathedral began in 1248, and was hit by 14 large aerial bombs that caused severe damages. Luckily, in the post-war years, the cathedral was reconstructed.
You can enjoy free organ concerts during the summer period, every Tuesday at 8pm, visit the Treasure Chamber or climb the cathedral tower.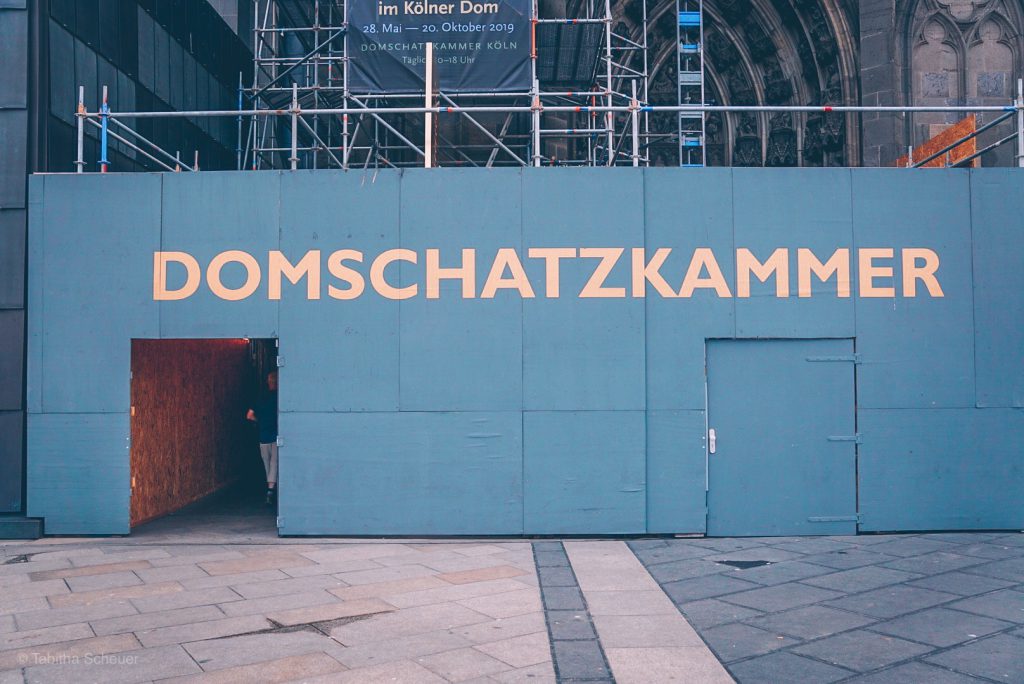 The Treasure Chamber is outside of the cathedral, on the left side of the main entrance, and houses a rich collection of church relics dating from the Middle Ages. The best known is the Shrine of the Three Kings. Another notable treasure is the Gero Cross (Gero Kreuz), carved in 976. It is the oldest crucifix north of the Alp survived till present time.
When you decide to climb the cathedral tower, you will enjoy a magnificent panoramic view. 509 steps, no elevator, 8 bells on your way to the top (including the famous St. Peter's Bell), and one entry on the right side of the main entrance.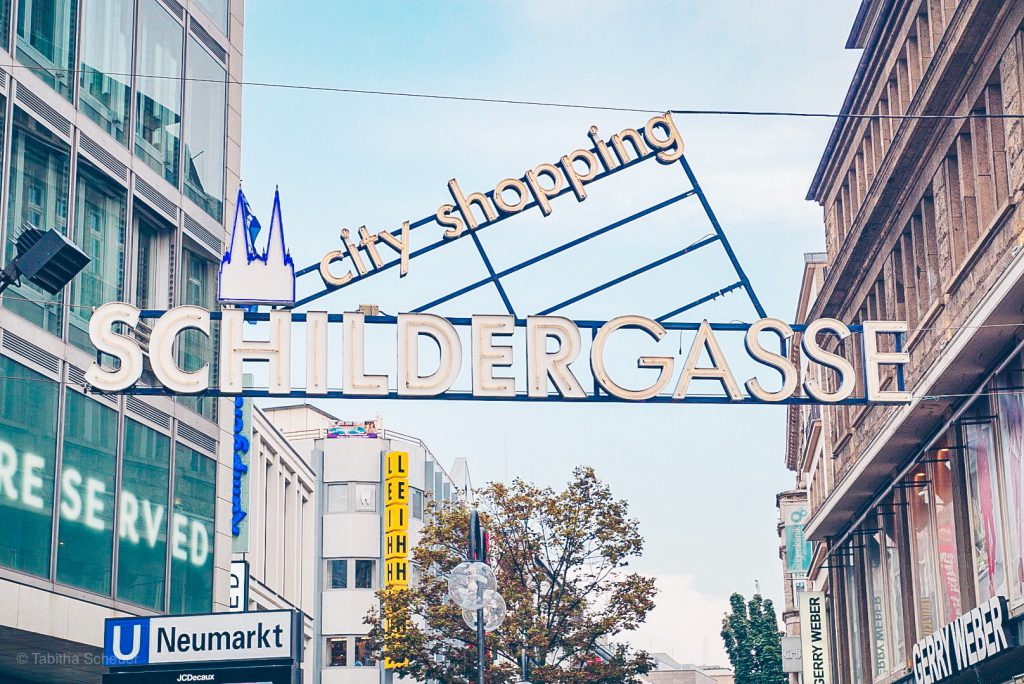 From here on, you can easily go through the Hohe Straße towards Schildergasse, which is regarded as one of the best shopping areas in Germany. Dozens of shops for every budget and taste line the busy street. You will find everything here, from fast-fashion giants like H&M to more upmarket offerings from designer brands, picturesque cafés and places to grab some fries. But be aware that all stores are closed on Sundays.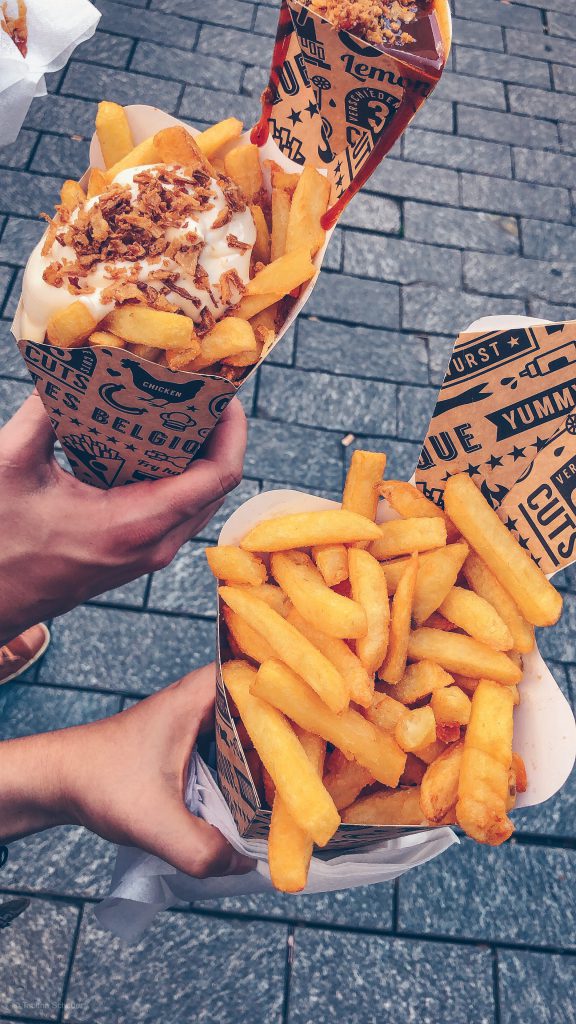 If you're hungry, grab some fries at Frites Belgique. They literally have the best fries in Cologne, still for an affordable price.
While snacking on your fries, make your way towards Old Market/Alter Markt and Fish Market/Fischmarkt.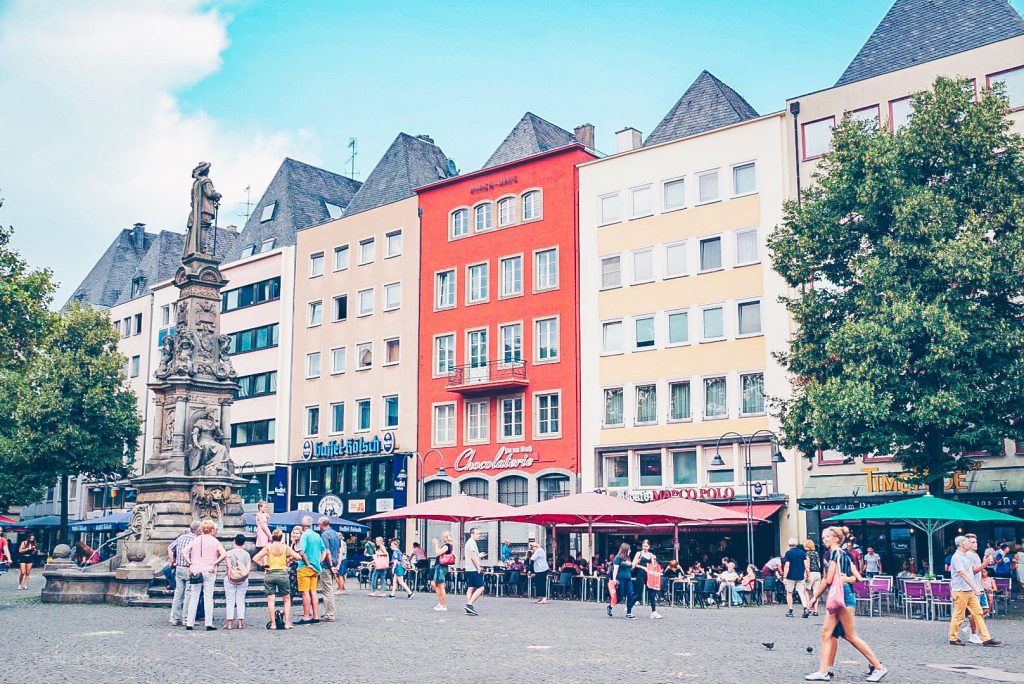 Although there are numerous things to do in Cologne in one day, Alter Markt and Fischmarkt are my favorite. There is lots to see and do here, including photographing the instagramable Fischmarkt houses, wandering the narrow cobbled streets, enjoy lunch by the Rhine or drink coffee at one of the many outdoor cafés. When you're visiting Cologne in November or December, you will find a beautiful Christmas Market in this area.
You shouldn't miss Great St. Martin Church (Groß St. Martin) which is a beautiful Romanesque church. The construction of the Great St. Martin Church began in 1150 and continued till 1250. During World War II Great St. Martin Church was heavily damaged: the tower and nave were burnt to the ground. Luckily, the church was reconstructed and still rises over the little colourful houses along the Rhine River.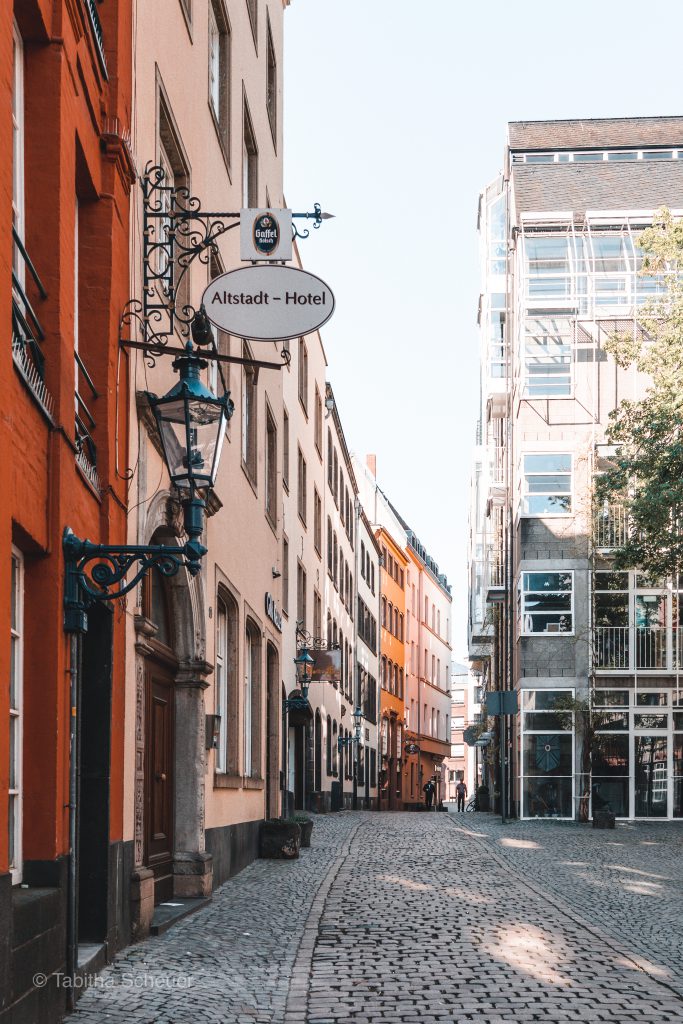 Merzenich Bäckerei | 08:00-19:00 Mon-Sat; 10:00-18:00 Sun | €€ | Location
Cologne Cathedral | 06:00-21:00 Mon-Sat; 13:00-16:30 Sun | free entry for the Cathedral | €6 per adult for the Treasure Chamber | €5 per adult to climb the cathedral tower | Location | Website
Schildergasse | Location
Frites Belgique | €3.80 for fries 'big' & €2.90 for a Bratwurst or Currywurst| Location
Alter Markt | Location
Fischmarkt | Location
Day 1 PM / Rhine Promenade & best views in Cologne
Enjoy an afternoon walk along the Rhine, enjoy the view and the charm of Cologne, and go over the Hohenzollern Bridge to reach the other side of the Rhine where you will have an incredible view of the Cologne Cathedral.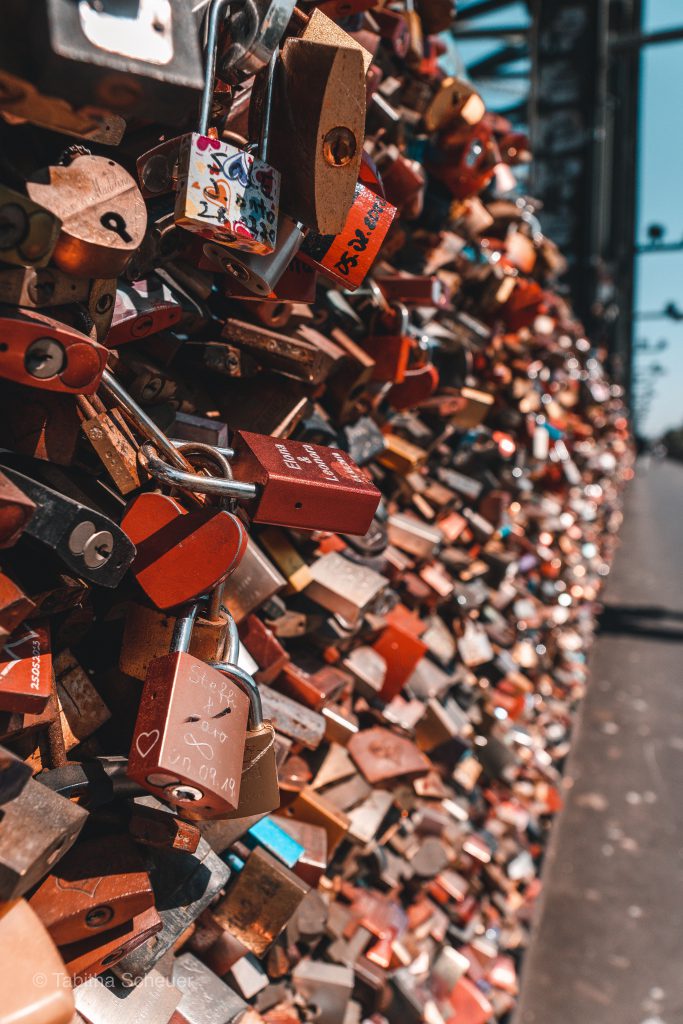 Hohenzollern Bridge is famous for being the city's very own 'Love lock bridge'. Just as beautiful as Paris, but fas less crowded. Experts believe the tens of thousands of locks weigh more than 2 tonnes, with the tradition being once your padlock is on, you throw the key in the Rhine and your love will last forever.
Once you are across the river, head for Cologne Triangle. It is an observation deck open to the public on the roof of the European Aviation Safety Agency Head Quarters. It is over 103m high and offers incredible panoramic views of the city. Most famously, a spectacular view of the Cathedral. At only €3 entry fee, this is one of the top things to do in Cologne if you want to have a look over the whole city.
Enjoy some free views of the Cologne Cathedral at the Cologne Dom Viewpoint at the Rhineboulevard.
You can stroll around the Rhine promenade, enjoy a coffee, or a hearty Dinner and some drinks on a warm summer evening, or head over to one of the many brasseries. I'd highly recommend 'Brauerei zur Malzmühle' or 'Früh Em Veedel'.
You have definitely earned your share of the famous Kölsch beer after this long day. The various breweries brew their own beer, which is served directly in the restaurants. If you choose to eat in a Brasserie, be aware that "Halver Hahn" is not much of a half chicken but a bun with cheese.
By the way, Kölsch is also the name of the dialect spoken in Cologne and the beer itself is lighter than most German kinds. Don't expect an Oktoberfest sized stein, nor even a pint as Kölsch is usually served in smaller 200ml glasses called 'Stangen'.
Hohenzollern Bridge | Location
Cologne Triangle | Location
Cologne Dom Viewpoint | Location
Brauerei zur Malzmühle | 11:30-0:00 Mon-Thu; 11:30-1:30 Fri & Sat; 11:30-23:00 Sun | €€ | Location
Früh em Veedel | 16:00-0:00 Tue-Thu; 11:00-1:00 Fri & Sat; Closed on Sun & Mon | €€ | Location
Day 1 Evening / Enjoy drinks at the Rhine promenade & Nightlife in Cologne
After a long day in Cologne and some good food, you're hopefully in the mood to end the evening in a dignified manner. Cologne offers many options, what you can do in the evening.
My top two are a drink on the Rhine promenade, or in the middle of the city, if you enjoy watching the bustle. Or you visit the Bootshaus in Cologne-Deutz (Köln-Deutz).
I know many people who travel to Cologne to party in Bootshaus Cologne. Just named the best club in Germany, and the eighth best club in the world, famous for it's vibe, the exuberant mood and regular top acts, like David Guetta, Armin van Buuren, DJ Snake, Don Diablo, Steve Aoki, Skrillex, and many more. I'm a huge fan of the 'Blacklist' which takes place about once a month with DJs like Slander, Kayzo, Flight Clvb, Herobust, Valentino Khan. If you have the chance to visit one, I'd highly recommend to go and enjoy the incredible mood in Bootshaus.
Bootshaus Cologne | Entry fee for a Blacklist (example) is ~€15 | Location
One day in Cologne is just enough time to realize that you want more time in Cologne. From food to history to culture, the city has so much to offer first-time visitors and residents alike. If you're planning a trip to Germany or looking for a weekend break in Europe, I hope this Cologne itinerary will make this amazing city a stand-out choice.
Related: How to spend two days in Cologne.
Love this post? Save it for later!