Cologne is a city with its own, very authentic charm, character and above all a good dose of joie de vivre. Besides that, there are numerous Instagram Spots in Cologne and the Cologne area which make it the perfect city to base yourself and explore the surrounding area.
The city is of course particularly well attended for the annual carnival, but has a lot more to offer. Even if Cologne is one of the largest cities in Germany, you can often have the feeling that you are walking around in a cute little town and it is not uncommon for strangers to feel completely at home.
In addition to a beer with friends on the Rhine River, parties in Germany's best club and countless interesting museums, Cologne has one thing above all: beautiful corners. And that's exactly what I want to show you today: Where to take the most beautiful photos in Cologne?
Instagram Spots in Cologne Germany
So-called instagrammable places are not lacking in Germany. And no, Germany is not just Bavaria and the Oktoberfest, and the West also has more to offer than Eltz Castle in autumn and Monschau at Christmas.
Tip: If you are in Cologne, you should definitely go to one of the numerous breweries that you will really find in every district. My favorites are "die Malzmühle" (the malt mill) and "Früh em Veedel" (which refers to the beer Früh).
There you can get traditionally brewed beer and a tasty, hearty meal. Another very popular brewery is "Gilden im Zims", which is located directly in the old town of Cologne and not only makes a good impression from the outside!
Incidentally, it is common in Cologne to sit very closely with others – especially since the breweries are an old Cologne tradition and are rather narrow. So you shouldn't be afraid of your fellow human beings!
1. Cologne Cathedral
The Cologne Cathedral is of course THE photo object in Cologne. Many tourists frolic especially on the cathedral plate to get a photo with the "Bahnhofskapellchen (English: Railway station chapel)". By the way, the Cologne Cathedral has had the name "Bahnhofskapellchen" for ages and stems from the fact that the cathedral is right next to the main train station. Perfect if you arrive by train, because then the cathedral is always the first one you see.
With so many standing on the cathedral platform and desperate trying to get a photo with the Cologne Cathedral, it's one of the most crowded places in town.
Therefore, you should go a little further towards the Hohenzollern Bridge for photos of the cathedral. There are fewer people here and you even have the entire cathedral on the photo!
Photo tip: If you take your photos at sunset you can create a so-called "sun star".
Address: Domkloster 4, 50667 Cologne
2. Fish market & Great St. Martin / Fischmarkt & Groß St. Martin
Did you know that the fish market is over a thousand years old? What remains are beautiful, colorful houses that are close together and make a wonderful photo motif.
I find it particularly nice that you can still see the Great St. Martin church in the background, which seems to be enthroned above the houses.
Incidentally, this is one of the most popular photo spots in Cologne, since tourists, of course, want to get a snapshot here. In addition, there are cafes and restaurants in the cute colorful houses, which is why people generally like to be there.
Photo tip: come in the morning so that you get a photo without people or with fewer people and at the same time you are lucky that the houses are in the sun!
Address: Fischmarkt 9, 50667 Cologne
3. Hohenzollern Bridge
The Hohenzollern Bridge is primarily known for its love locks. Couples hang their lock on the bridge and then throw the key into the Rhine. However, the sign of infinite love also has ramifications because the bridge is actually not made for that extra weight.
Photo tip: The bridge is perfect for taking pictures in the late afternoon or at sunset! Especially when the sun goes down behind the cathedral you have chances for super nice photos.
Address: Hohenzollern Bridge
4. Crane Houses / Kranhäuser
The crane houses are residential buildings in Altstadt-Süd and are named because of their appearance, because the buildings go forward like cranes. The three buildings built between 2006 and 2010 are unique in the world and shape the modern cityscape of Cologne.
Not only are they architecturally beautiful to look at, they are also particularly suitable for cooler, urban photos. Win-win situation, right?
Photo tip: You should avoid the crane houses during the lunch break, as many business people then leave the buildings, some of which are used for offices. The best times for photos are in the morning or in the afternoon. Above all, you should also take a look at the buildings at night!
Address: Im Zollhafen 12, 50678 Cologne
Related: Instagram Spots in Düsseldorf.
5. Cologne Deutz
The "Schäl Sick", which is how people in Cologne will call the Cologne Deutz side of the Rhine River, means something like 'the wrong side'. Nevertheless, it is a wonderful photo spot and often used sundowner. From here, you have a wonderful view of the Cologne Cathedral and the setting sun behind it.
Especially in summer you will find a lot of people drinking a beer with friends or photographers setting up their tripods to catch the best pictures of the sunset.
Photo tip: As already mentioned, this photo spot is very popular, especially at sunset.
Address: Kennedy Ufer, 50679 Cologne
6. Cologne Triangle
Also located in Cologne Deutz is the "Cologne Triangle", which gives you a panoramic view of Cologne for €3 entry! Tripods are prohibited on the 28th floor, but you will still be allowed to take an Instagram photo.
Address: Ottoplatz 1, 50679 Cologne
7. Belgisches Viertel
The Belgian District (Belgisches Viertel) is one of the most popular neighborhoods in Cologne and so it actually happens that a simple building has made it into the list of the best photo locations in Cologne. The building must have something magical, because countless people have already photographed it, posted it in front of it, and of course uploaded it to numerous platforms.
Address: Lütticher Str. 49, 50674 Cologne
Instagram Spots in Cologne that are only available at certain times
8. Heinzels Wintermärchen
Of course Cologne is especially beautiful at Christmas time! The Christmas market "Heinzel's Winter Fairy Tale" is particularly popular, where you can even find an ice rink for ice skating and drink warm mulled wine from sweet cups!
Address: Heumarkt 55, 50667 Cologne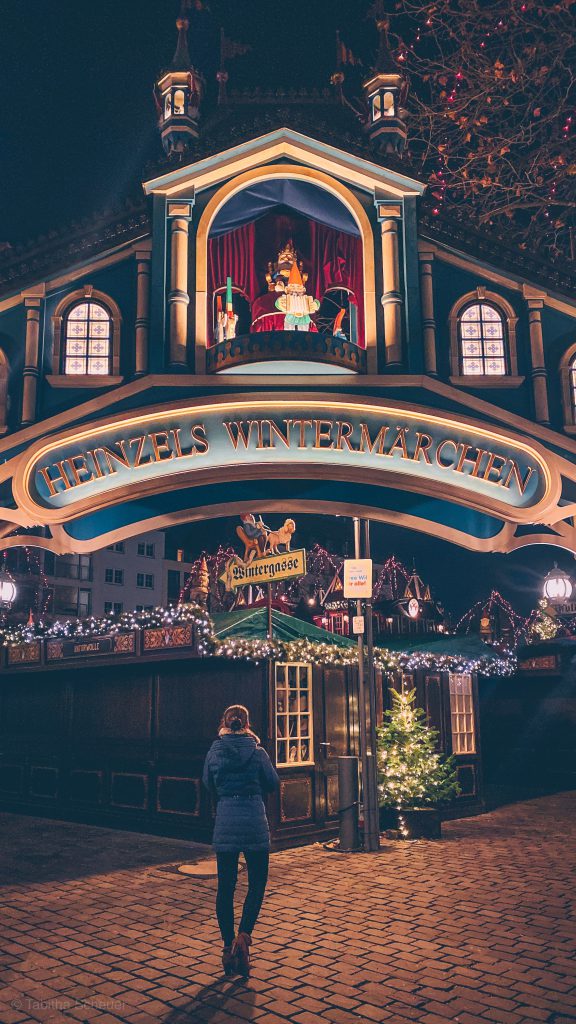 9. Markt der Engel
Just like the previous photo spot Markt der Engel is a Christmas market in Cologne which is particularly known for its beautiful decorations and lightenings.
Address: Neumarkt, 50667 Cologne
10. Deutzer Kirmes
Usually the popular Cologne funfair takes place from the end of April to the beginning of May and offers great opportunities to take a photo or two! Unfortunately, it had to be canceled this year.
Address: Siegburger Str. 66, 50679 Cologne
More Instagram Spots nearby Cologne
11. Cherry Blossoms
As I already described in this detailed blog post on the cherry blossoms in Bonn, it is a great destination for a day trip from Cologne. The cherry blossom takes place every year in early April and attracts thousands of people who want to see and photograph the pink glow of the flowers.
Since these are residential streets, you will hardly be able to prevent cars in your photos – unless you change the angle! This way, you can easily remove people who would otherwise disturb your photo.
Photo tip: Come as early as possible because the cherry blossom really attracts a lot of people and it will get incredibly full during the day.
Address: Heerstr., 53111 Bonn
12. Schloss Drachenburg
Schloss Drachenburg definitely is one of the most visited castles in the Cologne area. It's only 30 minutes from Cologne and you can go by train, boat, car or even bike.
Please keep in mind that you are only allowed to take photos during the opening hours! If you want to learn more about the castle, here is a detailed blog post about Drachenburg Castle.
Address: Drachenfelsstr. 118, 53639 Königswinter
13. Erlebnishof Gertrudenhof
This farm is very crowded in autumn because it is known for its "pumpkin tower", which attracts influencers for seasonal photos every year.
Address: Lortzingstr. 160, 50354 Huerth
14. Linz am Rhein
Linz am Rhein is a very cute town nearby Cologne and actually one of the most visited villages along the Rhine River. It's an easy day trip by train or by boat, car, and even bike.
I hope you liked these Cologne Instagram Spots! If so, here are some more posts you might like:
Liked this post? Pin & Share it!