With 86 districts, Cologne definitely offers some very nice, colourful and diverse Christmas markets. There are large and small, modern and medieval, kitschy and sustainable and even a homosexual Christmas market with it's motto 'Colorful. Shrill. Different.'.
In this article I present my favorite Christmas markets in Cologne and hope that you are about to visit some of them very soon.
A free map of the Christmas Markets is attached below! Perfect for planning a nice and smooth evening.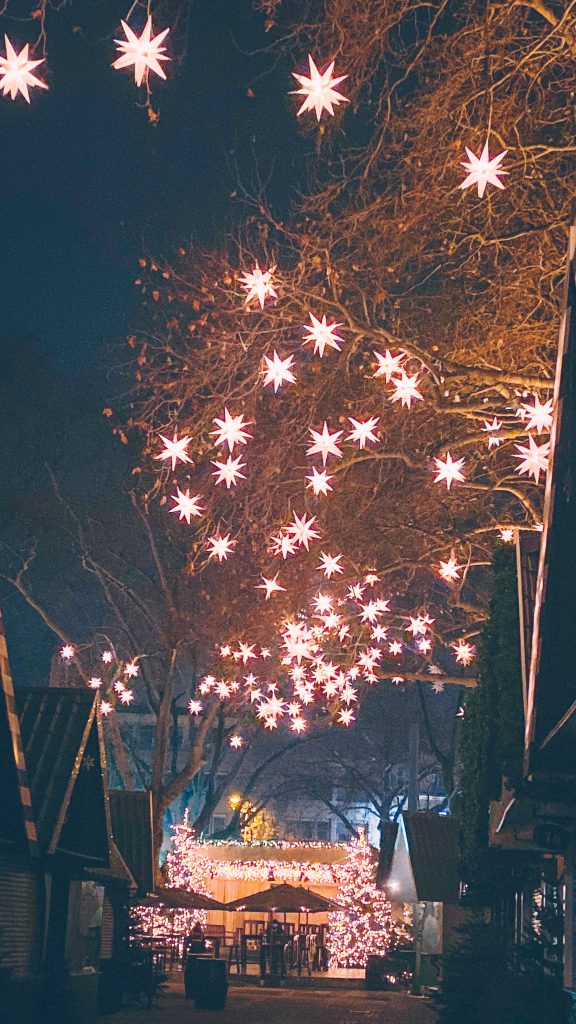 Markt der Engel in Cologne's Old Town
Besides around 900 light stars in the trees, 200 lights garlands and 450 fir trees, there are actually angels greeting visitors at the main entrance and spreading a incomparable Christmas mood on the 'Angel Market'.
More than 90 exhibitors offer a mix of culinary delights and handcrafted products. Here, visitors can pay cashless at all stands (since 2019).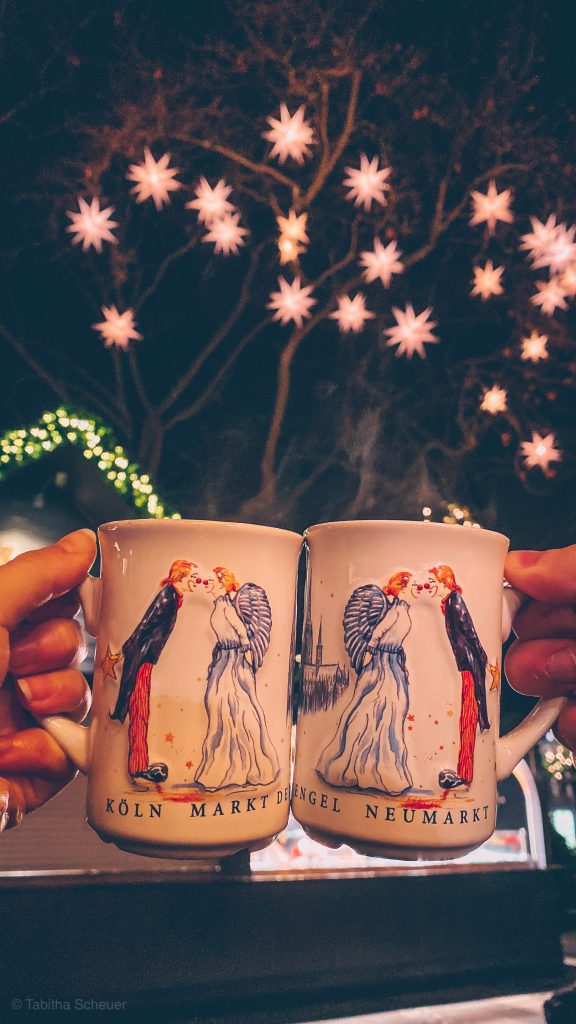 The gigantic selection of mulled wine and other beverages is also very impressive. It ranges from conventional red and white mulled wine to mulled Gin.
Markt der Engel | Mon-Sun 11:00-21:00 from 25th Nov until 23th Dec | Location | 1 mulled wine is about 4€ + 3€ deposit for the mug
Heinzels Wintermärchen in Cologne's Old Town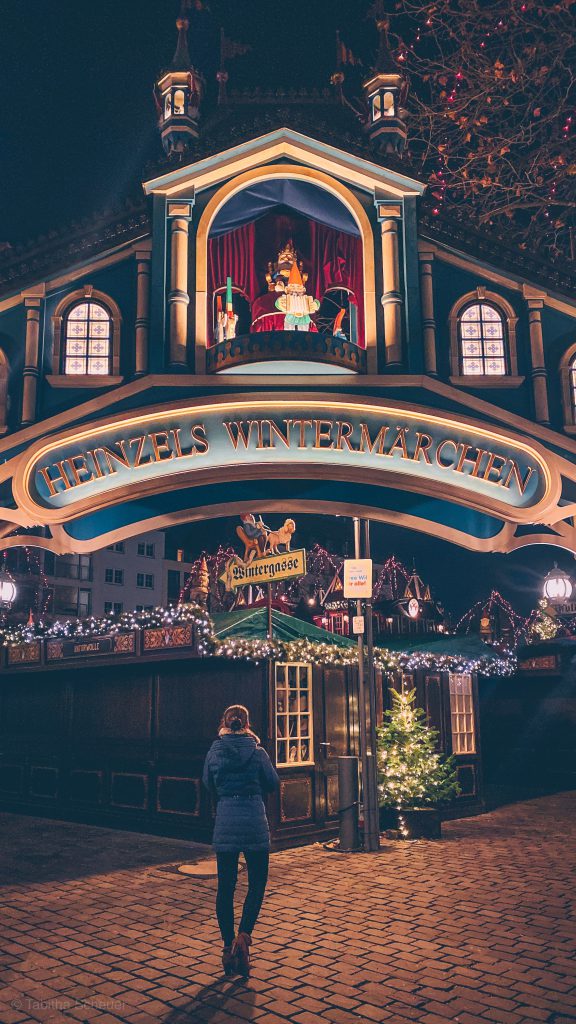 With 10.000 square meters, the Heinzels Wintermärchen (translated to Heinzels Winter Wonderland) is the largest Christmas market in Cologne and is divided by topics. Every alley has its own topic. There is an artisan, an antique, a grocer, a snack and a toy alley. Around 140 stalls have been set up to ensure that it won't be boring.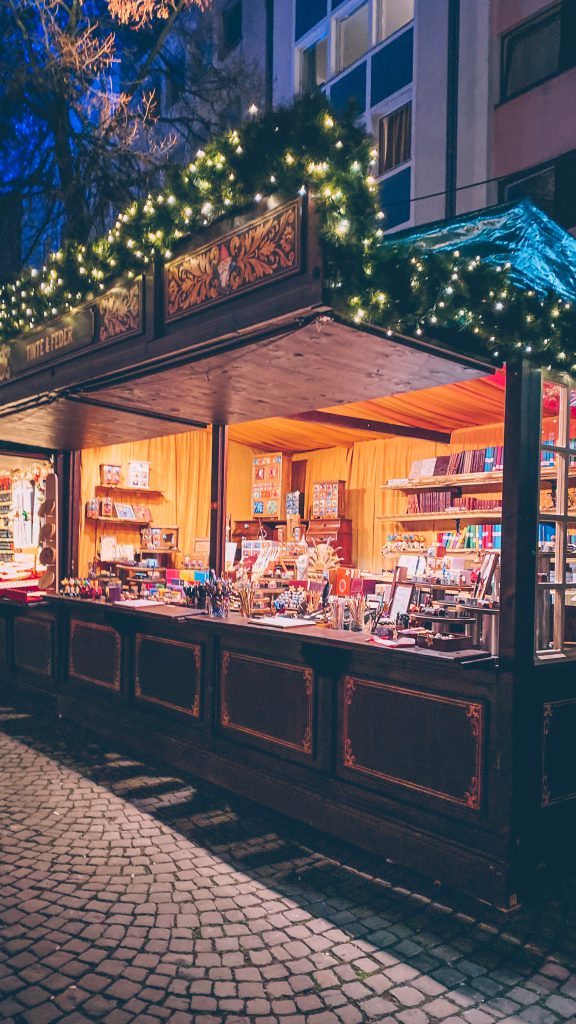 Just in case you're wondering what to do next after walking around, the 1.800 square meters open-air ice rink offers long walkways for ice skating and an area for curling. On Mondays, from 3:30pm until 4:30pm, children can learn how to ice skate from a professional ice skater.
In addition to this, there's live music in the different areas of the Christmas market, making it a very unique and cozy experience.
Heinzels Wintermärchen | Mon-Sun 11:00-22:00 from 25th Nov until 5th January | Location | 1 mulled wine is about 3.50€ + 3€ deposit for the mug
Nikolausdorf at Rudolfplatz
'Nikolausdorf' means something like Santa's Town and is one of the most beautiful Christmas markets Cologne has to offer. Every year during the festive period, Cologne's Rudolfplatz transforms to a Christmas village. Countless LED lights on the pretty houses and in the tree tops create a very festive atmosphere. In the Nikolaushaus (Santa's house), which is always open until 7pm, there are free creative offers and benefit specials.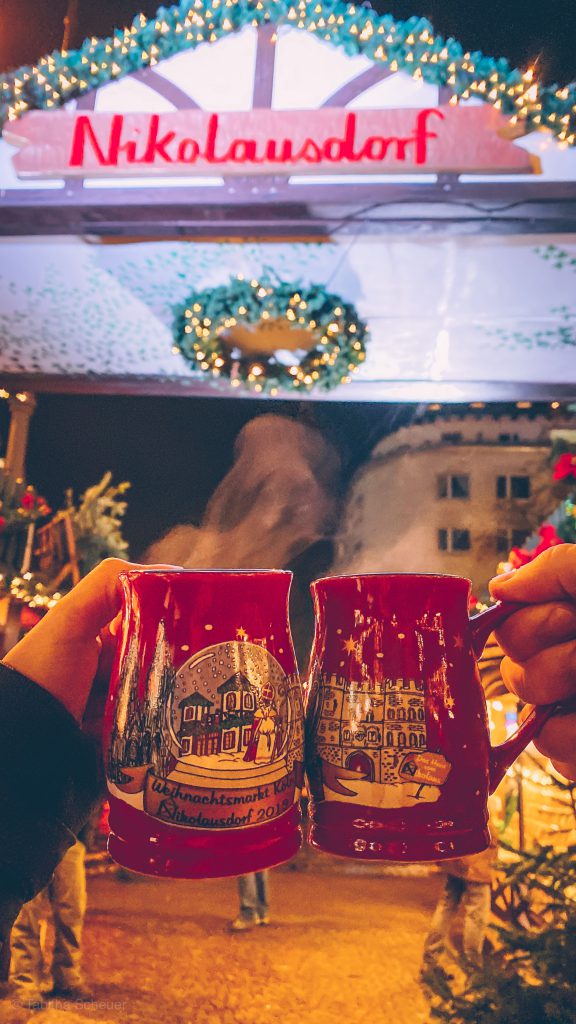 This Christmas market never fails to amaze me and is definitely worth to be explored! Grab yourself a mulled wine at one of the stalls and enjoy some Cologne vibes. Every mug contains a law of the "Cologne Basic Law", which basically is a collection of sayings that are often used in Cologne.
Nikolausdorf | Sun-Thu 11:00-21:00; Fri 11:00-22:00; Sat 10:00-22:00 from 25th Nov until 25th Dec | Location | 1 mulled wine is about 4€ + 3€ deposit for the mug
Christmas market at Cologne Cathedral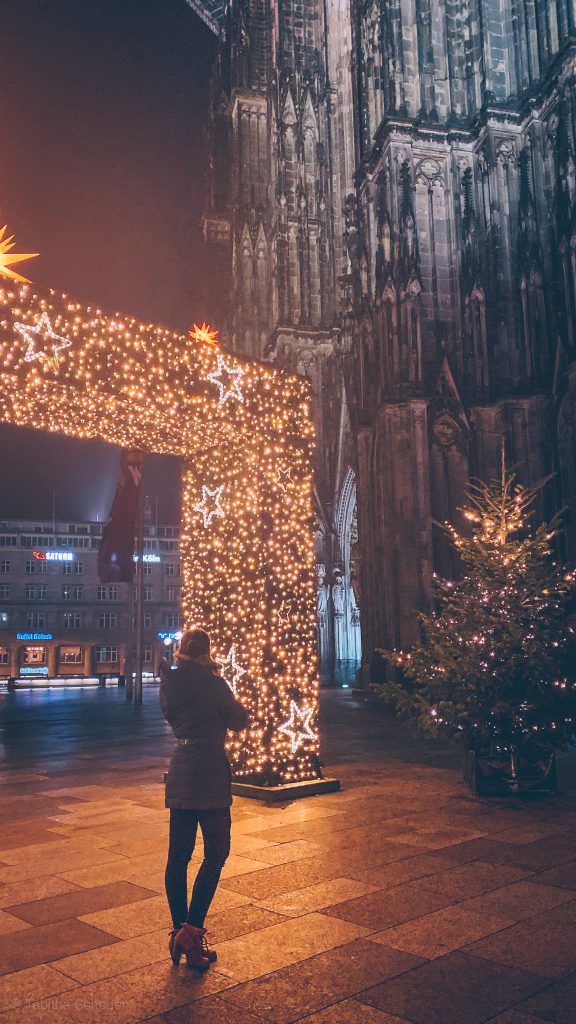 The Cologne Cathedral never fails to attract people from all over the world, especially during Christmas time. According to the Organizer, it's the most popular Christmas market in Germany.
Taking a look at the visitors per month, this definitely can be true. Hence, it can very easily be really crowded and too full to enjoy a Christmas market at its best. To avoid unnecessary stress, I'd advise you to come in the late evening just a few minutes before the Christmas market closes. Then, you will be able to grab a mulled wine and enjoy the lights on your own.
It's definitely worth stopping by and walk around even once.
Christmas Market at Cologne Cathedral | Sun-Wed 11:00-21:00; Thu & Fri 11:00-22:00; Sat 10:00-22:00 from 25th Nov until 23th Dec | Location | actually, I don't know the prices of the mulled wine as I prefer the one at the other markets.
Heavenue at Rudolfplatz
Just around the corner from the Nikolausdorf, you will find Heavenue. Heavenue is a gay and lesbian Christmas market and is definitely worth stopping by. Here, you will find decoration in pop art style with lots of glitter, and snow-white garlands. There is a fountain and a stage where a show program is offered almost daily.
At the entrance, you can find a small stall offering "Gin de Cologne" – you are also invited to try a pin, cheers!
Heavenue | Mo-Thu 16:00-22:00; Fri-Sun 14:00-22:00 from 21th Nov until 23th Dec | Location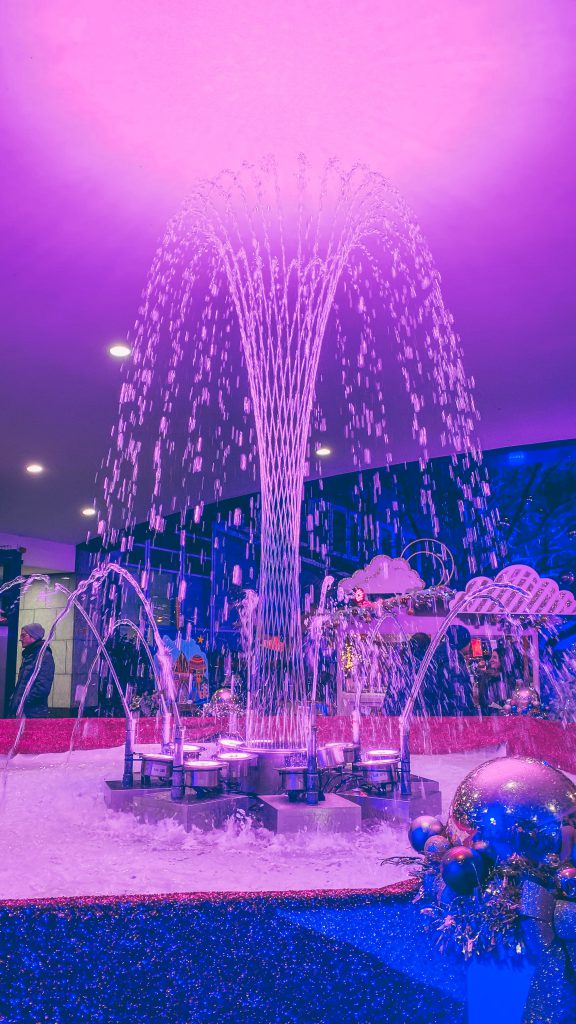 More Christmas markets to explore
The ones mentioned beforehand were just my absolute favorite Christmas markets in Cologne. Of course, there are plenty more that you can explore. Assuming that you'll be only in Cologne for a weekend or less, I'd advise you to take a look at the five Christmas markets I've mentioned. If you're staying a bit longer during the festive period, feel free to visit some of the remaining Christmas markets that you will find in the map.
Enjoyed this post? Pin it!