Every year, London attracts people from all over the world – especially during Christmas time. The stunning decorations during this special time are renowned worldwide and make for perfect Instagram photos.
It's been my first visit in London and I created this list of the best Christmas Instagrammable Spots in London. So let's walk by the gorgeous London streets filled with the joy of Christmas!
Leadenhall Market
Known for being the 'Diagon Alley' in Harry Potter, the Leadenhall Market becomes super christmassy during the season. Be sure to arrive early as it gets really busy during the day.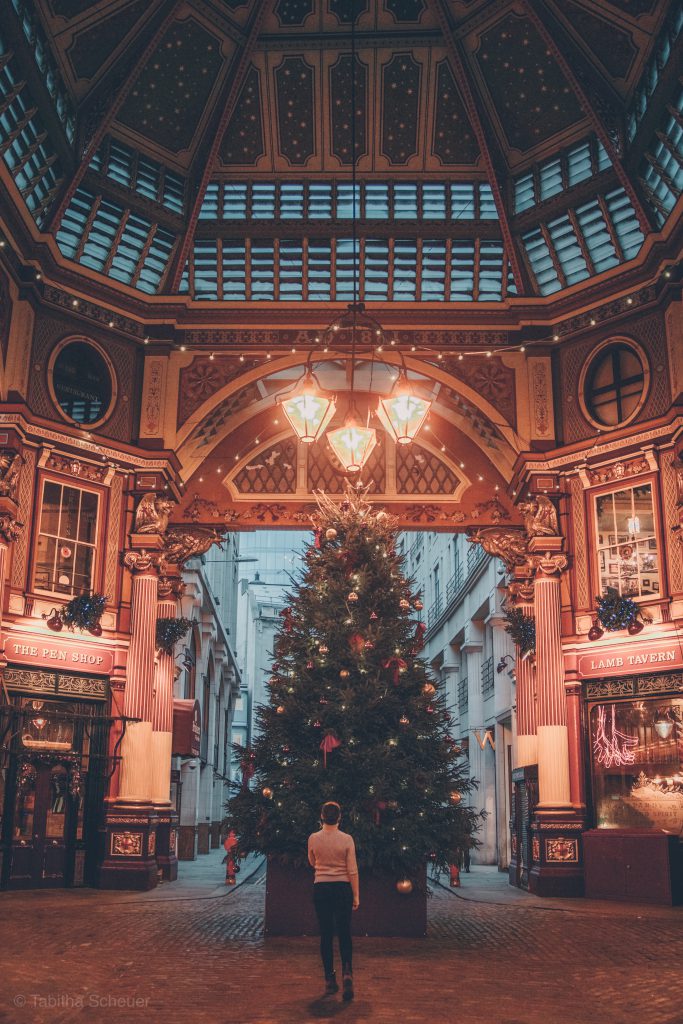 Covent Garden
Covent Garden is beautiful year-round but transforms to an absolute Christmas paradise over the festive period.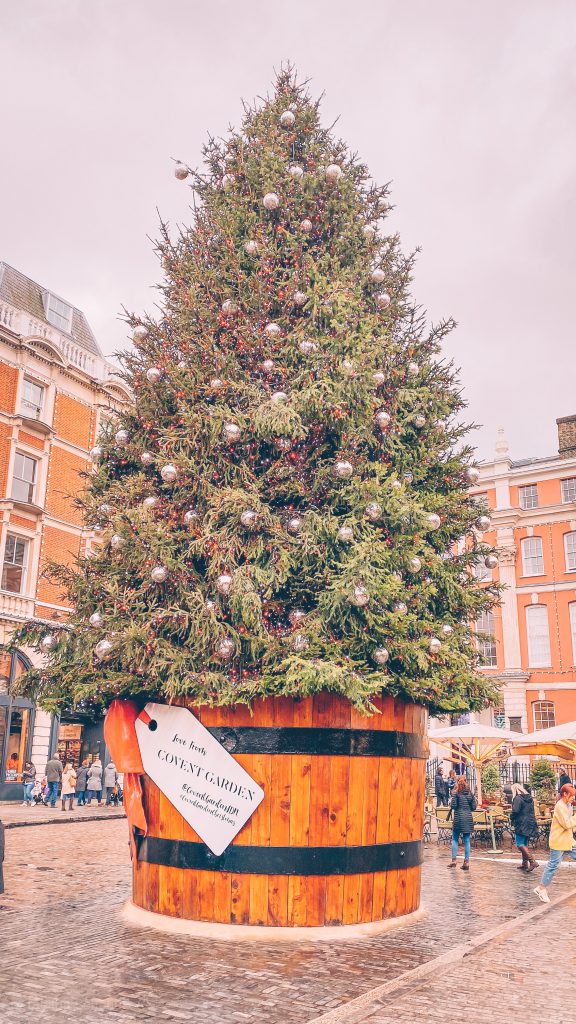 Shops, Department Stores & Shopping Arcades
Maddox Gallery
The art gallery located in Mayfair gets a makeover every year. This year it was decorated in the most beautiful blue colors.
Tip: You don't have to get there during their opening times as you can easily take pictures outside. Also, it's not necessary to make it your first spot in the morning as the people nearby are usually moving fast and it's easy to get a picture without other people in it.
Maddox Gallery | Location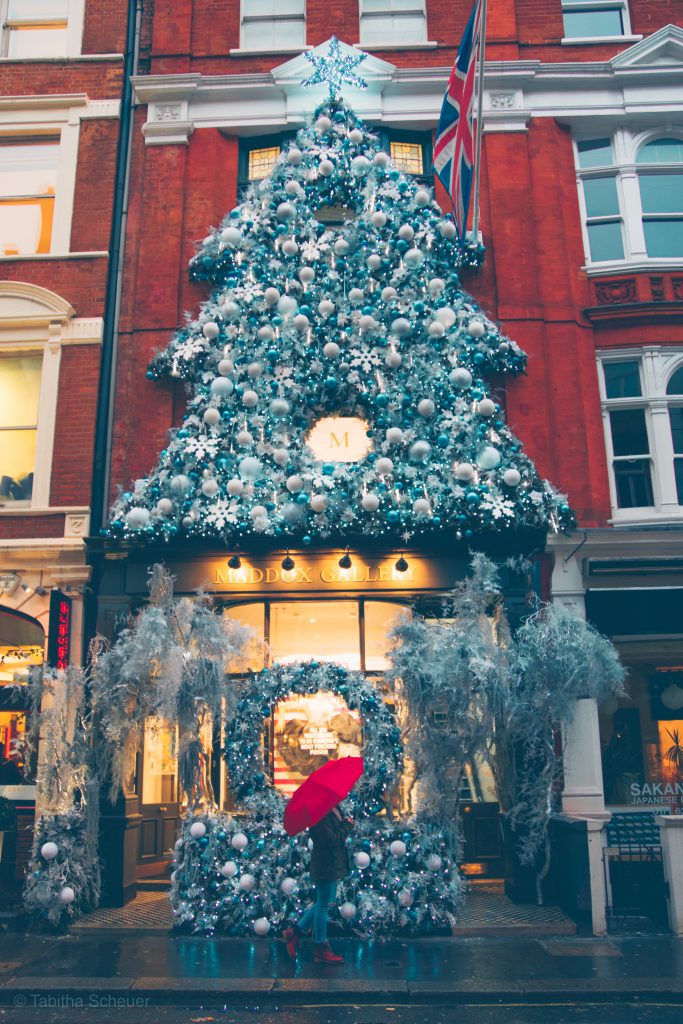 Royal Arcade
A very beautiful shopping arcade in London located in a christmassy street is the Royal Arcade.
Tip: You need to be there during their opening hours as the Arcade is closed during the night. Be there around 9am to get beautiful pictures without other people in your photo.
Royal Arcade | 9:00-18:00 Mon-Sat; 10:00-15:00 Sun | Location
Ede & Ravenscroft
Ede & Ravenscroft are the oldest tailors in London, being established in 1689. They have more locations in London, but you need to visit the one in the Burlington Gardens as it's decorated in a very christmassy way.
Tip: You don't have to be there during their opening hours as you can take pictures with their door being closed. Also, you don't have to be there very early. Hence, I'd advice you to visit the next spot first and then simply walk past by Ede & Ravenscroft.
Ede & Ravenscroft | Location
Burlington Arcade
Another beautiful Arcade that's decorated very christmassy. They change their decorations every year. This year we were surrounded by a silver-golden arcade.
Burlington Arcade | 9:00-19:30 Mon-Sat; 11:00-18:00 Sun | Location
Fortnum & Mason
This department store is just incredibly christmassy and whilst you can also shop your Christmas presents here, you will be overwhelmed by the massive Christmas trees.
Fortnum & Mason | 10:00-21:00 Mon-Sat; 11:30-18:00 Sun | Location
Harrods
Definitely London's most-known department store. It's located in Knightsbridge and you should definitely plan some time here if you want to see what's inside. Don't forget to snap their luxury Christmas decorations inside and out.
Harrods | 10:00-21:00 Mon-Sat; 11:30-18:00 Sun | Location
Festive Streets
Hatton Garden
Hatton Garden is a commercial street in the Holborn district of Camden. This year, a gigantic walkthrough Christmas bauble was set up in the most beautiful colors.
Tip: Visit Hatton Garden during the night when it's dark to get the best of the beautiful baubles.
Hatton Garden | Location
Oxford & Regent Street
I could stand there and watch the angels light up for hours and hours! These streets are probably the most famous in London, and Regent Street features London's largest Christmas lights display.
New Bond & Old Bond Street
These two streets are home to designer shops, luxury fashion and art stores.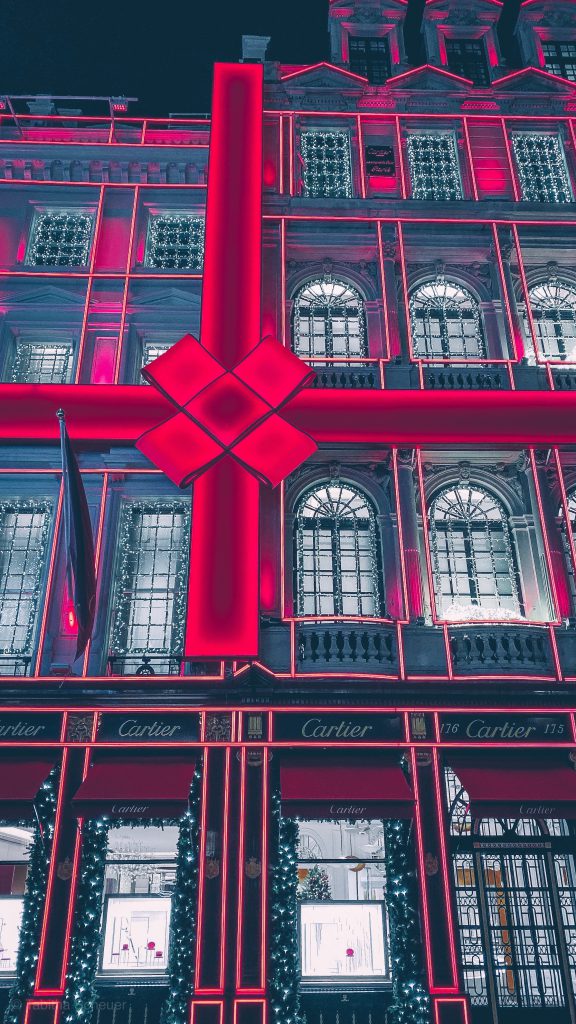 Carnaby Street
Carnaby Street's Christmas lights are famous and have a different theme each year. This year, the theme was 'save our ocean'
Elizabeth Street
Elizabeth Street in Belgravia is famous for its Cafés and especially during Christmas time, it turns into one of the most gorgeous streets in the city.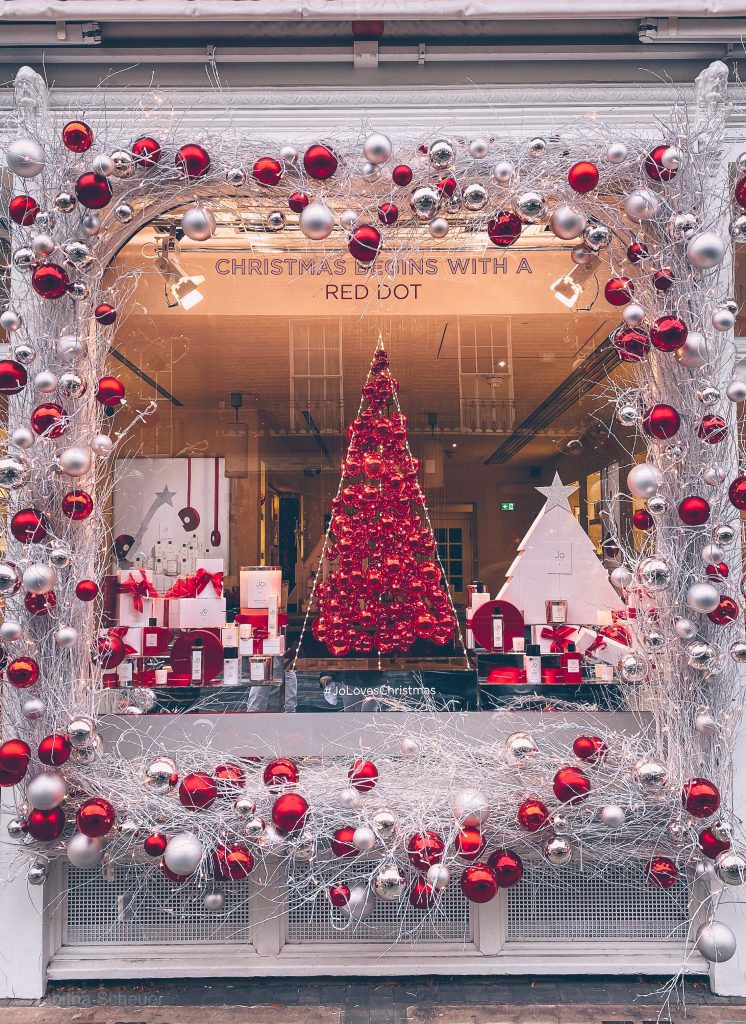 Restaurants & Clubs
Coppa Club Igloos
Those are a huge Instagram spot and actually I wanted to book an Igloo for dinner which was impossible. If you want to do so, be early!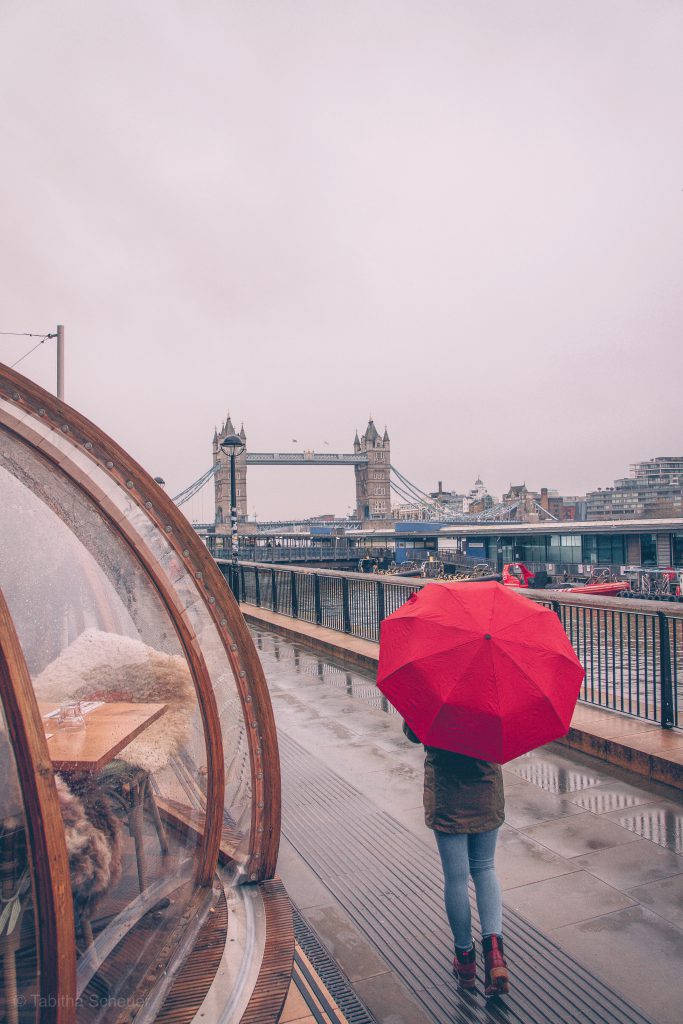 Annabel's at Mayfair
Annabel is a member-only club and you'll see only very, very expensive cars there. The club became famous for it's beautiful Christmas decoration that you can adore for free from the outside.
Tip: Don't try to snap a picture during sunset as it's super busy there and apart from the people who want to go into the club, there are many people trying to get the perfect Instagram picture.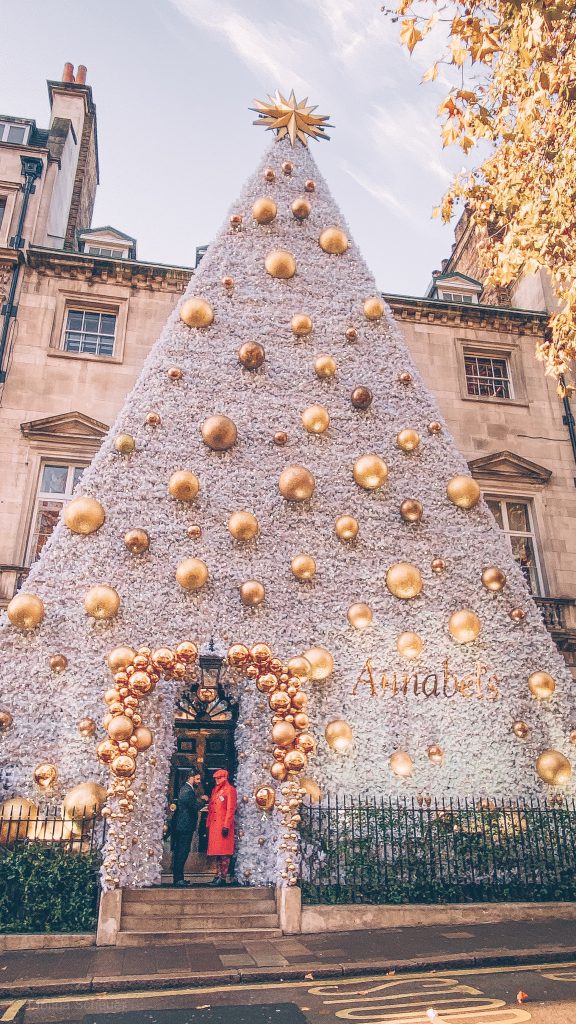 The Ivy
Actually, there are more than two 'The Ivy's' in London, but these two were especially beautiful and christmassy.
The first one is located in Chelsea and is famous for its beautiful decorations during Christmas time. The second is in Saint Giles nearby the tube station 'Tottenham Court Road'.
Sketch
Usually 'Sketch' is known for it's beautiful Christmas decorations. Unluckily, this year there is a huge construction site and it's not possible to snap a picture. Instead, you can still go inside and enjoy their food and tea. Be sure to book online in advance.
Ice Rinks
Natural History Museum
To me, this was the most beautiful ice rink I've ever seen!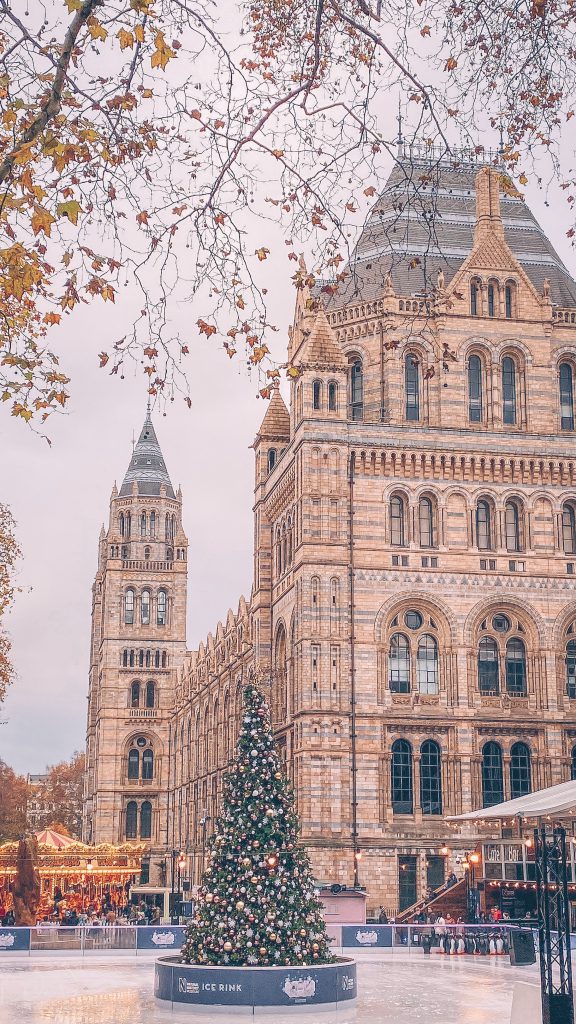 Somerset House Ice Rink
Here, you can skate day and night, but there is a limited number of tickets and skating sessions. So, make sure to book yours beforehand.
Christmas Markets and Pop-Ups
Winter Wonderland at Hyde Park
I promise you, you can spend hours and hours here! This is the biggest Christmas market I've ever been to. The area offers many restaurants, festive food stalls, and more than 200 wooden cabins selling handmade crafts and Christmas gifts.
The best time is to go here in the evening when everything is light up and magical.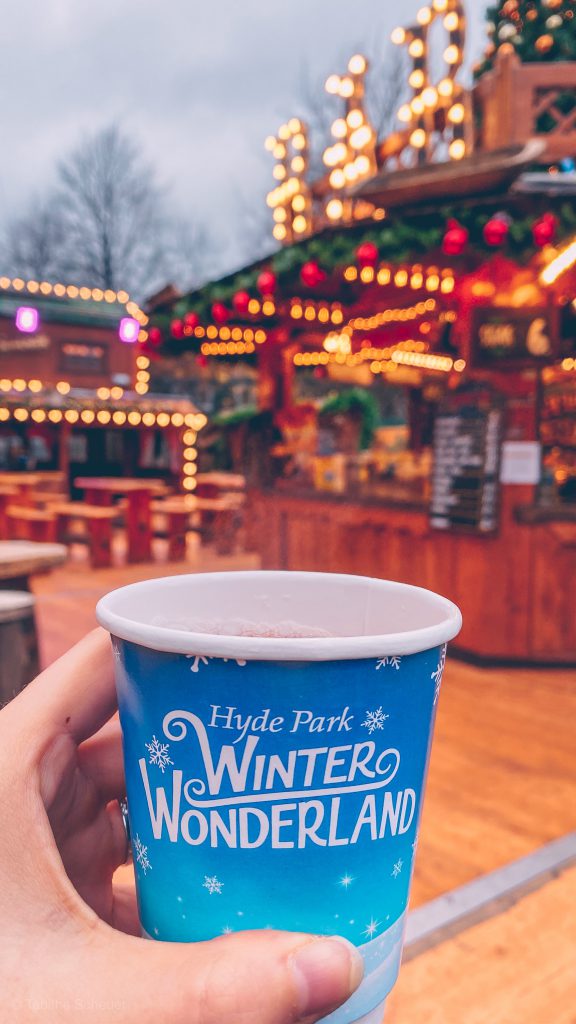 Christmas by the river at London Bridge city
This traditional Christmas market along the Thames feels unreal. With the Tower Bridge as its gigantic backdrop, this one is definitely worth a visit.
Southbank Centre Winter Market
This here was one of the first Christmas Market's I've visited in London, and I loved it! Be sure to try the mulled plum cider.
The Winter Forest at Broadgate Circle
The nordic-inspired Christmas pop-up is located right behind Liverpool Street Station. If you want to snap some good Instagram photos, be sure to arrive early when it's still dark.
Kew Gardens
Kew Gardens is already a pretty instagrammable place during the year, but it gets kinda unreal in the Christmas period. Thousands of lights illuminate this place!
King's Cross St. Pancras
Yes, we actually drove there just to see the Eiffel Tower. In pink. With thousands of lights. I'd say, it's okay to stop by when you actually drive into this direction, but it's not worth to drive there just to see the 'Eiffel Tower'.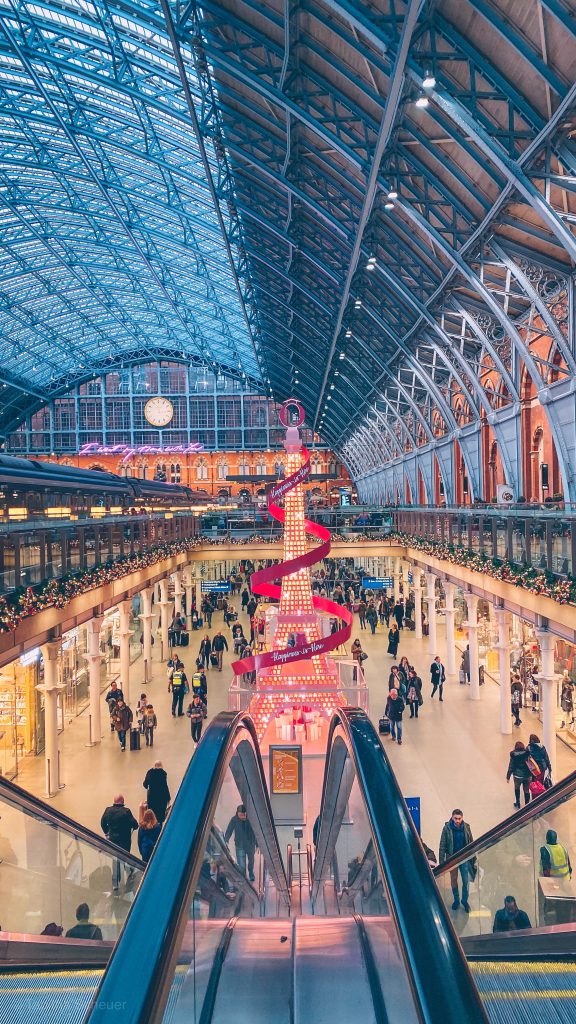 I hope you enjoyed reading about those spots and that you discovered some great places in London during wintertime! 🙂
Interested in my favorite Christmas markets in Cologne? Read more about it here.
Pin this post to read again later!