I bet you always wondered how these cute Instagram couple pictures really work out and if they have a photographer following them every step of their way or how they manage to get these pictures. This article will tell you exactly how to get those pictures yourself – without paying for a photographer!
As you may have noticed, many pictures on this blog are taken by my fiancé, Florian, and picture myself. Before I forced him to do so, he never had a camera in hand and it took a long time to explain everything to him.
If you are new here and do not know me yet: Hi, I am Tabitha, 24 years old and a digital nomad and professional photographer for 5 years already.
We recently considered taking some photos of both of us. Unfortunately, the first ones didn't work at all and went straight to the bin, but after a while we got better here and would like to share some tips with you today.
If you are not a travel couple, but maybe a solo woman or man, then don't stop reading! You can simply use these tips to take pictures of yourself.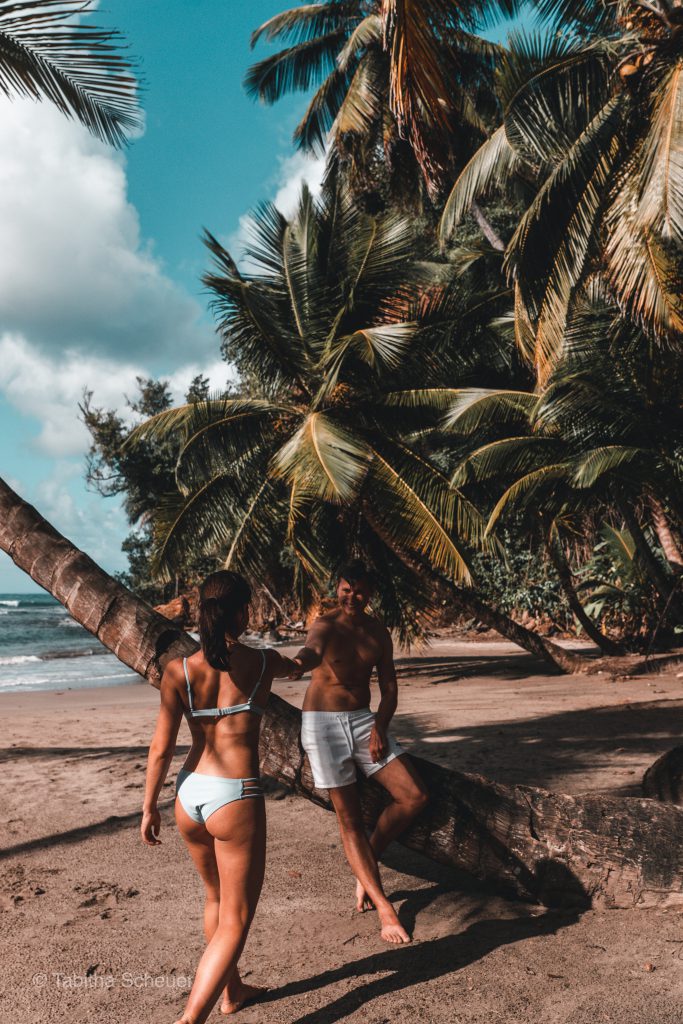 1. THE TRIPOD IS YOUR NEW BEST FRIEND
If you do not want to rely on other people taking photos of you, a tripod is your best choice. In the past, we tried different tripods and I'd definitely advise you to go for a more expensive one as a cheaper tripod (cheaper doesn't mean cheap) already broke during one of our trips. Very sad, because we needed it for the whole trip and not only for a day!
A tripod lets you choose what you want in frame and how your picture should look like. Just set up your tripod and your camera, and you're halfway done.
Tip: When buying a tripod, make sure it's not too heavy!
2. ACT NATURAL
The best pictures are the ones that are not posed. It's hard and we are currently finding our way through this too, but we mostly try to put the camera in time-lapse mode and take 1 picture per second for 2-3 minutes. Once it starts taking pictures, we just act natural. In 99% of the time, there is at least 1 good photo, but it's a hard time to figure out how to act natural in front of a camera.
We shoot with a Sony DSLR where you can easily download a Timelapse app. If you don't have this option, you can also buy an intervalometer which does the same. They usually cost around €15.
3. MAKE SURE YOU ARE IN A GOOD MOOD
Trust me, pictures will display your mood in facets you didn't even know. We tried shooting with a bad mood several times and it never really worked out. For us personally most bad moods are the results of not having enough food or rest. That's why we don't even get started if we did not have food or enough sleep (or at least enough coffee).
4. GET THE FOCUS RIGHT
The hardest part of getting a good shot is getting the focus right. Depending on the camera you use, you will have access to different focusing modes.
We always use manual focus as it works perfectly with the Sony Alpha; there is even a function that let's you set the focus manually and then the focus points will follow the focused object.
That makes it even easier to shoot when acting natural.
5. DON'T CARE ABOUT WHAT OTHER PEOPLE THINK
That's probably one of the most important parts, because at the beginning, we were super afraid of the people around us. We challenged ourselves and took pictures in overly crowded Paris and ever since it is no problem anymore.
You will get used to it during your journey, but always remember that you won't ever see these people again and why should the opinion of an unknown man or woman really bother you?
Photography tips you might enjoy:
Liked this post? Pin & Share it!