Hideaways is a Nature Lover's Dream. And we almost missed it because we only ended up with Jennifer and Crispin, because we were stuck on Dominica due to the Covid-19 virus. We didn't know what to expect, but in retrospect this stay in the beautiful handcrafted cottage changed our whole opinion about the island.
Picture two lovely people owning a completely handcrafted hillside cottage with the most beautiful panoramic sea and mountain views. With birds singing and fresh air surrounding everything.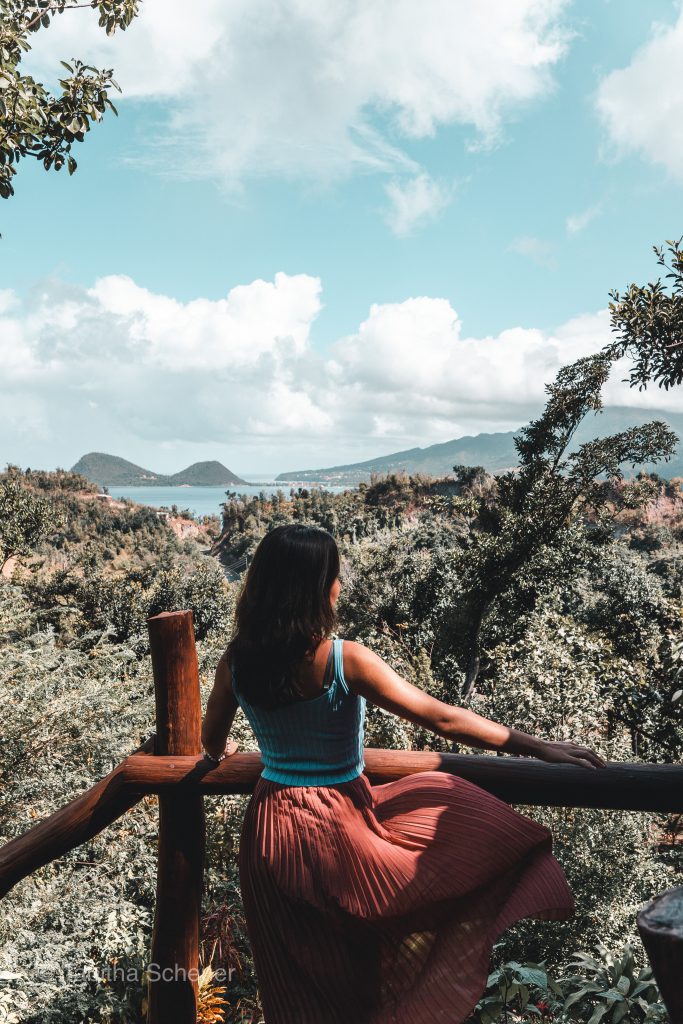 Background Story
Usually this part is not part of a review, but given the unusual circumstances that brought us to this accommodation, I would like to tell this story.
Florian and I booked a few days on Dominica in early April. We traveled by ferry from Guadeloupe and originally we only wanted to stay for 4 days.
We booked a cottage in the village of Trafalgar, which disappointed us and in view of this, our first impression was rather modest.
However, on the day our ferry was due to go, France decided to shutdown completely, which is why we were caught on the island. At first we considered returning to our old apartment, but it was already rented out. Hotel? Airbnb? We didn't know what to do, but decided to go with an Airbnb again. There were still three available and hopefully I wrote a message to Jennifer, owner of the Hideaways of Tibay Heights. It was very short notice and she asked directly about our arrival time to go to work immediately (thanks, Jenn!).
Jennifer replied quickly, politely and even helped us book a rental car.
Hideaways of Tibay Heights
After having a bad experience on Dominica, we didn't have particularly high expectations for this Airbnb – especially not because we didn't know what it would be like to live in an open space.
Hideaways surprised us – in every possible way. It was modern, it was handcrafted, it was beautiful, and most of all: it was clean!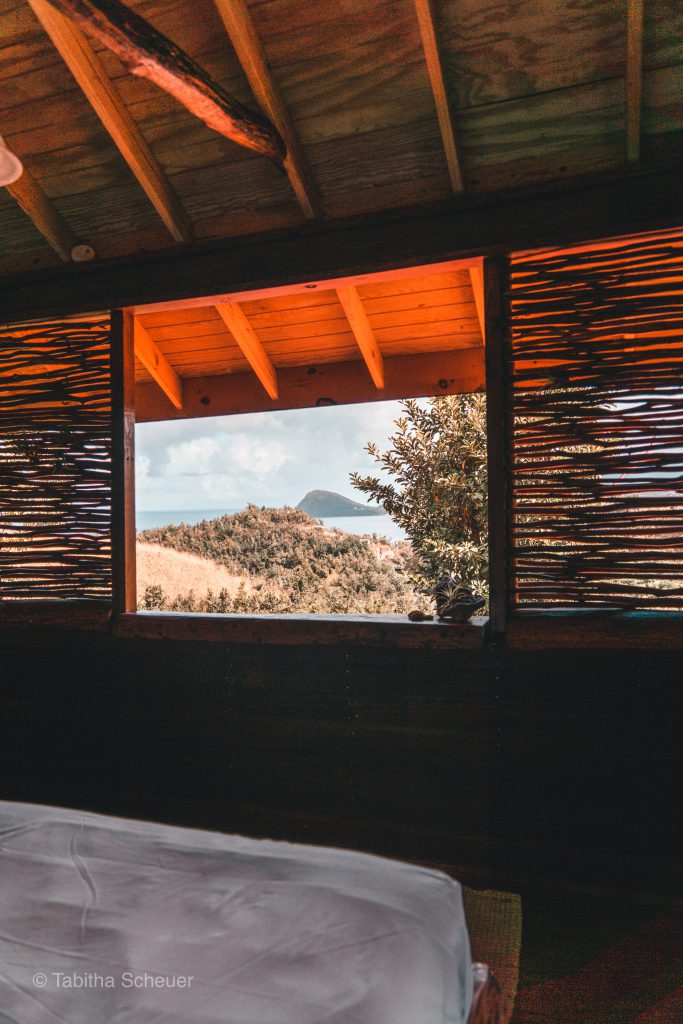 Transfer to the Airbnb
We recommend a car for the transfer to the apartment, since you will of course be taken by bus to the entrance to the property, but the cottages are still a bit away.
Of course, you can also go by taxi but remember that this will be more expensive.
Check-In
When we arrived by car in the evening, two men and three dogs were already waiting for us to arrive. We were greeted warmly and escorted to our cottage, while we were also helped with our luggage.
Jennifer then waited for us at the cottage and told us that she had cleaned and disinfected the cottage all day because products are replaced every time. I was actually really surprised because this is … rare.
Design
Design is very subjective, but this Airbnb is a dream! It is a kind of tree house, completely designed and built by themselves. It fits perfectly into the environment, is very openly designed and is simply everything, but not 08/15.
Rooms
We stayed in the "FouFou Cottage" which is built for two persons, but there is another cottage on site for a family.
To us, the FouFou Cottage was more than perfect. The cottage has everything you will need during your stay:
modern bathroom with a spacious shower
king size bed with fresh linen and mosquito net
kitchenette
verandah with couch and hammock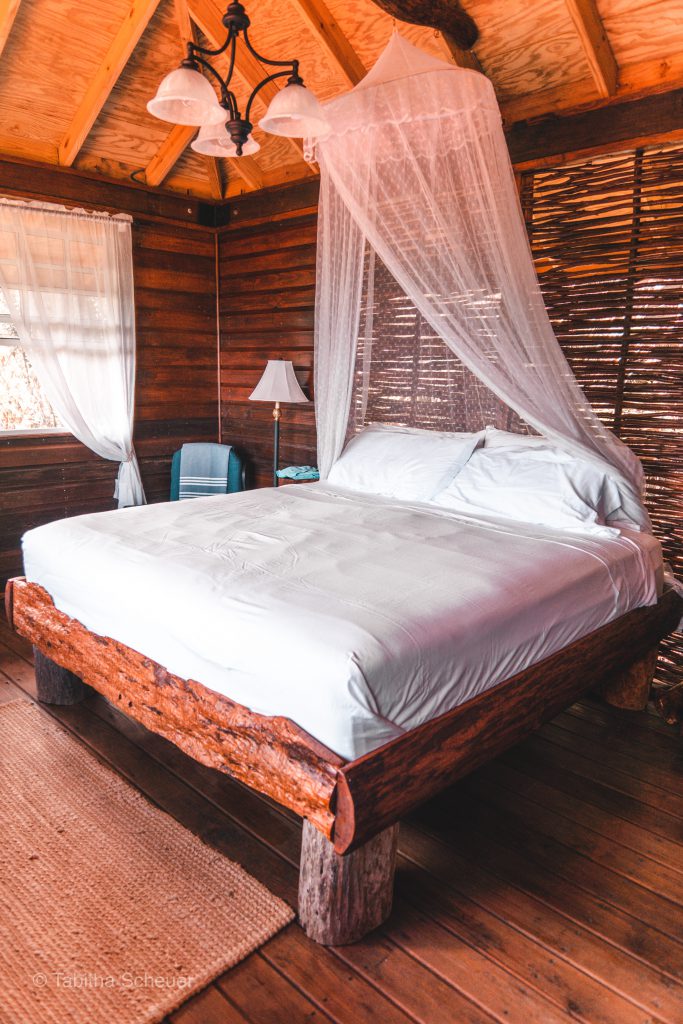 Common areas
As the FouFou Cottage is a private space, you do not have any common areas with other people.
Location
The Hideaways of Tibay Heights are located in Tibay, a small city nearby Portsmouth. It is in the north of Dominica and perfect for exploring the island.
Nearby attractions are:
Cold Soufrière
Spanny & Jacky Falls
Salton Falls
Emerald Pool
Different beaches
Spa & Wellness
Since the Hideaways of Tibay Heights are no hotel, there is no Spa or Wellness. However, since you will be able to admire the beautiful waterfalls and take a relaxing bath in refreshing pools, this should not be disturbing or missing in any case.
Food & Beverage
Booking this apartment comes with breakfast. And, to be honest, I did not expect much, but – again – Jenn surprised us with her skills. Every day, she baked the most delicious cakes for us, brought us fresh fruit and we couldn't be treated better. Breakfast always comes with fresh tea and coffee is available on site.
Value for Money
With €110 per night, the FouFou Cottage is in the medium price range. Given the fact that we're on Dominica with a good location and excellent service, it is more than justified.
If you compare the price and the service that is included with other hotels or apartments, the value for money is very good.
Summary
To us, our stay at Hideaways really changed our stay on Dominica. Beforehand, we were disappointed and sad, but Jennifer and Crispin really made our stay unforgettable and enjoyable. We loved waking up to a natural breeze, beautiful views and nature not only in view but surrounding us in total.
A huge thank you to Jennifer and Crispin who helped us in this difficult situation and talked to us whenever we felt a little lost.
Related: Dominica Travel Diary.
Found this post helpful? Pin & Share it!