We spontaneously decided to visit Mainz for the first time. After all, Mainz was supposed to be a beautiful city, and we persuaded ourselves to take a walk along the Rhine, a fresh glas of wine and exploration tours through half-timbered streets, which we liked straight away and reminded us a little of our last visit to Monschau.
We love getting to know cities, visiting the most beautiful cafes, strolling in the old town and finding the best spot for the sunset. Preferably with a good glass of wine. This has been an uninterrupted tradition since our first vacation in Italy, in which we enjoyed incredibly beautiful sunsets and even better wine.
Mainz did not disappoint us a bit, because wine, cuisine and enjoyment immediately seem to be important characters in the beautiful city. In any case, we have something in common with Mainz!
In this post, I'd like to share my tips for sights, cafés, and restaurants with you.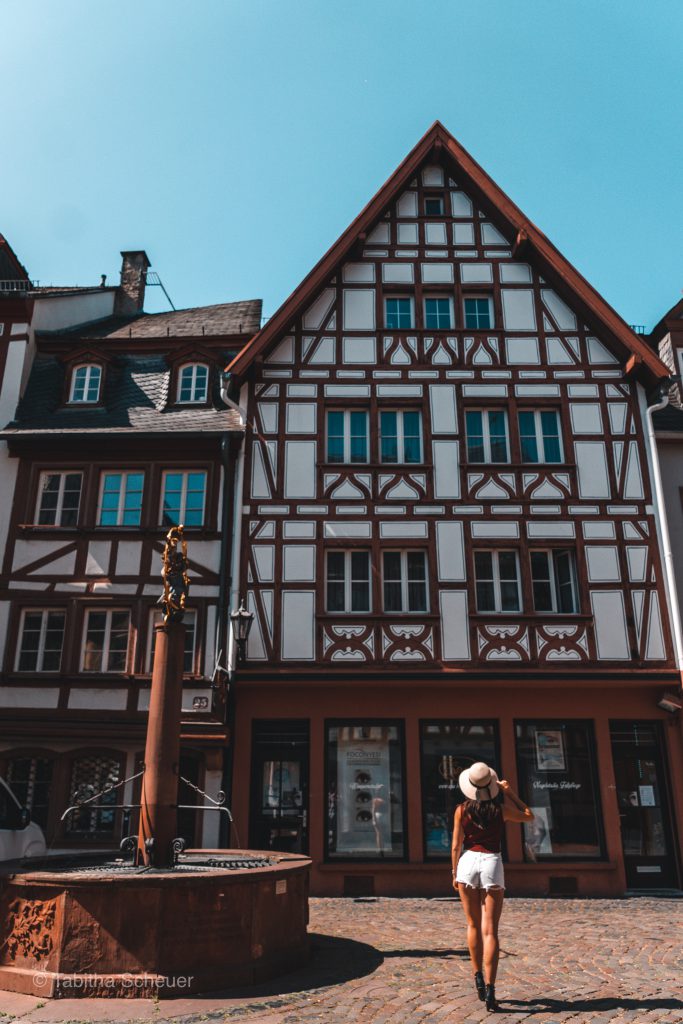 Sights in Mainz
Mainz Cathedral | Mainzer Dom
The Mainz Cathedral is the symbol of the city and reminds us that Mainz was once the church center north of the Alps. The foundation stone for its construction was laid as early as 975 and the cathedral was modeled on St. Peter's in the Vatican. Since its construction, the Mainz Cathedral has had to withstand seven fires. Fortunately, the cathedral was saved every time.
The Mainz Cathedral was badly damaged in World War II, but restored again. Today it is one of the most important sights of the city and rises above the market square in the center of Mainz. In fact, the stone was only tinted red about two centuries ago to adapt to the surrounding buildings.
Mainz old town
German old towns are generally known for their colorful buildings and impressive architecture – Mainz won't disappoint you there either. The buildings on the market square are beautiful, colorful and in an original style.
Many of the buildings have small shops, restaurants, and cafés. Perfect for an afternoon break.
There are also many side streets in Mainz with other shops and sights. Particularly popular places are the Kirschgartenplatz with its wonderful half-timbered houses, but also the Augustinerstraße.
Anyone walking through Mainz should always be aware that they are probably walking over stones that are almost 2,000 years old and are only a few meters underground. Crazy, right?
The State Theater
The Mainz State Theater cannot be overlooked! This opened in 1833 and actually houses two interconnected theaters. With a constantly changing offer, a visit is definitely worthwhile!
Gutenberg Museum Mainz
If you are generally interested in print and literary history, the Gutenberg Museum in Mainz is a must for you! It was opened in early 1900 to pay tribute to Johannes Gutenberg – the inventor of the printing press! Did you know that Gutenberg completely revolutionized printing and that the museum even houses two so-called "Gutenberg Bibles" from the 15th century?
"Mainzelmännchen"
The Mainzelmännchen are six cartoon characters named Anton, Berti, Conni, Det, Edi and Fritzchen, who mainly serve as advertising separators on ZDF (German TV).
Its name comes from the city of Mainz, the seat of ZDF, and from the Heinzelmännchen. In Mainz you can even find the little males in the traffic lights and they somehow have a tradition in Germany because everyone now and then watches ZDF and knows the Mainzelmännchen.
St. Stephan and the Chagall windows
Around 200,000 visitors from all over the world make a pilgrimage to Stephansberg every year. And if you did not think that church windows could fascinate you, you have definitely not been to Mainz, because the blue glowing Chagall windows by the artist Marc Chagall change this suddenly.
The glowing windows depict scenes from the Old Testament, Adam and Eve in paradise, and much more.
Mainz weekly market on the cathedral squares
If you like markets as much as I do, you should make sure you get a Tuesday, Friday or Saturday on your trip to Mainz. Because then one of the most beautiful markets in Germany will take place on the cathedral squares. It takes place on the days mentioned from 7am to 2pm.
Mainz wine market
The largest wine festival in Mainz is probably the Mainz wine market. Not only sounds great, it is! Because here you can try wines from Mainz and Rheinhessen. Unfortunately, it will not take place in 2020, but hopefully we can visit this wonderful market again in 2021!
Tips for cafes and restaurants
Wilmas Wunder
The Wilma Wunder now exists in numerous German cities, including Cologne and Düsseldorf. Unlike other chains, each branch is furnished in its own, authentic style and convinces with wonderful details.
In Mainz you can enjoy your coffee directly on the market square or on the balcony with a view of it. In addition to snacks, you will also find a good offer for lunch & dinner as well as vegetarian and vegan options.
Le Tosh
Those who like French flair will love Le Tosh. There are delicious snacks, sweet dessert, good coffee and – of course – lots and lots of good wines.
Café Annabatterie
The most beautiful café on the square is probably called Annabatterie, because it has already received an award! As one of 141 favorite cafés in Germany, the Annabatterie in Mainz received the award.
In addition to good coffee, you will also find delicious cakes and tarts here, which many people in Mainz like to order to take away. No wonder, because usually the seats in the beautiful Mainz café are completely occupied.
Tips for the sunset
The Rhine promenade, also known as the Adenauer Ufer, stretches from the Zollhafen to the old town and is perfect for an evening stroll. The most beautiful we found the Mainz beach, which exudes a real holiday feeling with palm trees and the finest sandy beach.
By the way: If you go over the bridge to Mainz Kastel (which officially belongs to Wiesbaden), you can relax on the Kasteler beach and enjoy the sunset.
Photo tip for Mainz
Besides being incredible beautiful and enchanting, the old half-timbered houses in Mainz are the perfect photo opportunity to spice up your Instagram Feed!
Posts that you'd also like:
Love this post? Share it on Pinterest!