Veni, Vidi, Amivi – we came, we saw, we loved. | This definitely describes our feelings towards Venice. The choice to visit Venice as the first destination of our trip was the perfect way to get a beautiful, picturesque introduction to Italy. Venice, which very quickly became one of my favorite cities I've ever seen, is a magical floating city that looks as if it was pulled out of a fairytale. When we got out of our bus, we couldn't believe our eyes! Everything looked to beautiful. Old buildings with red tile roofs, surrounded by turquoise water, beautiful shops and .. well, it just blew my mind.
Before we went to Italy, many people told us either that Venice is the most beautiful city they've ever been to or that it's an overrated tourist trap and that the whole city stinks of sewage, garbage and is simply dirty. Well, I have no clue what Venice they were talking about, but the Venice I've been to definitely wasn't.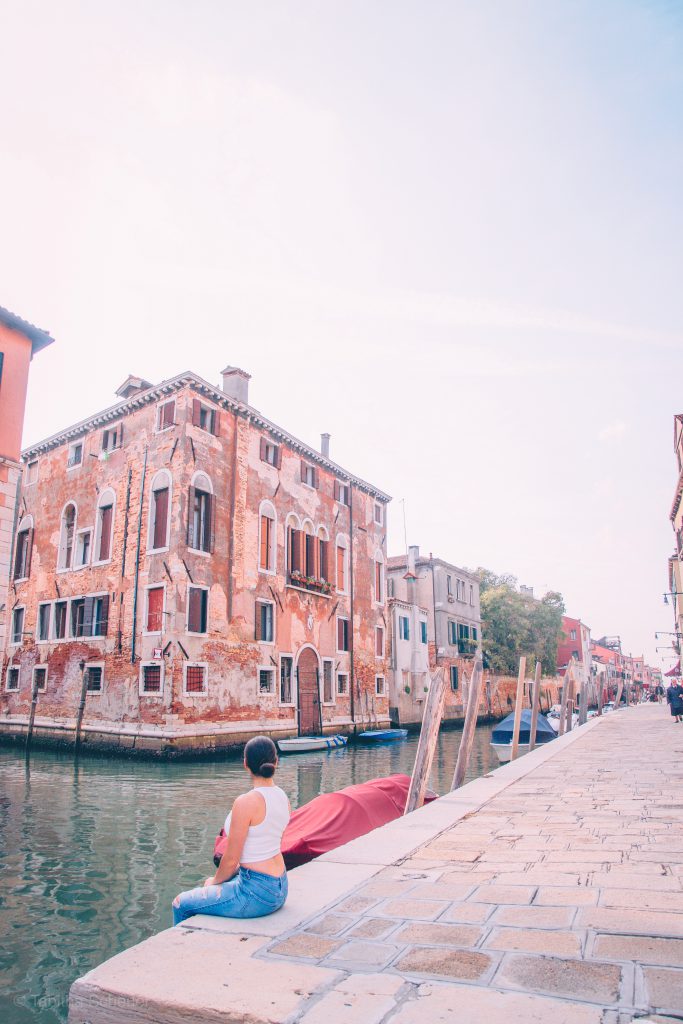 Venice may be one of the most toured cities in the world, and the amount of tourists there somehow steals a bit of its beauty… when we were there, we felt like we're in 'little Germany' as everyone around us was talking German, not Italian. This kinda cramped its authentic vibe, but I still think it's one of the most amazing cities in the world and I cannot wait for my next visit.
For our trip, we stayed at a beautiful Airbnb in Cannaregio, ate excellent (and very cheep) food and spent most of our time crossing narrow bridges, wandering around the canals, and visiting the city's iconic spots.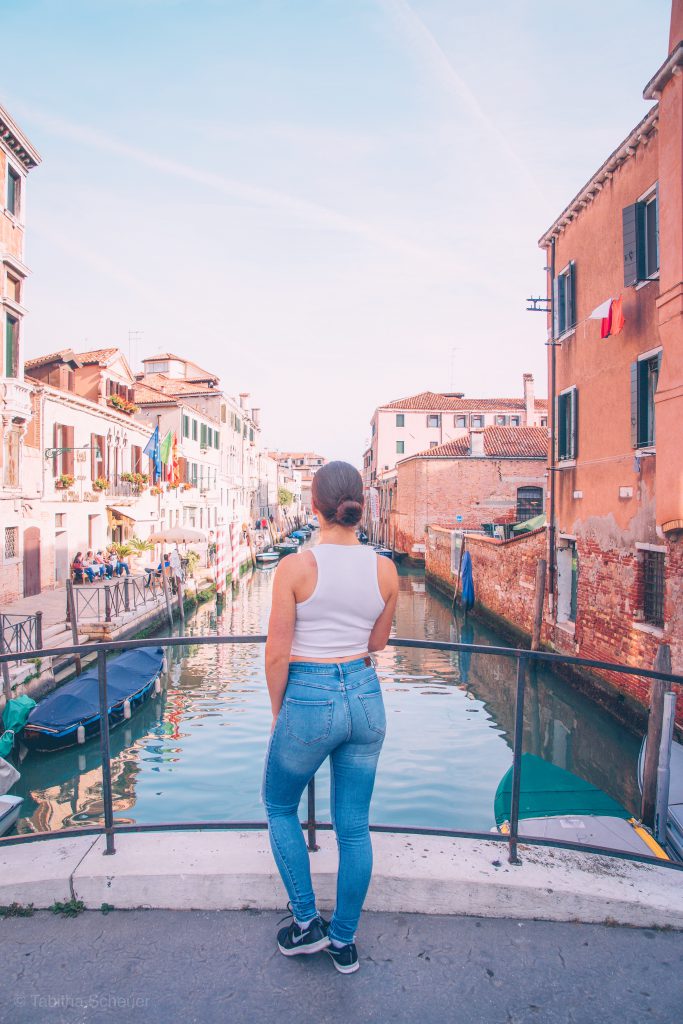 Even though we stayed there for more than a day, I know that Venice is a popular day trip from Milan or Florence. Hence, I wanted to guide you through Venice for 24 hours.
24 hours in Venice – Overview
DAY 1 AM / Enjoy the beauty of Venice on your own
DAY 1 PM / Pizza from a wood oven while listening to gondoliers
DAY 1 Evening / Enjoy the local culture, and some Aperitivo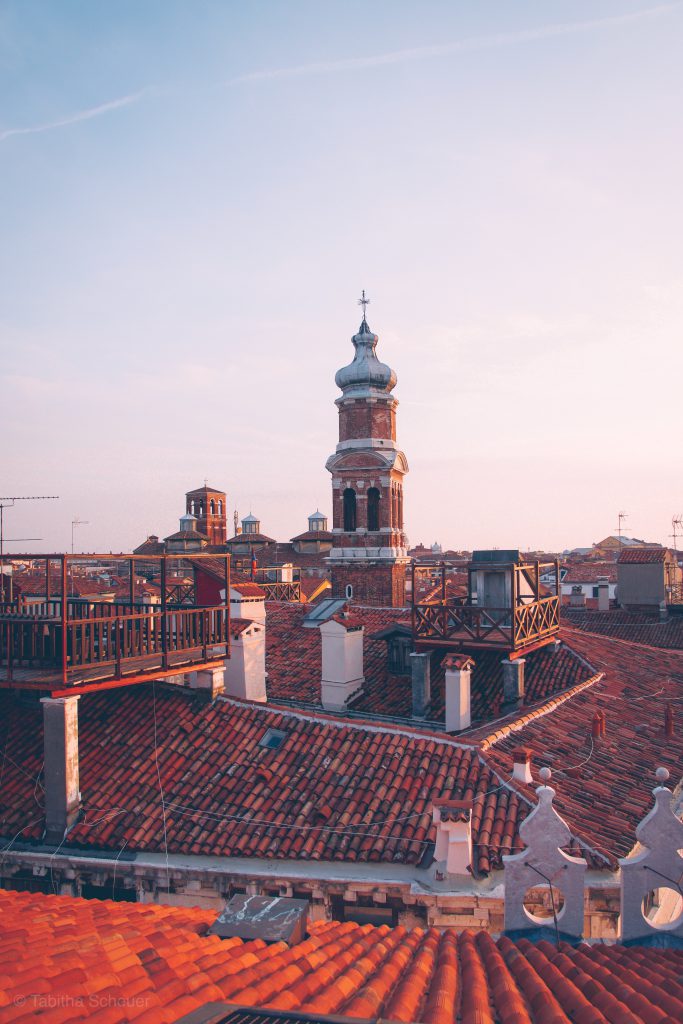 Why go to Venice?
Visit one of the most beautiful cities in the world
Wander around the canals and visit the city's most iconic spot – Piazza San Marco
See one of the most famous libraries world-wide
Enjoy good food and get lost in these picturesque streets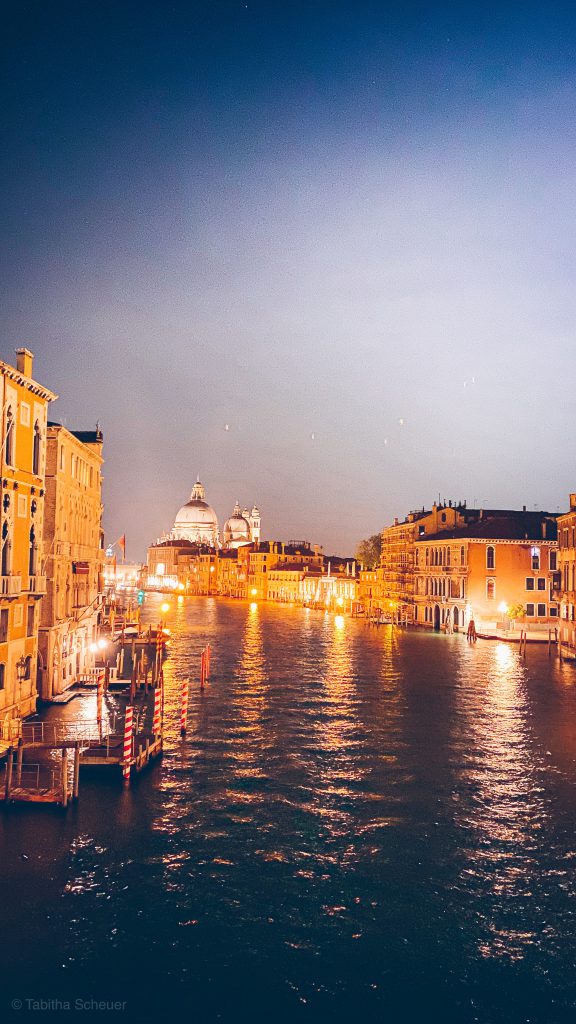 Day 1 AM / Enjoy the beauty of Venice on your own
Start your day early, ideally before the sun goes up and make your way to Piazza San Marco. You will definitely not regret getting up early in this beautiful city, because this way you can enjoy the most iconic spots completely on your own.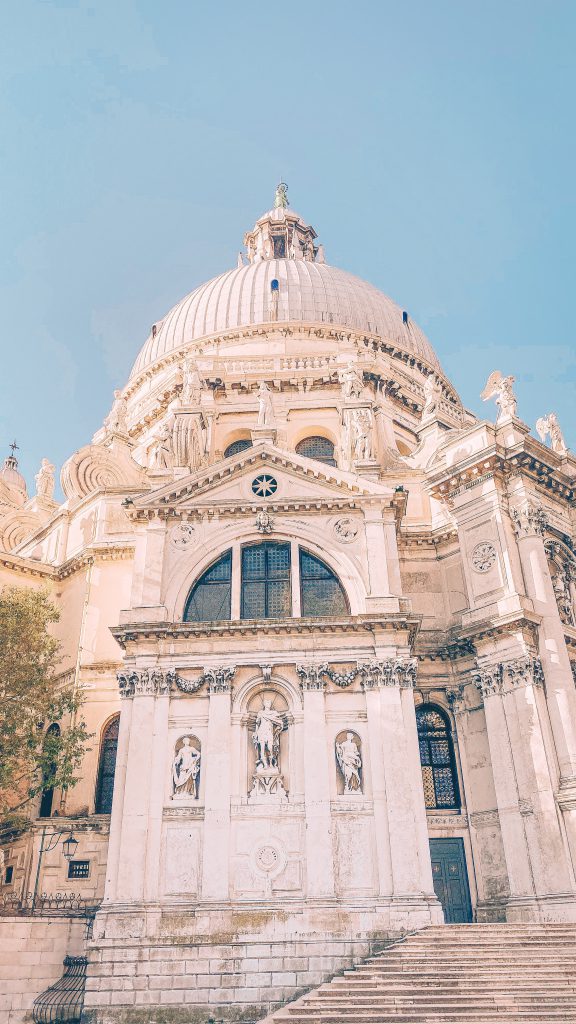 Luckily, Venice's famous attractions are concentrated in two central areas of the city – Piazza San Marco and the Canal Grande. Hence, you won't have to walk long distances to see the beauty of Venice's famous sights on your own.
Piazza San Marco
Piazza San Marco is, according to Napoleon, Europe's most beautiful guest room. It's an area you will pass by a lot during your trip, and still won't get tired of. Piazza San Marco is surrounded by the city's most famous buildings, cafés, restaurants, boutiques and art galleries. It is definitely the most lively and beautiful square in town. Despite the crowds, it is fun to be in the square at different hours of the day, enjoy a coffee in one of the old cafés and listen to live orchestra playing classic music all day long.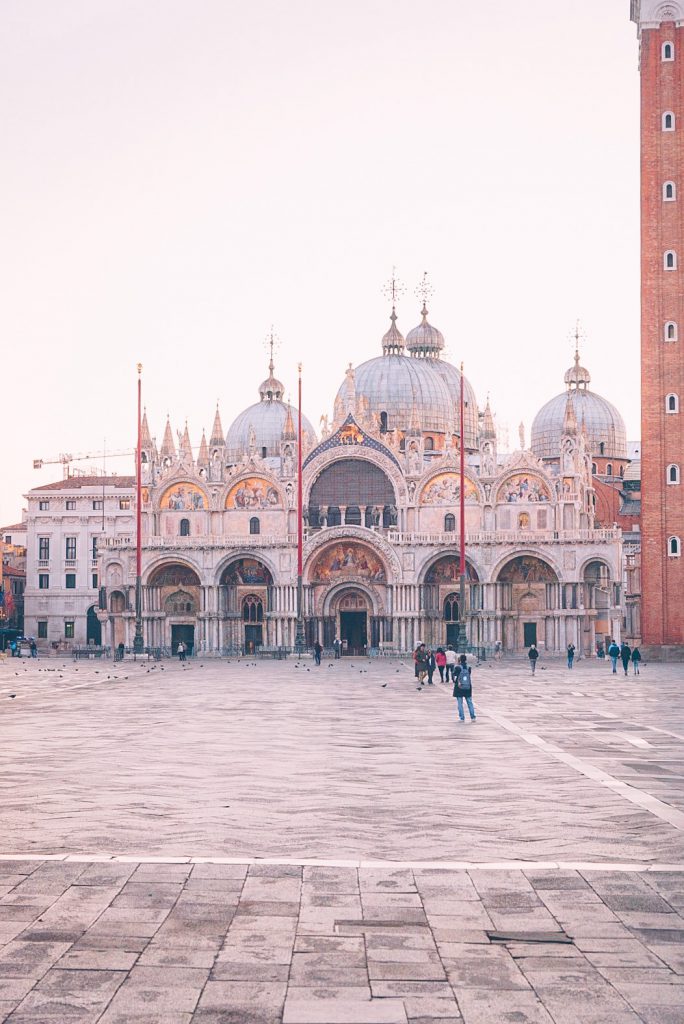 Famous buildings around San Marco
BASILICA DI SAN MARCO | One of the most beautiful cathedrals I've ever seen. It's quite small, but decorated with colourful ornaments and mosaics, statues, marble spiers, it's a building I could stare at forever. It used to be the central state sanctuary of the Republic of Venice, because it was the first church consecrated to St. Mark to keep the bones of the evangelist taken from Alexandria.
CAMPANILE DI SAN MARCO | The red tower, to the right of the basilica, is the bell tower of St. Mark's Basilica. The five bronze bells are to be heard throughout Venice, and therefore had an important importance, especially in earlier years. Depending on the bell, the sound was given a different meaning. For example, the bell Renghiera or Maleficio announced an execution, while the Nona sounded for lunch. The Markusturrm has also influenced the architecture of several other towers in various countries.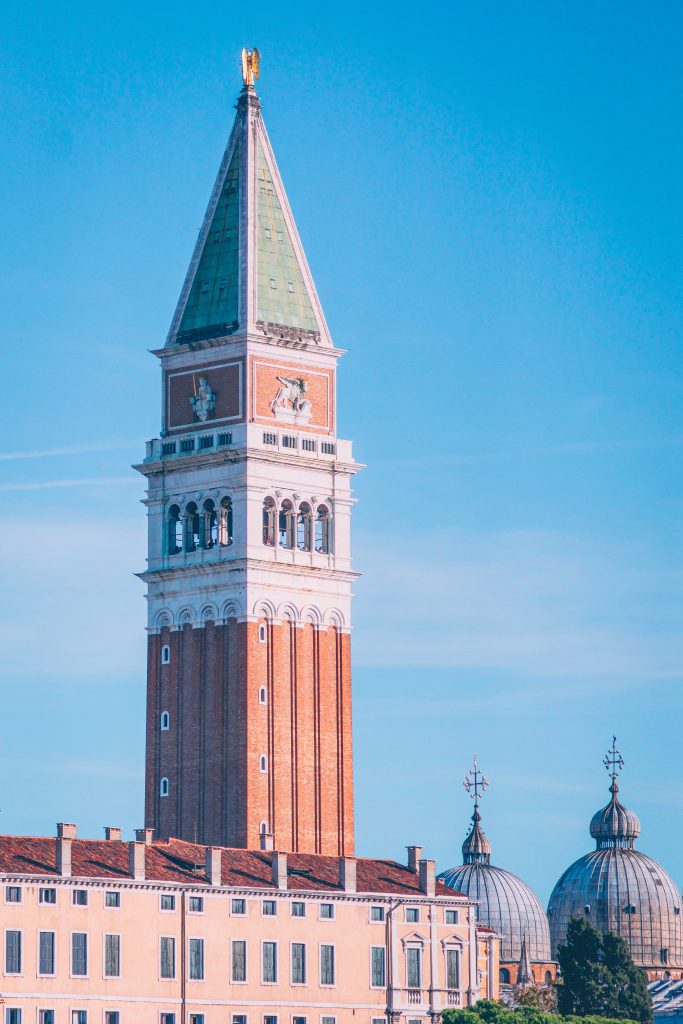 TORRE DELL'OROLOGIO | The famous clock tower which stands at the north end of the square is known for its bronze statues that ring the big bell every hour since 1499.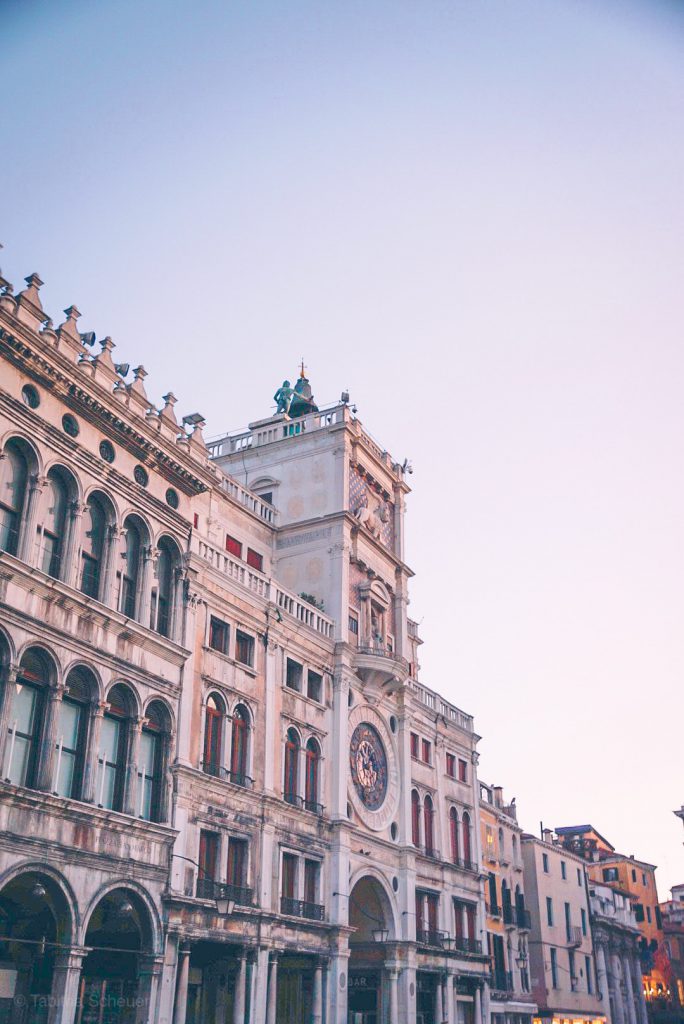 PALAZZO DUCALE | Rich with gothic ornamentation, which took more than 100 years to construct, the Palazzo Ducale is an impressive building. The historic building used to serve as the residence of the Duke of Venice and the center of the Republic, and is now open to visitors. One of its most famous parts is the Ponte Dei Sospiri, the bridge of sighs. Named so because it was once the place where the prisoners used to walk on their final route to their cell, and it is said that the prisoners would sigh when they would see beautiful Venice through the small windows of the bridge for the last time.
Ponte di Rialto / Rialto Bridge
Located at the Canal Grande, which is the central canal that goes through Venice's historic center and in fact acts as the city's 'main street'. The Canal Grande is crossed by six bridges, the most famous one is the Rialto Bridge or Ponte di Rialto. It is the oldest bridge and in its center are jewellery and souvenir shops.
Rialto Mercato
The Venice Rialto Market is a unique market in the world. It's a commercial hub of Venice since 1097. From 7:30am-13pm from Mondays to Saturdays, it's a lively area where you can buy fresh goods, fresh fish and everything else from glassware to marbled paper.
As it's only a few meters away from the Rialto Bridge, walk past by it and then avoid the upcoming tourist masses by spending some time in Cannaregio.
Cicchetti at Bar All'Arco
After visiting the market, grab some cicchetti at Bar All'Arco. It's one of the best places to grab cicchetti for a reasonable price. These were only €1 and it was definitely worth every penny!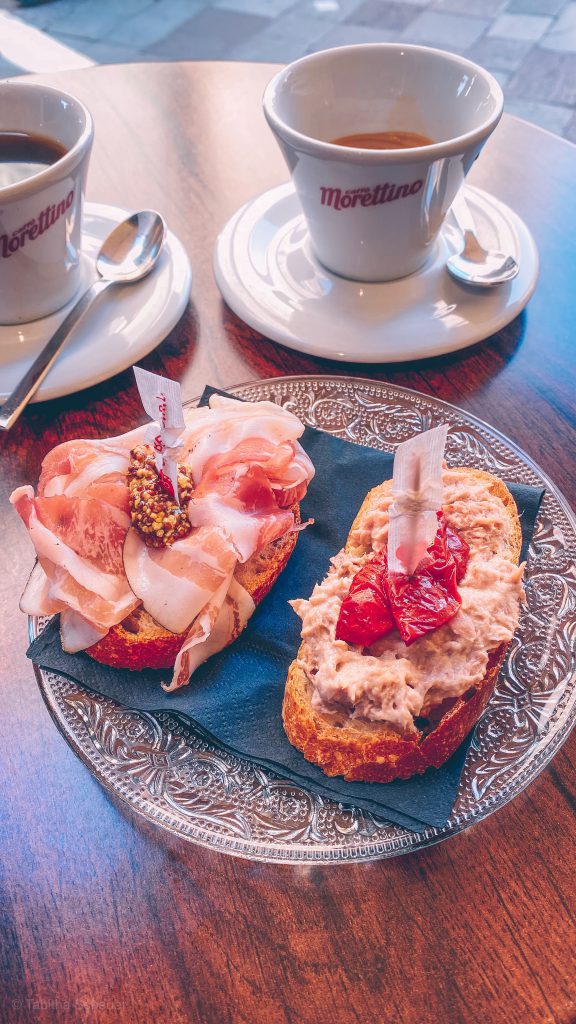 Cannaregio
My favorite district in Venice. During the day, it's the perfect time-out from the crowds, whilst it can really busy in the evening. When it gets late, Cannaregio is brought to life. Full of cafés selling coffee until 11pm, bars, and people drinking wine.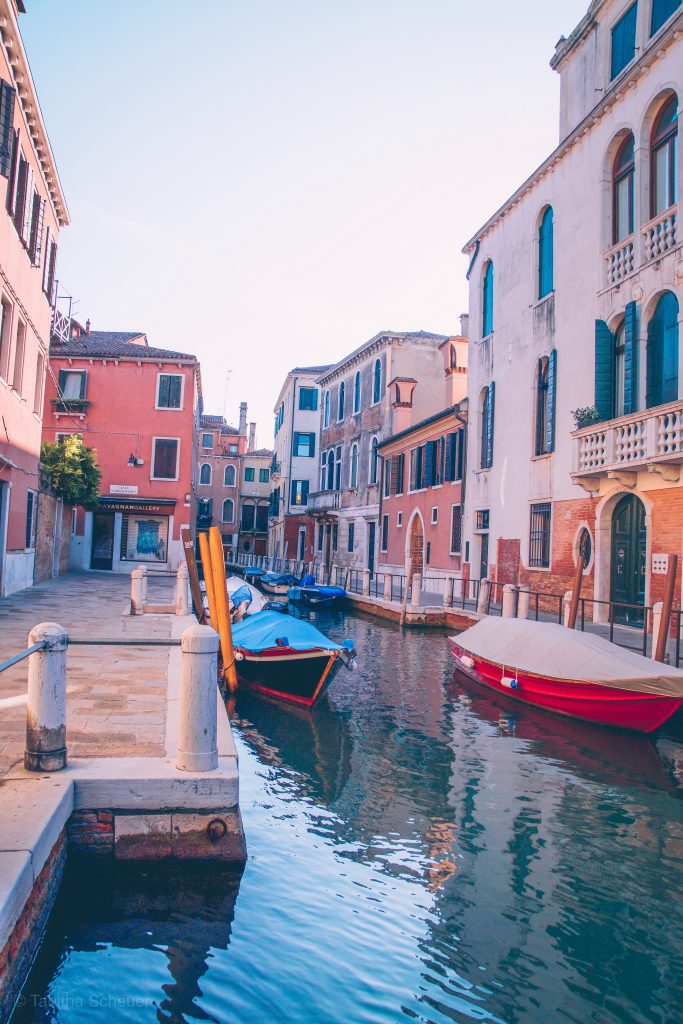 My favorite places in Cannaregio were Ponte Chiodo and Madonna dell'Orto. Besides, you can loose yourself wandering around, enjoying the beauty Venice has to offer. It's a quiet, lovely, and very beautiful area that's definitely worth a visit.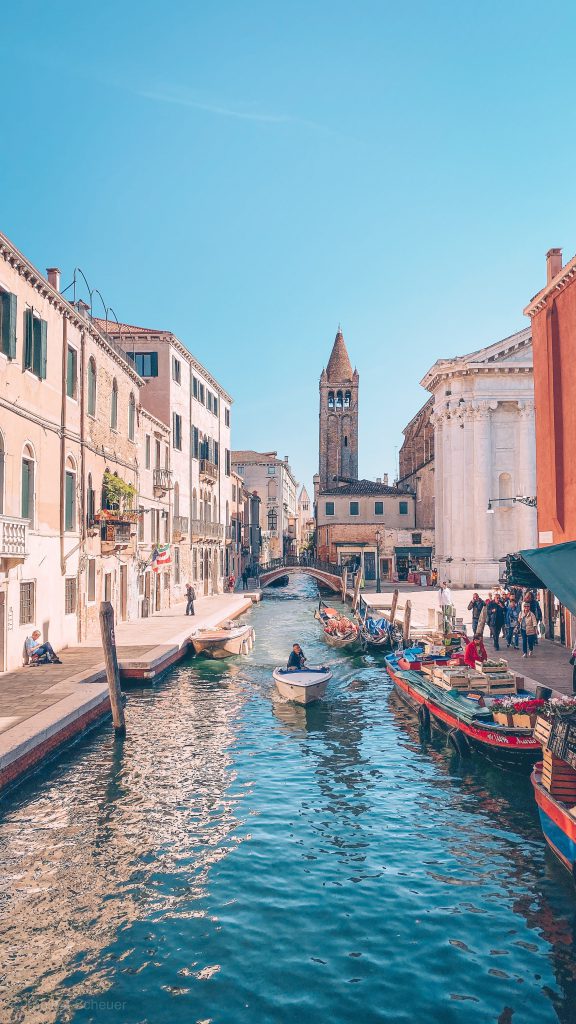 PONTE CHIODO | The Ponte Chiodo – Nail Bridge – is the last remained in Venice. It is a very ancient bridge which is named after the noble family which owned the bridge back in the days.
MADONNA DELL'ORTO | To me, this is one of the most beautiful churches Venice has to offer. I was absolutely surprised to see have this beautiful place just for me. In the middle of the day. I couldn't get my eyes off of this church, and the beautiful surrounding area.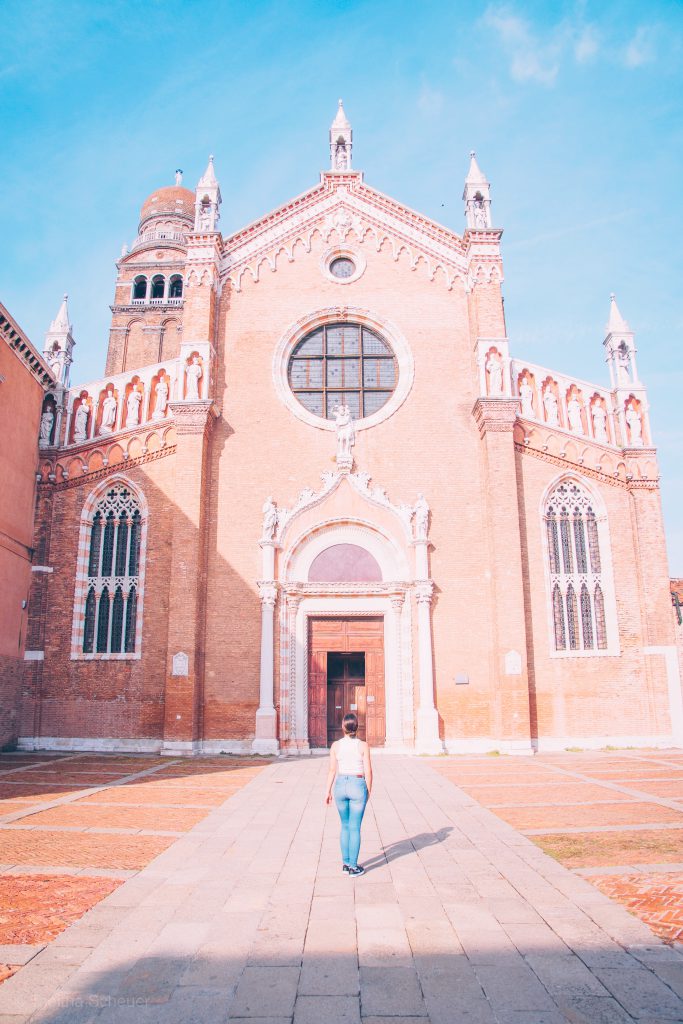 Please, don't only visit these two places in Cannaregio. Grab some coffee at Torrefazione Cannaregio, walk past by houses, wander around the canals and just enjoy Venice.
Afterwards, take the Vaporetto or simply walk to the next sight: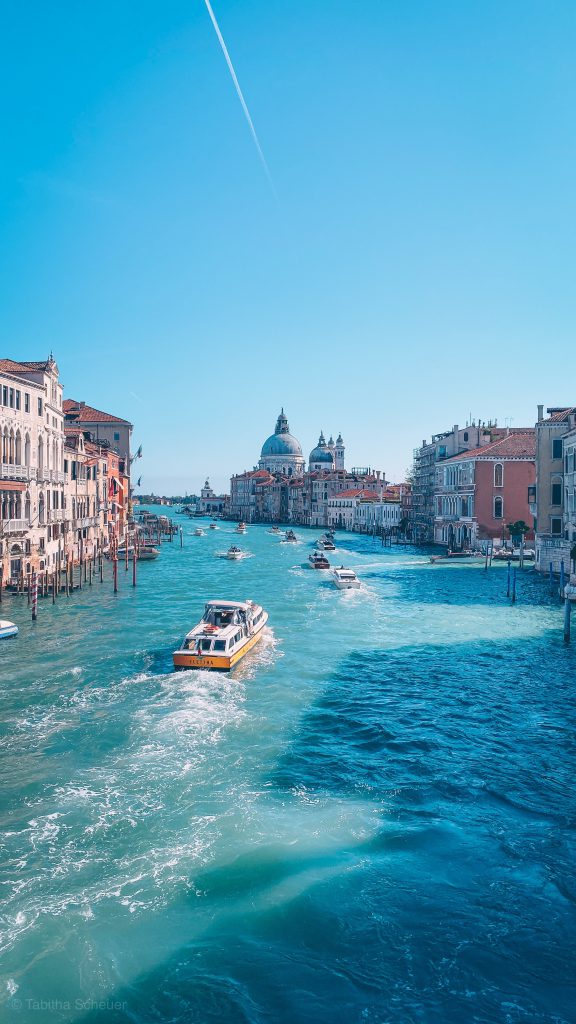 Fondaco Dei Tedeschi
I was told that Fondaco Dei Tedeschi offers exceptional views over Venice, and I wasn't disappointed. I'm quite surprised that it's possible to run such a service – for free. You can book your time slot in advance, and in case you want to go up during a specific time, I would highly recommend doing so. I booked a time slot for 17:15pm as the sun began to set and it was one of my favorite things to do in Venice.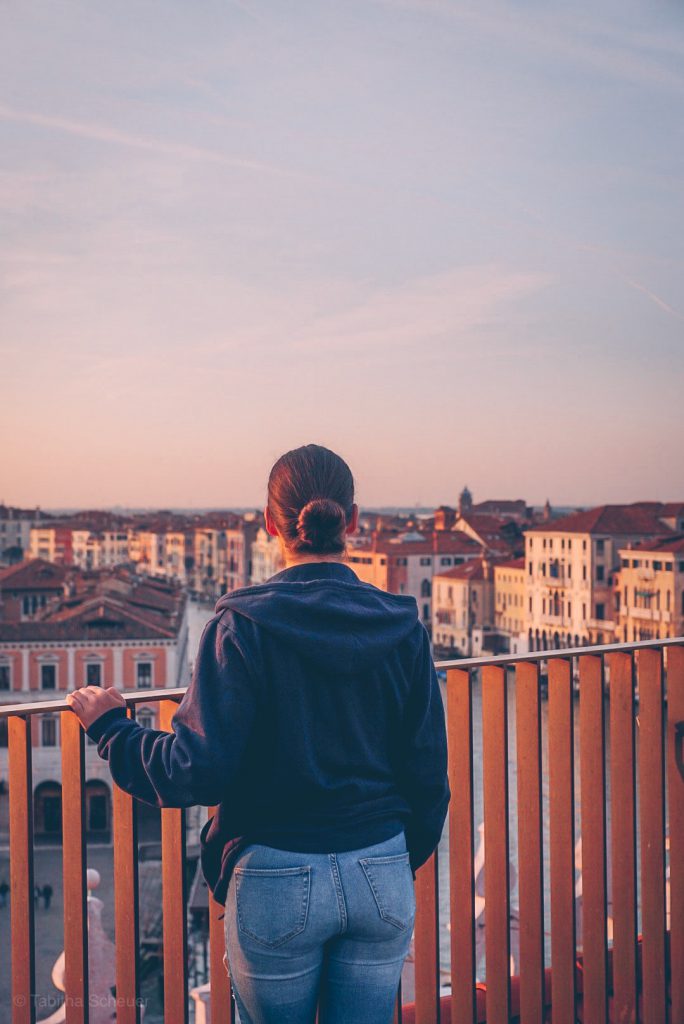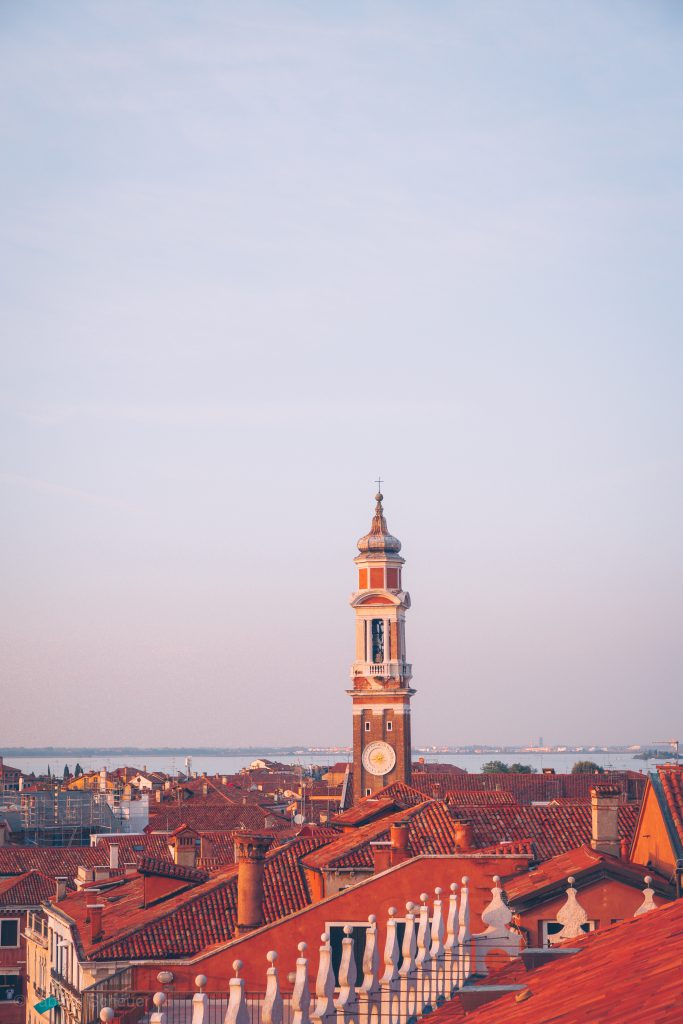 Day 1 PM / Pizza from a wood oven while listening to gondoliers
Rossopomodoro
For Dinner, I'd recommend to grab some Pizza from Rossopomodoro for takeaway and make your way to Hotel San Moisè. Rossopomodoro is one of the few places in the city that have a license to hold a wood oven. Ask for a cutted Pizza to go and you will love this experience, I'm sure!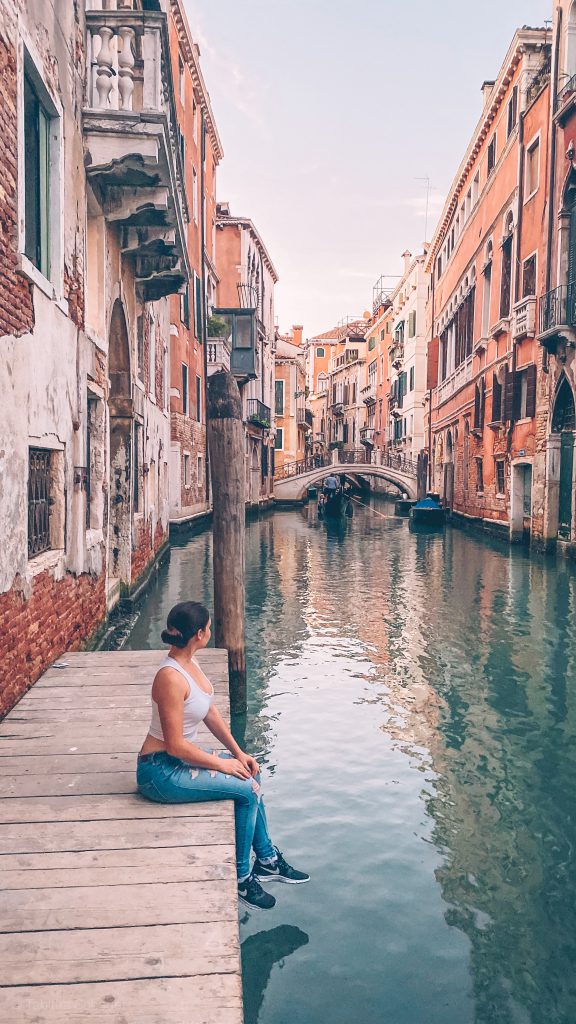 The dock behind Hotel San Moisè
After getting your Pizza, go to Hotel San Moisè and search for the dock behind it. Here, you can enjoy your meal whilst listening to gondoliers. A truly romantic experience completely for free (except for the Pizza, of course)!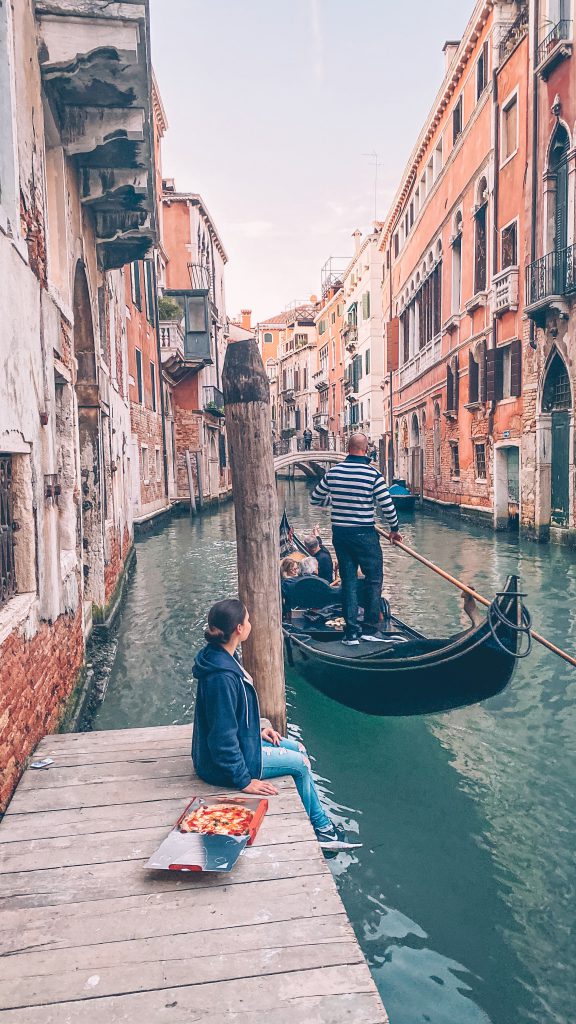 View of Basilica Santa Maria della Salute
From the hotel, it's not far to 'San Marco (Vallaresso) SX', a place from where you can see magnificent views of the Basilica Santa Maria della Salute.
If you're still in the mood for sight-seeing, I'd recommend to take a Vaporetto to the Basilica or go on foot to Ponte dell'Accademia and from there on, head to the Basilica.
Right next to the Basilica Santa Maria della Salute, you will find what's called Punta della Dogana, because from this point you'll have exceptional views of the Palazzo Ducale.
Day 1 Evening / Enjoy the local culture, and some Aperitivo
For the best evening vibes, go to Campo Santa Margherita. Here, you can grab some bruschetta and Aperol spritz vor only €3. It's a lively place I enjoyed a lot. For more information on where to eat or drink, read my Food Guide by clicking here.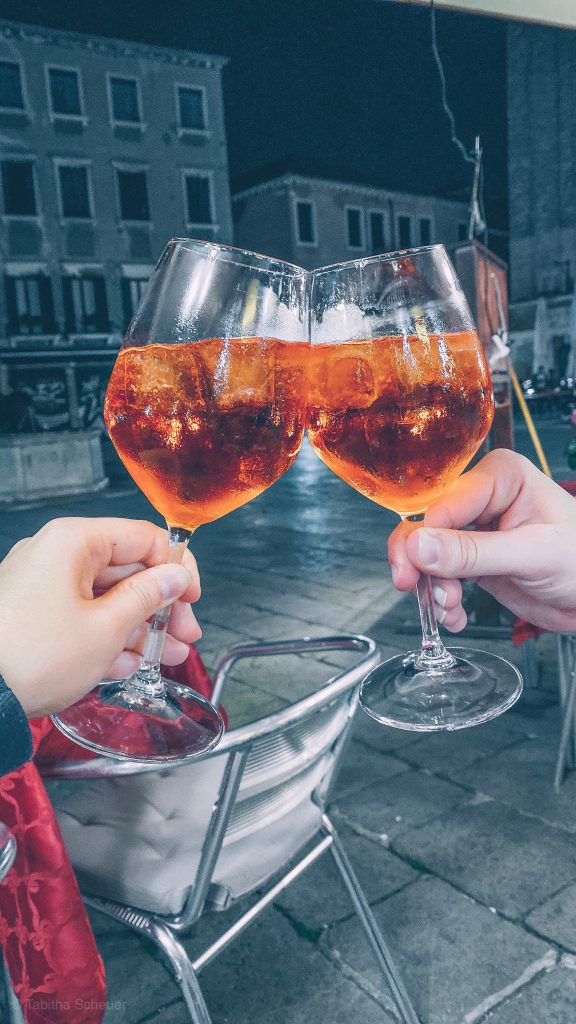 What I don't recommend
There also were some things that I found in other itineraries that I wouldn't recommend. The first thing is Libreria Acqua Alta. Yes, it is one of the most famous libraries world-wide and considered to be the most beautiful one. I'd say it could be more beautiful, if there weren't so many people in this narrow, tiny building. There were like 50 people waiting to get a shot of the stairs. I was shocked when I got outside and – unless I didn't want to get a picture of me sitting there – I was told to wait in line to … yes, just see some books. In the library itself, it can get very crowded and if you're unlucky, and you're passing by some pissed people, it definitely isn't much fun. I'd recommend to spend your time wiser, by getting some Cicchetti or a glass of wine.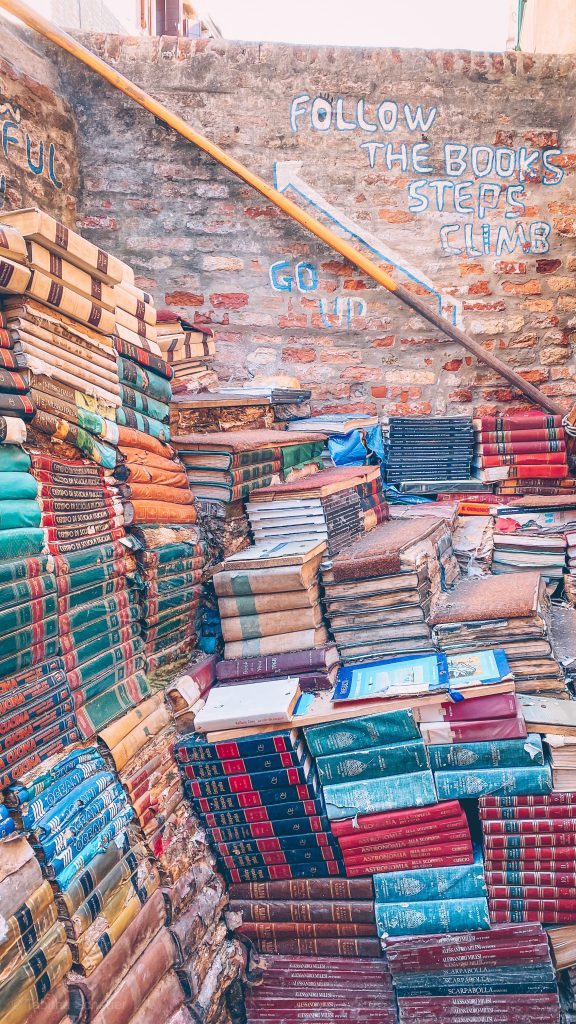 RELATED: Get all my Venice tips for free by clicking here!
23 most instgarammable places in Venice
Venice off the beaten path
Or simply get to my Italy posts here.
All the information you need to help plan your own 24 hours in Venice itinerary
I believe that a little pre-planning, research, and understanding what you are looking for in a destination, will help make your travels far more successful. Here's some further information I think you might need to plan your own 24 hours in Venice itinerary.
Best time to go to Venice
The best time to visit Venice is during spring or fall. This is when the tourists mass begin to disappear, and you can still enjoy warm temperatures and all activities you've planned to do.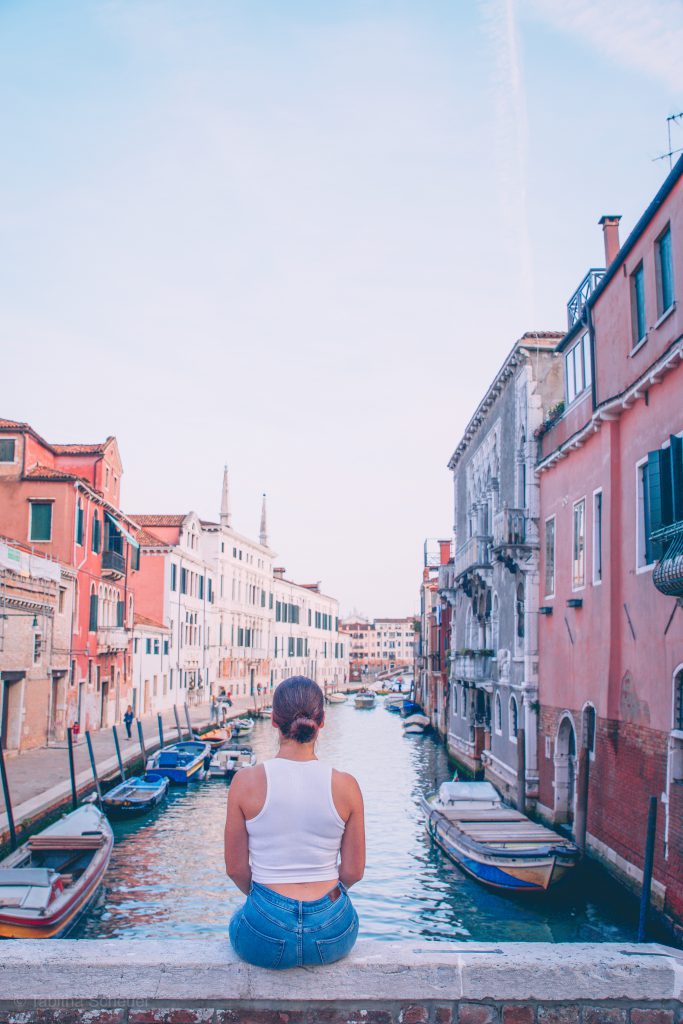 How to get to Venice
If you already are in Italy, you can easily take the train (or even bus) to Venice. From Milan, it will talke you around two hours. As Venice was our first destination in Italy, we took the plane from Cologne to Venice and arrived there after a two hour flight. The airport, Treviso, is called 'Venice airport', but obviously it's a few kilometres away. Hence, you have to options to get to Venice: Take the train or the express bus. We took the bus for €12 per person as it's the cheaper option and also arrives 20 minutes earlier than a train.
Getting around in Venice
Venice is easily walkable, but you can – of course – take the Vaporetto (water bus) for €7.50 per person or a private taxi for around €65 to get around. If you decide to take the Vaporetto, keep in mind that it takes a long time, and involves waiting in long lines.
Free Map for your Itinerary
Related: 19 Things Everyone Should Experience in Venice
love this post? pin it on Pinterest!