Venice is a perfect way to get a beautiful, picturesque introduction to Italy. It's a magical floating city that looks as if it was pulled out of a fairytale. You can expect buildings with red tile roofs surrounded by turquoise water, beautiful shops, delicious food, and friendly people. Curious which 19 things you should absolutely experience in Venice?
Things to experience in Venice
Venice may be one of the most beautiful cities in the world and there are a few things that everyone should experience. Here is a list of 19 things you should do whilst in Venice.
1. Watch the sunrise at the Canal Grande
I mean, could you imagine anything more beautiful than this view? Enjoying the sunrise at the Canal Grande is one of the best things you could do in Venice. Especially since you will have this place much likely to yourselve as many people are simply not awake and/or not in the city during this time.
2. Visit the Basilica Di San Marco
The Basilica di San Marco is not only one of the most beautiful cathedrals I've ever seen, it's also one of the top things you can do in Venice. The cathedral is quite small, but decorated with many beautiful ornaments, mosaics, statues, and marble spiers. Once, the basilica used to be the central state sanctuary of the Republic of Venice.
3. See the Bridge of Sighs
The bridge of sighs is also known als Ponte Dei Sospiri. It's named this way, because it was once the place where the prisoners used to walk on their final route to sell and it is said that the prisoners would sigh when they would see beautiful Venice through the small windows for the last time. Today, the bridge of sighs is one of the main tourist attractions in Venice. Hence, you should come early if you want to have the sight to your own.
4. Explore the Rialto Mercato
The Rialto Mercato is a very unique market; it's the commercial hub of Venice since 1097 and you can buy fresh goods, fresh fish, and simply anything you'd need from 7.30am-13 pm from Mondays to Saturdays.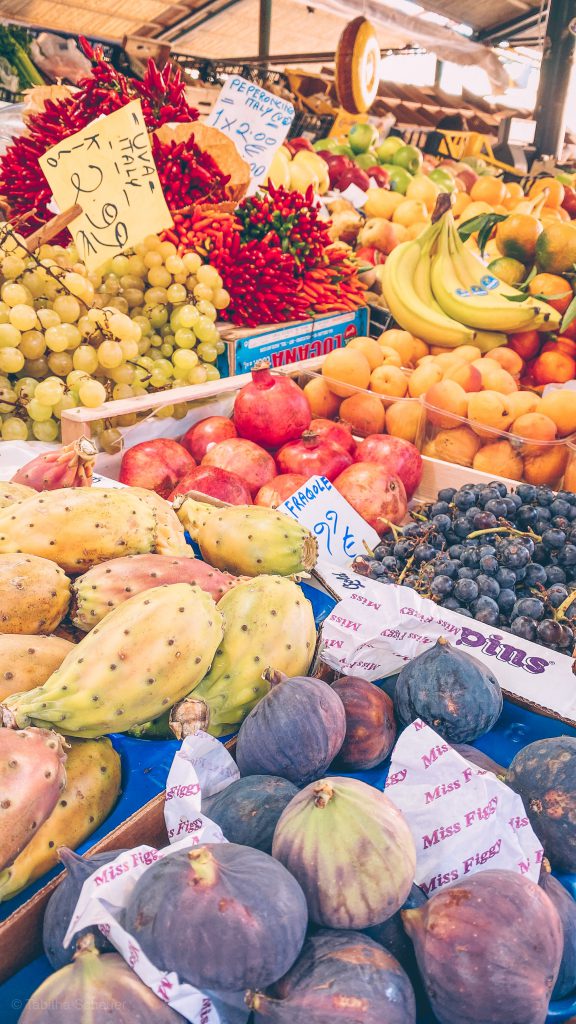 5. Eat a Pizza whilst enjoying the view
If there's one thing that you shouldn't miss while in Italy, it's their delicious Pizza. In our opinion, the Pizza in Venice was the best we've ever had! We tried different restaurants and weren't disappointed. Expect to wait for your Pizza up to 20 minutes, but then you can simply walk to the nearest canal and enjoy your Pizza whilst watching the gondoliers singing.
Related: My Venice Food Guide.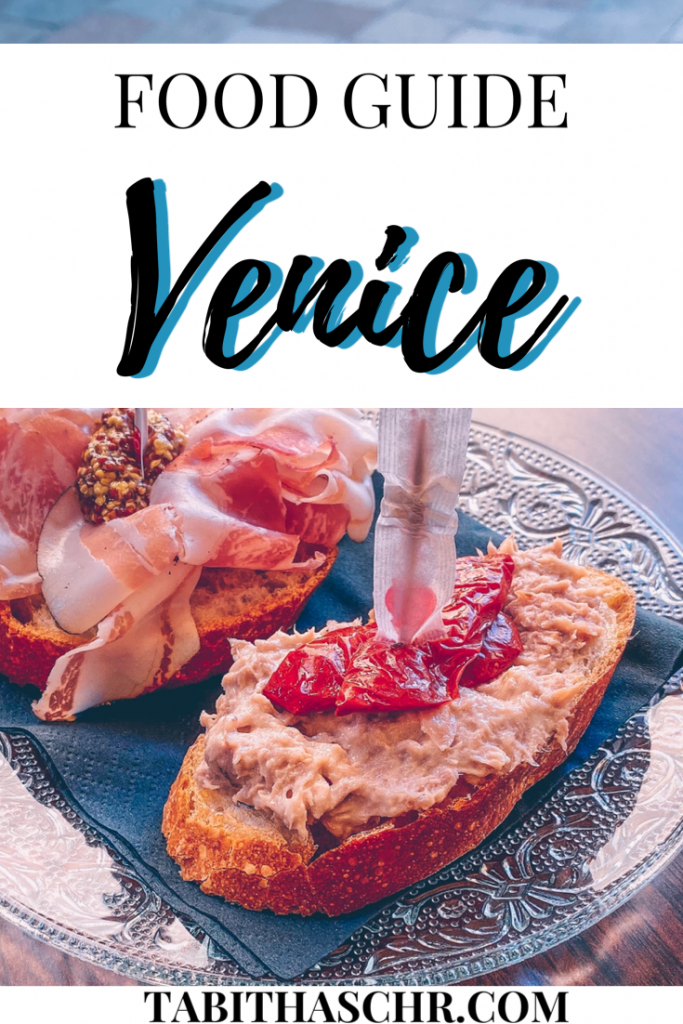 6. Eat as much Gelato as you can
Gelato is, indeed, a bit different than the normal ice cream that you can buy in Germany or Austria. It's way softer while having a stronger taste. I'd die for a gelato in Italy right now, to be honest! If you like lemon ice cream, you should definitely try the lemon gelato in Italy, it's so good!!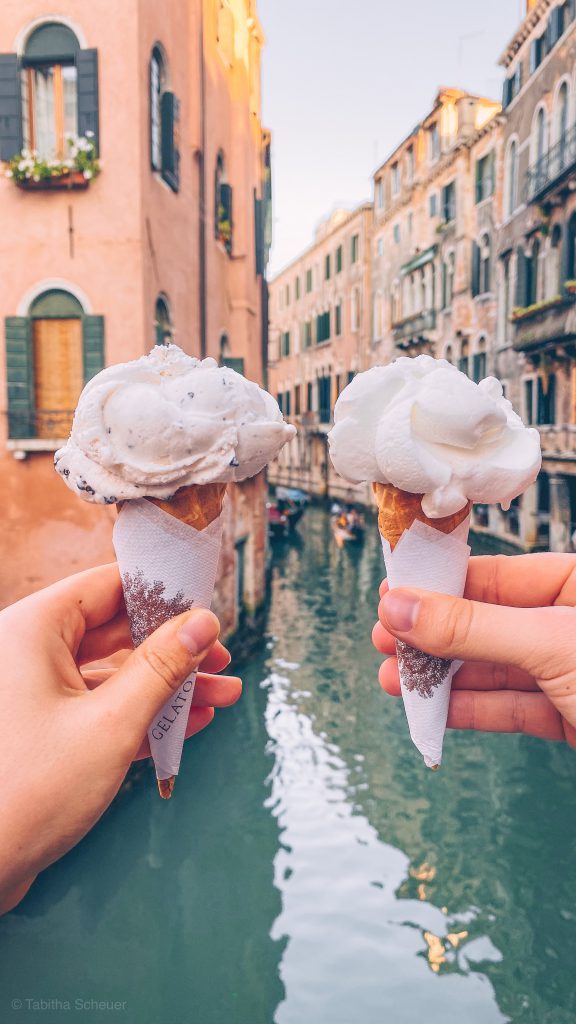 7. Enjoy a good coffee (caffè = espresso)
Italy is known for its coffee culture, which is particularly lived in Vendig. In Venice you will find small cafés everywhere where you can drink an espresso for €1.
Just go to a café you like and order a "caffè", which corresponds to the American espresso. Otherwise you should also order an Americano here. No matter what you like to drink – you should always make sure to stay at the counter because sitting down costs extra. Often even more than the espresso itself.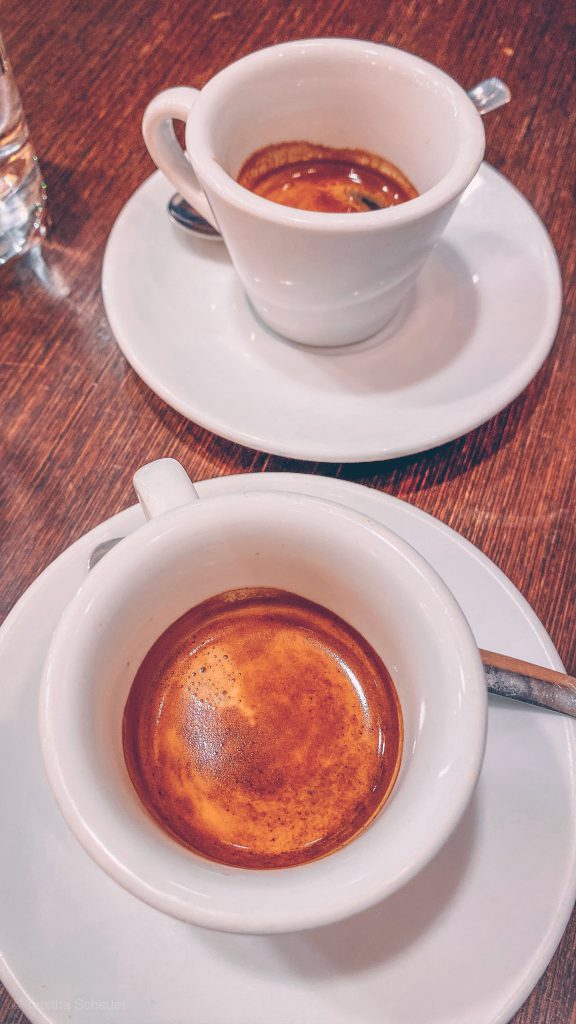 8. Watch the sunset at Fondaco Dei Tedeschi
On our first day in Venice, we decided to watch the sunset at the Fondaco Dei Tedeschi; this is a luxury department store in the middle of Venice. The use of the terrace is free of charge, but must be booked in advance, i.e. it is best to register online beforehand.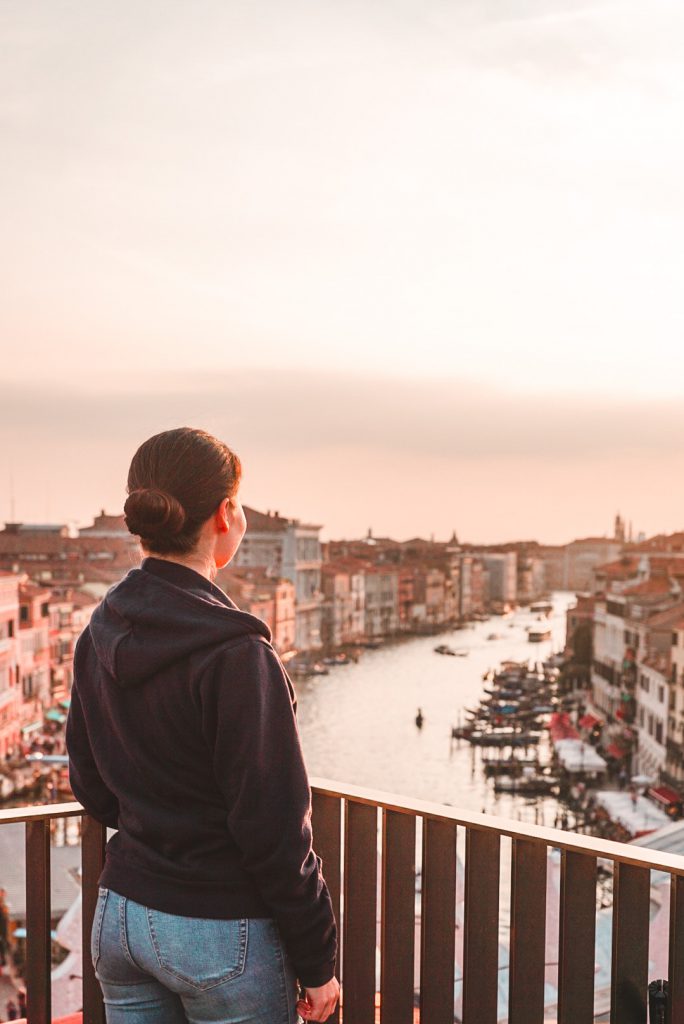 9. Spend some time people watching
If you love people watching as much as I do, Vendig is perfect for you. This small town is full of tourists, so you can just sit down and enjoy yourself with a coffee or ice cream.
10. Learn about the local culture
Whenever I visit a new destination, I love to learn about the local culture. For me, that is part of a trip. On our first evening in Venice I got in touch with a group of Venetians who told us a lot about local habits. I always find it incredibly exciting to learn something about the local culture!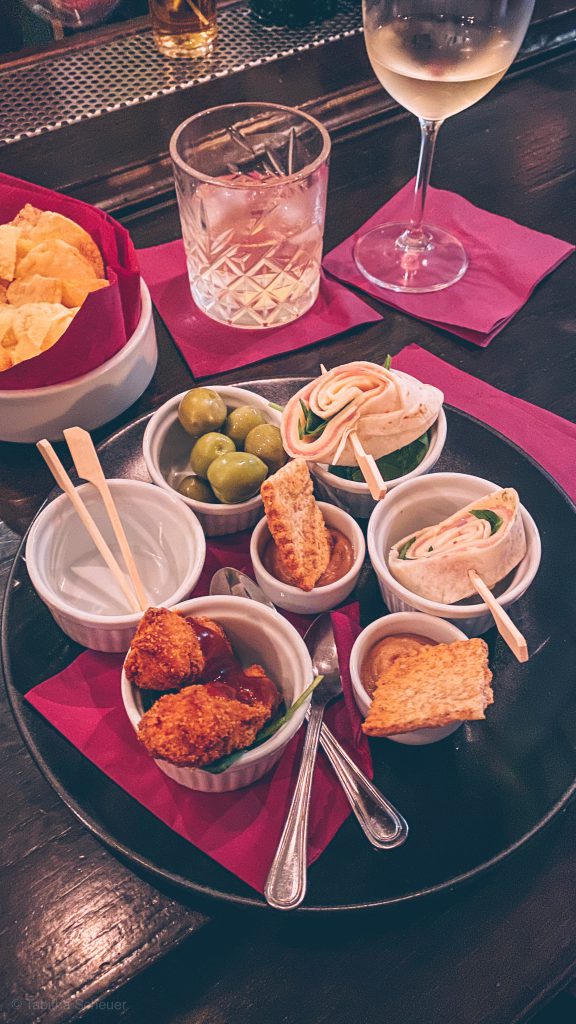 11. Spend at least one night at the Campo Santa Margherita
Campo Santa Margherita is a square surrounded by restaurants and bars in the middle of Venice, which only really comes to life in the evening and offers a completely different backdrop during the day.
You should spend at least one night at this place in order to drink an Aperol Spritz and enjoy the atmosphere.
12. Try a typical wine
The region is known for its highly productive wine production. Plus, you can get a glass of wine for €5 in Venice (and the wine tastes really good!). However, don't be surprised that many Venetians drink wine very early in the day. This is so common in Italy. Just like the daily aperitif.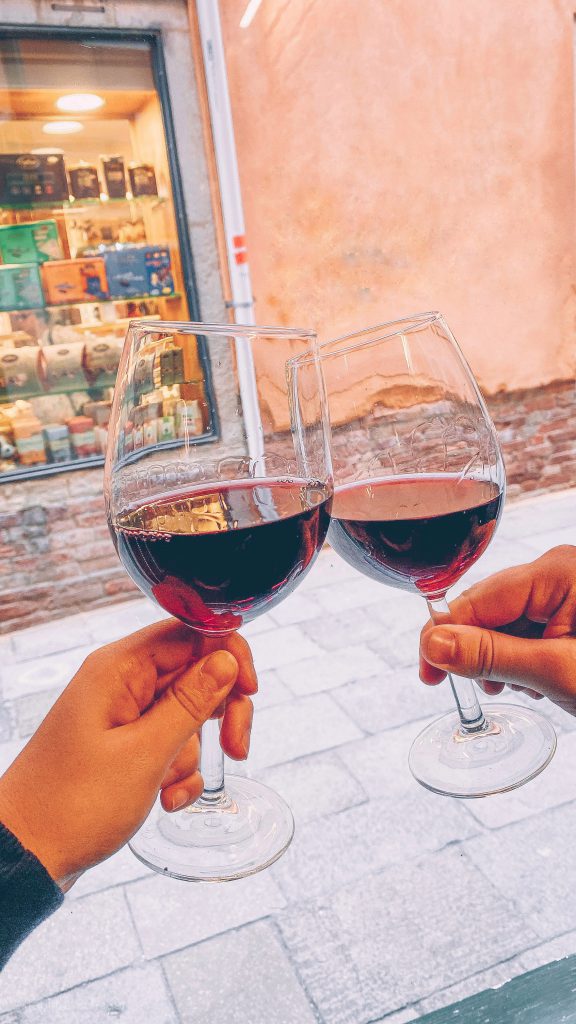 13. Explore Cannaregio, the "Ghetto" of Venice
Cannaregio is one of the most underrated districts of Venice, and you should definitely explore this district! It is so empty and you will hardly find any tourists, which is why you can simply enjoy Venice here in complete peace.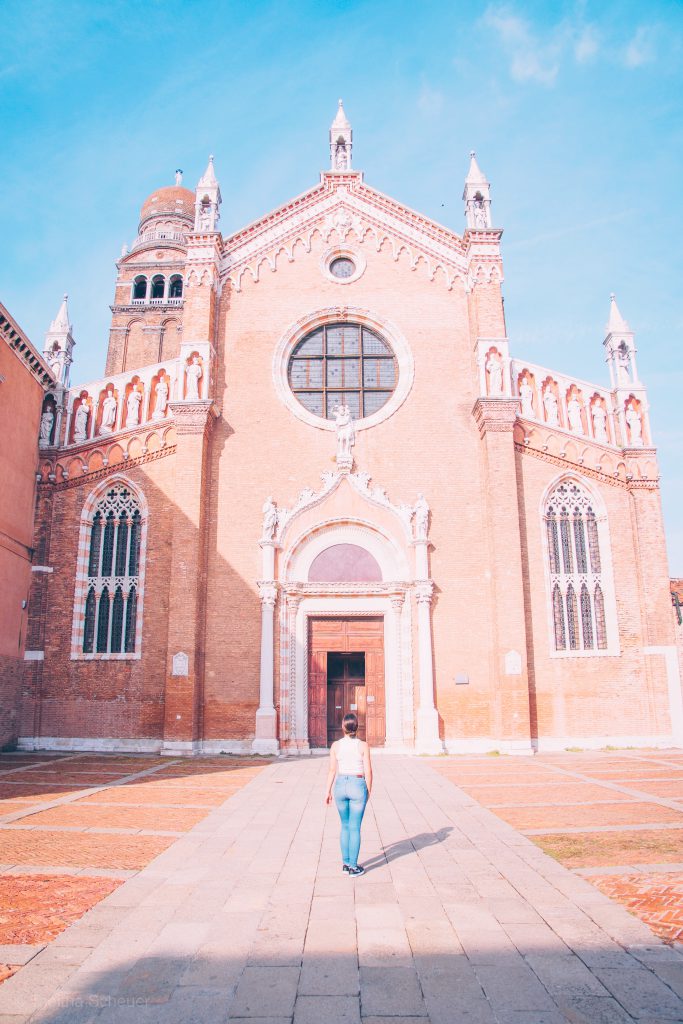 14. Eat Cicchetti – a typical food in Venice
Cicchetti are usually designed to help you overcome the time between breakfast and dinner. Most Italians eat very late in the evening and therefore try to overcome hunger at short notice.
Cicchetti are small slices of baguette on which, for example, tuna spread, salami or other topping is placed.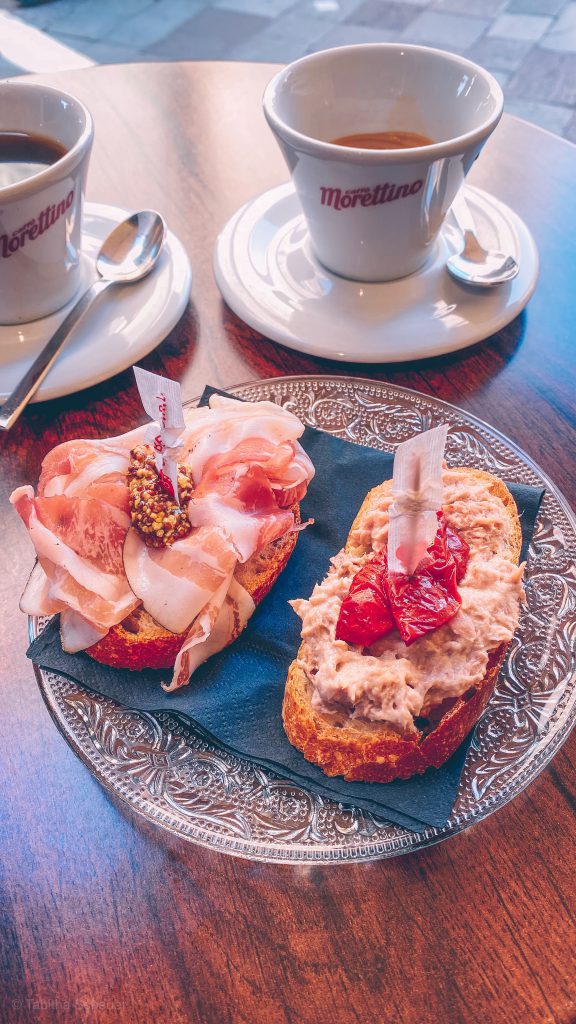 15. Cross the Rialto Bridge
When in Venice, you absolutely have to see the Rialto Bridge. You can also admit the bridge from the Fondaco Dei Tedeschi.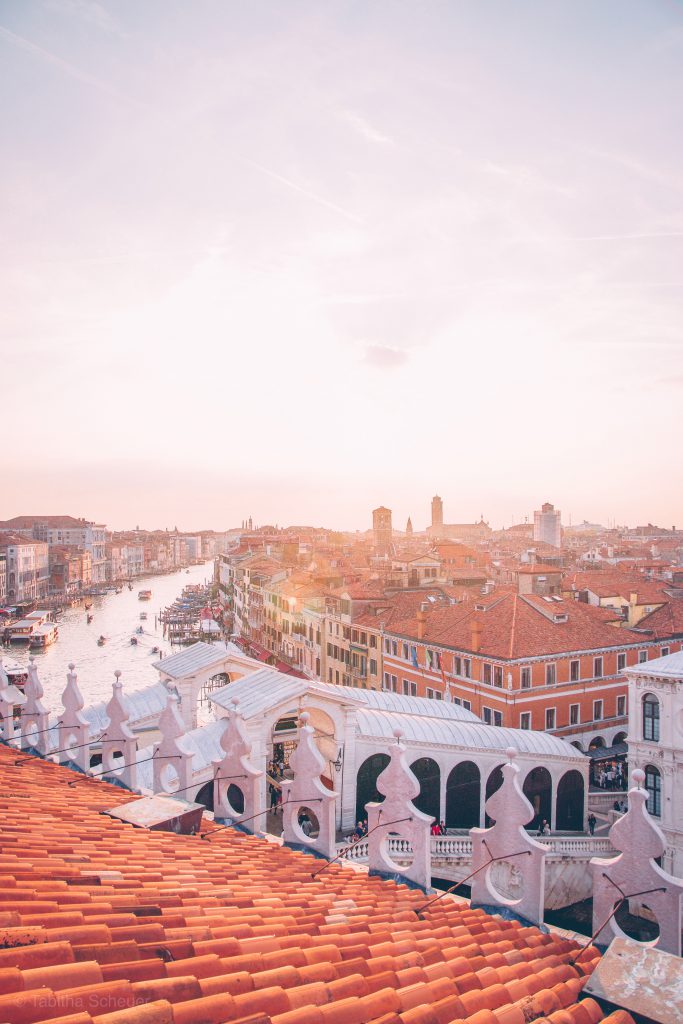 16. Wander around and simply get lost in Venice's beauty
One of the best things to do in a new city? Just walk around, enjoy the view and the city and see what you can find. Venice in particular offers so many beautiful corners off the tourist path that you would never see otherwise.
17. Ride a Vaporetto
A vaparetto is a water bus that is common in Venice. Because there is no road traffic in the city itself, it is outsourced to the water. So if you want to get from A to B without having to walk, the vaparetto is your only choice.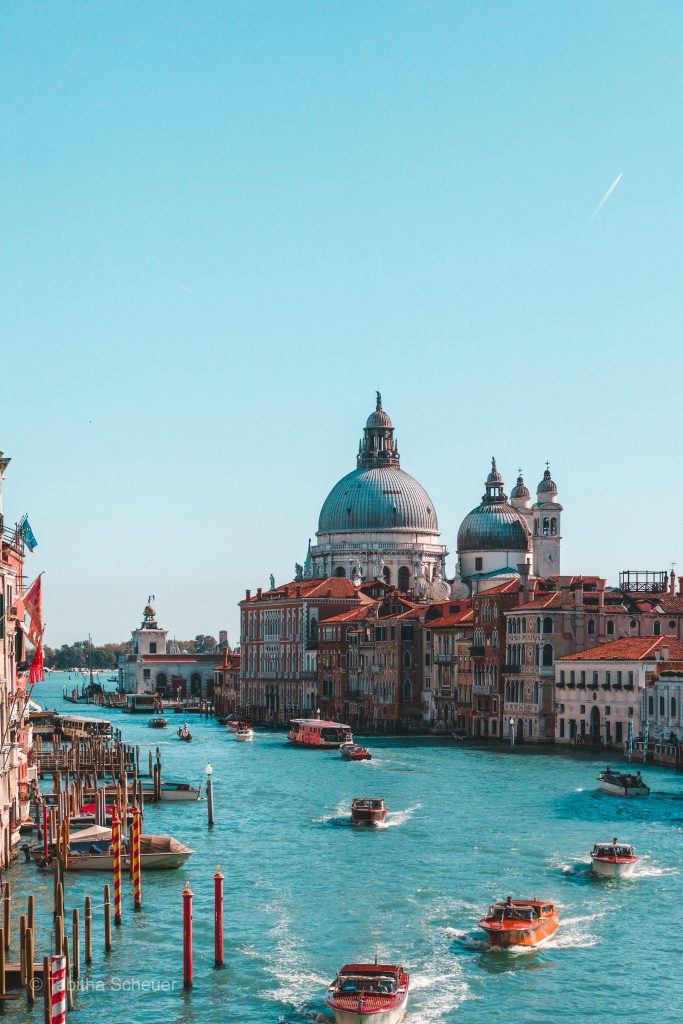 18. Listen to the Piano at the Piazza San Marco
On St. Mark's Square, right in front of Café Florian, a wonderful melody enchants you every day. Piano is played in front of the café, a real highlight.
19. Eat a pistachio cream-filled croissant for breakfast
Venice is known for having very good food and of course that doesn't stop at breakfast. Therefore, you should definitely try the pistachio croissant, which you will get in many bakeries.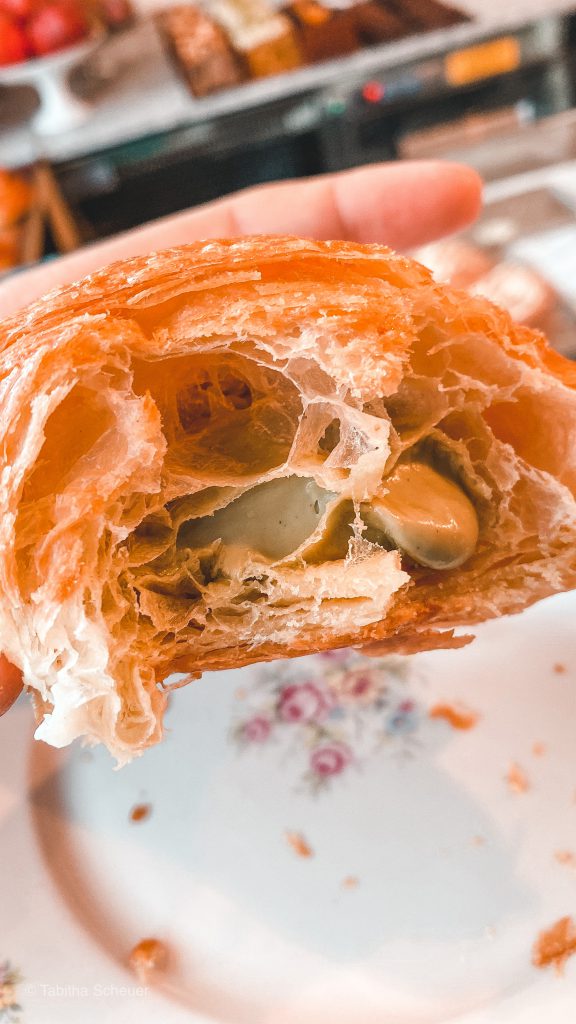 Did you enjoy this post? Share it on Pinterest!