After spending a few days in Venice, I must say that some of the food spots that people raved about online turned out to be just ok. Hence, you won't find them on this list.
But Venice does have some great food to offer, and we did find some really delicious gems. If you're looking for authentic food spots in Venice, this is the right post for you, including breakfast, coffee, cicchetti bars, lunch & dinner, gelato, and drinks.
Some general facts about food, and restaurants, in Venice
VENETIAN FOOD definitely has a focus on fish, given Venice's close proximity to the sea. There are several must-try Venetian dishes that locals love, including squid ink pasta (the black color is a bit alarming at first, but it has a really mild, delicious, briny flavor) and baccala mantecato, a creamed and dried cod spread that's usually served on bread or grilled polenta.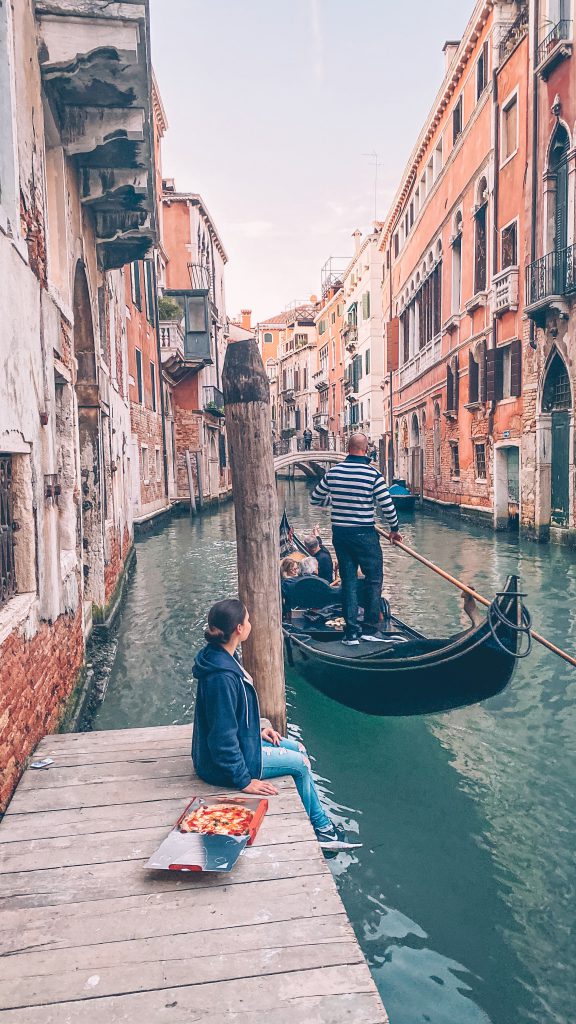 Another popular Venetian dish that you'll see at a lot of restaurants is Bigoli. It looks a lot like spaghetti, but thicker. It's combined with a sauce of onions and salt-cured fish (usually sardines or anchovies).
A must-try when coming to Venice are cicchetti, the Venetian version of tapas. In Venice, there are plenty cicchetti bars to try.
VENETIAN RESTAURANTS. Anyways, I would highly recommend making reservations beforehand in Venice. Venice is small, and with all the tourists, it can easily get booked up. We saw a lot of people get turned away at restaurants because they didn't have reservations and the restaurants just couldn't accommodate them. Another good way would be to show up right when the restaurant opens, because they usually have a table or two available.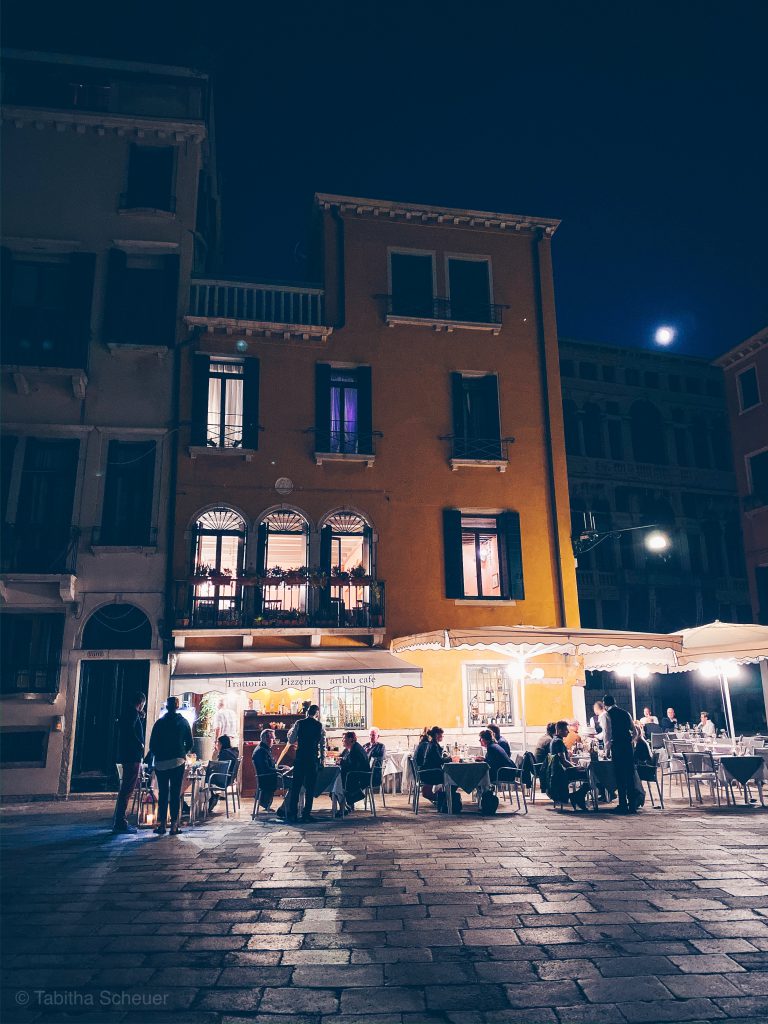 However, we often ended up taking our Pizza to go. Just keep in mind that picknick in the streets is illegal. It won't be a problem if you do it like the locals and just take you Pizza and eat it right away. Make sure to avoid Piazza San Marco and churches in general.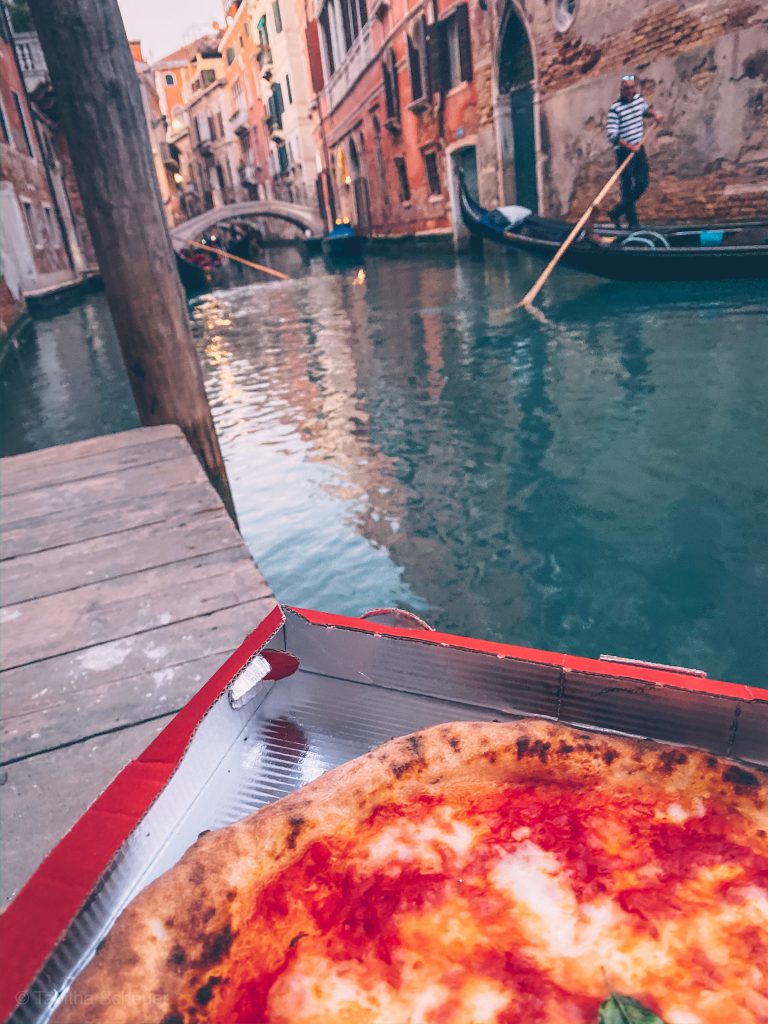 I'd also definitely recommend checking on opening times and days for all restaurants in Venice. Many of them are closed on random days of the week. Many restaurants don't have a proper website, but they almost always have a Facebook page where you can check opening times.
If you're planning a trip to Venice, be sure to check out my Venice posts! Click here to get them all.
Breakfast
If you don't have breakfast at your hotel, or if you're staying in an Airbnb (like we did), check out my favorite places for breakfast and brunch.
ADAGIO CAFFÈ AND WINE BAR | Are you into pistachio croissants? If not, you'll be after your visit here. I found this gem while searching for food spots in Venice. After we arrived, we directly made our way to the Campo Dei Frari. Here, you'll also get some cicchetti and drinks in the afternoon.
07:00-19:30 Mon-Sat; 09:00-18:00 Sun
DOLCEVITA | After having pistachio croissants, what about some gianduja chocolate, hazelnut, or one of the other five flavors you'll find at the Dolcevita in Venice? The coffee is one of the best in Italy. For lunch, you'll also find some toasted panini, and other delicious treats.
07:00-19:30 Mon-Sat; 09:00-18:00 Sun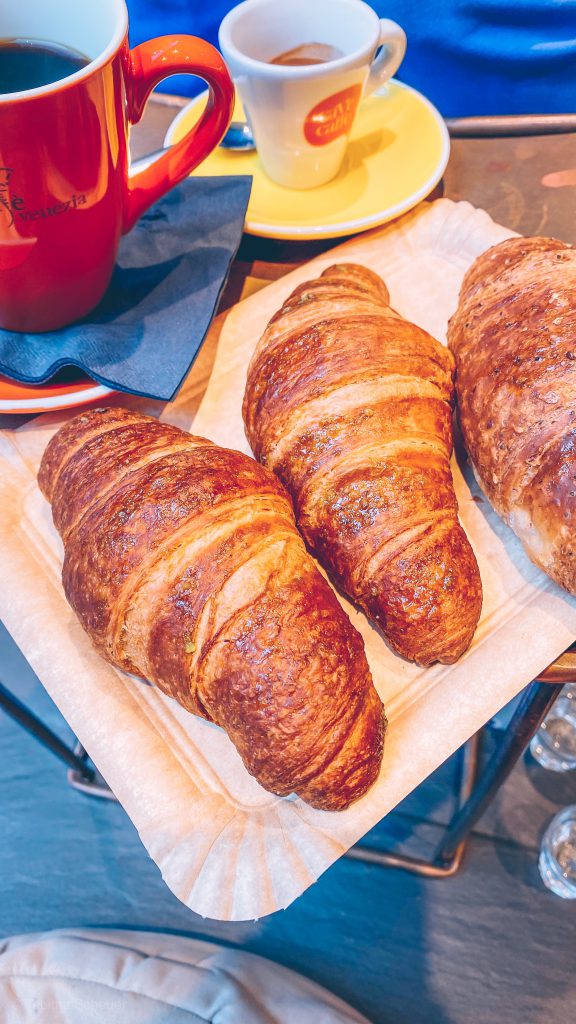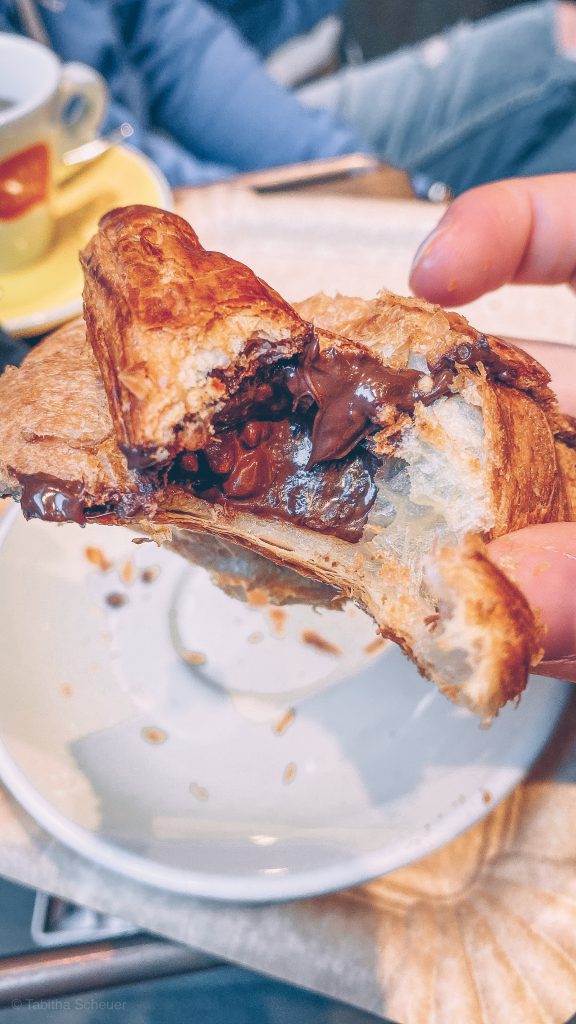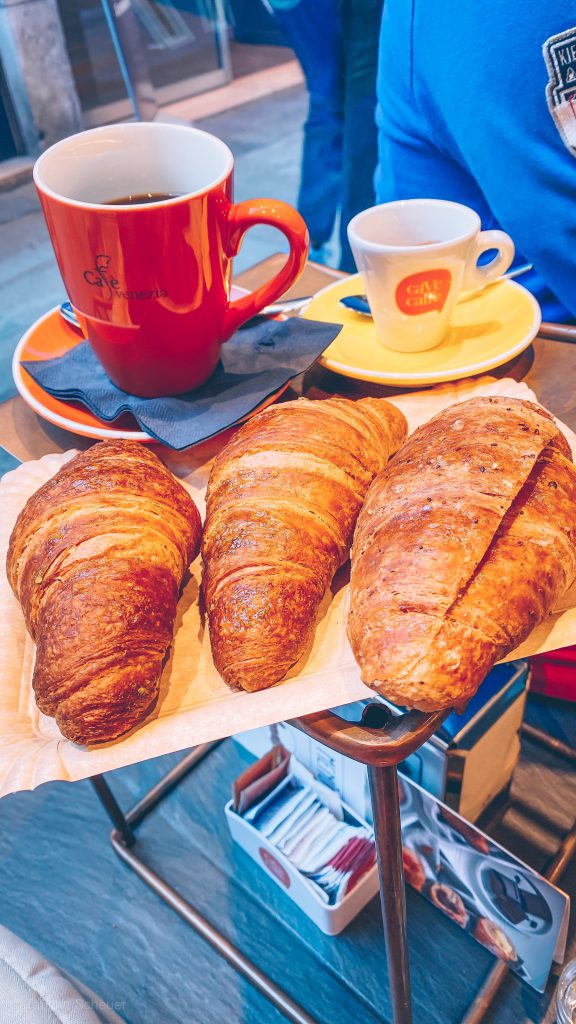 PASTICCERIA MARCHINI TIME | High quality pastry from a local bakery in Venice, a good cup of coffee and the Venetian flair to start your day at Pasticceria Marchini Time located near Piazzo San Marco.
07:00-19:30 Mon-Sat; 09:00-18:00 Sun
Coffee
CAFFÈ DEL DOGE CAFFETTERIA RIALTO | Only a few metres away from the Rialto Bridge, we found this gem. It was hands down one of the best espresso we ever had. And we drink a lot of espresso.
07:00-19:00 Mon-Sun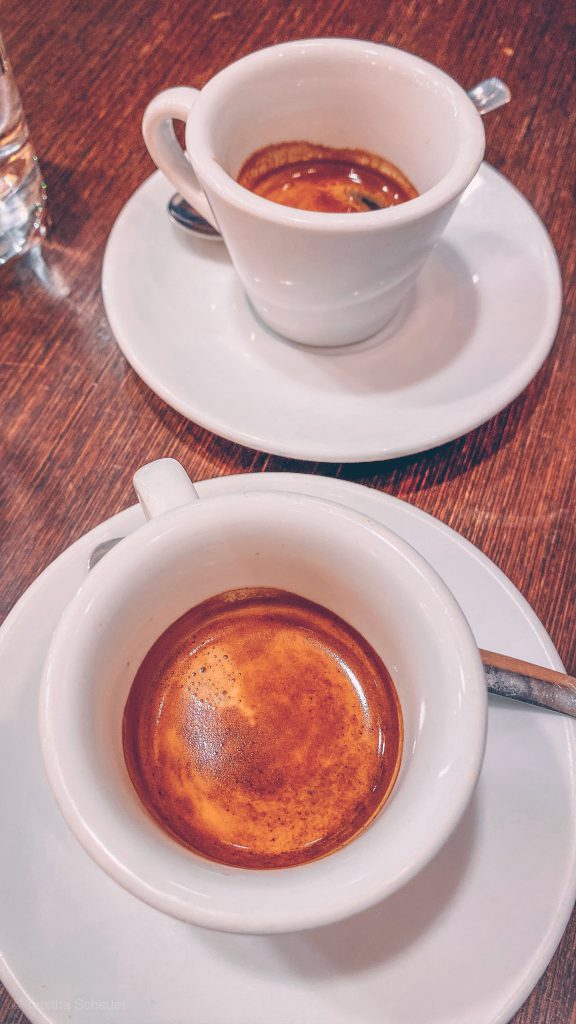 TORREFAZIONE CANNAREGIO | A true local experience, we really loved. Good coffee in the jewish ghetto, just a few steps away from our Airbnb.
07:00-19:30 Mon-Sat; 09:00-18:00 Sun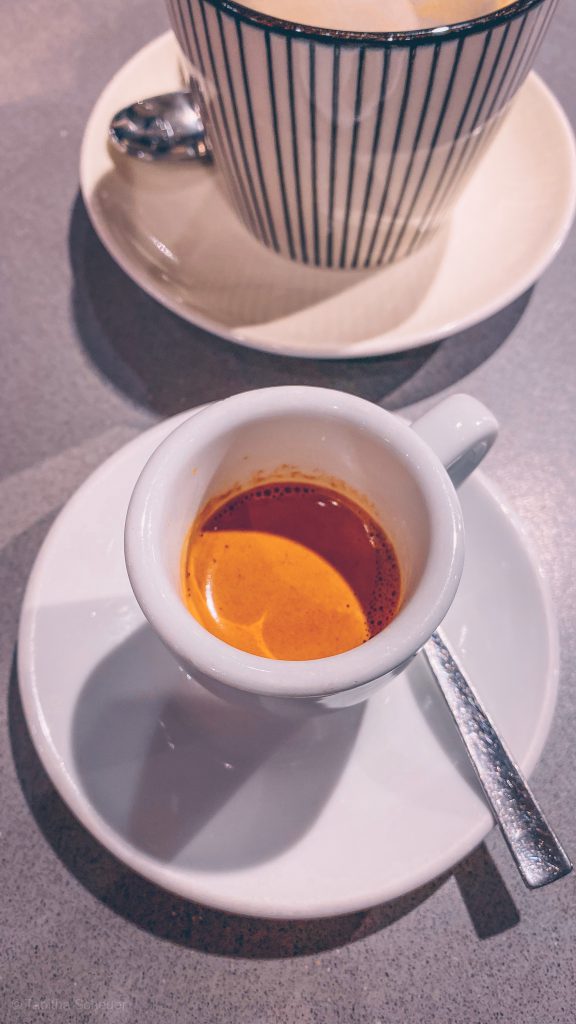 THE CAFFÈ ROSSO | Cheap, local, and absolutely delicious! This place is great for a coffee stop-by. Besides, you can get a yummy breakfast, brunch or lunch for a reasonable price.
07:00-01:00 Mon-Sat; Closed Sun
CAFFÈ FLORIAN | Coffee with a view in Caffè Florian. If you're visiting Venice, I'd highly recommend to stop by, relax a bit and enjoy the good coffee near Piazza San Marco. It's a 300 year old authentic caffè where you can get some nice cake, and ice cream besides a huge selection of coffee.
09:00-00:00 Mon-Sun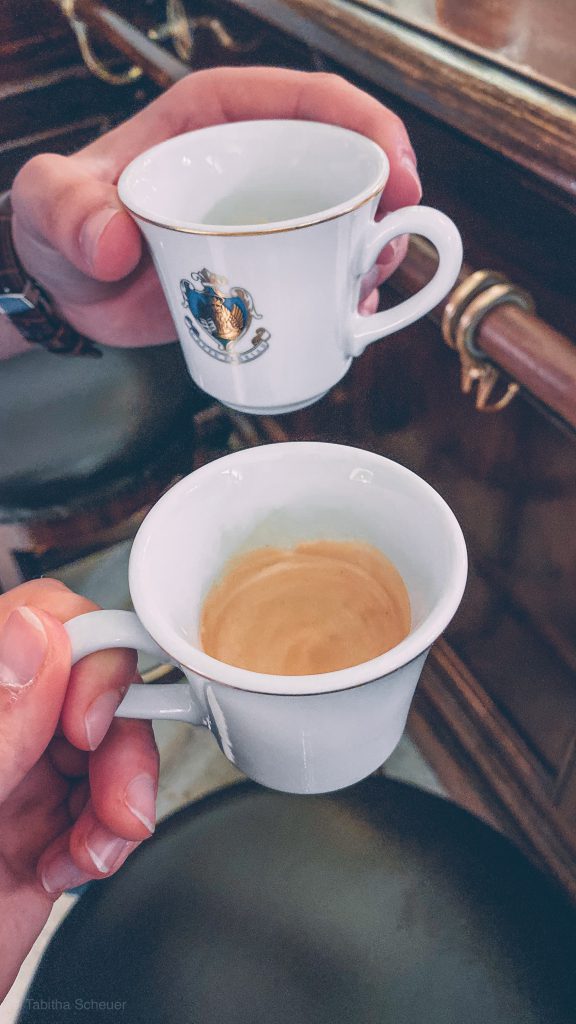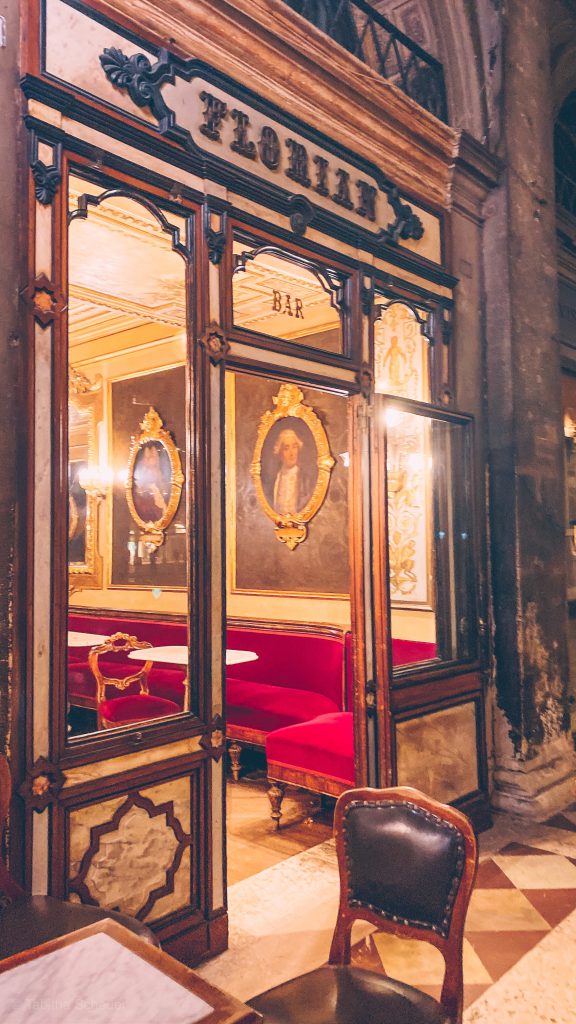 Cicchetti
CANTINA DO MORI | The oldest continually operated win bar in Venice. After selling just wine in 1442, it now sells terrific amounts of cicchetti in Venice. It's a true, authentic and local experience where you can get some awesome cicchettis without getting broke.
08:00-19:30 Mon-Fri; 08:00-17:00 Sat; Closed Sun
BAR ALL'ARCO | Easy to see why this cicchetteria is so popular and well-rated. You will see a long line in front of this tiny place, and as they don't make reservations, you will probably don't have the chance to sit down. But trust me, this place has incredible cicchetti that makes it all worthwhile.
08:00-14:30 Mon-Sat; Closed Sun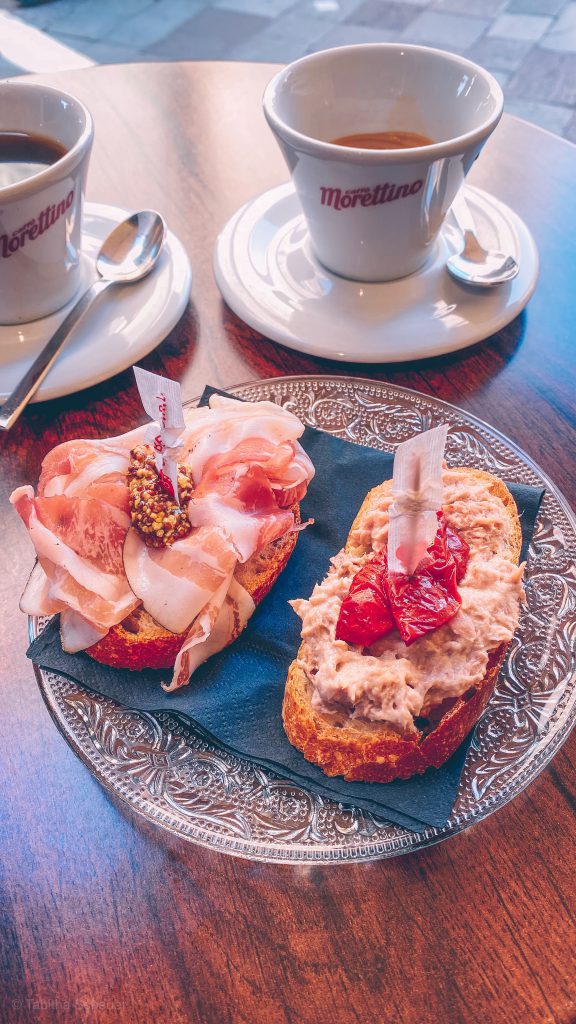 Lunch & Dinner
ROSSOPOMODORO | If you cannot go through a day without Pizza in Italy, try the one from Rossopomodoro. It's one of the few restaurants that own a license for a wood oven.
11:30-23:30 Mon-Sun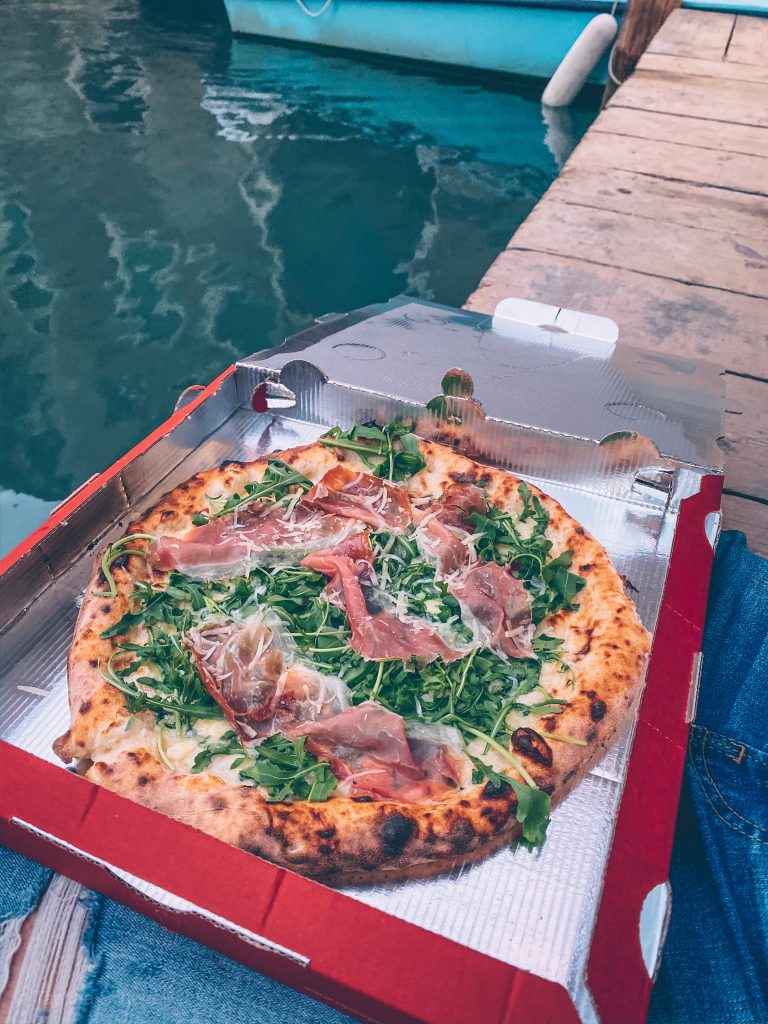 OSTERIA ALLA STAFFA | A gem off the beaten track. In the Venetian area Castello, you'll find this small Osteria. With friendly staff, good Venetian dishes, and a homey feeling, this Osteria will be one of the best experiences in Venice you could possibly have.
12:00-15:30 & 18:30-23:00 Mon & Wed-Sun; Closed Tue
LA BOTTGA AI PROMESSI SPOSI | Here, you will get some seriously delicious squid ink pasta, as well as some yummy fritto misto. It's crowded, yes. But totally worth it. Save room for coffee and dessert—their tiramisu is fantastic.
18:30-22:15 Mon; 11:30-14:15 & 18:30-22:15 Tue & Wed-Sun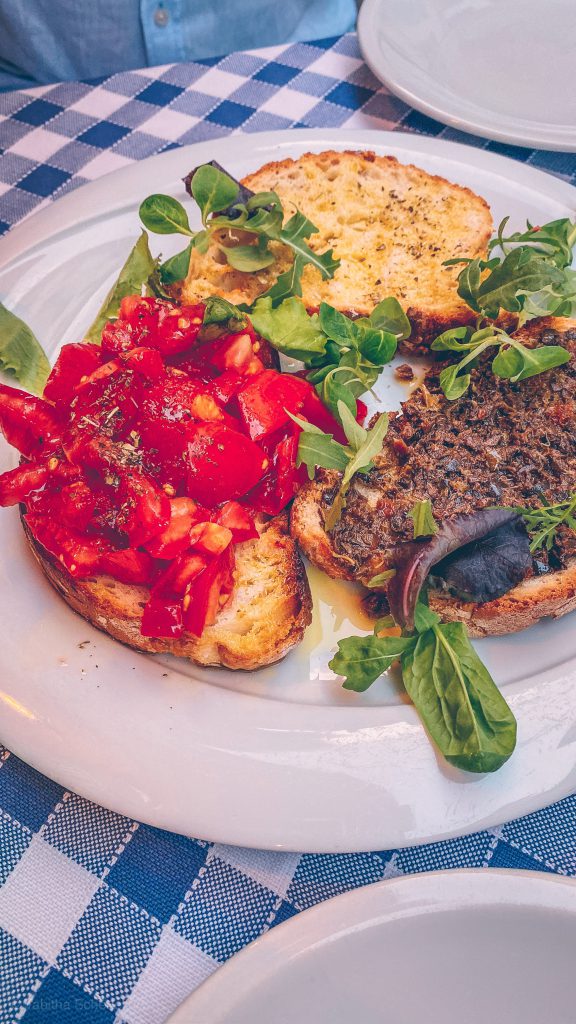 PIZZERIA AE OCHE | Located at the Santa Lucia train station, you will get really good food. Offering a variety of different doughs, even gluten-free, vegetarian and vegan Pizzas, Pizzeria Ae Oche is one of the hidden gems in Venice. Especially when you're on your way home or into another city.
12:00-15:00 & 18:30-23:00 Mon-Sun
RISTORANTE ROSA ROSSA | Here, you can get mixed cicchetti for starters, followed by Pizza and Pasta for the main course. With very good Venetian house wine, served by a welcoming and friendly staff, this Restaurants is a cool and authentic Venetian experience. Plus, the prices are really reasonable.
12:00-22:00 Mon & Tue & Thu-Sun; 18:00-22:00 Wed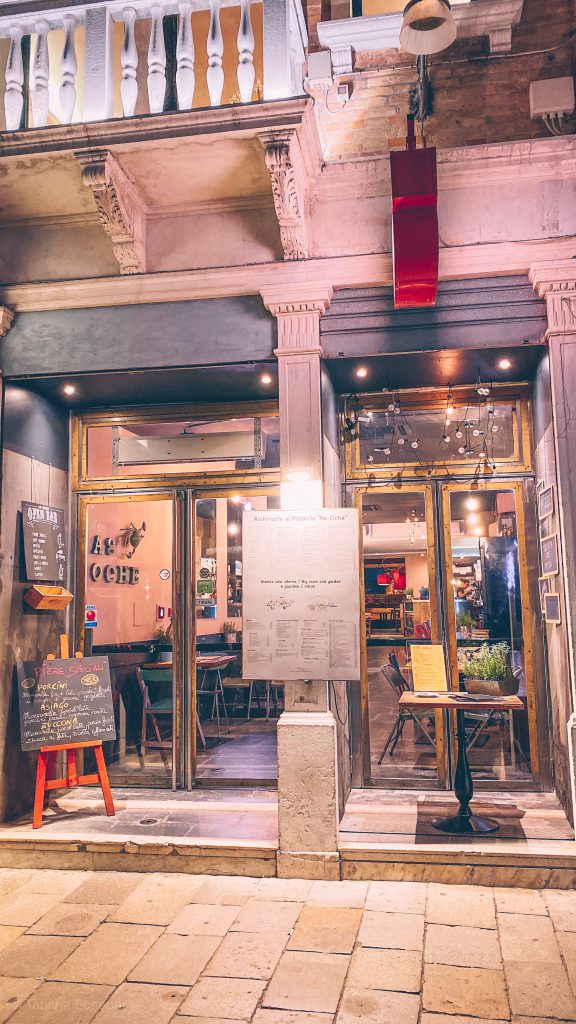 ANTICO FORNO | If you're craving Pizza while in Venice, Antico Forno in the San Polo neighborhood is the spot. It's a tiny hole in the wall with a counter for standing-room only eating. Their pizzas are thick and fluffy and they have a wide variety to choose from. We ordered ours as a takeaway and loved it.
11:30-21:30 Mon-Sun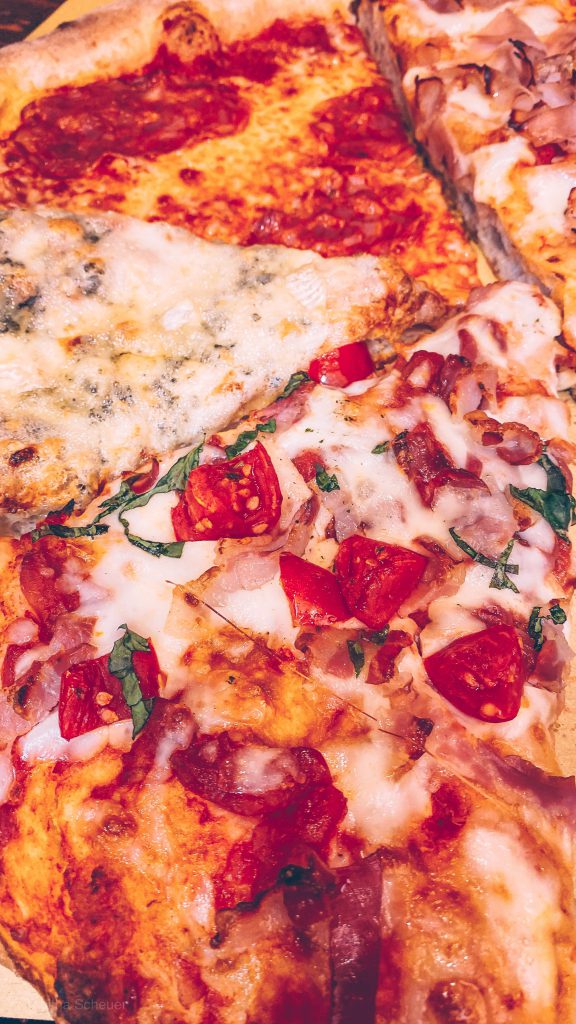 OSTERIA ALLE TESTIERE | If you're looking for some fish dishes, you'll be happy here. I'd recommend it more for a romantic evening, not for a Pizza takeaway.
12:30-14:00 & 19:00-22:00 Mon-Sun
Gelato
SUSO GELATOTECA | Unfortunately, this one was closed during our Venice trip, but it's recommended by many.
09:30-22:30 Mon-Sun
GELATO DI NATURA | We went there on our last day in Venice and as it's been a spontaneous decision to get some more gelato, we simply went by the next Gelateria. We paid €1.50 for a huge scoop of Gelato that tasted incredibly good!
10:00-0:00 Mon-Sun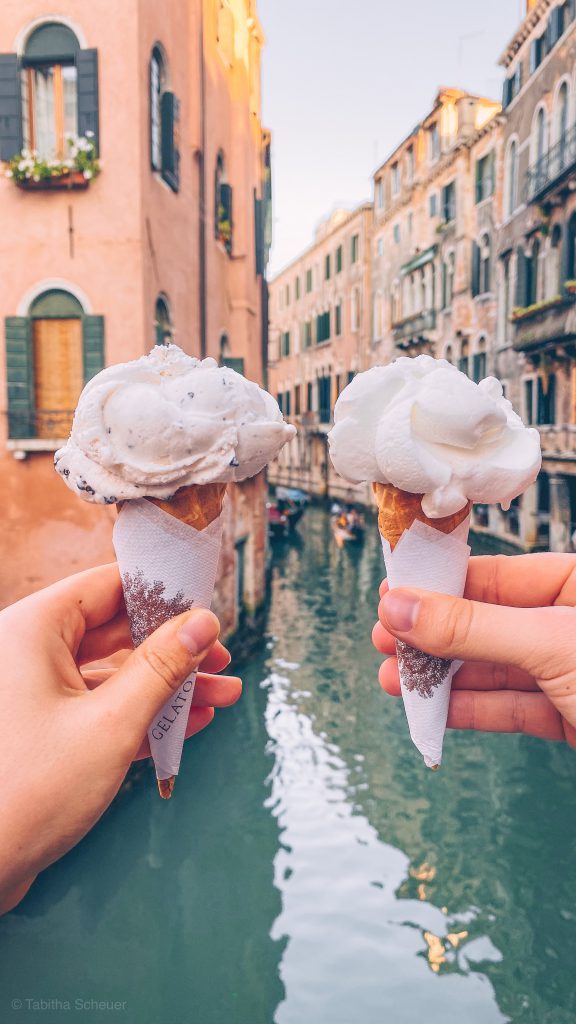 GELATO FANCY | On our first day, we hardly searched for Gelatoteca Suso and suddenly saw the 'closed' sheet in their window. Hence, we went to a Gelateria nearby and ended up with three scoops of delicious Gelato from 'Gelato Fancy'.
10:00-23:30 Mon-Sun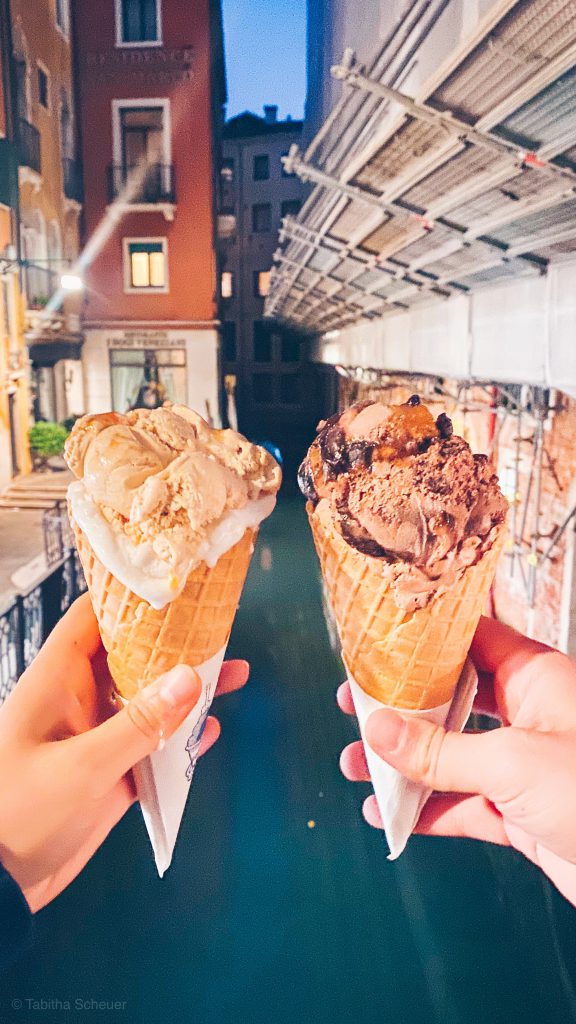 What I wouldn't recommend
VENCHI | You will wait incredibly long to get a Gelato and let's be honest: Venchi is popular for it's chocolate, but also sells Gelato. Many people only stop by for the Gelato which is … rather average than outstanding, but is totally overpriced and too expensive (compared with other chains/stores).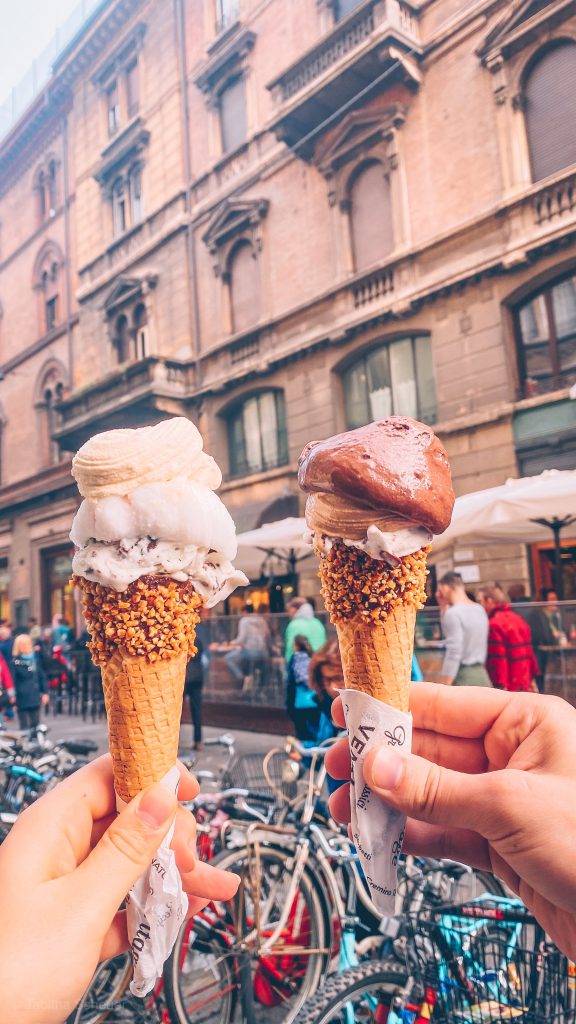 Drinks
Generally, you can easily spend the evening at Campo Santa Margherita to get your daily dose of Aperol, Wine, or anything you'd like.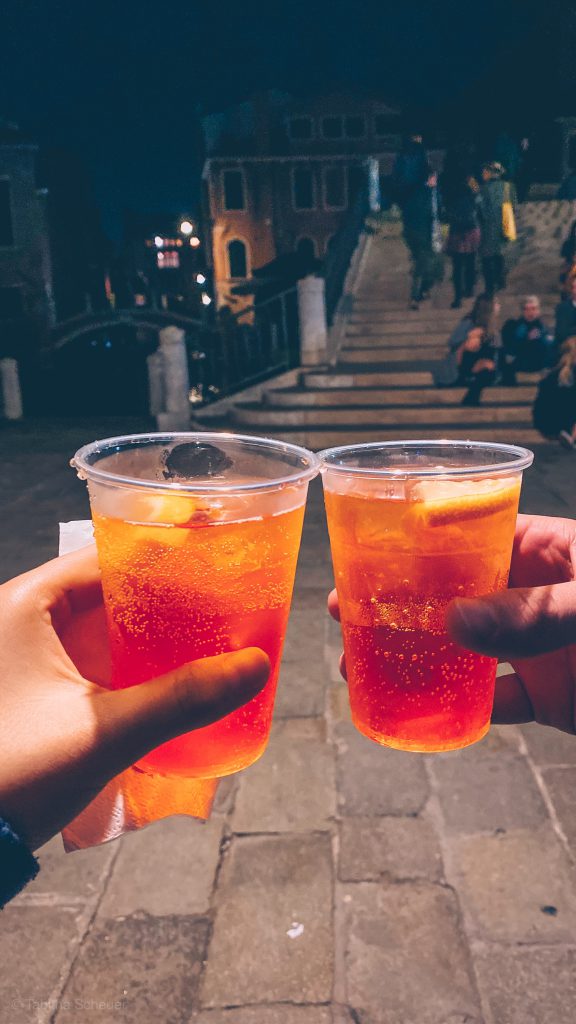 OSTERIA AL SQUERO | Not only a good place to eat some cicchetti, but also a nice place to have some Aperol Spritz, or wine.
11:00-21:30 Mon & Tue & Thu-Sun; Closed Wed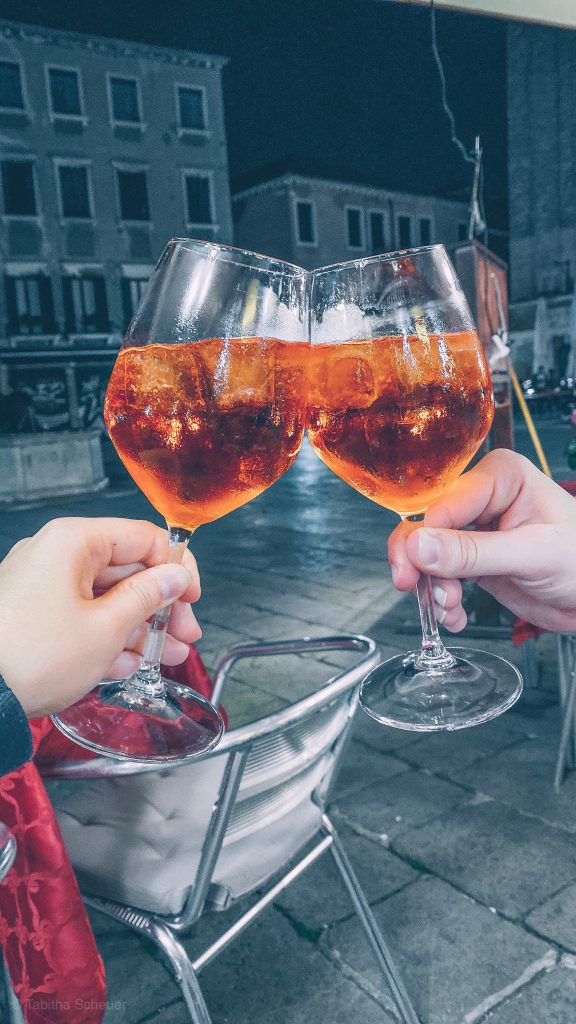 ESTRO – VINO E CUCINA | Estro is a wine bar and restaurant, so you can either stop by for a glass of wine and a snack or have a full sit-down meal. It's away from the tourist crowds, making it a relaxing spot to dine.
12:00-14:30 & 18:00-22:30 Mon & Wed-Sun; Closed Tue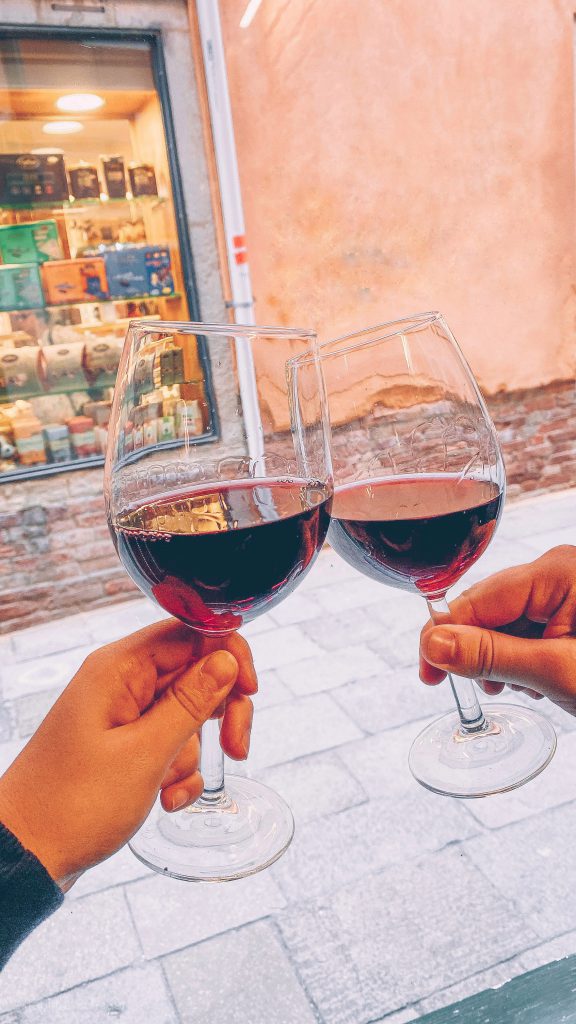 SKYLINE ROOFTOP BAR | If you're looking for some rooftop drinks, then Skyline Rooftop Bar will get you covered. For about €12-20, you'll get non-alcoholic and alcoholic cocktails with some incredibly views of Venice.
12:00-01:00 Mon-Sun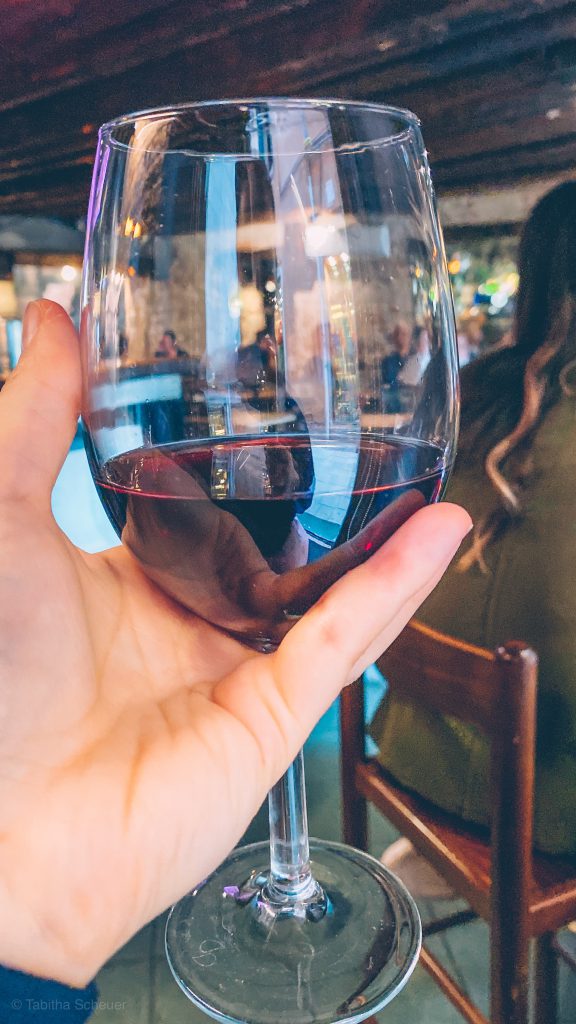 Did you enjoy this post? Share it on Pinterest!