Salzburg is known for its beautiful baroque architecture, magnificent cathedral, rich cultural heritage, and being the birthplace of Mozart. Being only an hour ride away from the Bavarian capital, Munich, it is a popular day trip for many.
If you're considering to visit Salzburg for a day, then this is the perfect itinerary for you. Just like every time, I tried to minimize walking distances as much as possible. You can use this itinerary as your free walking tour through Salzburg.
DAY 1 AM / Mirabell Gardens & Mozart
DAY 1 PM / Magnificent baroque buildings & best views in the city
DAY 1 Evening / Dinner at the largest beer hall in Austria
Free map of all locations down below!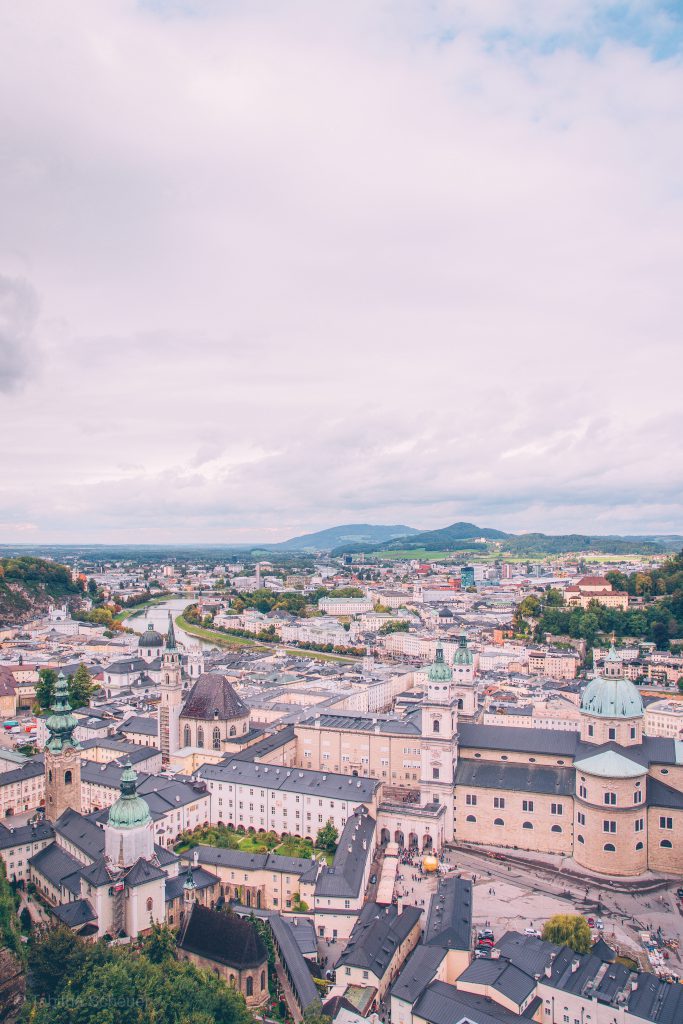 Why go to Salzburg?
Explore Mozart's Birthplace, and Residence
Eat at the largest beer hall in Austria
Enjoy the day strolling around a beautiful scenery
Experience a magnificent city
Enjoy coffee and famous Sacher cake or Salzburger Nockerln
Day 1 AM / Mirabell Gardens & Mozart
Mirabell Gardens
Seems like everyone knows the Mirabell Gardens from the Movie 'Sound of Music'. I haven't seen it, nor did I knew it, but the 'Do Rei Mi' scene originally was filmed in the Mirabell Gardens and everyone seemed to get excited about it.
Instead, I enjoyed the beautiful gardens, a perfect start into a day in Salzburg. I love the calm, quiet atmosphere you can experience here.
Mirabell Gardens | 24 hours | free | Location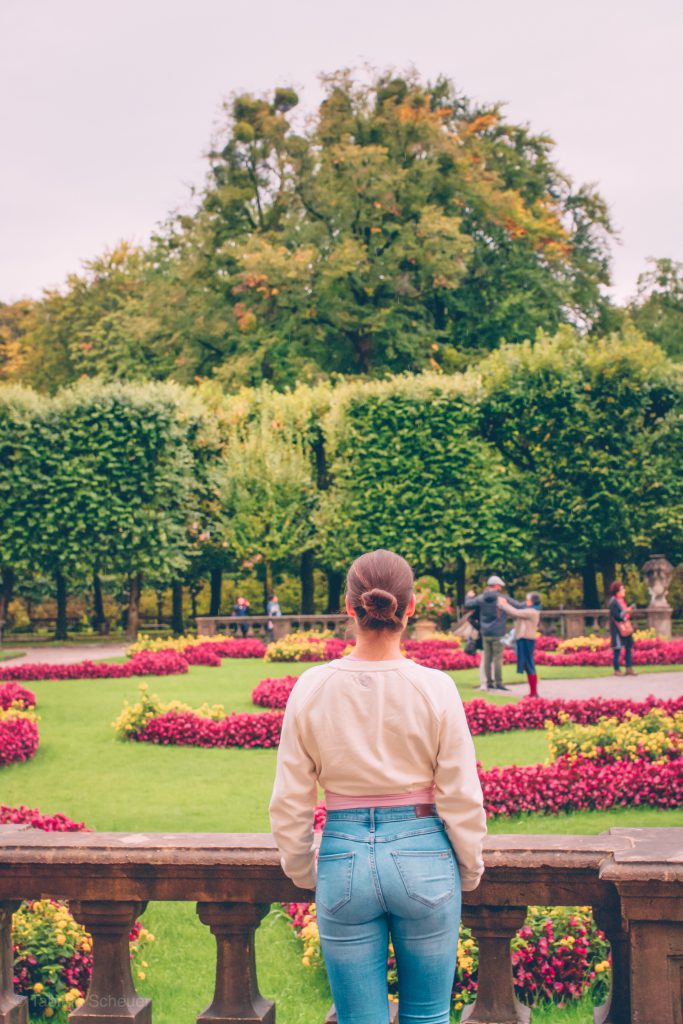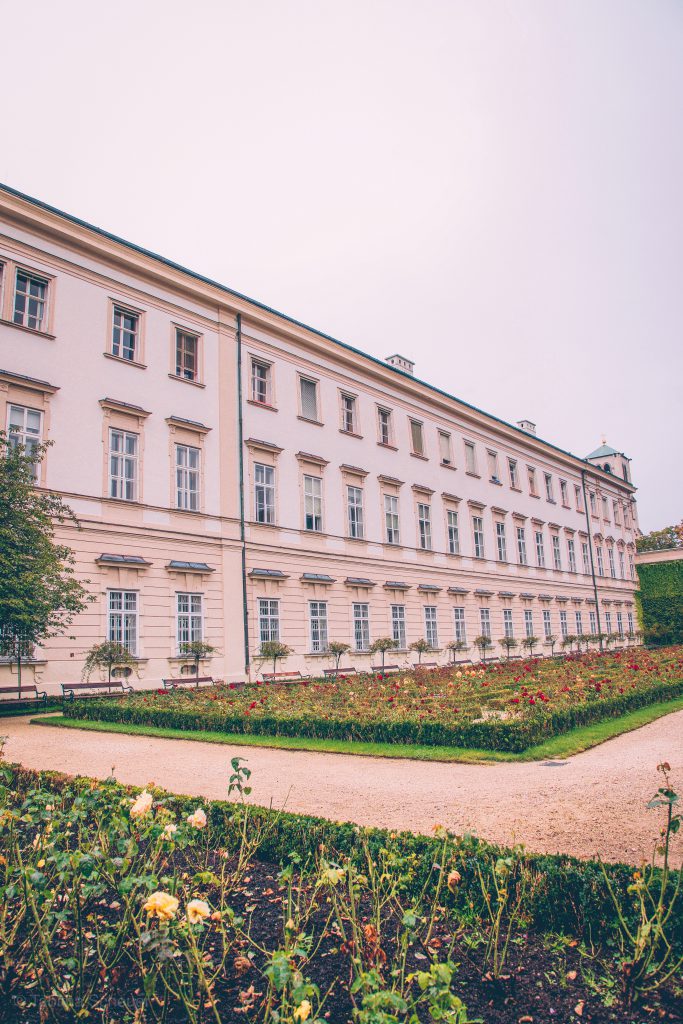 Mozart Kugeln
Are you wondering why I suggest getting some Mozart Kugeln right now? There is only one Café that sells the original Mozart Kugeln: Café Konditorei Fürst. In Salzburg, they have four shops. I experienced the one at Mirabell Gardens to be a less busy and crowded. Hence, pro tip: Get yourself your daily dose of Mozart Kugeln in the Café Konditorei Fürst here, and save time.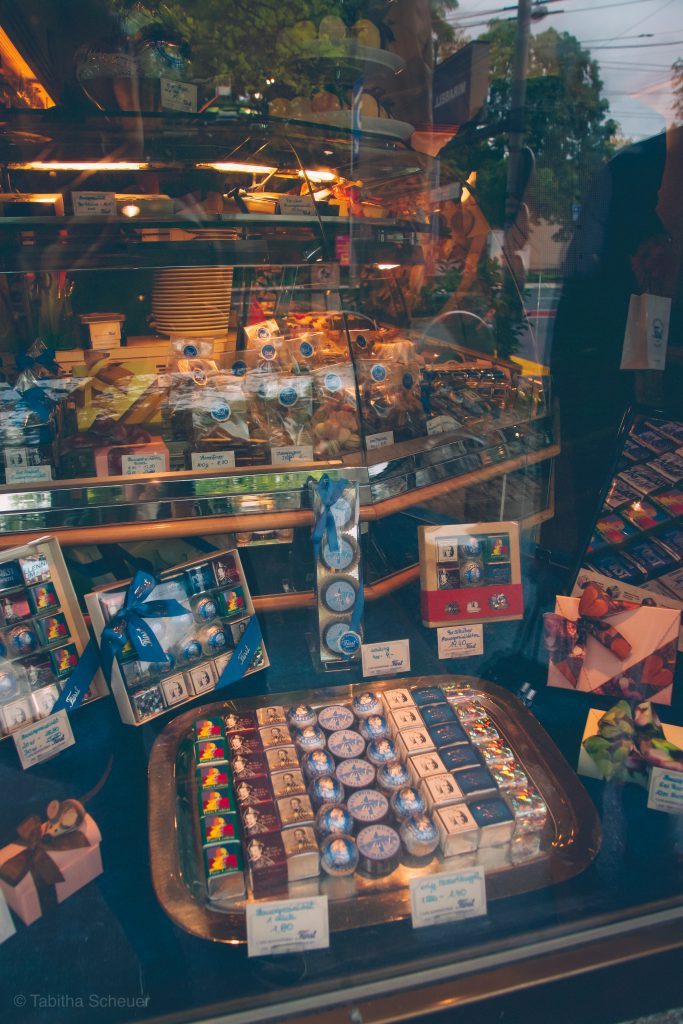 You don't know Mozart Kugeln? Oh, shame on you! Especially in Austria and Germany, Mozart Kugeln are popular sweets. It's a round ball of pistachio marzipan and nougat covered in dark chocolate, and you can easily buy it in every super market. But as I already said, the original Mozart Kugeln can only be bought at Café Konditorei Fürst.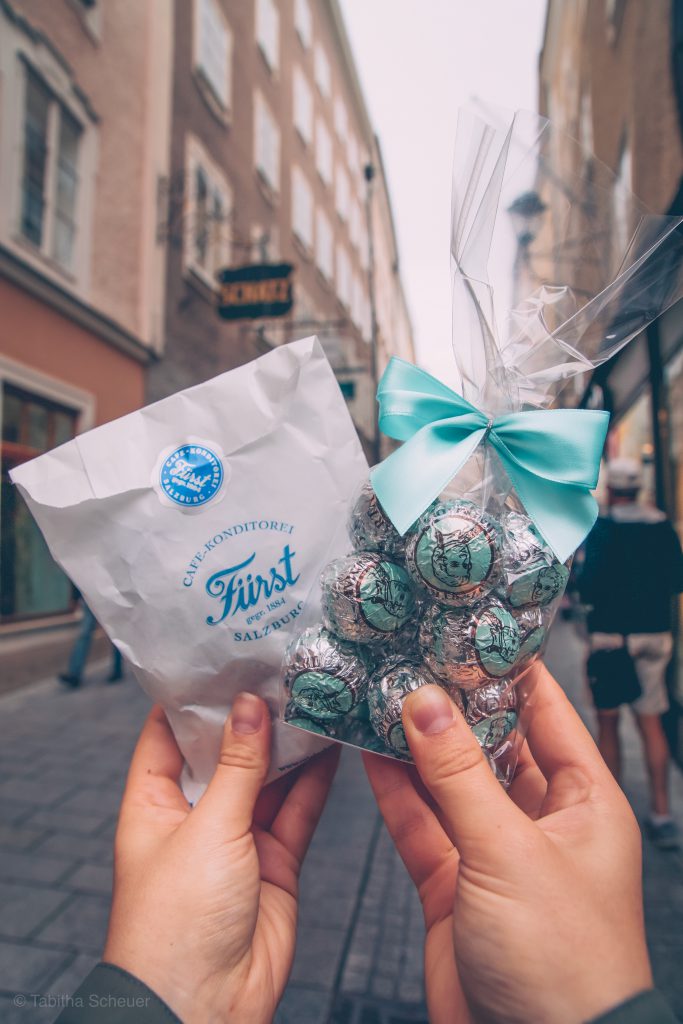 Café Konditorei Fürst | 09:00-19:00 | €1,20 for one Mozart Kugel | Location
Mozart's Birthplace and Mozart's Residence
After getting yourself some Mozart Kugeln, you need to explore his birthplace some more. Salzburg is most famously known as the birthplace of Mozart and if you didn't know, you will when you get here. His photo follows you wherever you go. There are shops, chocolates and even squares named after the composer.
If you want to learn some more, there are two buildings in Old Town worth checking out. Mozart's Birthplace and Mozart's Residence.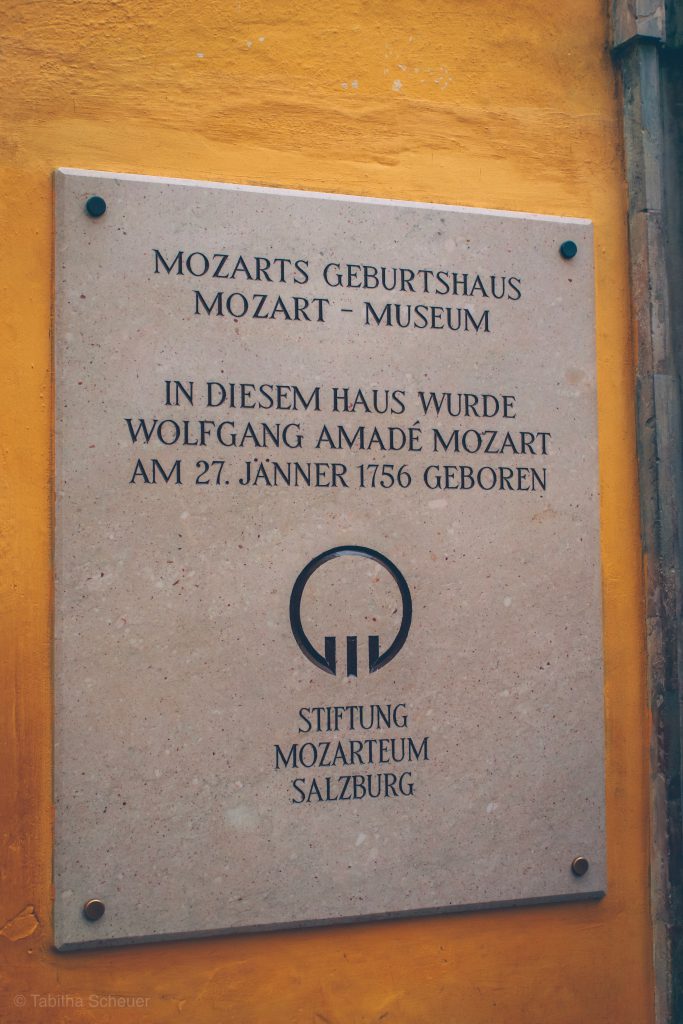 Mozart was born in 1756 in what's known as the 'Hagenauer House' at no. 9 Getreidegasse. He lived in the house until he was 17 years old. You can, if you want to, walk through the original rooms where he and his family lived. Mozart's childhood violin is on display as well as his clavichord, portraits and letters belonging to the Mozart family.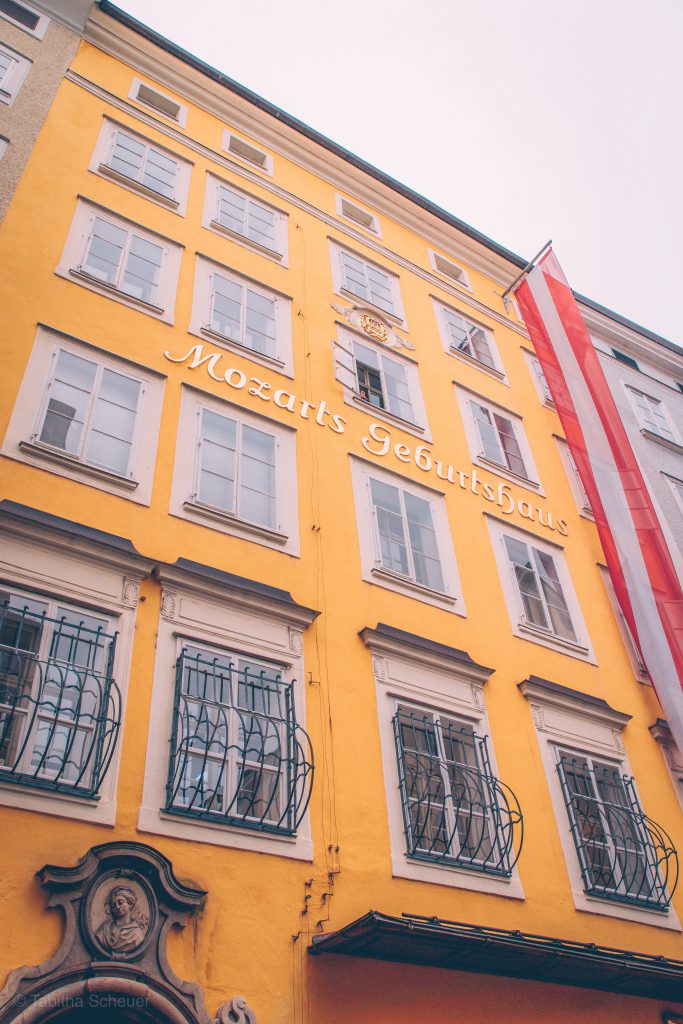 In 1773, the Mozart family moved to a more spacious house which is now known as Mozart's Residence. During his time in this house, Mozart wrote many symphonies, divertimenti, serenades, and other important music. After being destroyed in World War II, the Mozart's Residence is reconstructed.
Mozart's Birthplace | 09:00-17:30 Mon-Sun | €11 solo, or €18 for both | Location
Mozart's Residence | 09:00-17:30 Mon-Sun | €11 solo, or €18 for both | Location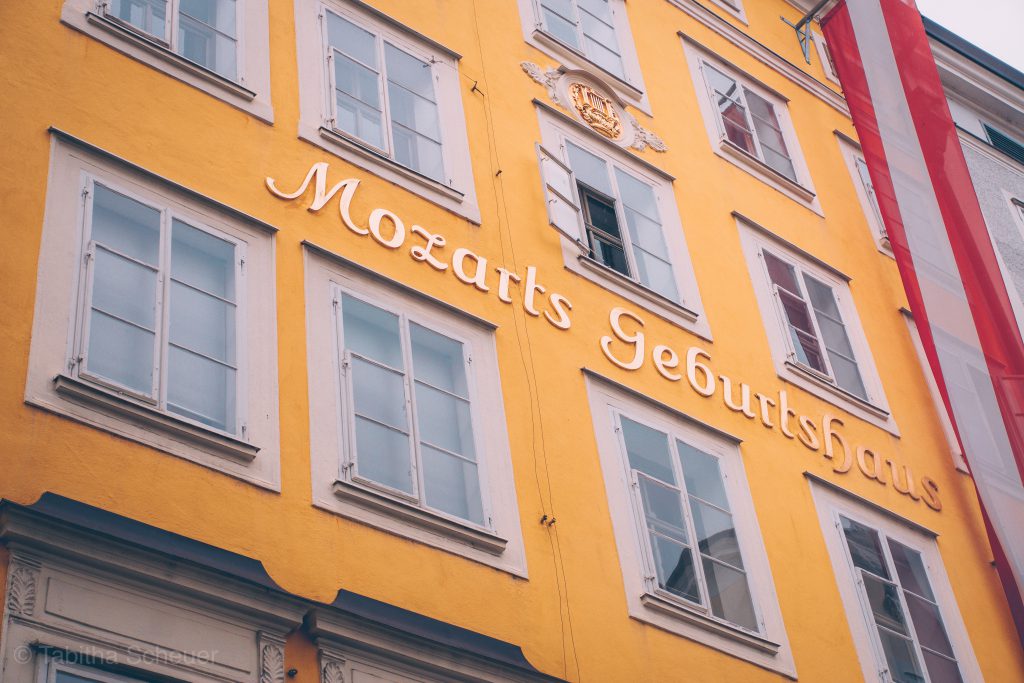 Makartsteg
When wandering from the Mozart Residence to Mozart's Birthplace, you can stroll over to Makartsteg, the Love Lock Bridge in Salzburg. Surely, it's not that impressive as the one in Paris or even Cologne. But why not walk past by it?
Makartsteg | Location
Getreidegasse
After visiting Mozart's Birthplace, located in no. 9 Getreidegasse, enjoy the beautiful scenery of Getreidegasse itself. It's been the main shopping artery of Salzburg since Medieval times. The oldest house in the Getreidegasse is no. 21 from 1258, and yet it is not the most famous.
Here, you will have the chance to experience a beautiful, old-fashioned Salzburg. The most amazing feature is that every shop has an intricately decorated sign above the entrance. Since back in the day people couldn't read, the shops would hang a symbol of their trade like a shoe for a shoe repairman or a key for a locksmith. Businesses represented on Getreidegasse today keep this tradition alive.
Getreidegasse | Location
Lunch at Grünmarkt
From Getreidegasse, take one of the inner passages on the left or right of the house and in less than a minute you'll be at the University Square. Every day, except for Sunday, Grünmarkt takes place at the square with dozens of farmers selling their produce. One of the most popular stalls is Mayer Delikatessen where you can buy all kinds of cheese, cold cuts, sausage, and a pretzel stuffed with meat and cheese for lunch. Plus, you will also find all kinds of sweets, like strudel and stangerl, at other stalls.
Grünmarkt | 07:00-19:00 Mon-Fr; 06:00-15:00 Sat; Closed on Sun | € | Location
Day 1 PM / Magnificient baroque buildings & best views in the city
Old Town Salzburg
Old Town Salzburg – Altstadt – is a UNESCO World Heritage Site and it's the most popular tourist area in the city. The architecture is so unique, I cannot even put it into words. The buildings are pale and they're painted in these soft pastel colors. It makes the city look so clean and dream-like.
With that being said, be sure to carve out some specific time to simply wander through the streets, getting lost and discovering a few off the beaten path gems.
Old Town Salzburg | 24 hours | free | Location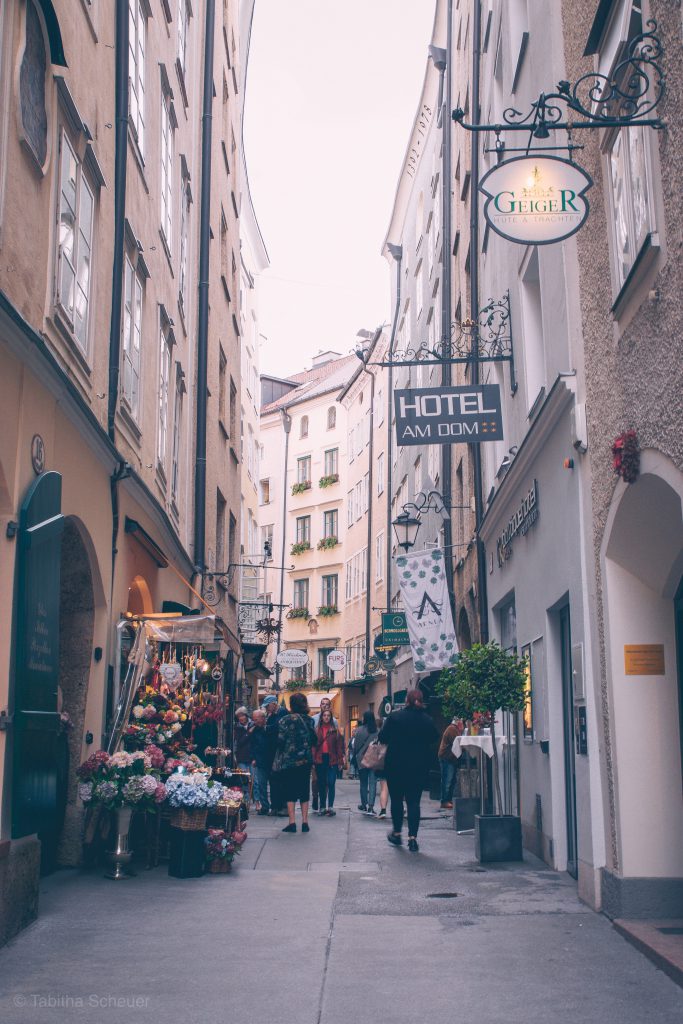 Salzburg Cathedral
Salzburg Cathedral is a beautiful church, and hold's significance for Salzburg as it's where Mozart was baptized. He served as the organist for several years, creating music for the cathedral. In fact, many of his compositions were performed here for the very first time.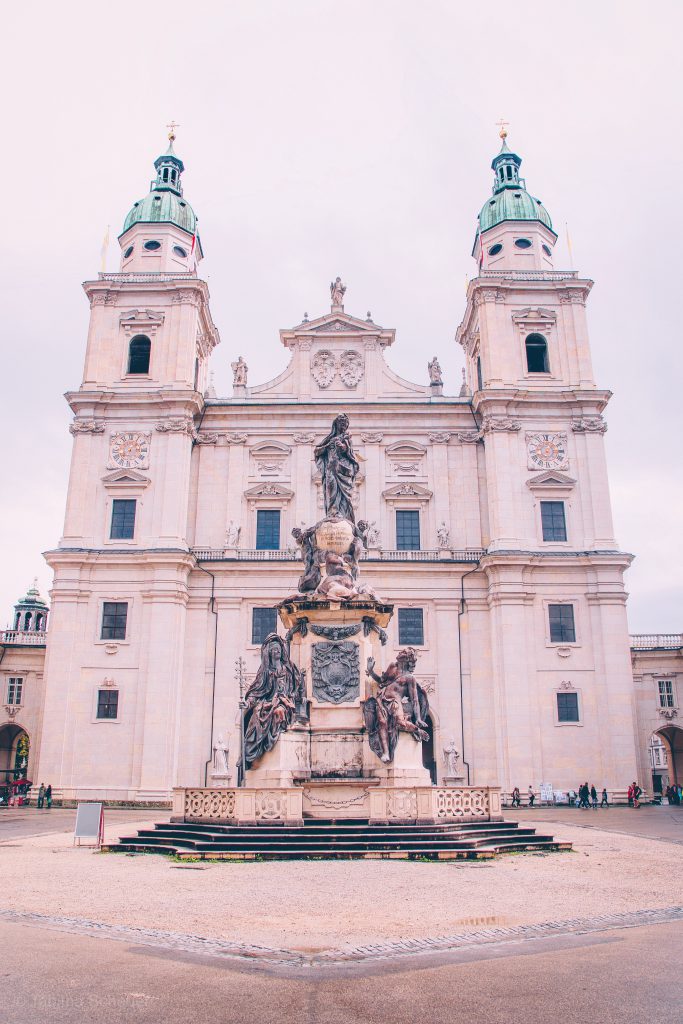 No matter if you're a fan of Mozart or not, I'm sure you'll enjoy the beauty of the Cathedral nonetheless.
Salzburg Cathedral | 08:00-19:00 Mon-Sat; 13:00-19:00 Sun | free | Location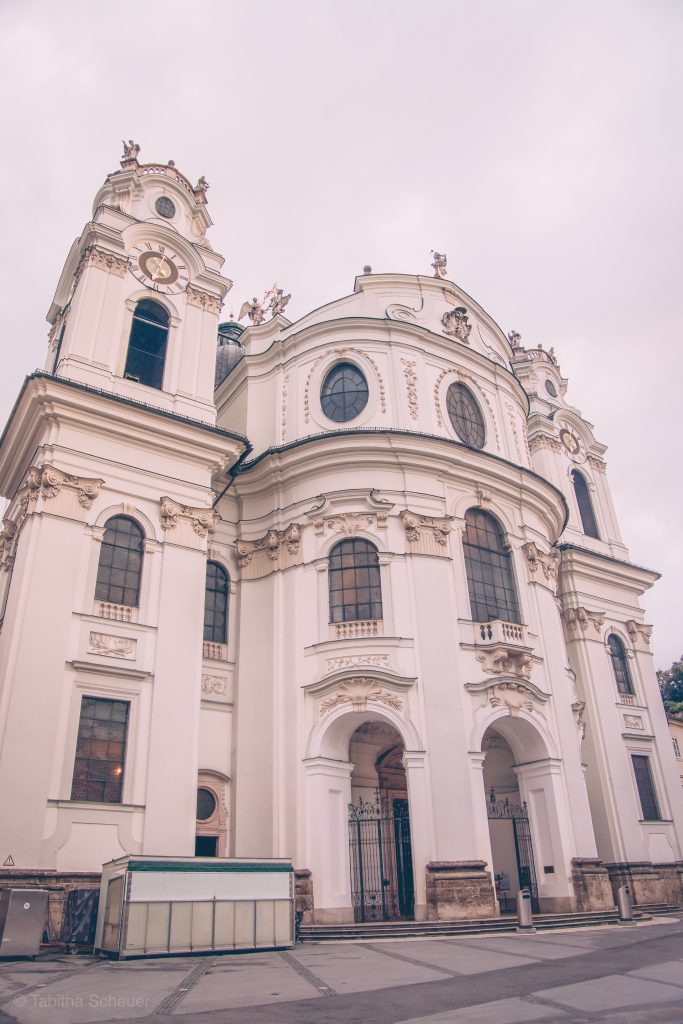 If you got some extra time: Residenzplatz
Directly next to the cathedral square, reachable through the cathedral arches, is the Residenzplatz with the old and new residence. In the center is the Residence Fountain, obtained from the 17th century.
Residenzplatz | 24 hours | free | Location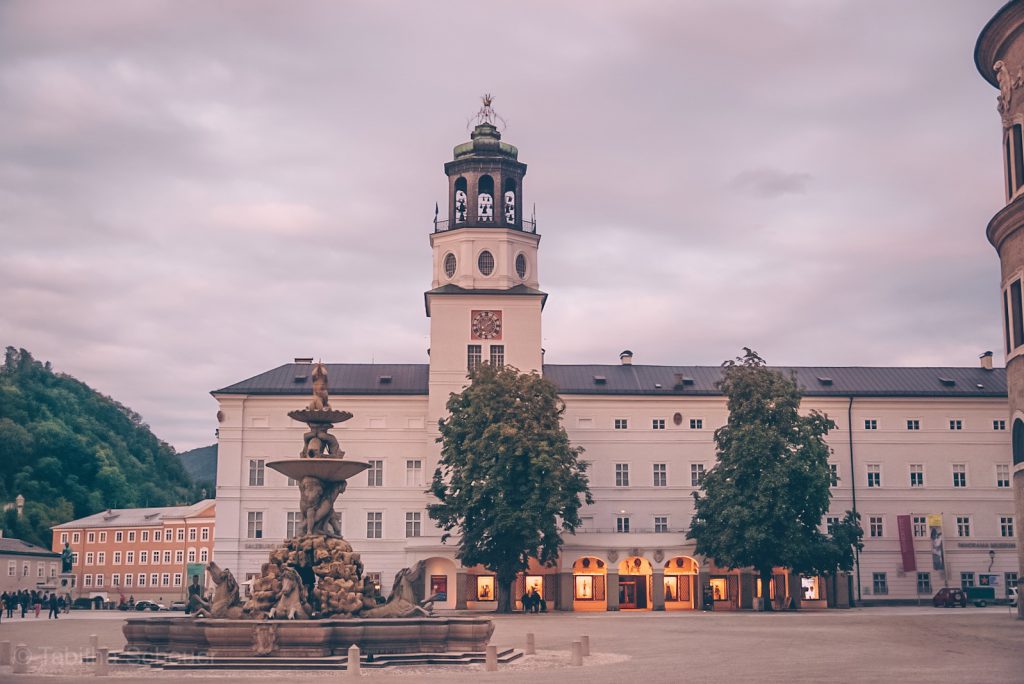 Plus, if you want to, you can head over to Mozartplatz.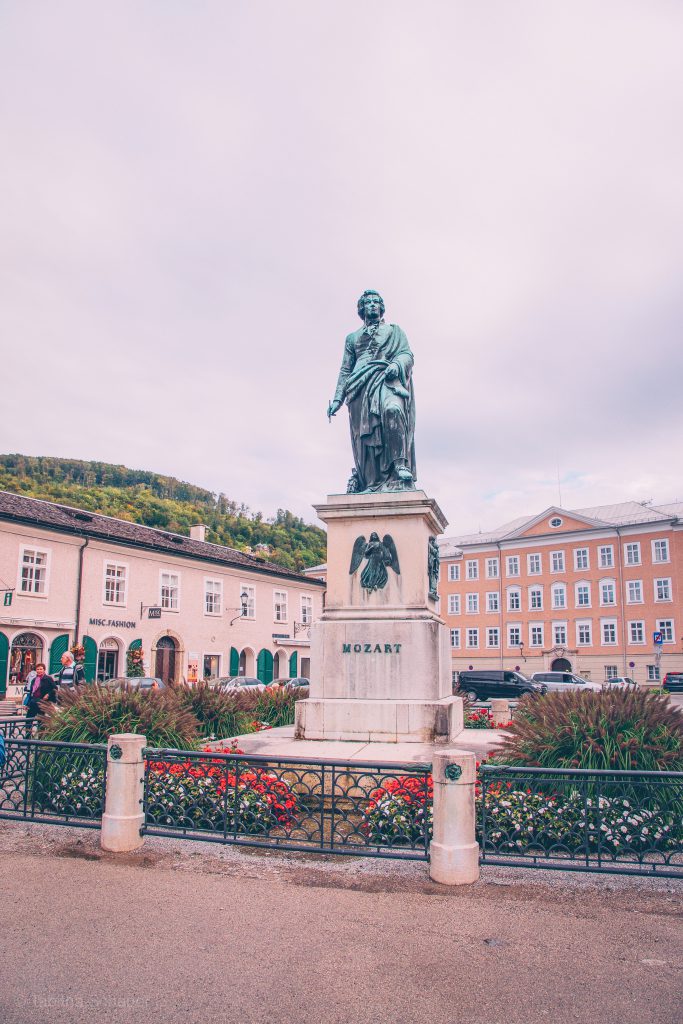 Petersfriedhoff Cemetery
Walk a few minutes to reach Petersfriedhoff Cemetery. It is probably the most picturesque I've ever seen. It belongs to the abbey of St. Peter, and thus to the oldest monastery in the German-speaking area.
Here, you can also find the entrance to the Salzburg catacombs. They were hewn into the Mönchsberg and go back to late antiquity. They were used as hermitages and burial places.
Petersfriedhoff Cemetery | 06:30-18:00 | free entry | Location
Catacombs | 10:00-12:30 & 13:00-18:00 | €2 per person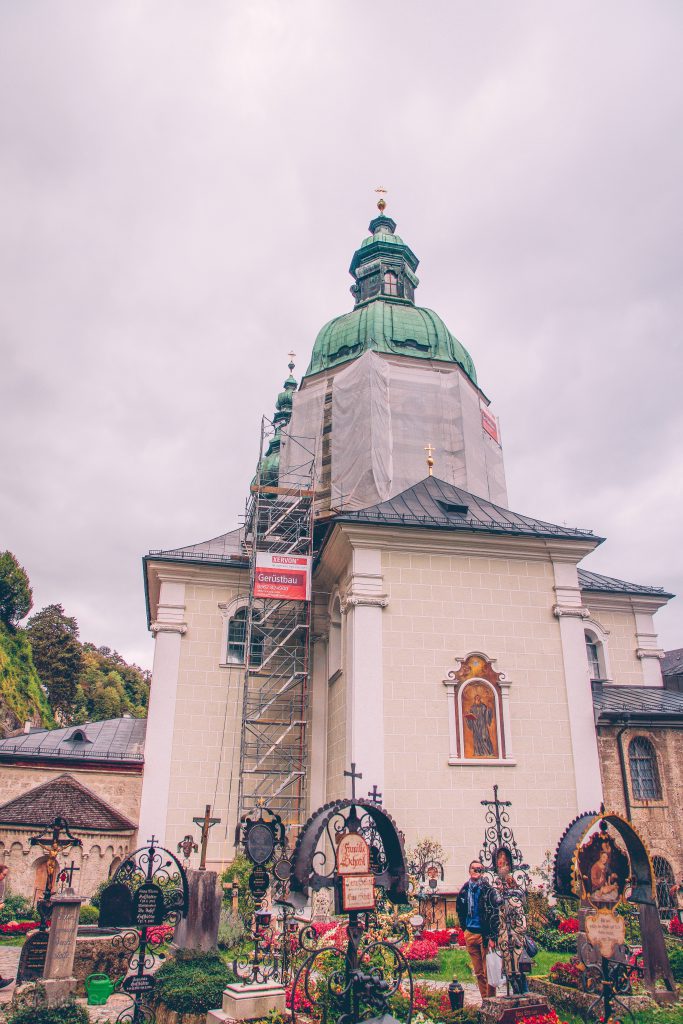 Salzburg Fortress
The last 'sight' for your day in Salzburg will take your breath. Built in 1077, the fortress is one of the largest in Europe and one of a few that had never been conquered.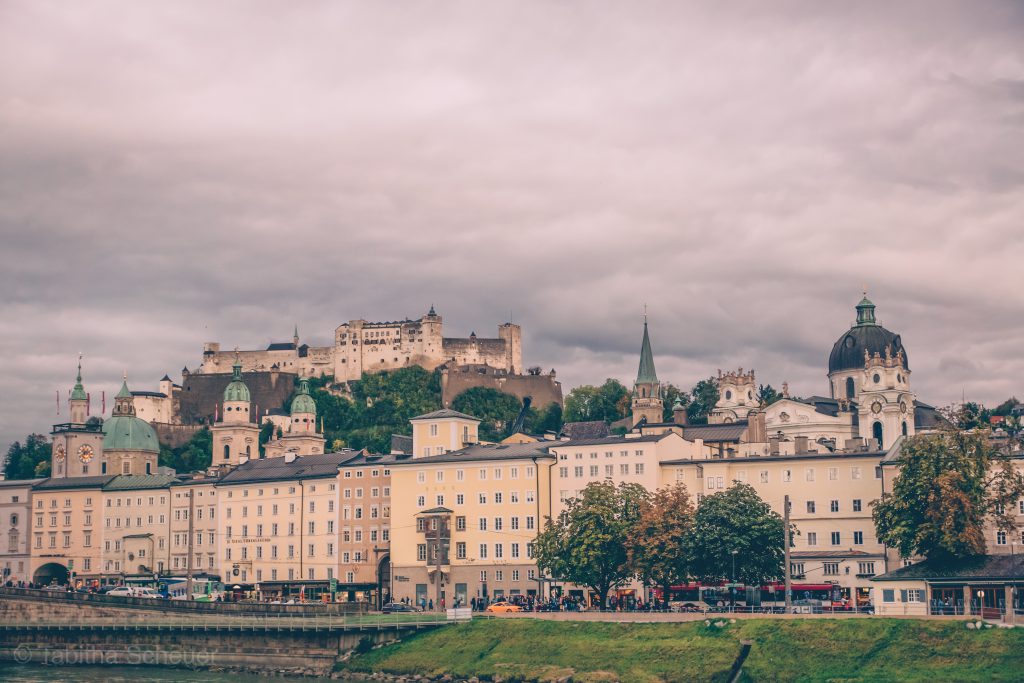 Whether you got up the hill on foot or take the funicular built in 1892, making it the oldest of its kind in Austria, the views are exceptional. The ride up takes only 54 seconds. Once on top of the hill, you can explore the fortifications as well as enjoy the beautiful views of Salzburg. There are also a Fortress Museum, Medieval Prince Apartments, and Golden Fortress Room on top.
Don't expect too much of the inside of the Salzburg Fortress. It's not a castle, though it's worth it to go in just to have a look around. However, the highlight of the Salzburg Fortress definitely is the views.
Salzburg Fortress | 09:00-19:00 | €13.20 | Location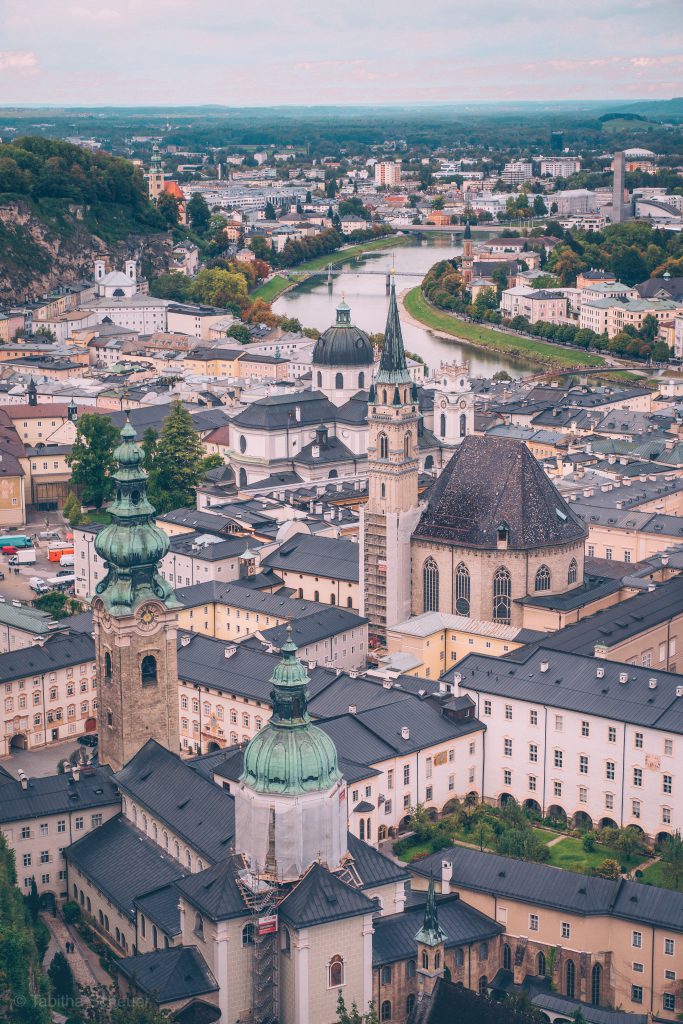 Day 1 Evening / Dinner at the largest beer hall in Austria
Yay! You – hopefully – survived this walking guide through Salzburg. Now, you're ready for some hearty food, and beer, I guess.
Make your way to Augustiner Bräu Kloster Mülln, the largest beer hall in Austria.
Augustiner Bräu | 15:00-23:00 Mon-Sun | €€ | Location
If you're looking for other food recommendations, I highly recommend to spend tea time at Hotel Café Sacher. There you'll get the famous original Sacher Torte which is a chocolate cake filled with jam. It's super yummy! Or you can get yourself some 'Salzburger Nockerln' which are made of eggs, sugar and flour.
All the information you need to help plan your own Day in Salzburg itinerary
I believe that a little pre-planning, research, and understanding what you are looking for in a destination, will help make your travels far more successful. Here's some further information I think you might need to plan your own Day in Salzburg itinerary.
Best time to go to Salzburg
You can easily visit Salzburg year-round. I'd recommend to do it as a day trip when visiting Munich or Vienna.
How to get to Salzburg
You can easily get to Salzburg by train, car or fly to Salzburg Airport. From Salzburg airport, you can take the bus 2 or bus 10 to the city. They depart from the airport for the city center every 20 minutes. The journey will take approx. 23 minutes and will cost you €2.
Getting around in Salzburg
If you want to explore the city on foot, you can reach the most important points in the city centre within a short time. You don't necessarily need a car or a bus.
We did the whole itinerary on foot, including a person sitting in a wheelchair. Hence, I believe you can do it, too!
Salzburg Card
If you want to visit some sights, a 'Salzburg Card' may be good. It'll set you back €29 for 24 hours, and gives you one time access to some of the main sights, including the Mozart's Residence, and Birthplace, the Fortress – and, for the 'Sound of Music' fans, there's free entry in the 'Sound of Music World'.
We didn't buy one, as it was cheaper to just pay the entrance fee to the sights we considered interesting.
Pin this post!