Marrakech is a popular travel destination and is increasingly becoming an Instagram hotspot. Girls in floaty dresses, the most photo-worthy coffees and incredibly beautiful pictures of the red city make us want to book a vacation as soon as possible.
After my trip to Marrakech in December, these are the most beautiful places in the city.
The Most Beautiful Gardens in Marrakech
Marrakech is known for its beautiful gardens that can be found throughout the city.
Le Jardin Secret
Le Jardin Secret can be found just outside the souks between Mosque Mouassine and Mosque Ben Youssef. Do not be confused with a riad of the same name.
The garden dates back to the 16th century, with the current style dating back to the 19th century and restorations in 2008. Le Jardin Secret only opened to the public in 2016.
If you are traveling in low season, you can't go wrong with a visit to Jardin Secret at any time of the day, but if you're traveling in season, you should go when the garden opens.
Entrance fee: 50 MAD; 30 MAD for students
Le Jardin Majorelle
Le Jardin Majorelle is one of the most visited sites in Marrakech with two and half acres of botanical garden and landscape garden.
It was originally designed by the painter Jacques Majorelle and was later purchased by Yves Saint-Laurent. This way, it opened to the public in the 1980s.
If you want to appreciate the gardens fully, you will definitely need at least one or two hours.
Entrance fee: 70 MAD; 35 MAD for students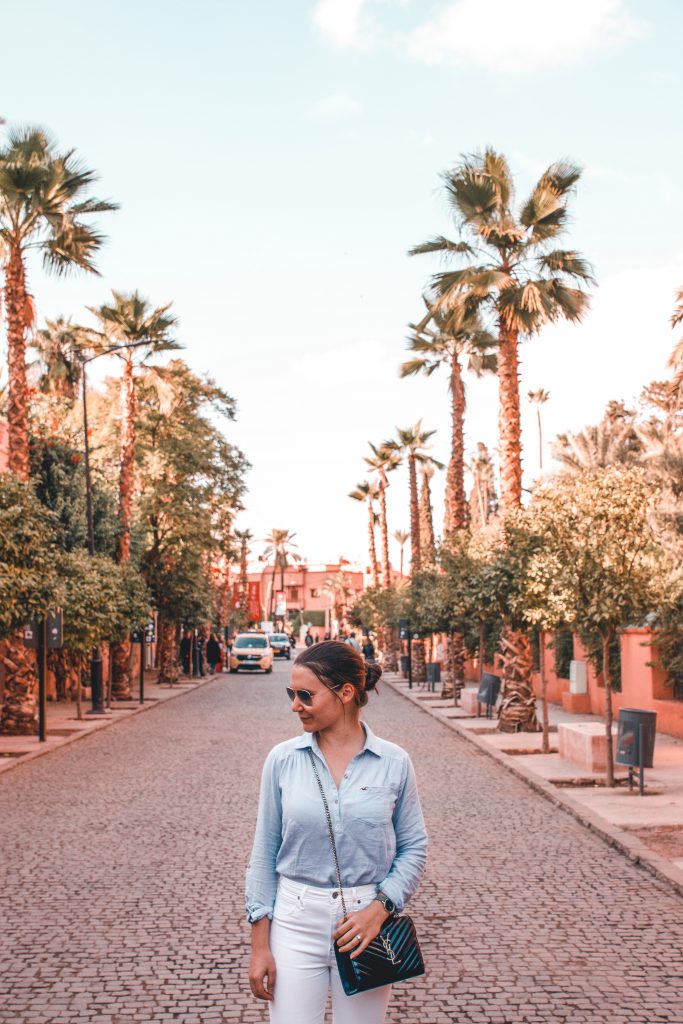 The Most Beautiful Palaces in Marrakech
While there are a few palaces in Marrakech, I already mentioned that some are not worth it. This list includes my personal choice.
Bahia Palace
"Palace of the beautiful", is a palace and gardens located right in the Medina of Marrakech. It is definitely one of the most beautiful palaces Marrakech has to offer. Built in the late 19th century, it was once intended to capture the best of Islamic and Moroccan styles.
We visited Bahia Palace rather late in the afternoon which turned out to be perfect since there weren't many people around.
Entrance fee: 10 MAD
The Most Beautiful Mosques in Marrakech
As a non-Muslim, the mosques in Marrakech can only be viewed from the outside, since a visit to the inside is reserved for the Muslims. Nevertheless, Marrakech has some beautiful mosques.
Koutoubia Mosque
Located nearby Jemaa El-Fna, the Koutoubia Mosque is the biggest in Marrakech.
Ben Youssef
Disclaimer: Ben Youssef Madrasa is closed until 2020 due to renovations. Af of April 2020, it's still not possible to visit the building.
More Beautiful Places in Marrakech
Rooftop Terraces
Yes, almost every building has a rooftop terrace where you can get those perfect sunrise shots, enjoy the beautiful sunset or simply relax in the sun for a while.
Pools inside the riads
Almost every Moroccan guesthouse, also known as a "riad", has a pool. The clothing rules that you should observe outside also do not apply there, i.e. you can also go into the pool in a bikini.
Indoor gardens of the riads
Often riads still have a common area, which often consists of some seating and a fountain. These are often so incredibly beautiful that they are also Insta worthy.
Related: How to choose the right Moroccan Riad.
Liked this post? Pin & Share it!