Are you thinking of heading to Paris for the first time, the fifth time, or the thousandth time? Well, I'm sure that there are plenty of things you may well not have considered, but that you totally need to know! In this post, I will cover everything – from the best time to visit the city to exploring off the beaten path. Here are my best Paris travel tips that you definitely don't want to miss.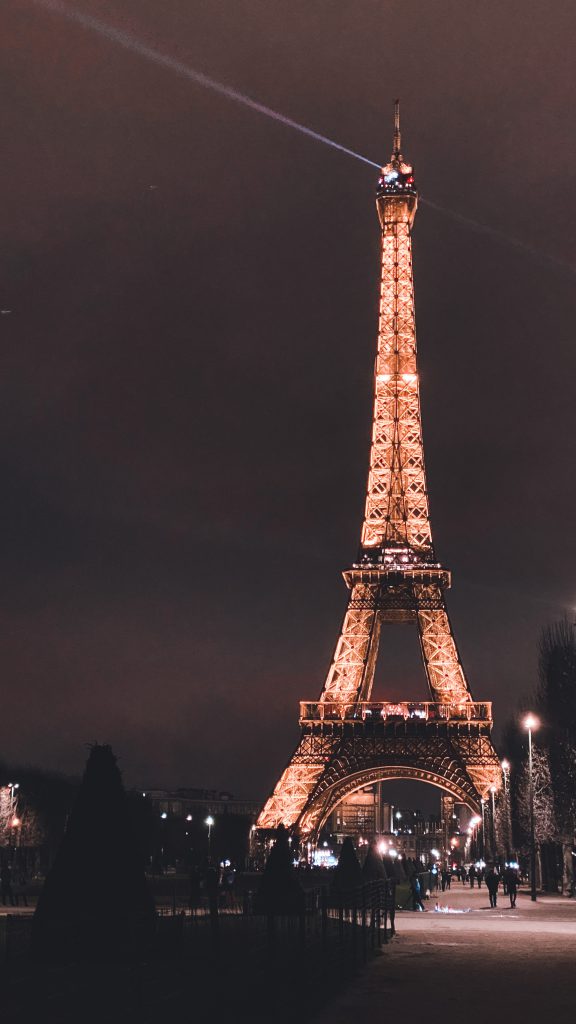 Best time to visit Paris
I think it's not surprising that Paris is of course particularly busy during the summer or winter holidays. Hence, the of all the Paris holiday tips I have, this is one of my top tips: Visit Paris during shoulder seasons. This way, you can avoid peak seasons and still get the good weather. You'll be able to enjoy Paris without the crowds and can also save money, as many hotels offer cheaper rates and plane or train tickets are also less expensive.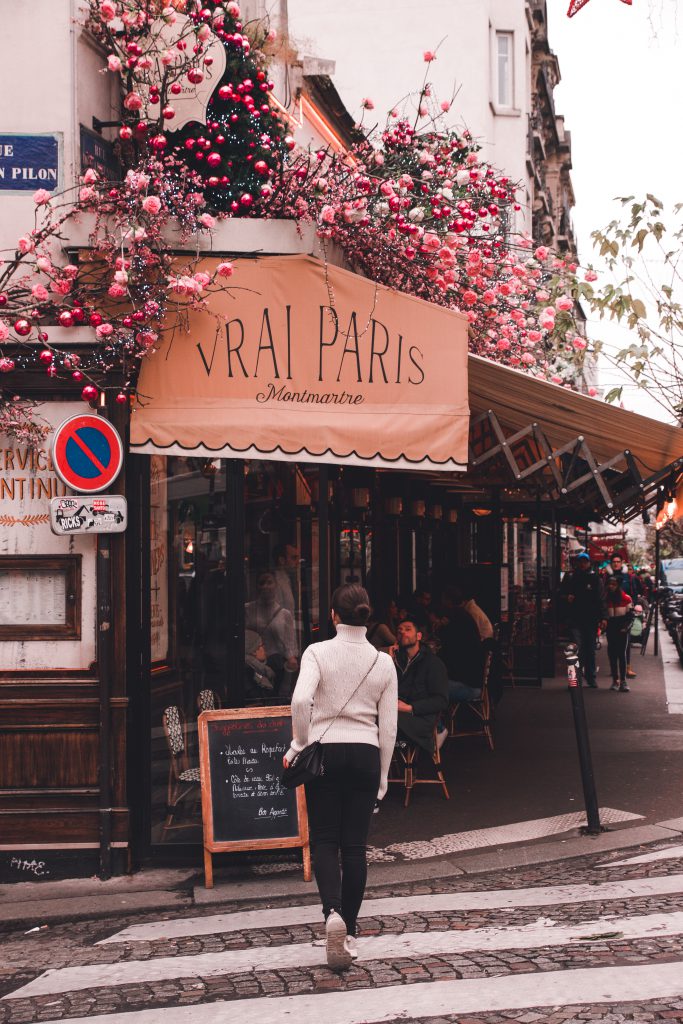 Plan your Location well in advance
During our first stay in Paris, we opted for a hotel in the centre of Paris but didn't research that it was particularly hard to reach the main sights we wanted to see. We ended walking 5km every day (since the metro was not operating) and our stay would have been so much better if we just booked a better hotel.
When it comes to your Paris visit, accommodation is going to be a large portion of your travel budget and it doesn't make sense to opt for a hotel that is not directly in the city centre as you will spend the money you saved for the metro or other transportation.
As such, I highly recommend booking your stay well in advance to have all the options. Choosing a place to stay in Paris is dependent entirely on your own preferences. Most of the luxury hotels can be found in the 8th arrondissement of the city, while more budget locations can be found more far away from the Eiffel Tower.
Otherwise, you can also look for an Airbnb. Airbnb ranges from luxurious studios offering views of the Eiffel Tower to budget rooms and sleeping on the couch. If you're new to Airbnb, you can sign up with this link to get a €35 credit for your first booking!
Learn a few words of French
Seriously, this will help you so much! Here are the common phrases that you should know:
Hello/Good Evening – Bonjour/Bonsoir
Please – S'il vous plaît (formal) or s'il te plaît (informal)
Thank you – Merci
Sorry – Pardon
Although many people will speak English, they are more likely to be helpful when you at least try to make an effort with a little French.
A common misconception about the French people is that they are "rude". I never felt like this would be the case during any travel to France, ever.
Always say "Bonjour" when entering a shop or café
If you won't make the effort to say "hello" when entering a store in France, you will seem rude. As such, you will find storekeepers much friendlier when you say "bonjour" as you enter their shop. The same holds of cafés or restaurants.
Explore Paris by foot as much as you can!
Like many European cities, Paris is a place that can be best explored on foot. Hence, prepare to walk plenty because after all, you will enjoy walking in Paris so much! When wandering around Paris, you will truly get a feel for the authentic Paris and see the city from a local's perspective.
This way, you will be able to discover hidden gems that you might have missed if you sat in a bus or standing on the metro! For example, we would never have seen this beautiful church without walking.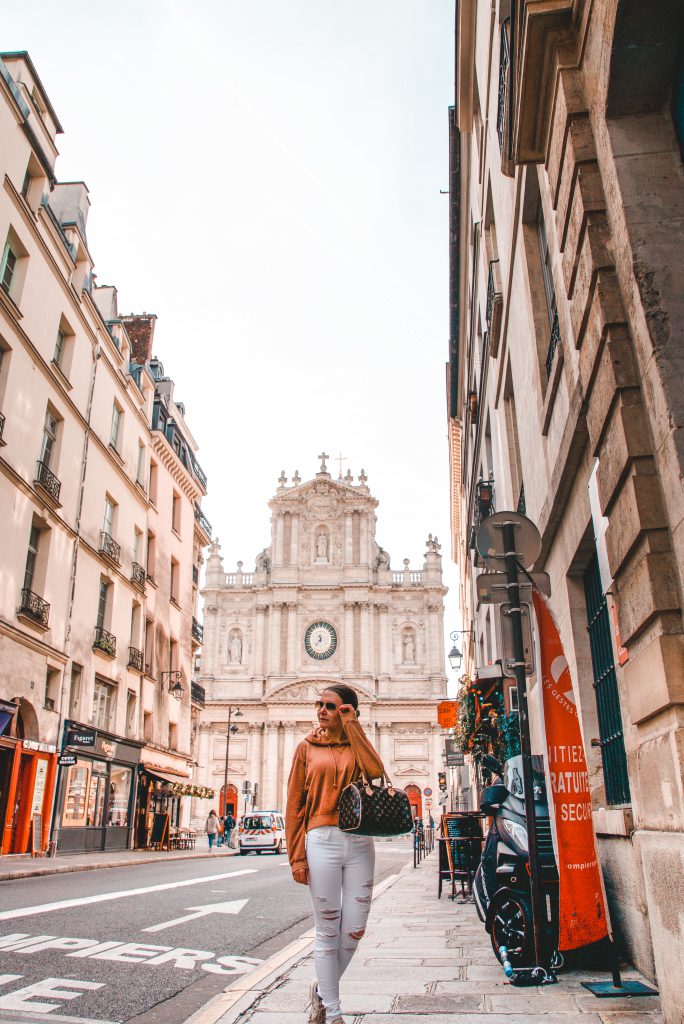 Take free & self-guided walking tours
Many European cities offer free and self-guided walking tours. While many companies offer free tours with the expectation that you'll tip the guide at the end, you'll soon find a huge amount of self-guided tours if you use a search engine and simply search for "free & self-guided walking tours in Paris".
Bring comfortable shoes
Related to the case that you may want to walk a lot, it totally makes sense to bring a comfortable pair of shoes. It is not uncommon to clock upwards of 20,000 steps a day, so be prepared and wear comfy shoes.
Be aware of pickpockets and travel scams
Throughout Paris, you will much likely come across a variety of scams. Especially if you are in a touristic area (like Montmartre, Hotel de Ville, and Le Marais). Most likely, you will be asked to sign a "petition" that is absolutely fake, but whilst one of them tries to convince you to sign, another person will try to steal from you.
In Berlin I fell for it myself because I felt sorry for these people. Fortunately, I always carry my valuables in the inside of my jacket pockets so that nothing has happened to me. I've also seen people ask for credit card information from other people. What happens to this data and your signature should be clear.
Use public transportation
Avoid taxis and traffic queues and hop on the metro instead. The metro is fast, efficient, and affordable. If you're planning on taking the metro a few times or you are travelling as a group, be sure to purchase a "carnet" which allows you to ride the metro ten times and offers a cheaper rate than buying each one individually.
Discover France beyond Paris
Yes, it is absolutely tempting to spend as much time as you can in Paris. After all, there are countless of other places you may like to see. Consider to take a day trip to Versailles, the château at Fontainebleau and the medieval city of Provins.
Consider purchasing the Paris Pass
As I already said, we did not use the Paris Pass and I will not recommend it for any reason, but it can make sense to purchase the Paris Pass if you want to visit a lot of attractions while in the city. Plus, you'll get free transpiration on the metro and buses.
However, before purchasing the pass, add up the cost of all attractions you wish to see and work out whether it is cheaper to buy the pass or each ticket individually.
Bring your student ID
No matter which city we travel, I always ensure that I have my student ID packed. It's worth noting that many attractions, monuments, and museums allow free entry to those under 26 who are residents of the EU. Other establishments across the city offer student discounts.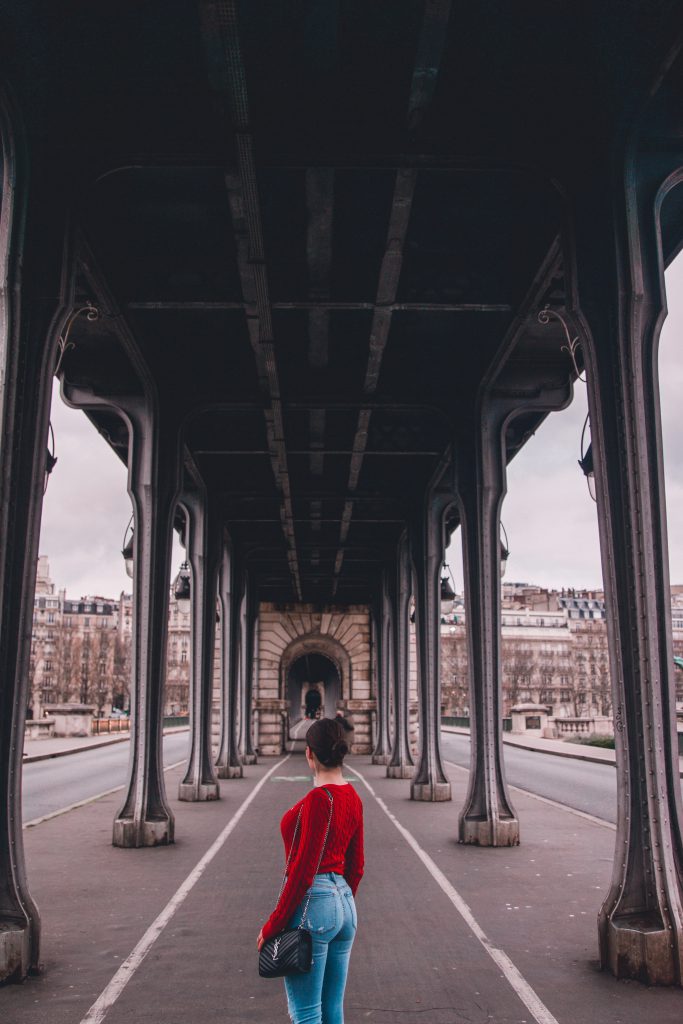 Expect things to be closed on Sunday
Although I'm from Germany and I'm used to "closed on Sunday", I feel the need to tell you that if you are from another country you should not expect businesses to run on a Sunday. As such, if you need to purchase some supplies from the supermarket, be sure to buy these well in advance.
With this being said, most major museums, as well as attractions like the Eiffel Tower and Arc de Triomphe, remain open on Sundays. Museums such as the Louvre and Musée d'Orsay are typically closed on Mondays or Tuesdays instead.
Make the most of Paris' Coffee Culture
I can't imagine anything better than sitting in a café, sipping on an espresso, and watching the world go by. Yes, it may sound like the biggest cliché, but the truth is that you absolutely have to make the time to enjoy the café culture in Paris. Some of the prettiest coffee shops in the city include Le Consulat in Montmartre and Odette in the Latin Quarter.
Try the French cuisine
While talking about it, stay away from the usual chain restaurants when in Paris. After all, Paris is known for some of the best gastronomic restaurants in the world. Even if you're vegetarian or vegan, there are plenty of opportunities to enjoy fresh and authentic French cuisine.
… and make reservations in advance
The most popular places in town tend to get booked up fast, especially if you're dining out during the weekend. Keeping this in mind, I highly recommend booking your table in advance.
The Eiffel Tower is not the heart of Paris
So many people make the mistake of thinking that the Eiffel Tower is in the heart of the city, but instead the Eiffel Tower is surrounded by empty space – the Champ de Mars and the Jardins du Trocadero.
… and the Eiffel Tower does not offer the best views of the city
And while we're talking about the beautiful La Tour Eiffel, make note of the fact that the Eiffel Tower does not provide the best views of the city. You will much likely want to see the Eiffel Tower in the view and this is simply impossible if you're at the Eiffel Tower. Instead, head to the Arc de Triomphe.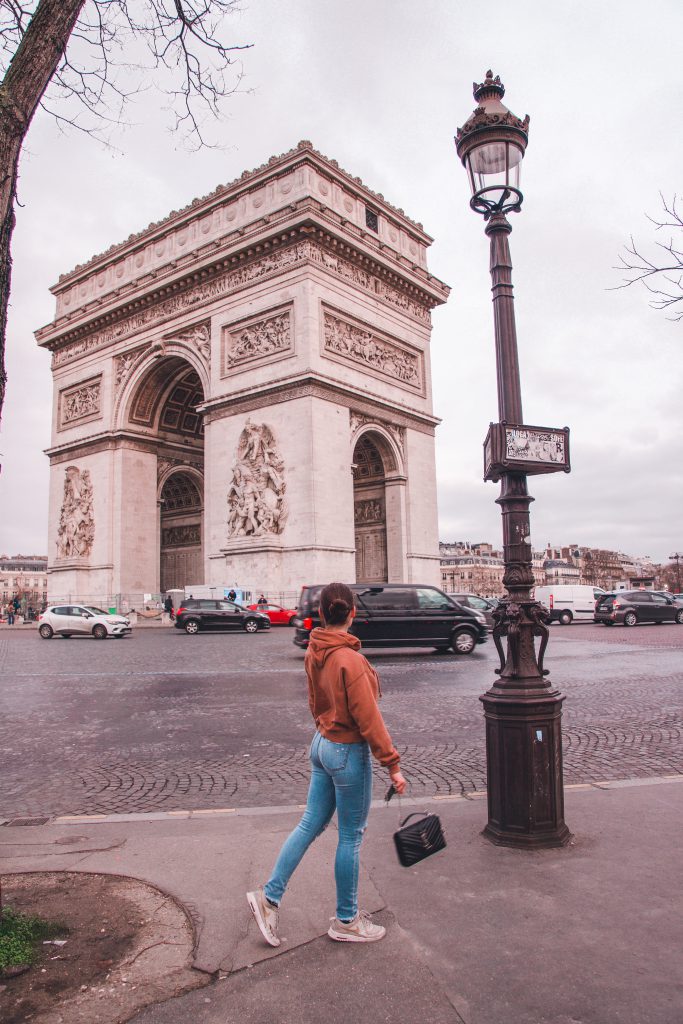 Don't try to see everything
Especially if it's your first time in Paris, don't rush from sight to sight, but take your time instead and focus on the things you want to see the most.
I know that it seem tempting to explore the city during a weekend but you won't make it. I'm pretty sure you may want to come back to Paris anytime soon. However, you can still explore the city further during your next stay.
Wake up for sunrise at least once!
While almost everyone is present for sunset, the sunrise provides the perfect opportunity to get more of the place to yourself. In my opinion, the Trocadero is the best place to enjoy the sunrise.
Bring a travel adaptor
Assuming you're from UK, USA, or Canada, you will need to bring a travel adaptor. Paris (and France in general) uses plug types C and E. I suggest you buy a universal travel adaptor that you can use for various travels instead of buying a new one every now and then.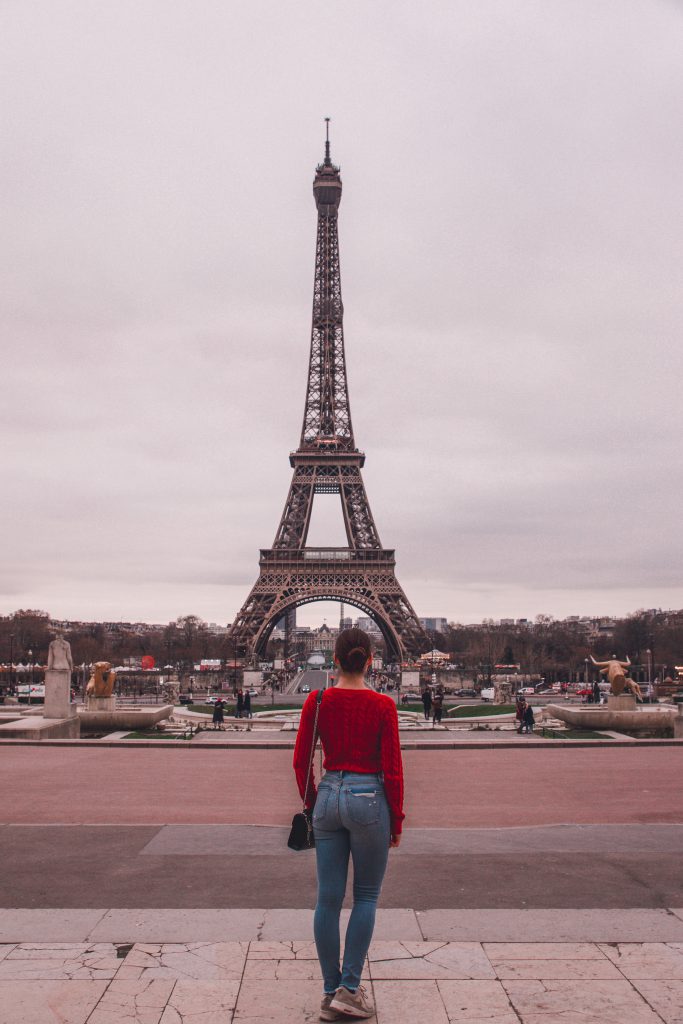 Visit the rooftop of the Galeries Lafayette
I bet the Galeries Lafayette are on your bucket list either way. Why not head to the rooftop terrace? It is typically open during daylight hours and offers some really great views of the Eiffel Tower, the Opera House and many more! During winter, you can also ice skate.
Paris is not only for couples
I know that Paris is known as the most romantic city in the world, but it's not solely for couples! After all, you can travel solo in Paris if you prefer so or you can plan a girls getaway with all of your best friends. Paris has so much to offer!
Do not rent a car in Paris
You will definitely not want to rent a car in Paris as the traffic is quite congested in some areas and the driving may be completely different from what you are used to. Instead, take advantage of the public transportation.
Free bathrooms are rare
Typically, you can find many free bathrooms in large European cities, but not in Paris. Public bathrooms often come with a fee (usually between €1 and €1.50). Hence, I personally recommend heading to a café and getting an espresso as this will work out at around the same price.
Read more about Paris:
Did you enjoy this post? Pin it to one of your boards!