Are you still looking for the perfect weekend getaway in the Austrian Alps? Then let us inspire you, because we recently spent a beautiful weekend in Leogang. In this blog post we'll share some great activities and tips with you.
Leogang, nestled in the heart of the Austrian Alps, is a picturesque alpine village that offers a perfect blend of outdoor adventure and authentic Austrian culture. During summer and autumn, the village is a gateway to an array of outdoor activities, including hiking and mountain biking trails. Then, during the winter months, Leogang transforms into a snow-covered wonderland. Since we haven't experienced Leogang during winter yet, this blog post will focus on the activities during the other months.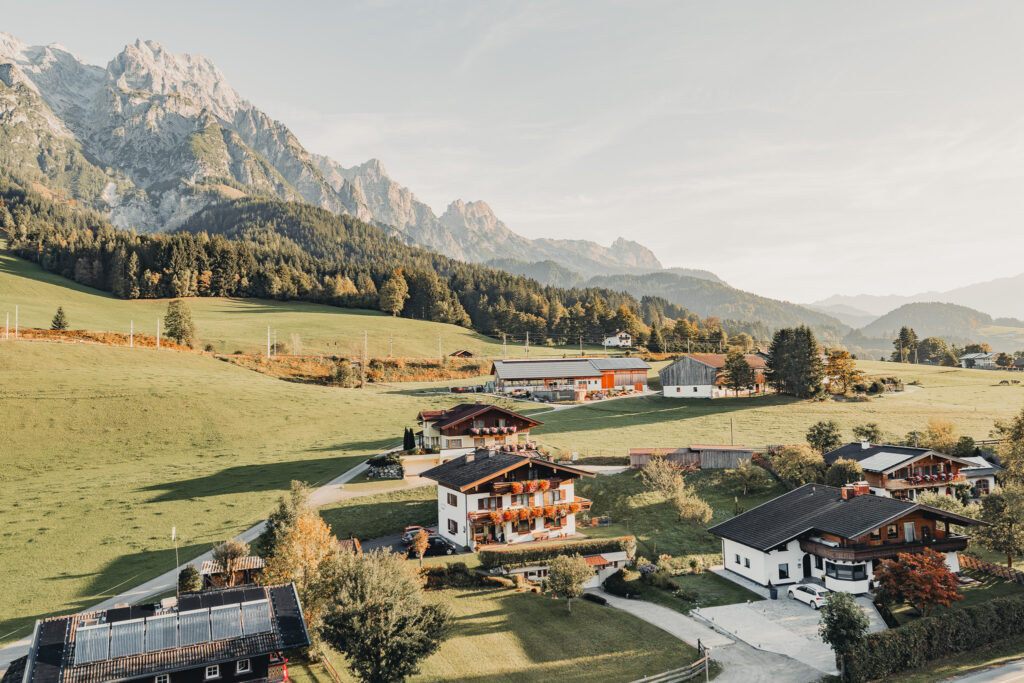 Your perfect weekend getaway in the Austrian Alps: Why choose Leogang?
Leogang is not only a paradise for outdoor enthusiasts. The village itself is steeped in tradition, with charming Alpine architecture, cozy cafés, and welcoming locals. A weekend in Leogang is perfect for everyone who is searching for a weekend full of relaxation, autumn strolls and alpine charm.
We had the pleasure to stay a weekend at Hotel Salzburger Hof Leogang which is nestled admits the breathtaking mountains. The location itself is a dream come true for nature lovers, hikers, and skiers alike. Since the Asitzbahn is directly next to the hotel, you'll have easy access to hiking trails, slopes, and other attractions, making it an ideal year-round destination.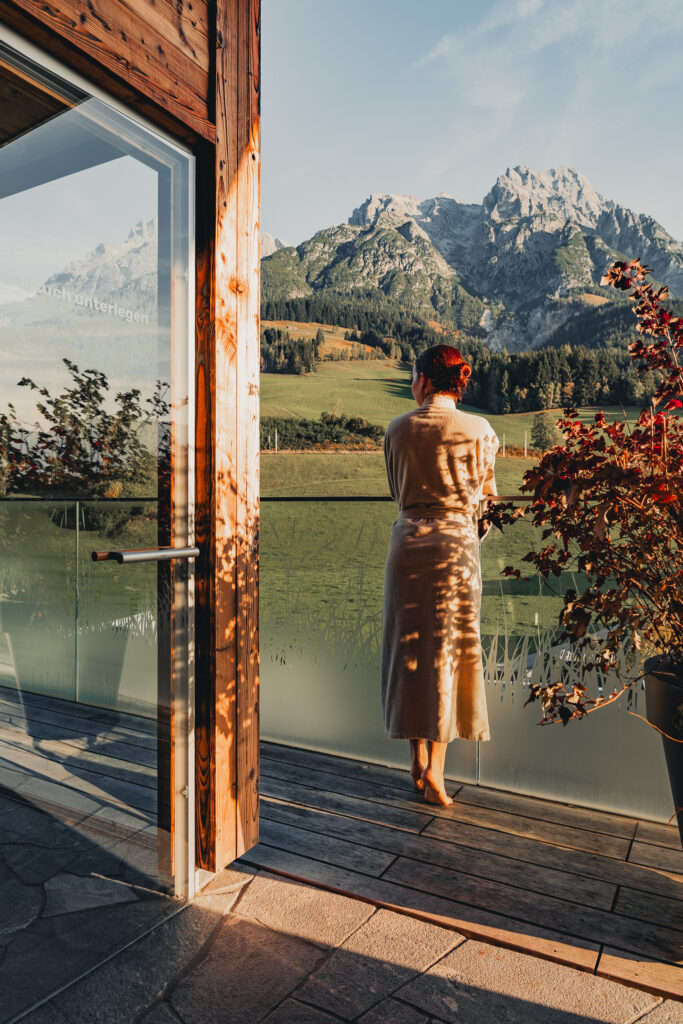 Staying at Hotel Salzburger Hof Leogang
Hotel Salzburger Hof Leogang 4*S is a family-run hotel which we truly appreciate. It's always nice to step into a hotel that reflects a family's character and history. Over the years, the hotel has changed a lot and has a perfect balance of traditional values and modern luxury.
When staying at Hotel Salzburger Hof Leogang, you can choose between different packages and rooms which vary in size and view. For example, we stayed in a double room "SPORT" where you can choose between rooms that face the Steinberg mountains or the Asitz.
Our weekend in Leogang at Hotel Salzburger Hof
For our stay we chose to come during autumn as it's the perfect time to explore the Alps. Most tourists have already left the Alps, so you often have hikes and views all to yourself. For us, however, it was clear from the beginning that we would not only come to Leogang for hiking, but above all to take advantage of the fresh autumn air for a bit of relaxation.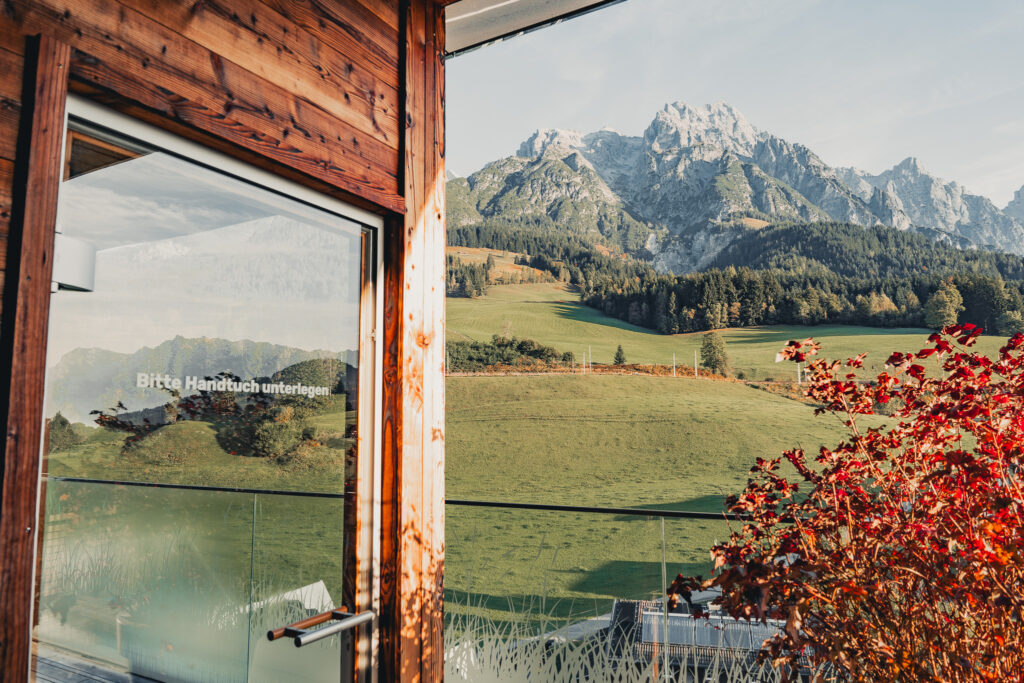 Your weekend getaway in the Austrian Alps: Spa & Wellness at Hotel Salzburger Hof Leogang
Luckily, the hotel has a huge adults only spa area which is perfect to relax and enjoy your time in the alps. The spa area is located on the sixth floor and covers a total of 1,200 square metres. From here you have a magnificent view of the Leogang mountains from the saunas and the infinity pool. The large relaxation rooms complete the experience and invite you to unwind. Grab a good book and enjoy the view.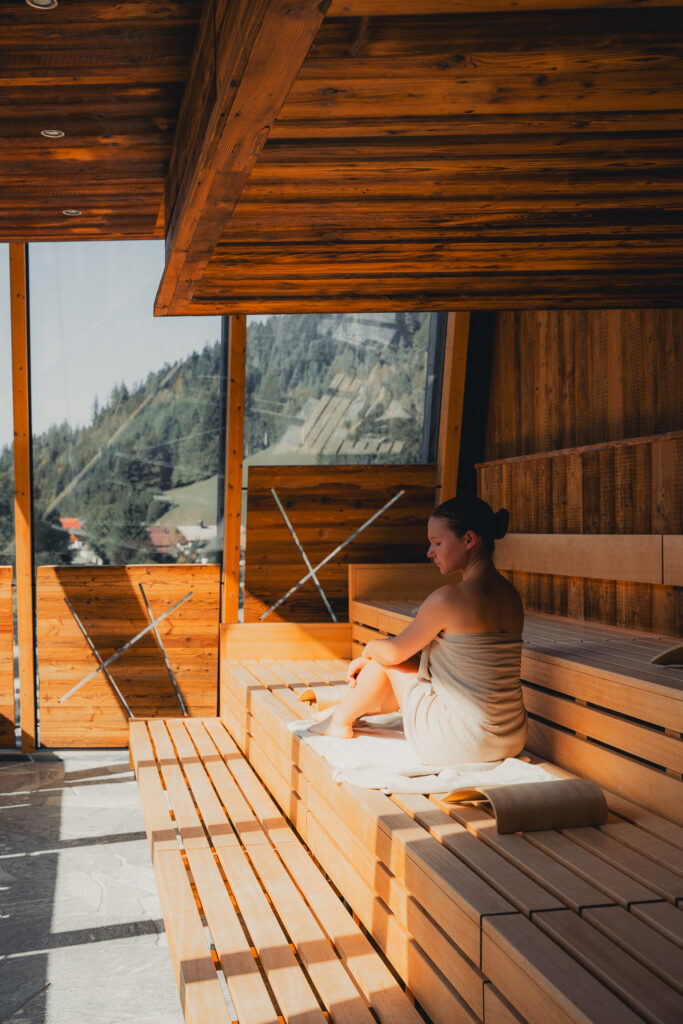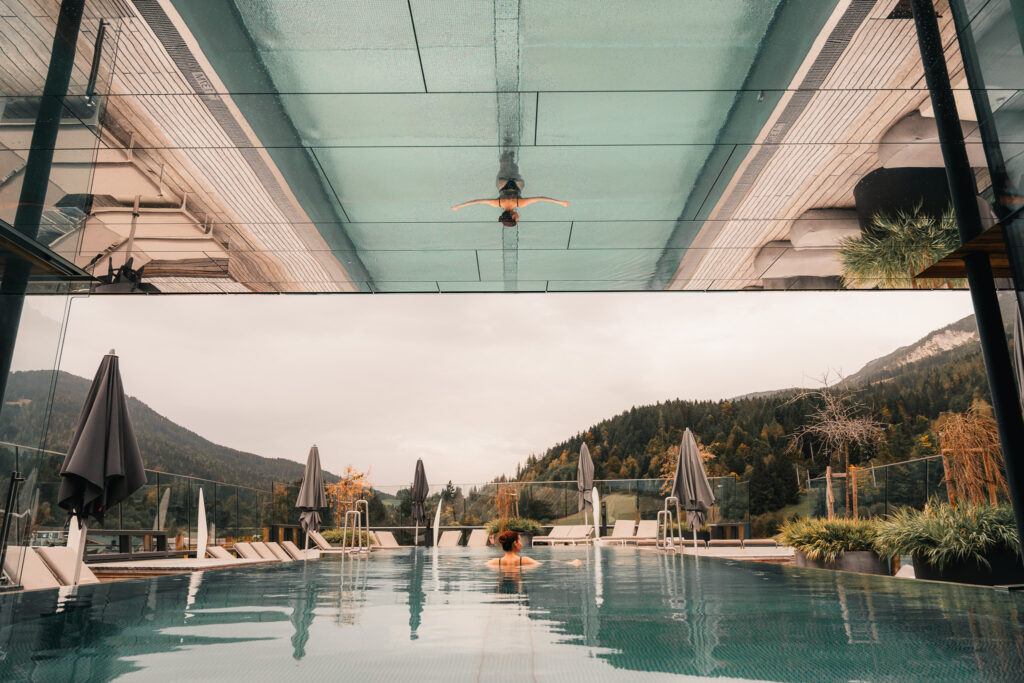 Don't you worry if you're travelling with kids! There's also a big garden spa area where you can enjoy the family spa. However, we absolutely loved that the spa areas were separated as we could really enjoy a tranquil day full of relaxation.
Breakfast, afternoon snack, dinner & bar at Hotel Salzburger Hof Leogang
If you ask us, there is hardly anything better than alpine cuisine. At the Hotel Salzburger Hof Leogang, no wish remains unfulfilled. The breakfast buffet is filled with many local delicacies, as the hotel pays attention to short delivery routes and sustainability. You'll find fresh bread and buns, local cheese and cold cuts, a live cooking station and a juice bar. Of course, milk, yoghurt and the like are not to be missed. You can take as much of all this as you like – and eat it.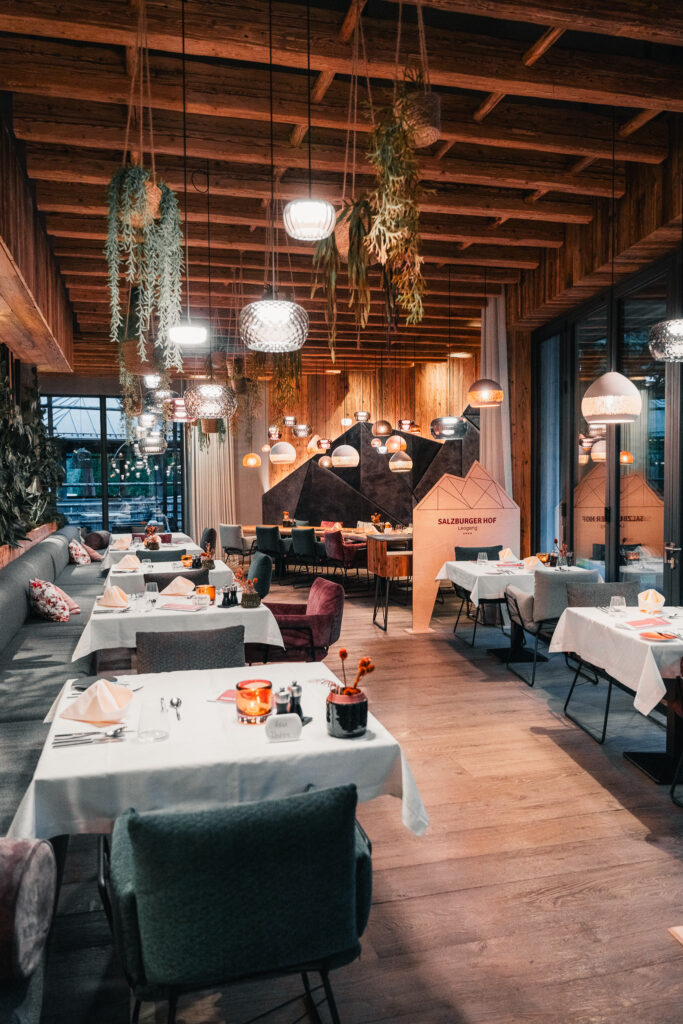 In the afternoon, you can look forward to a light lunch, which is also included in the hotel price. Here you get fresh salads and daily changing dishes. Try the delicious ice cream for dessert.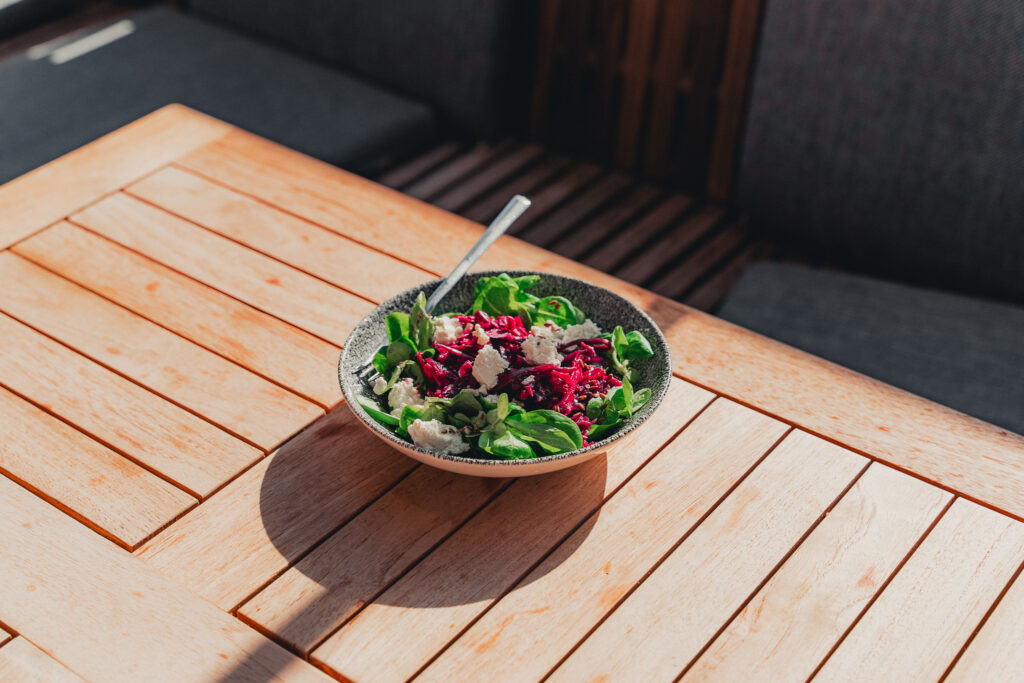 For dinner, the Salzburger Hof serves an incredibly delicious five-course menu from which you can choose. There is one dish with meat, one with fish and a vegetarian alternative. During our weekend in the Austrian Alps, we really enjoyed every single dish. A special highlight was the dessert buffet with chocolate fountain.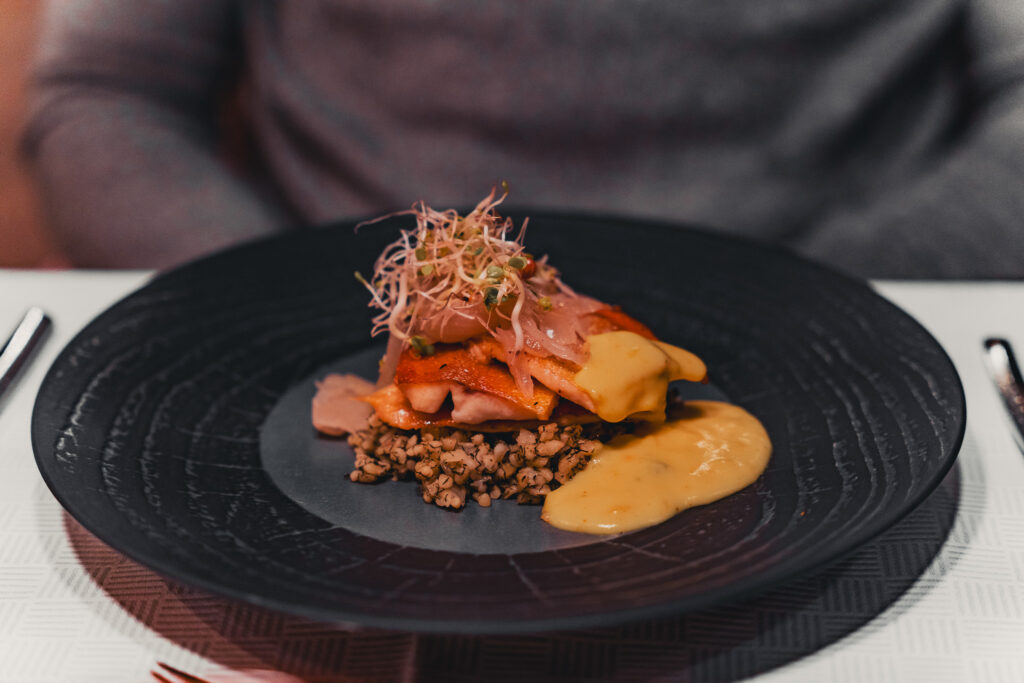 For breakfast and dinner you have a fixed place in the dining room, which is beautifully decorated and invites you to dream. For lunch, of course, you can sit wherever there is room. Since the weather is still very good in autumn, we usually ate outside and were able to catch the great panorama.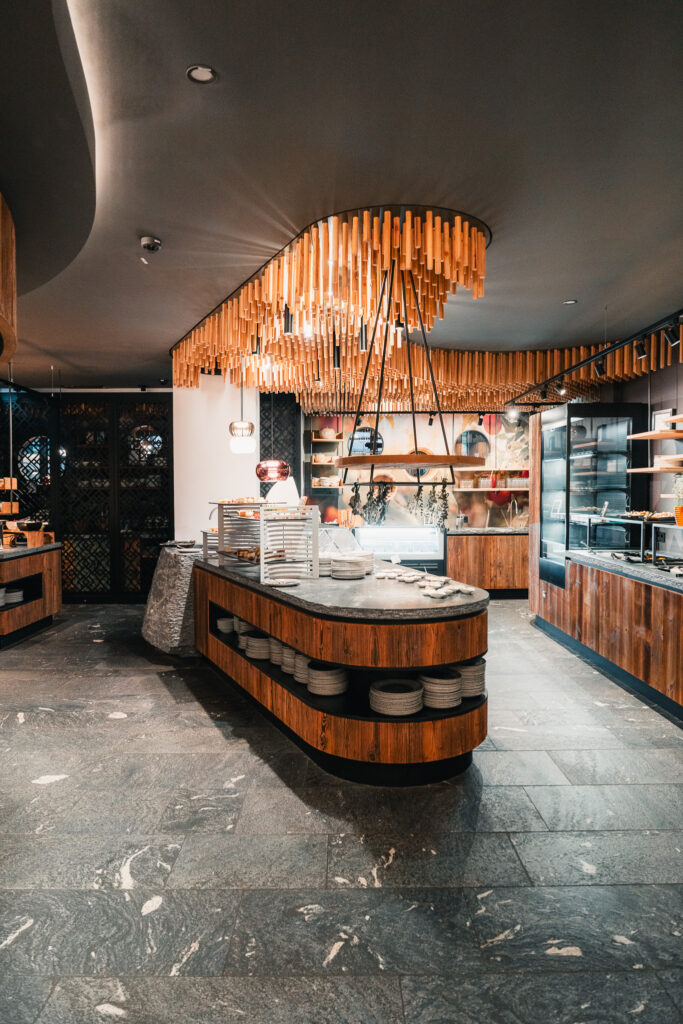 Activities in Leogang during autumn
As already mentioned, the Hotel Salzburger Hof Leogang is a really great base if you like hiking or biking. The hotel is located directly opposite the Asitzbahn, which is famous for the great mountain bike tours in summer and autumn and is your access to the ski area in winter.
If you are a guest of the hotel, you get a card that lets you ride the Asitzbahn for free several times a day in summer and autumn. This way you can enjoy the magnificent panorama without having to hike for hours. Of course, there are also great hikes from the mountain stations.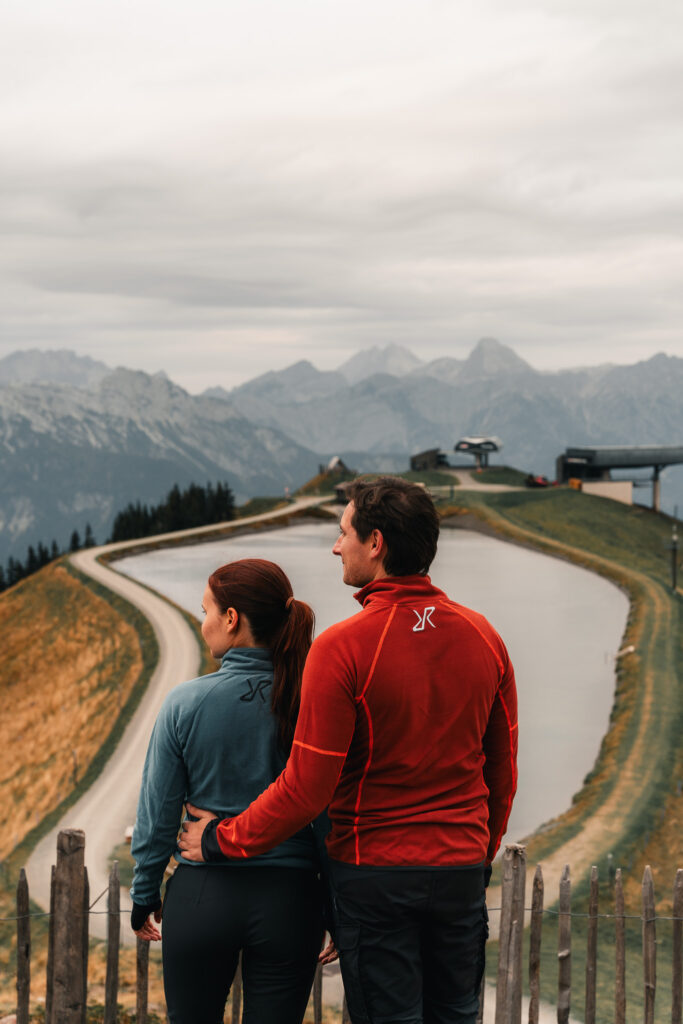 Summary: Your weekend getaway in the Austrian Alps
Still dreaming of your weekend getaway in the Austrian Alps? Then we really do hope that you liked this blog post and gained some inspiration. In summary, we really enjoyed our stay in Leogang and were surprised about all the opportunities and activities that this village offers. We'll definitely be back in winter to hit the slopes and tell you more about the ski circus.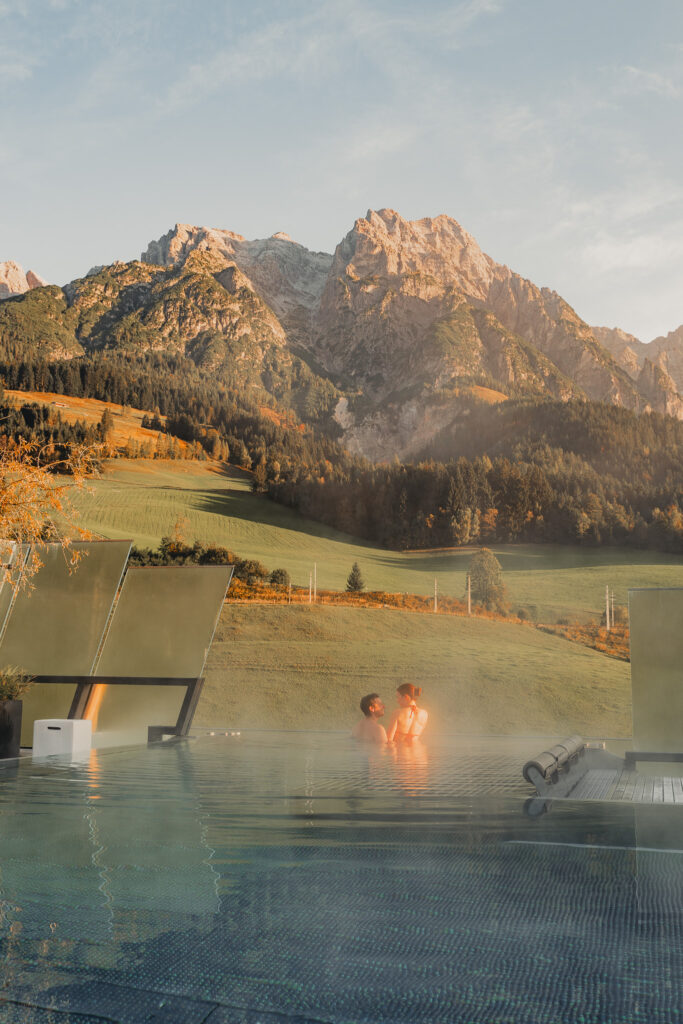 Here are some other blog posts you may like: