When it comes to spending a weekend in the Dolomites, there's one region that stands out immediately. Val Pusteria is an idyllic location, offering breathtaking natural beauty and a tranquil escape. Today we're taking you with us through a picture perfect weekend in South Tyrol at Naturhotel Leitlhof.
Our love for the Dolomites lies years back, but I still remember this very specific moment quite clearly. It's been a sunny afternoon here in Cologne when Florian and I decided to drive to the Alps. We searched for places to see and where to stay and couldn't take our eyes off the natural beauty of South Tyrol. Ever since we're in the Dolomites at least two times a year. As a result, we have of course already seen many places and can clearly say that the Val Pusteria is one of the most beautiful. One place that encapsulates the essence of this picturesque region is the Naturhotel Leitlhof.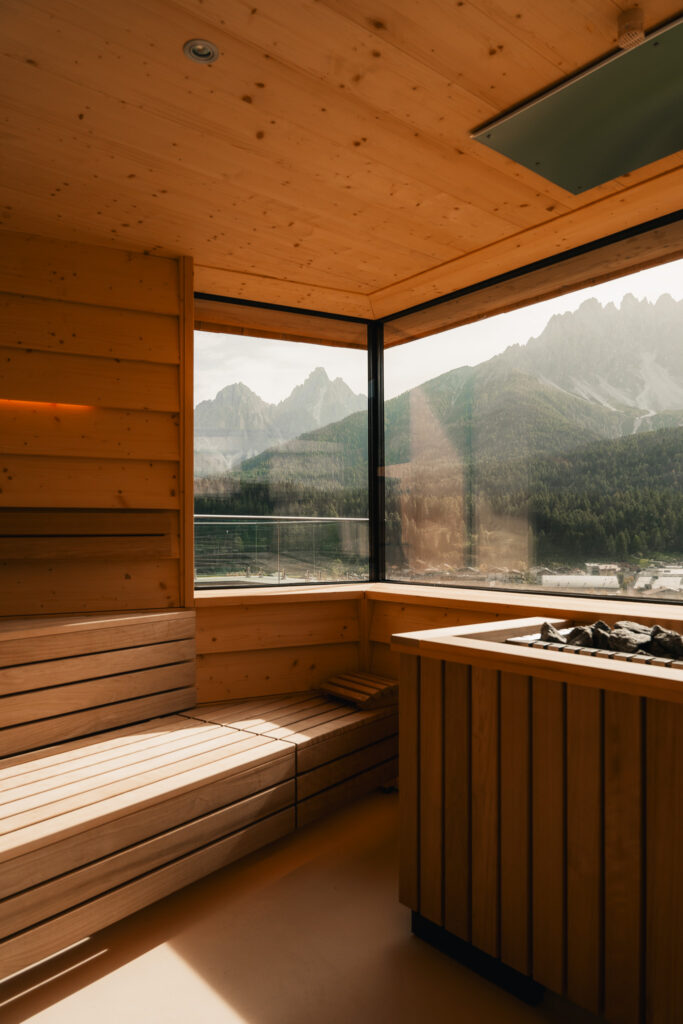 A weekend in the Dolomites: Why choose Val Pusteria & Naturhotel Leitlhof?
Firstly, let's take a look at Val Pusteria. It's not only a treasure trove of natural wonders, but also ideal for everyone who's looking for an outdoor adventure. You will find great hiking trails, via ferratas or beautiful viewpoints in this region. Moreover, it's also one of the best starting points in the Dolomites if you want to see places like Lago di Braies or the magnificent Tre Cime di Lavaredo. Both are a must-do if you're spending a weekend in the Dolomites.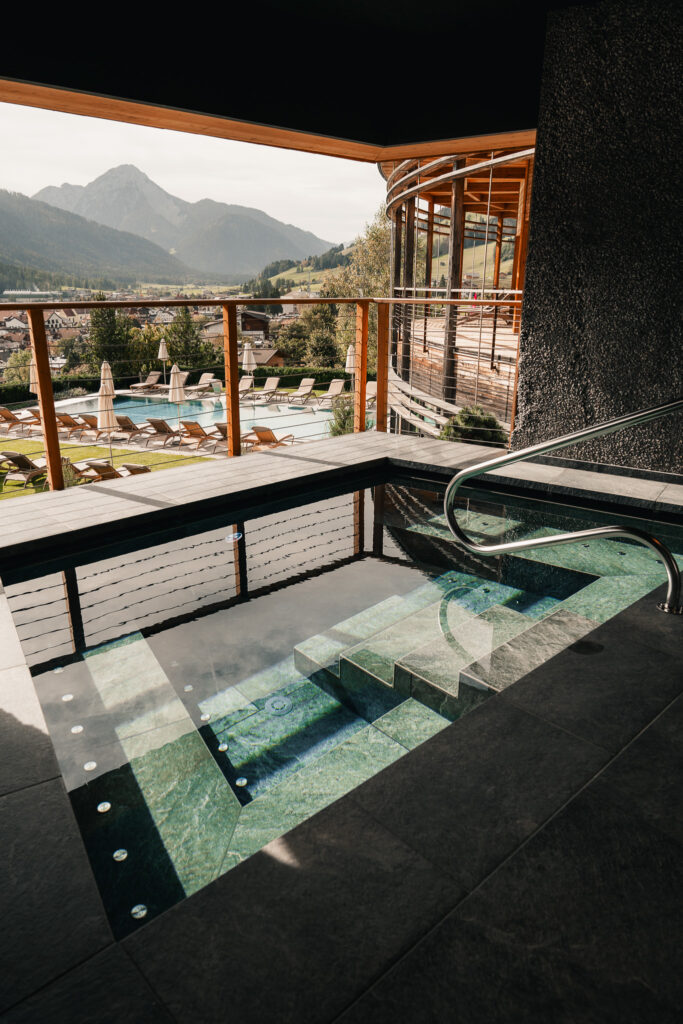 We just recently had the pleasure to stay at Naturhotel Leitlhof again. Leitlhof is one of our favourite hotels in South Tyrol. Not only does it have the perfect location to explore the Dolomites of Sesto, it also has a gorgeous architecture, delicious food and a beautiful spa area. Since we were there last time, the wellness area has been renovated and expanded. But more about that later. If you want, you can read our detailed review from a few years ago right here.
How to spend a weekend in the Dolomites – Overview
FRIDAY / Arriving in the Dolomites, check-in at Naturhotel Leitlhof & sunset at Lago d'Antorno
SATURDAY / Early morning hike at Tre Cime di Lavaredo & afternoon wellness
SUNDAY / Sunrise mission at Lago di Braies, check-out & drive back home
In addition to this guide on how to spend a weekend in the Dolomites, I'd like to say that a weekend is certainly not enough if you want to experience the different regions South Tyrol has to offer. However, it's perfect to get a feeling of the Dolomites and see some of their greatest spots. It's also ideal if you're planning a road trip through the Alps and have limited time. On the other side, if you're planning to see other regions like Val Gardena with Alpe di Siusi or Seceda, you should stay for a week at least.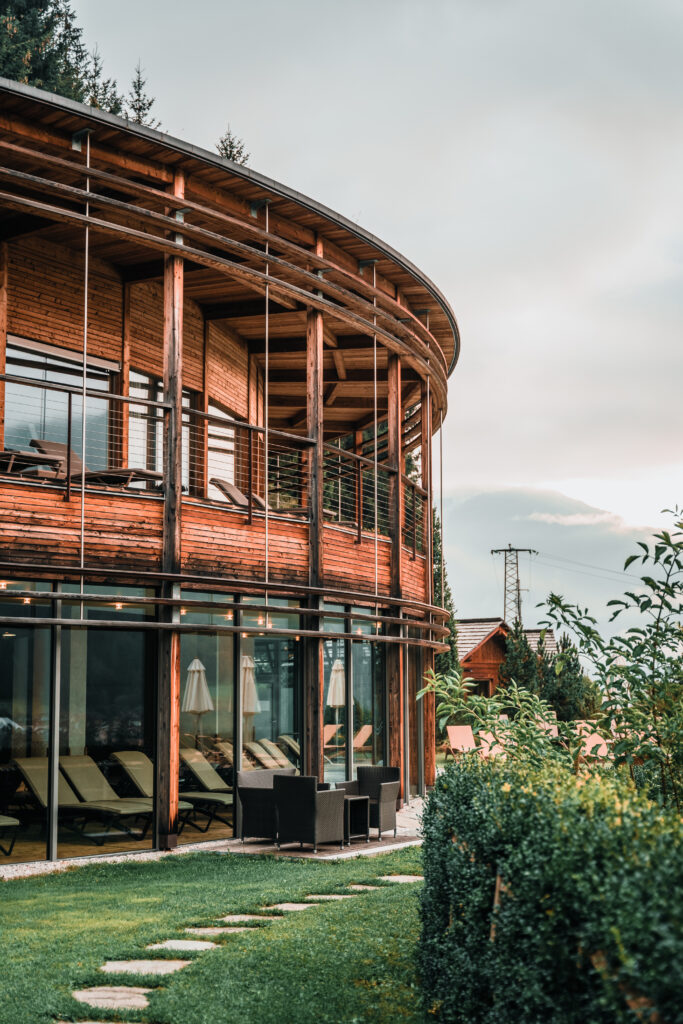 How to get to the Dolomites
Depending on where you live, you can either drive, take the train or fly. If you live further away, it is definitely worth flying to Bolzano or Milan and renting a car from there and driving on.
How to get around during your weekend in the Dolomites
If you're planning to stay a weekend in South Tyrol, you're probably living more nearby and arriving by car anyways. It's also the best way to get around as public transport is not running that frequently in the Dolomites. However, while staying at Naturhotel Leitlhof you have the chance to join their experiences and then they will also take you with their own car.
Check-in at Naturhotel Leitlhof
As with most other hotels, check-in is from 3pm onwards. I'd highly suggest to arrive on time, because that allows you to have the best experience. Once you've checked-in, you will be greeted with a welcome drink and some afternoon snacks from the bar. This is the perfect way to start your weekend in the Dolomites. Take a seat on their beautiful terrace and admire the Dolomites of Sesto.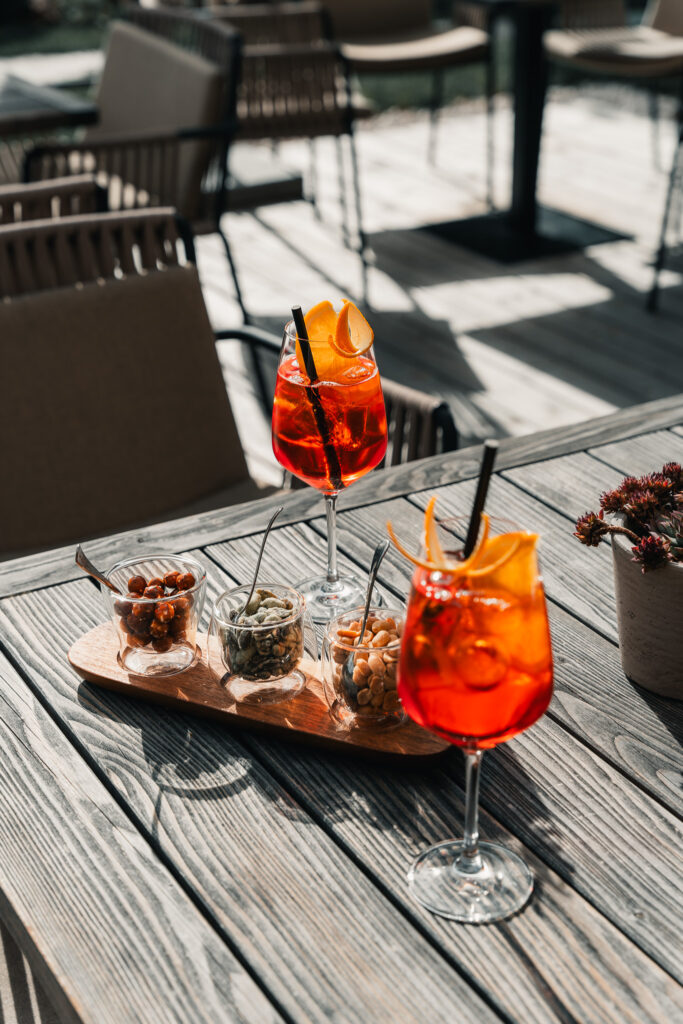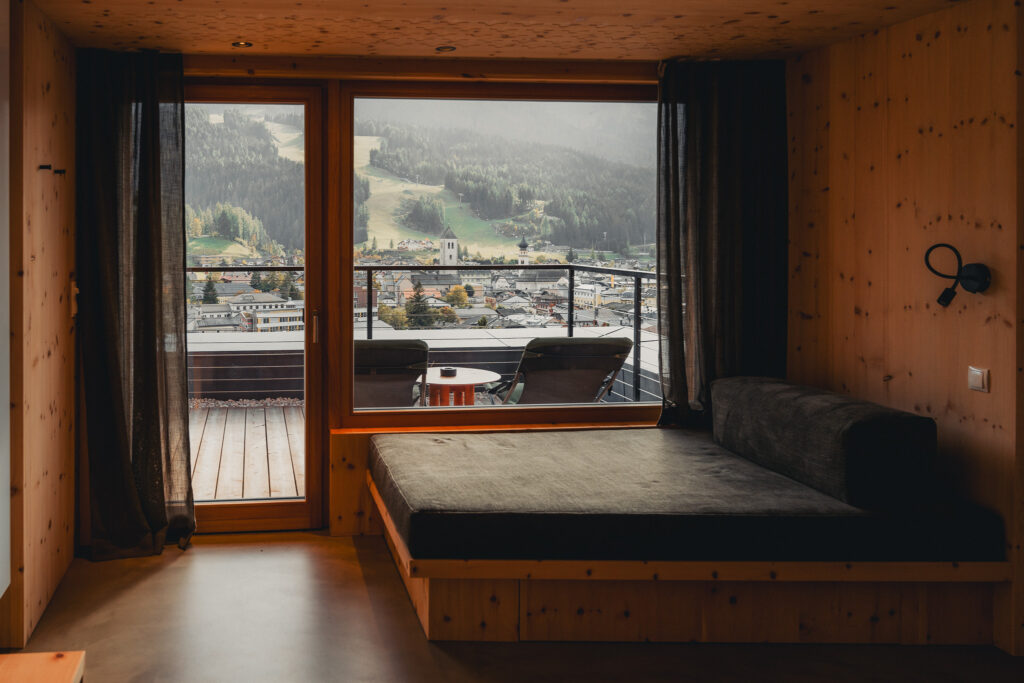 Sunset at Lago d'Antorno
For our first evening, we opted for Lago d'Antorno to see the sunset, walk around the lake and admire the stunning nature. Since it's only 30 minutes away from Leitlhof, it's the perfect place to spend your first evening in the Dolomites.
If you're not feeling like driving for 30 minutes, but want to see something nearby anyways, you can opt for San Candido, also known as Innichen. This is the village that the Leitlhof overlooks. It's a beautiful quaint village with cute little alleys.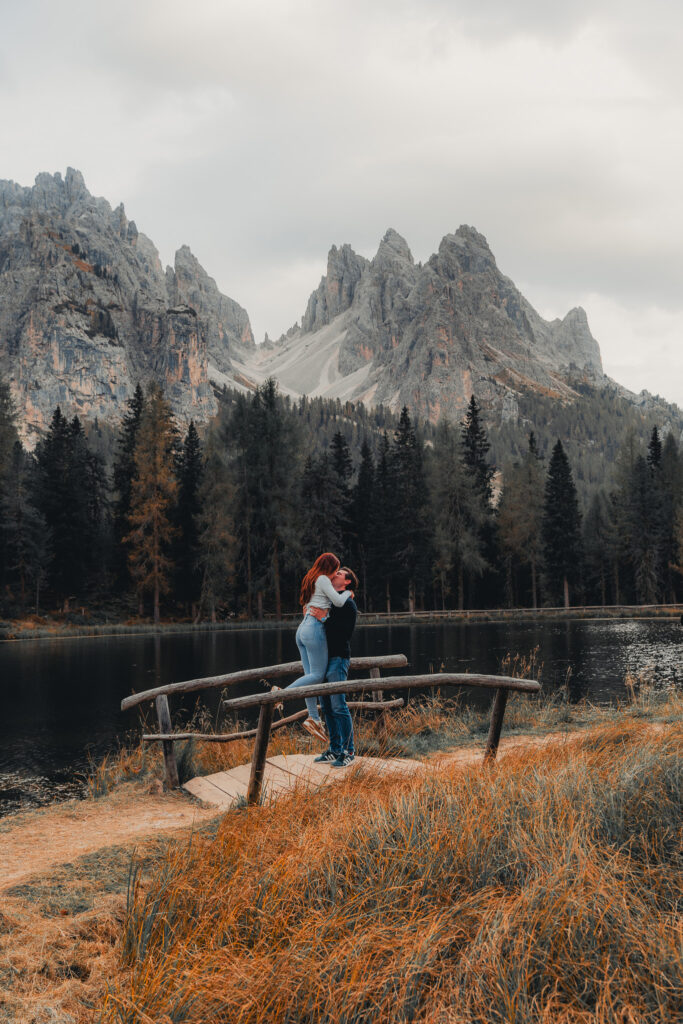 After sunset comes my favorite part: It's time for dinner at Leitlhof. Dinners at Leitlhof are special, because they offer a delicious 7-course menu from which you can choose freely. Don't worry, if seven courses sound a little too much, you don't have to order every single course.
We particularly like that Leitlhof places great emphasis on food in conjunction with sustainability. This means that most of the ingredients come either from the region or are home-grown.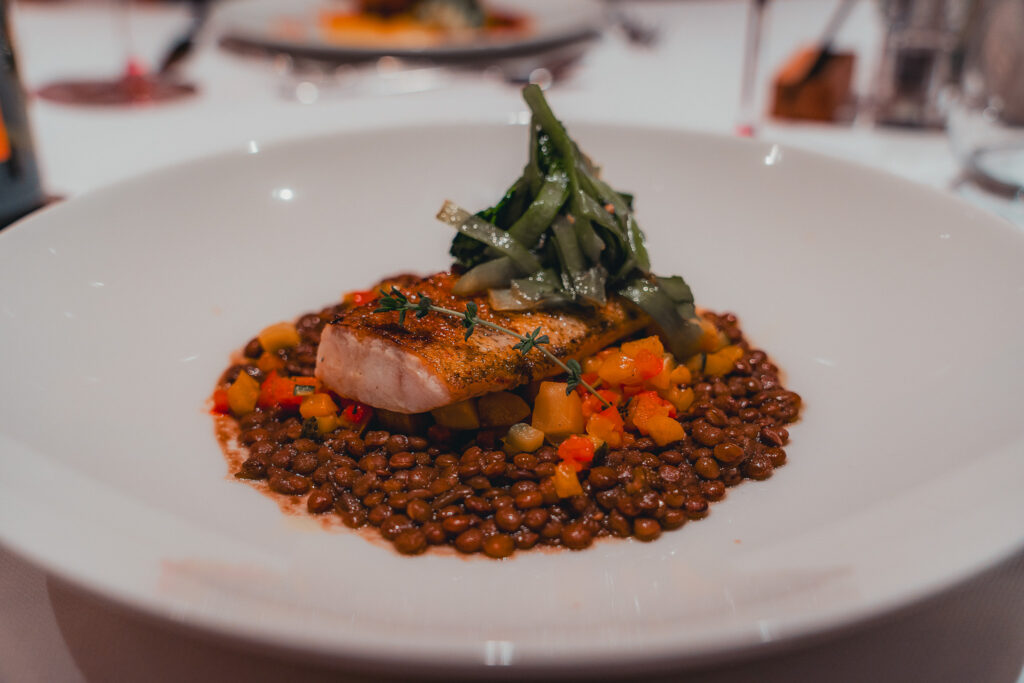 Your perfect weekend in the Dolomites: Day two
As previously mentioned, you can join different activities and experiences at Naturhotel Leitlhof. For example, they offer 5 guided hikes and 6 guided bike tours per week. They also have professional equipment on site for you at no extra cost. And if you're joining a hike or bike tour, you won't have to worry about transportation. During our stay at Leitlhof, they offered a sunrise hike at Tre Cime di Lavaredo and a bike tour at Lago di Braies. Check out their weekly program here if you like.
Early morning hike at Tre Cime di Lavaredo
Whether you'd like to join the sunrise hike or want to stay in bed a little longer: start your day with one of the most beautiful hikes in the Dolomites. Again, from Leitlhof it's only a 45 minute drive to the parking lot where the hike starts. Simply type in Auronzo di Cadore in your GPS. You will have to pay € 30 for the parking lot when driving a car, the fees differ if you're having a van. Once you've arrived, there are different hiking routes you can choose from. The best part is that every route offers magnificent views of the surrounding mountain tops.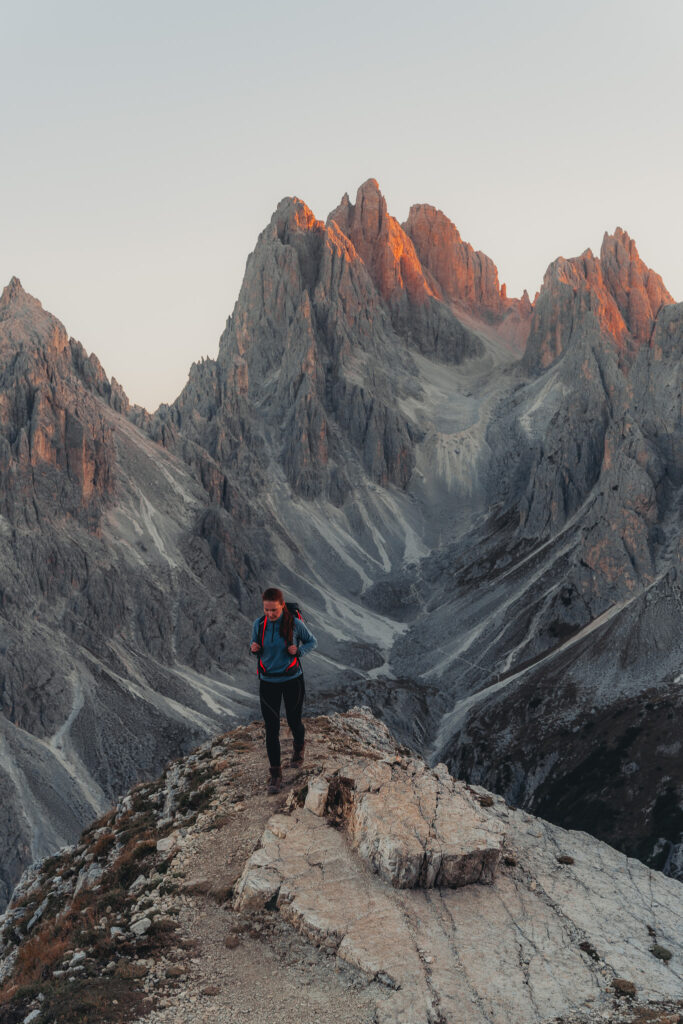 Afternoon relaxation at the new spa at Leitlhof
After you have satisfied your mountain lust, come back to Naturhotel Leitlhof and enjoy a relaxing afternoon at their newly build spa area. I must admit this has to be one of the most beautiful spa areas I've ever seen. The design is simple yet elegant and beautiful. You can choose between sauna, steam bath, whirlpool, onsen pool, indoor pool or outdoor pool. Plus, you can see the surrounding mountains from every corner in the spa area. There is really nothing left to be desired.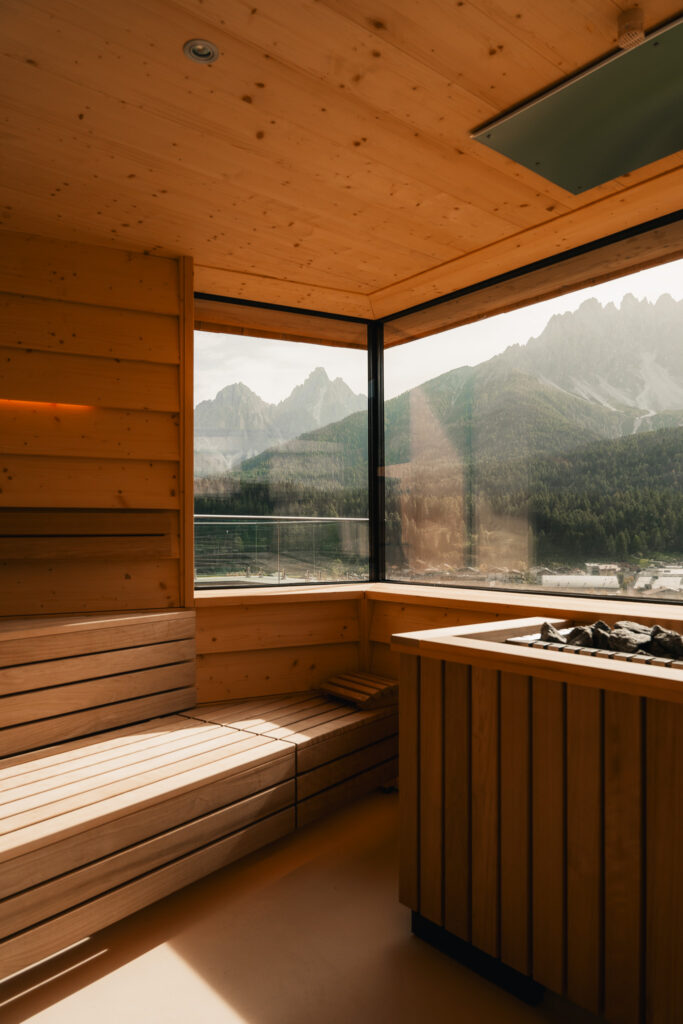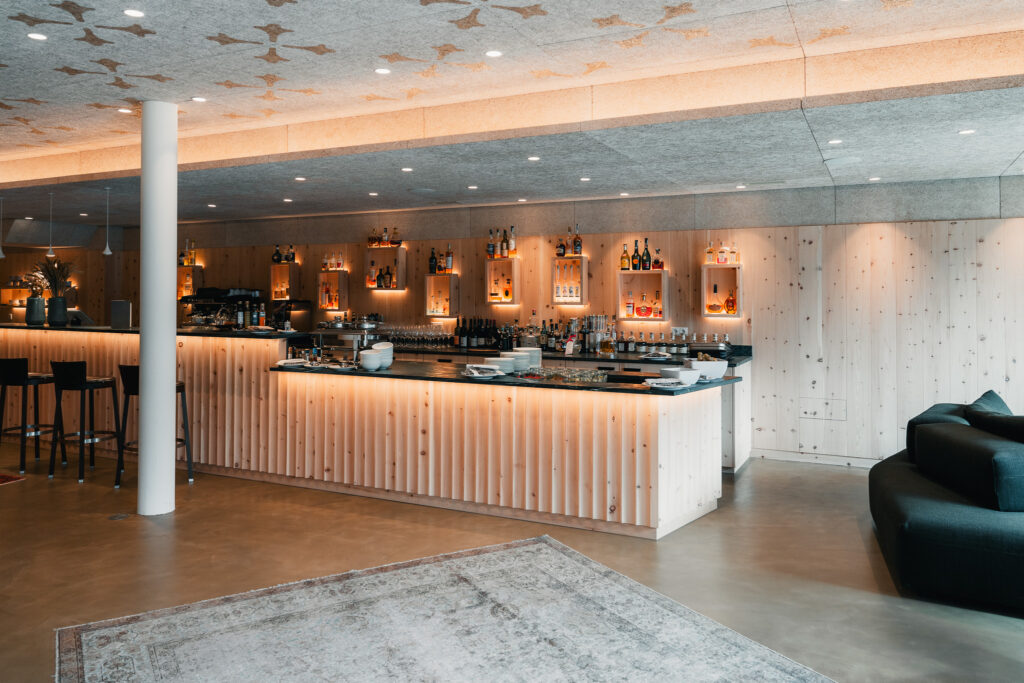 Your perfect weekend in the Dolomites: Day three
On day three, you'll see one of our favorite places in the Dolomites: Lago di Braies, also known as Pragser Wildsee. It's one of the most photographed places in South Tyrol, I guess. But that's not without reason. You can see the mighty Croda del Becco as the backdrop and crystal clear blue water in the front. We've already been there quite a few times but it never fails to amaze us.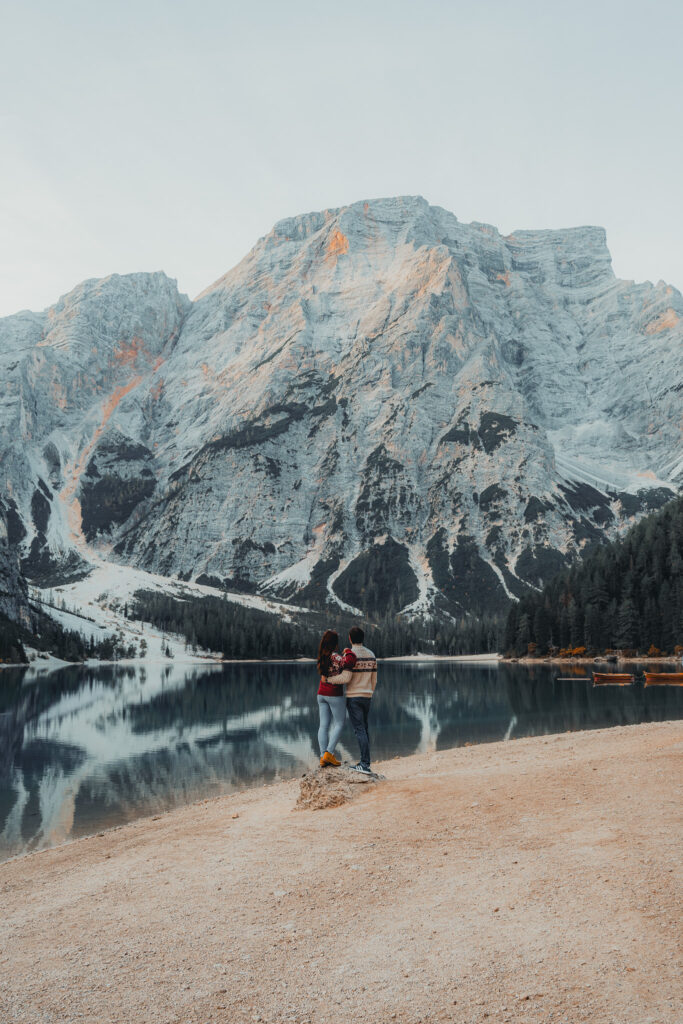 After watching the sunrise at Lago di Braies, come back to the Leitlhof and enjoy a big breakfast before checking out.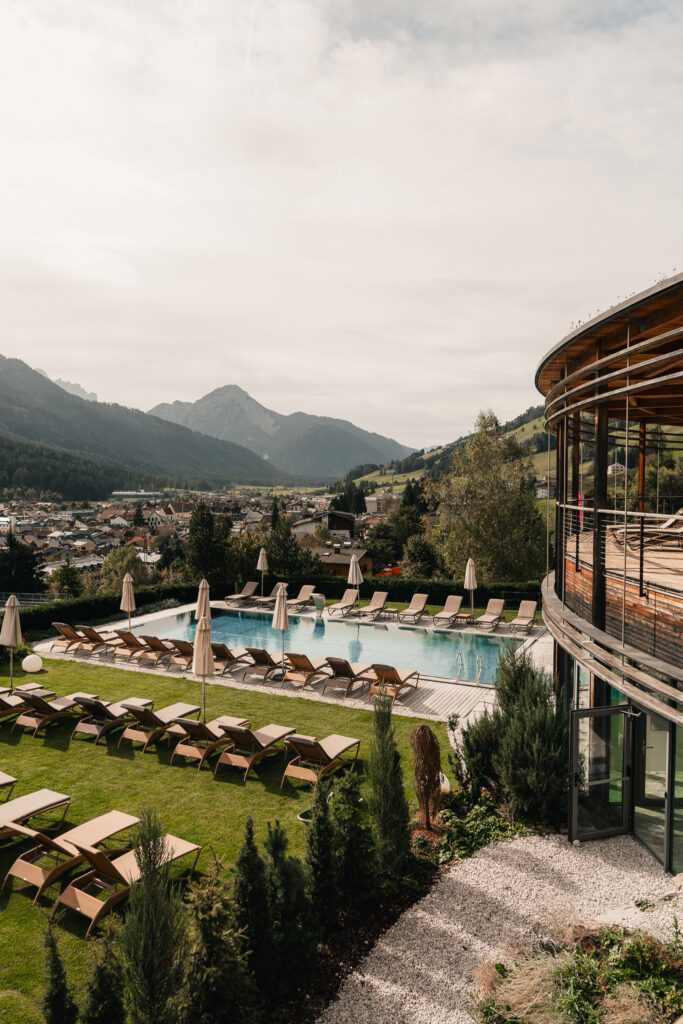 Summary: Staying at Naturhotel Leitlhof
Of course, we would not have stayed at Naturhotel Leitlhof a second time if we had not liked it there before. I remember myself saying that it is the perfect combination between nature, sustainability and luxury. And this is still one hundred percent true. At Naturhotel Leitlhof everything is on point – from the food over the wellness area to the friendly staff.
In summary, this is the perfect way on how to spend a weekend in the Dolomites, because you will get to experience some of the most beautiful places and we consider Naturhotel Leitlhof among them.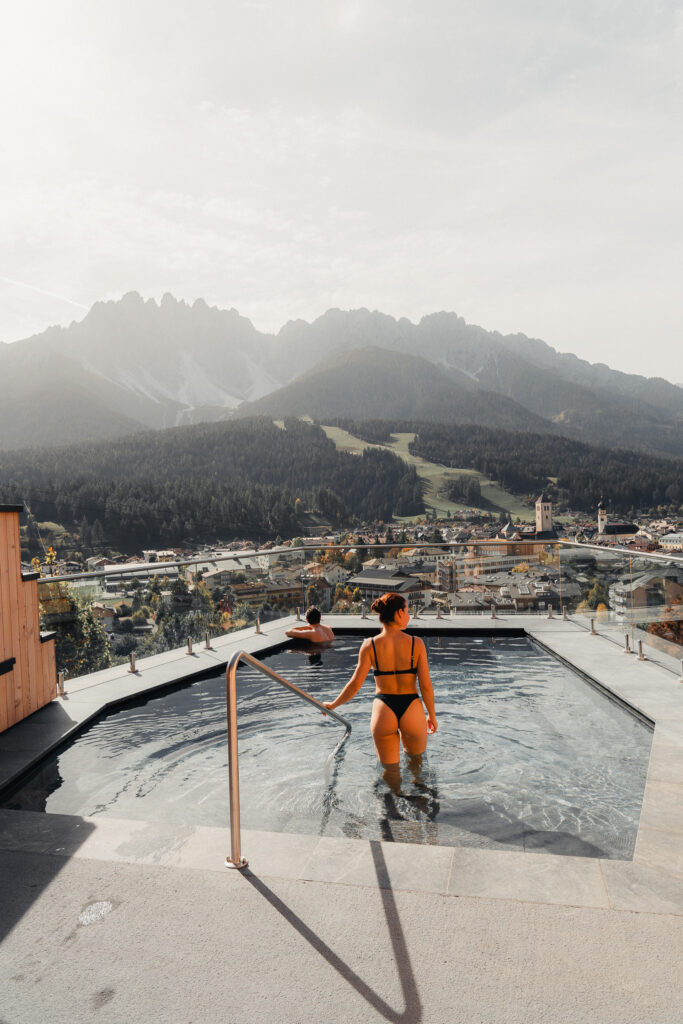 Here are some other blog posts you might like: