As a first time traveler, it's quite easy to get caught up in the grandeur of a new city and rush in head first. Been there, done that. But there are a few things you need to prepare for when heading off to Italy.
Hey, this doesn't mean that mistakes aren't okay – they are definitely a part of the travel experience then and now. However, when you have limited days in a new place, you want to avoid making big mistakes. By doing so, you'll save time and money. You didn't go to Italy to eat crappy food and skimp out on a good meal, did you?
With this post, you'll be a seasoned traveler before you even are in Italy.
Never have I loved food more than in Italy, especially in Venice and Rome. Dinners start late in the evening – around 7pm -, and are usually more than delicious! By avoiding the following mistakes, you make sure to get the best out of your trip and enjoy as much food as you can!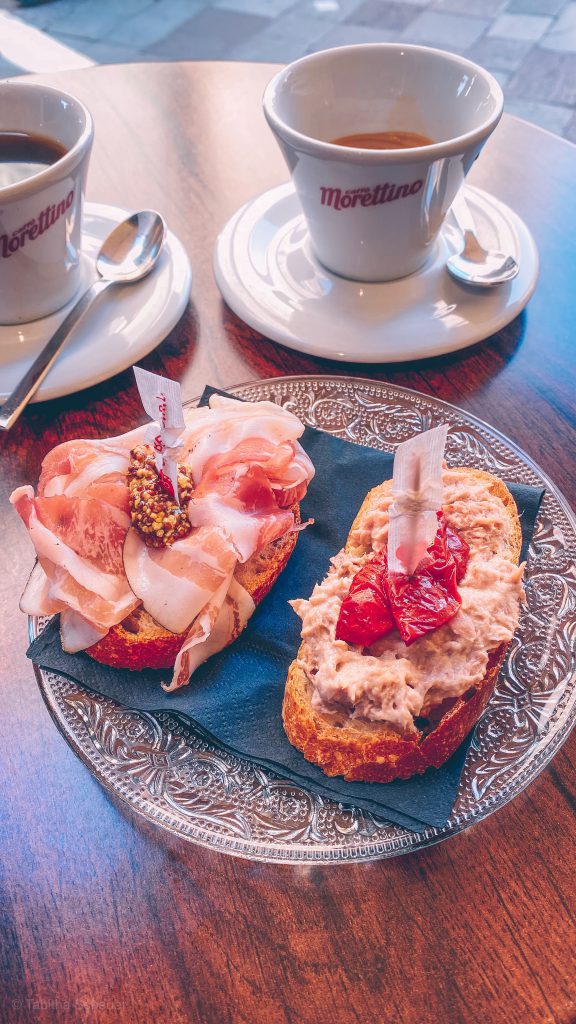 Eating at the first restaurant you see
Well, I think that this is obvious. But still, there are many people who actually repeat this mistake over and over.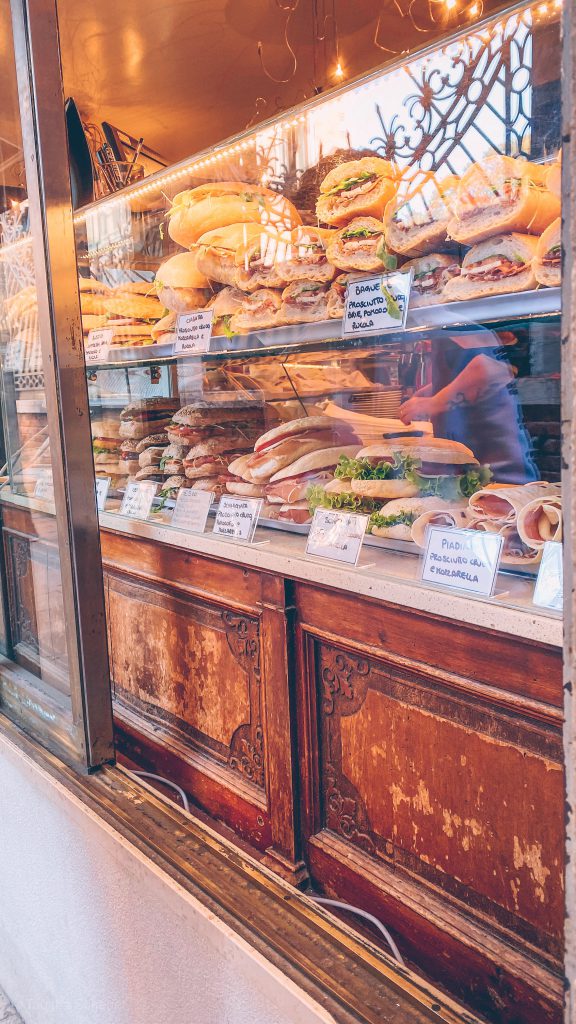 Yes, you may be hungry after all this sightseeing and your feet might hurt as well. You look around, and – right there is a restaurant with a wait staff beckoning you to come and sit. The smell of a warm meal is enticing. Aaaaand, you sit down. But should you do this? Probably not.
There are a few things to keep in mind when you are looking for good food in Italy:
First, don't go to the first restaurant you see. Especially not if it is located within spitting distance of a tourist sight. It's not that you won't get a good meal, it's just that you'll likely pay more for it. Sometimes significantly more. And would you spend the double or triple if you'd know it better? Probably not.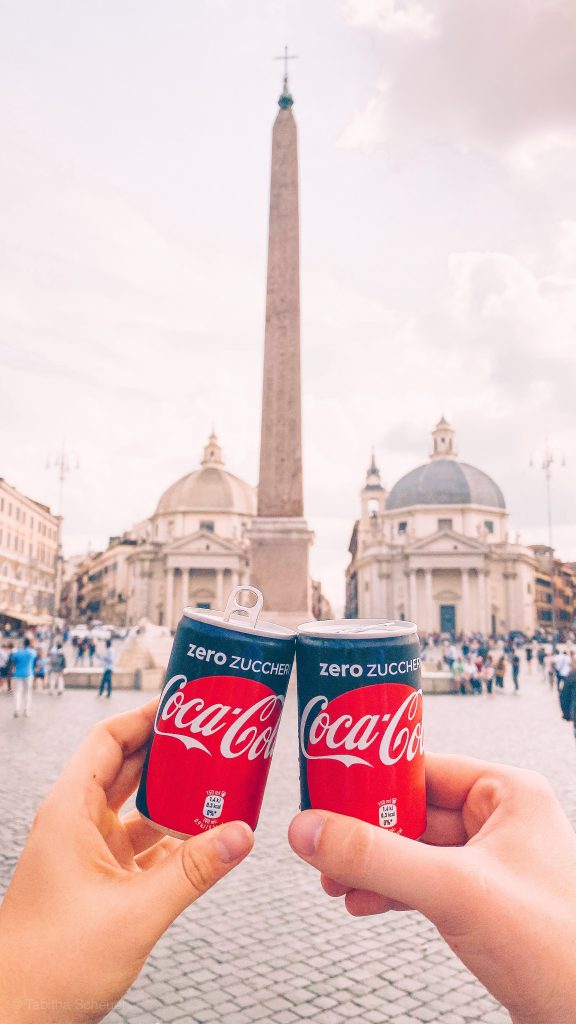 Second, if the wait staff is calling for you to come and sit: pass that restaurant. If the food is good, you'll wait in a line to get a spot or a takeaway. So, good restaurants don't need to entice you to eat there.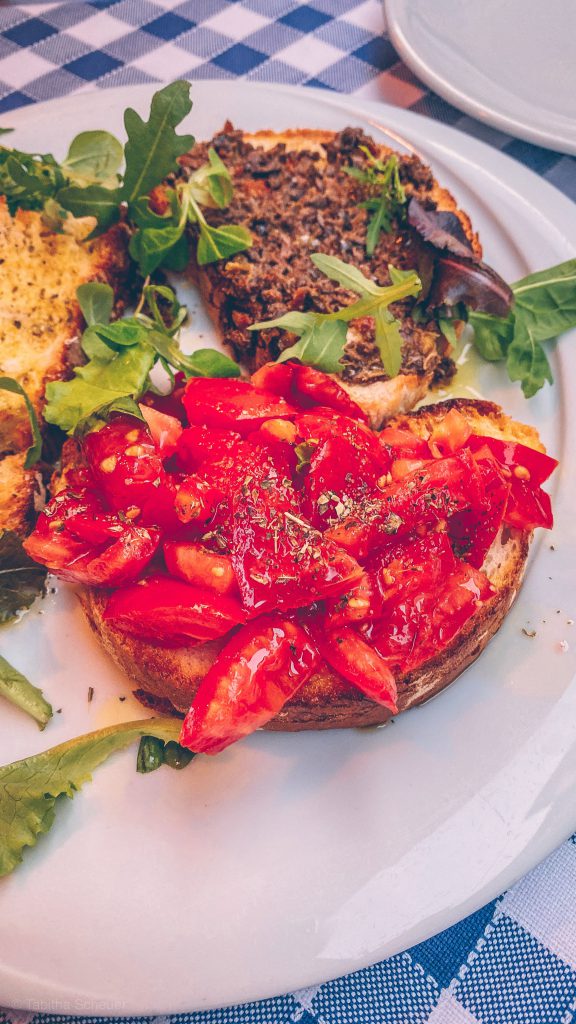 Third, look for smaller settings away from the crowds and don't be phased by waiting in line. As I said, good restaurant usually are worth the wait.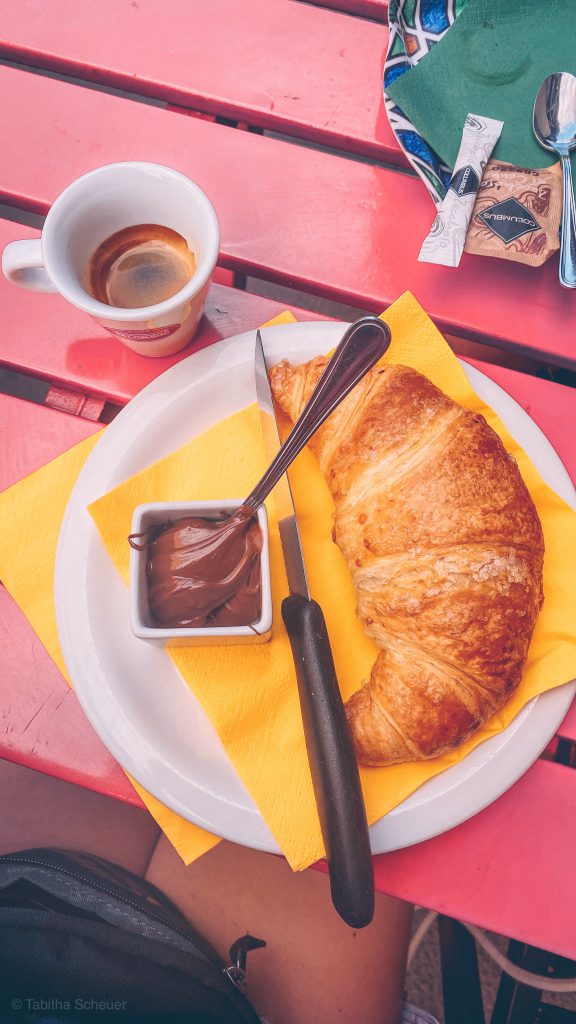 Lastly, if it's open from 7am until midnight, move along. Most of the authentic, tasty restaurants will only open later at night, and don't work in the morning/noon.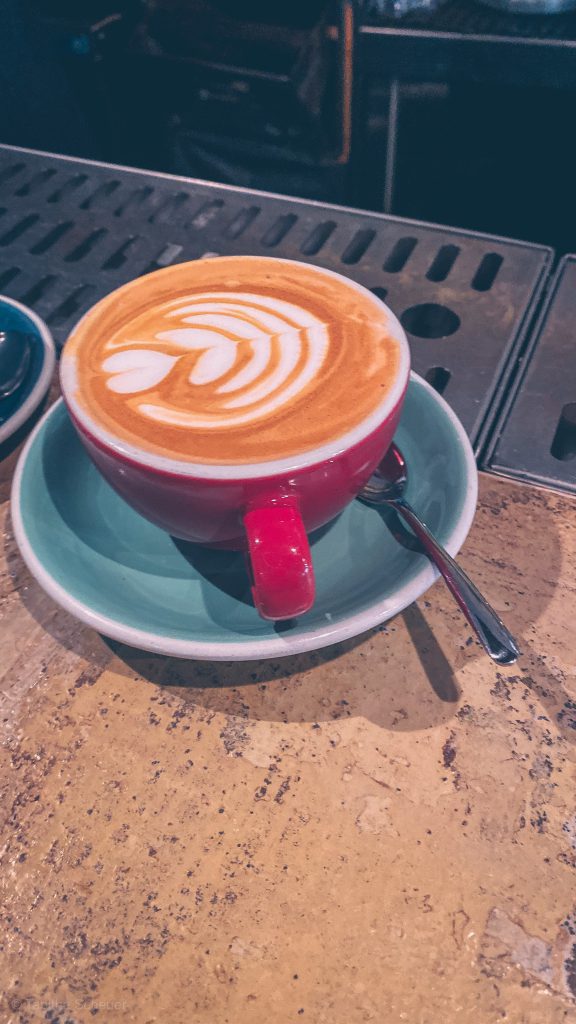 Not knowing your coffee order
Here in Germany we say 'Espresso' to … yes, espresso. But in Italy, you simply stay 'caffè', which is coffee. Well, it's not that hard.
Un caffè (a coffee) is an espresso.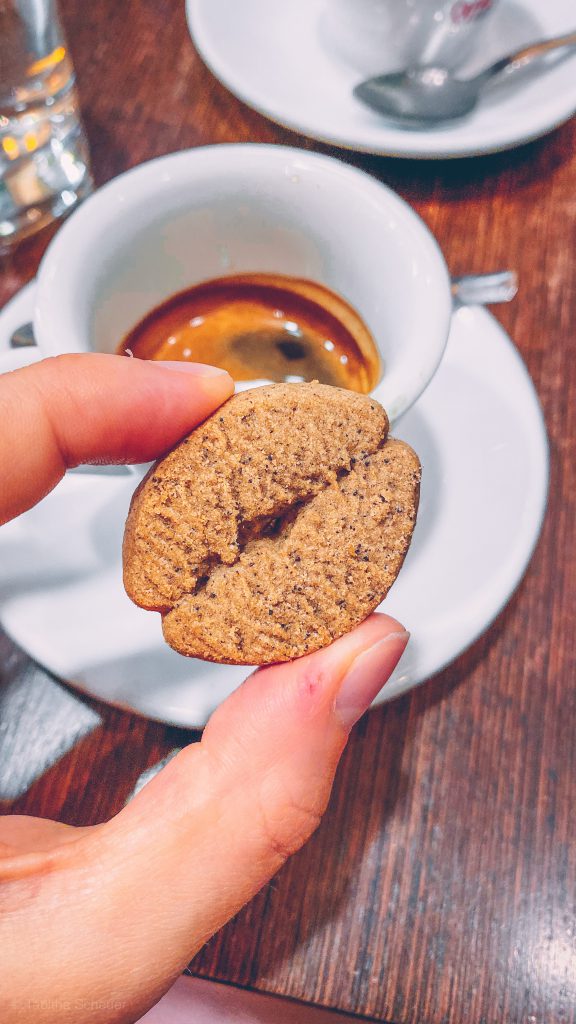 Un caffè americano (coffee americano) is an espresso with hot water added.
A Cappuccino is an espresso with hot, foamed milk. Cappuccino actually is a breakfast drink. If you order a cappuccino after 12pm, people will frown at you (no, it's not so bad).
Latte is Italian for milk. Hence, a Latte Macchiato is a big cup of milk with a stain of coffee.
Good to know: Coffee is usually consumed standing at a bar. By doing so, you will pay less in the long run, because many cafés charge a fee for sitting down.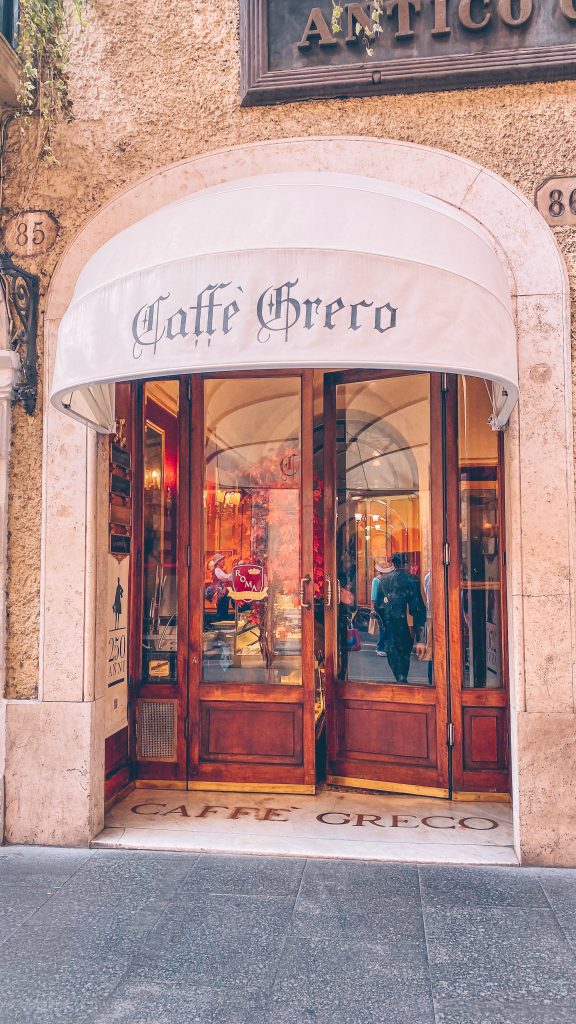 Wanting eggs and bacon for breakfast
No problem, you can actually get eggs and bacon for breakfast if you look for a hip café but most cafés have a great selection of coffee and pastries.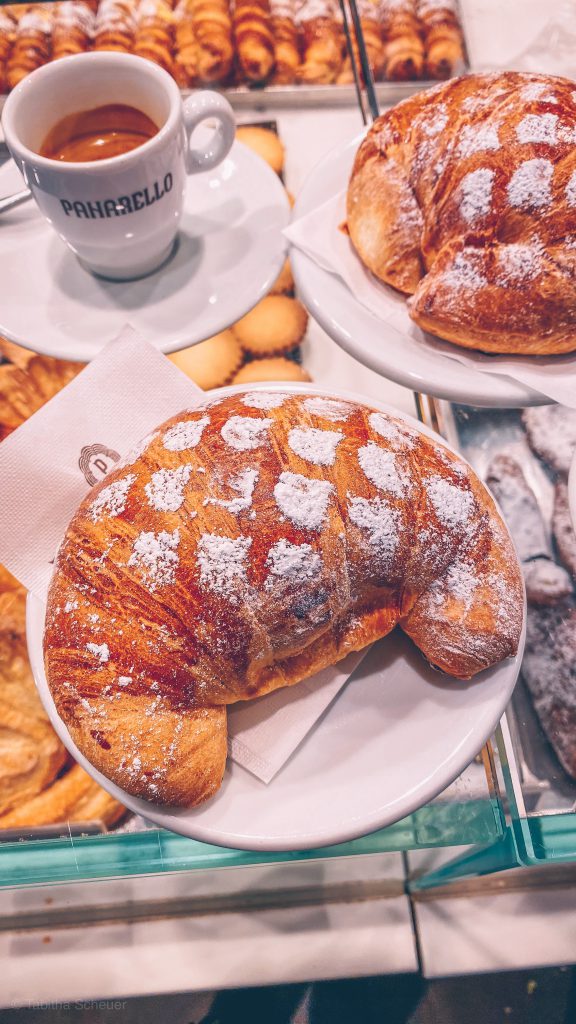 Pastry options often include filled croissants with different flavors. I loved the pistachio and nougat ones.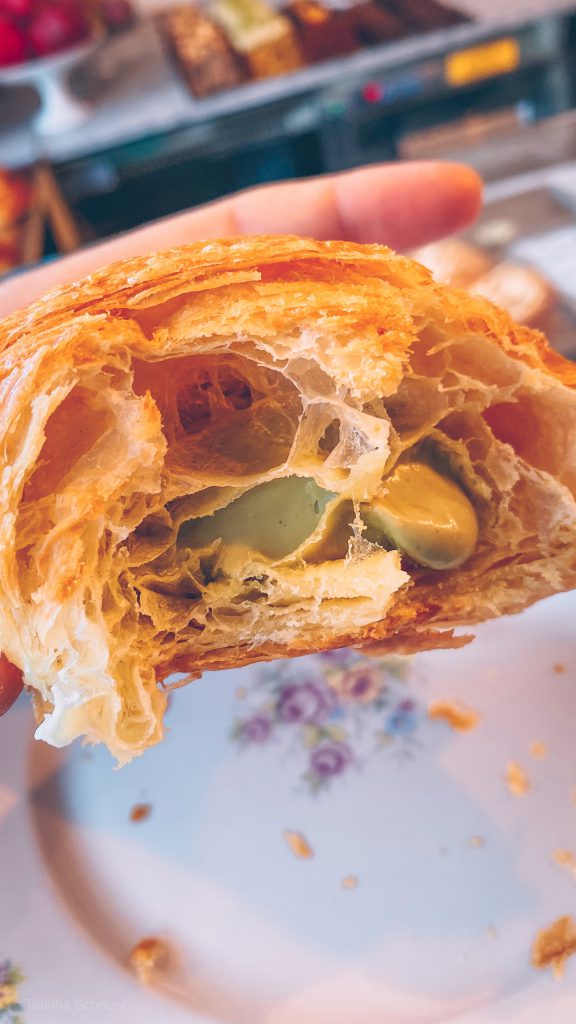 Not enjoying happy hour
Since dinner usually is around 8pm, many enjoy a 'happy hour' with family and friends around 5pm. Happy hour, here known as the 'hour' where drinks are usually less costly, in Italy often is a glass of wine, or Aperol, with a light snack.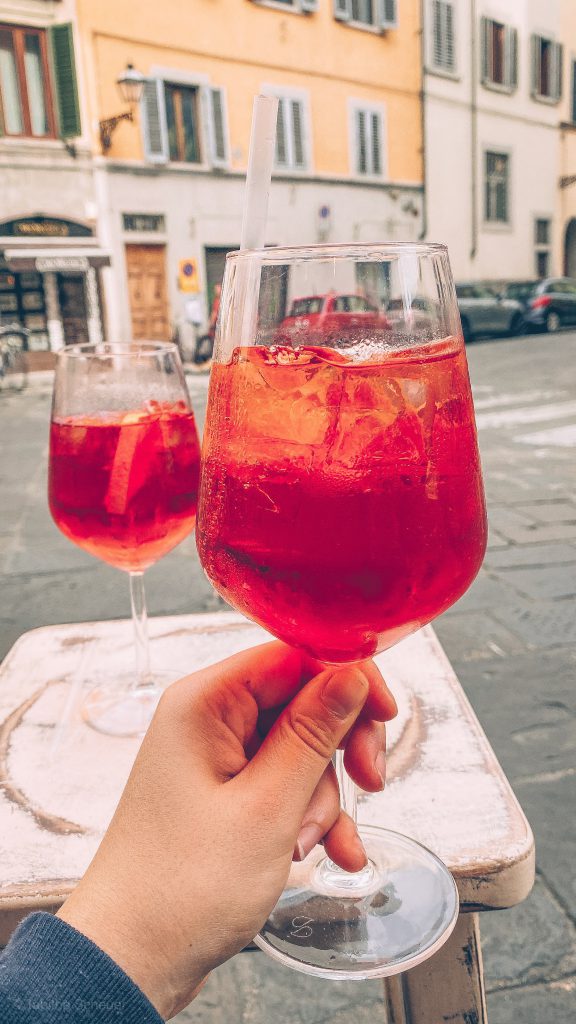 Luckily, alcohol is rarely served alone, so you'll usually find some snacks like crackers or nuts on the table.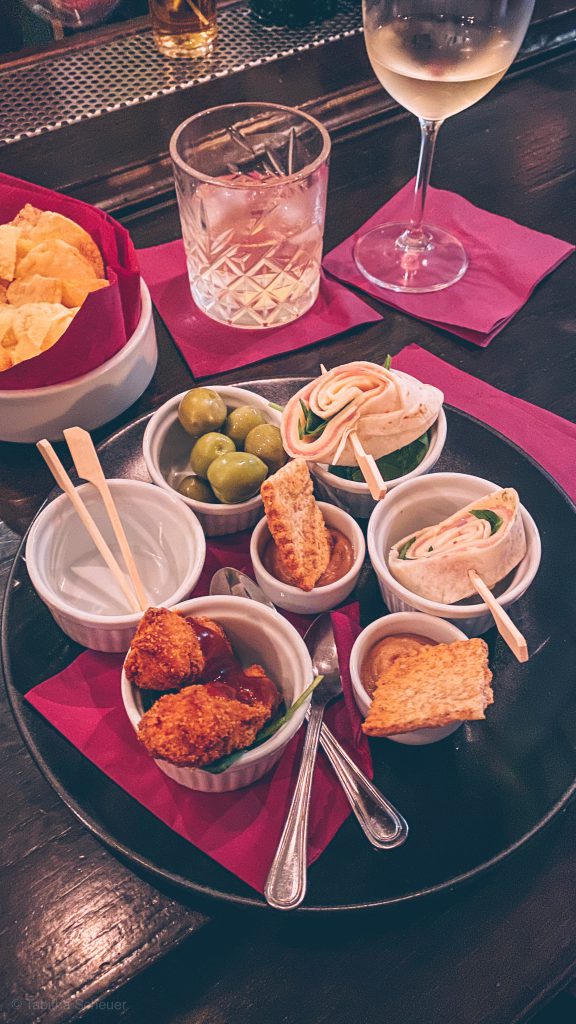 Not understanding the Italian four-course meal
Dinners, as mentioned, usually start late in the evening. Moreover, they are made up of four courses of food: The first is antipasti, the starter. Antipasti consists of a light dish like a charcuterie spread, bruschetta, or Caprese salad.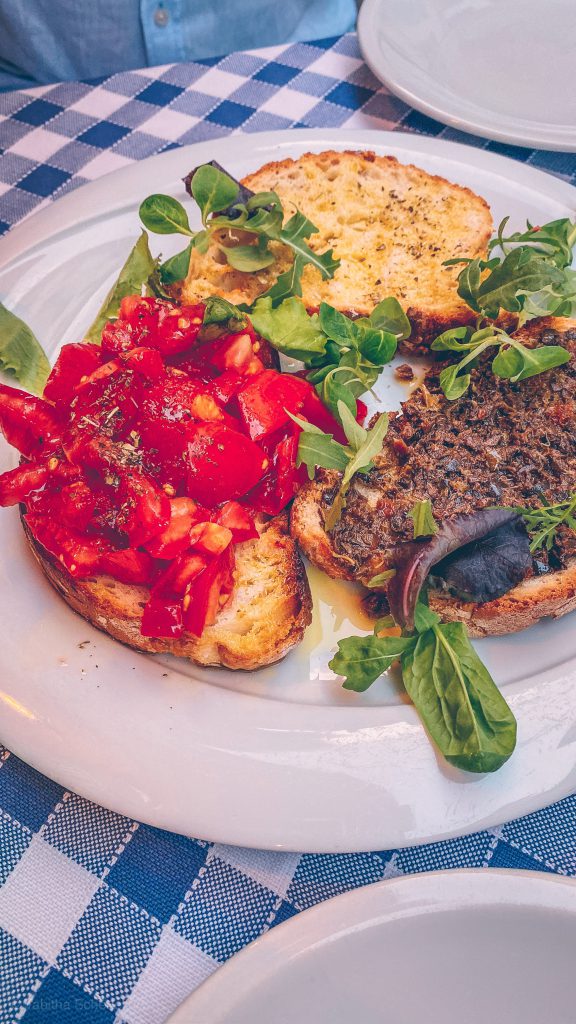 The following (second) is the primi, the first hot plate. Usually, a meatless dish of pasta, risotto, or simply soup.
Next (third) is the secondi, a meat or seafood dish that is the heart of the meal, that comes with a contorni a side dish of vegetables, potatoes or salad.
Lastly (fourth), the dolce. A tasty dessert to finish off the meal. If you don't like dessert, you can even finish the meal with a cafe and/or digestivo, a digestive alcohol like limoncello.
While this is a traditional Italian dinner, you don't have to order the entire spread.
Asking for a pasta spoon
I guess I cannot count the times I've seen people in Germany eat pasta with a spoon. Actually, in Italy pasta spoons are only used by kids, helping them to keep the pasta from slipping off the end of their fork when eating.
So if you want to eat authentically in Italy, pass on the spoon and use the bottom of the plate.
Looking for 'Italian' Food you know from your homebase
Again, in Germany we think that there's nothing more Italian than chicken parmesan or chicken alfredo. Okay, except for spaghetti with Bolognese.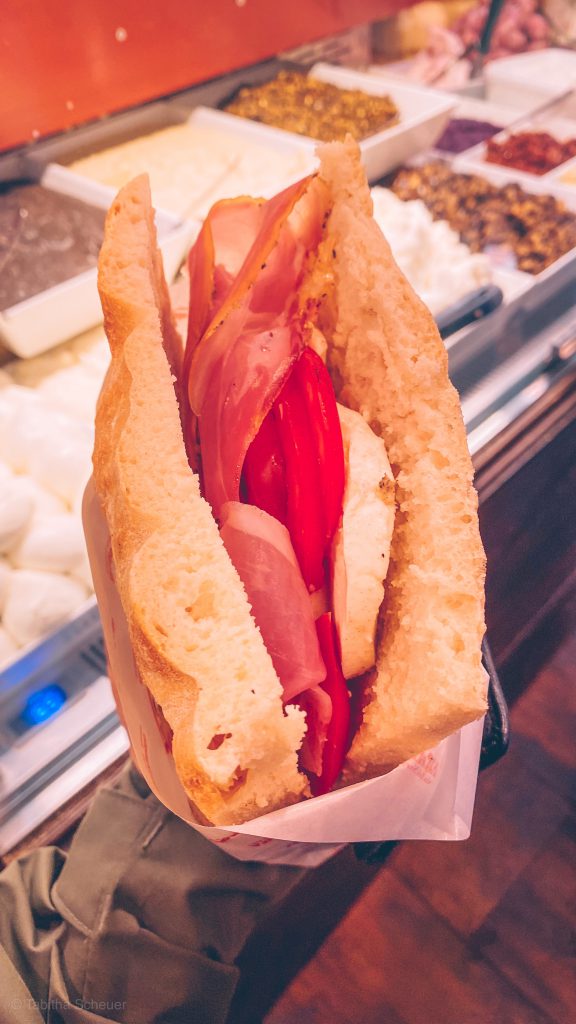 In Italy, a chicken and pasta dish is like a cardinal sin. Hence, you won't find any on the menu. You also won't see fettucini alfredo, shrimp scampi, pepperoni pizza or even garlic bread. But you will find some fantastic food that you will be able to rave about when you come back home.
Not understanding local dishes
Just like in many other countries, every Italian region has its own take on a pasta dish.
In Venice, popular dishes are spaghetti in nero di seppia (black pasta with squid), bigoli in salsa (bigoli pasta served with an anchovy and onion sauce), and pasta e faxioi (bean soup with noodles).
In Rome, popular dishes are the cacio e pepe (a cheese and pepper pasta dish that tastes like heaven), spaghetti alla carbonara (eggs and pancetta with pasta), and spaghetti aglio e olio (garlic and oil pasta).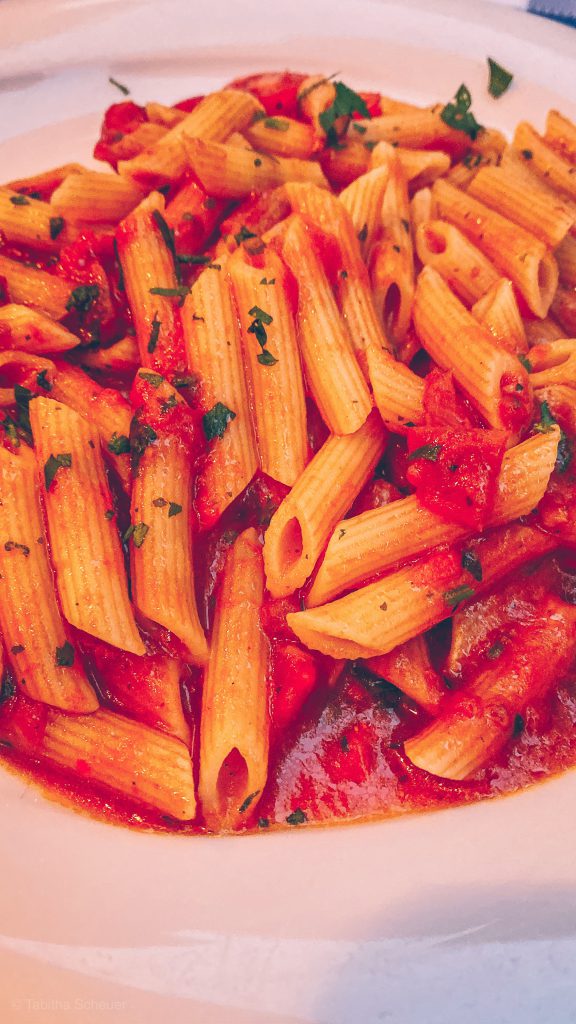 Eating in a hurry
In Italy, the locals do not only love food, it's some sort of social aspect to it. When you have a reservation in a restaurant, the table is usually yours for the night from the moment you sit down. Or until you leave.
Except for this fact, food is much more enjoyable when you eat in a relaxed mood. Don't stress yourself about the next hit, photo, or activity to do – just savor your meal, enjoy the atmosphere and carpe diem. At least, you're in Italy!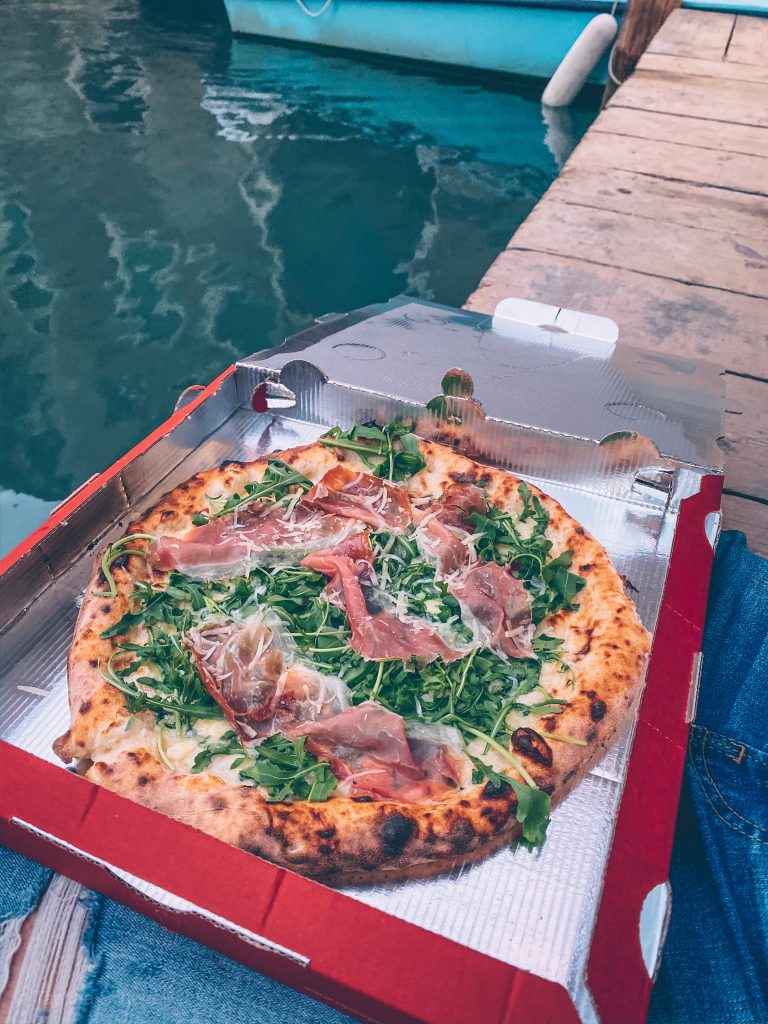 Not going to a 'good' Gelateria
After all these dining tips, let me tell you something about Gelato. In Italy, Gelato is everywhere. Which is great because, well, maybe (obviously)… I fell in love with gelato.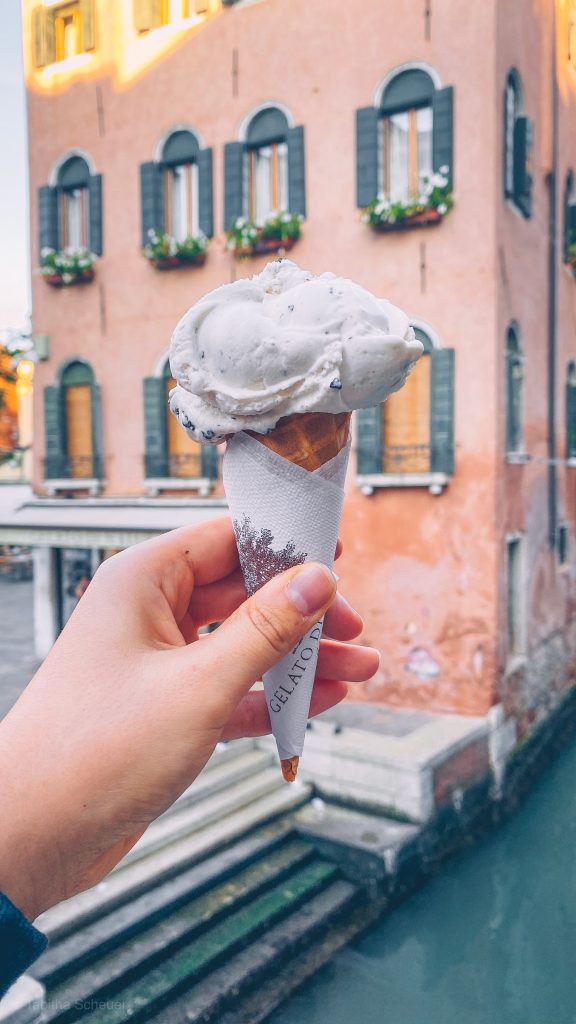 But wait. Don't just go into any old café and order up a couple of scoops. Here are some tips on how to expose a great Gelateria:
Go to a shop that only sells gelato. Not to a restaurant or an osteria selling gelato too. The best stuff is from shop owners that devote their life to making gelato. (I swear)
Second, don't be fooled by those puffy looking mounds. Gelato is made with less fat than regular ice cream, and it is churned slowly so less air goes into the process. Look for 'flat' gelato in a metal tub. This mans less air. And this further leads to better flavors.
Look for natural colouring and flavors.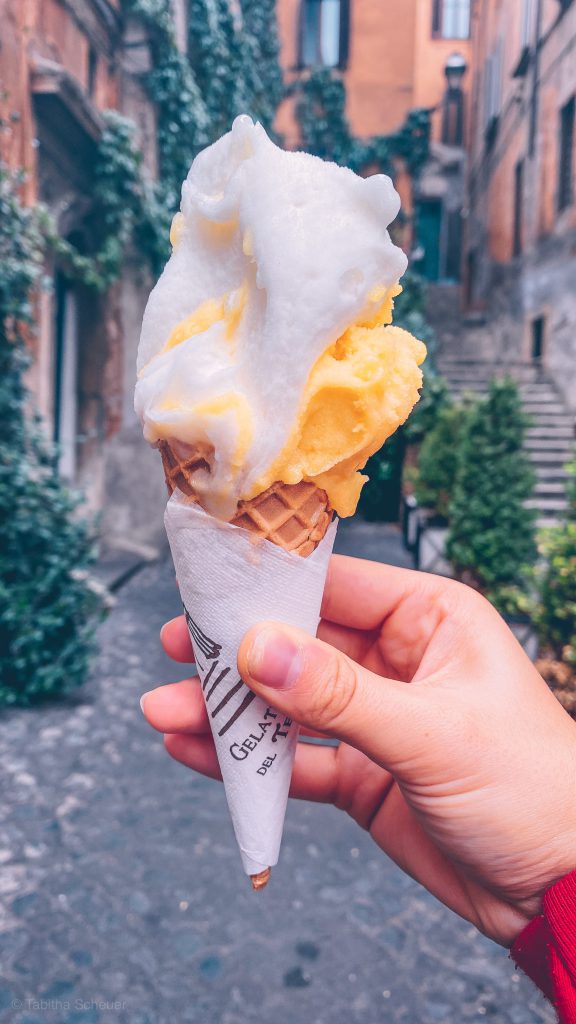 And if you don't want to do the work on your own, read about my favorite gelato spots here.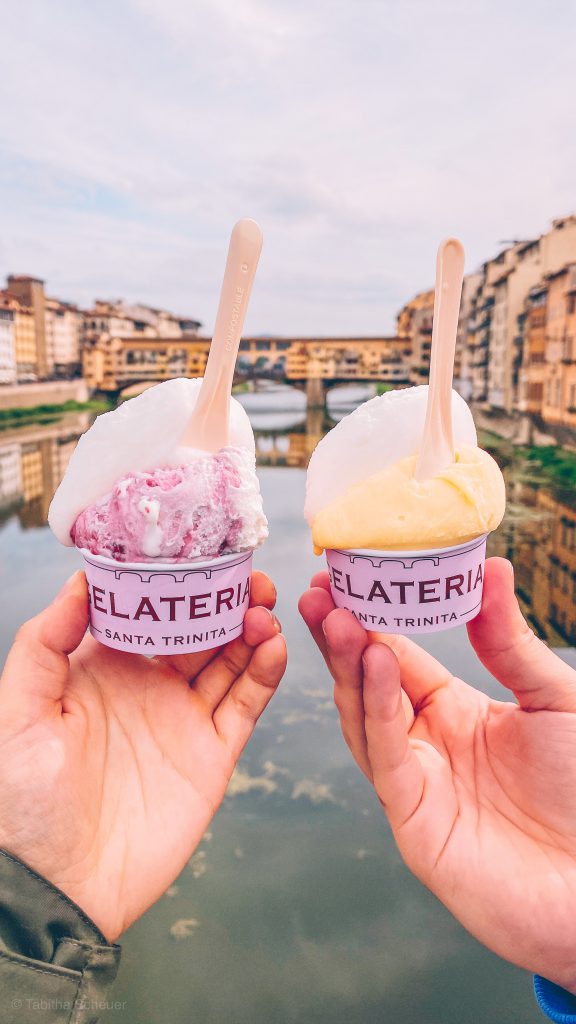 Related: Venice Food Guide & 3 Days in Rome.
Save this post for your next trip to Italy!