Planning a trip to Malaysia and don't know how to spend the perfect 2 days in Kuala Lumpur? Then this Kuala Lumpur itinerary will help you with your plans! This blog post is all about how to spend unforgettable 48 hours in this dazzling city that seamlessly blends tradition with modernity.
When planning your trip to Malaysia, it's most likely that you will have to decide on where to spend how many days of your vacation. With beautiful places like Kuala Lumpur, Sepilok, Kinabatangan Wetlands, Perhentian Islands, Langkawi and the Cameron Highlands (of course, the list goes on), it's really hard to plan out an itinerary that fits in all of it.
Since we're more into nature, we opted for 2 days in Kuala Lumpur. Of course, with all the sights to see and culture to experience, you might wonder how you can fit everything into a 2 days Kuala Lumpur itinerary. Whilst you might not be able to see every corner of Malaysia's vibrant capital city, 2 days in Kuala Lumpur will allow you to discover the city's best bits.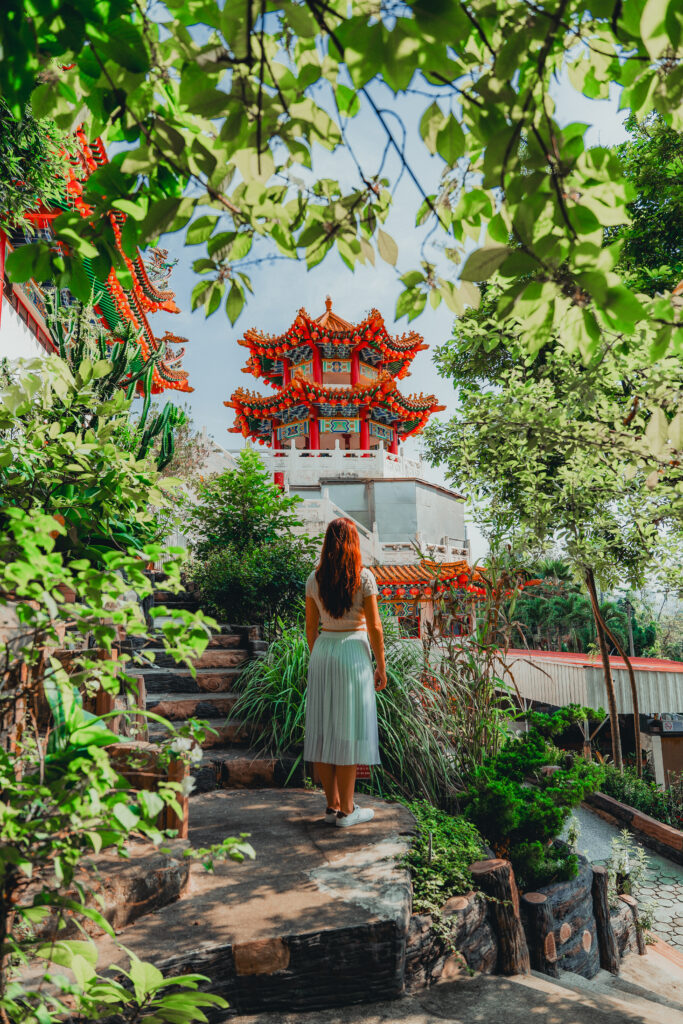 Why should you visit Kuala Lumpur?
It's most certainly one of the best places to start your journey in Malaysia
Kuala Lumpur is a melting pot of cultures with a harmonious blend of Malay, Chinese, Indian, and indigenous influences
The city is home to some of the world's most iconic landmarks, including the Petronas Twin Towers
Kuala Lumpur is a food lover's paradise
Best time to visit Kuala Lumpur
Firstly, Kuala Lumpur has a tropical rainforest climate. Yes, although it's a city it's characterised by high humidity and fairly consistent temperatures throughout the year. This means that you really cannot go wrong with visiting Kuala Lumpur during any time of the year as you might experience rain during the dry season or see no rain at all during the rainy season. The weather is not that predictable anymore.
Anyways, here are the main seasons to consider:
Dry Season (June to August and December to February): This is generally considered the best time to visit Kuala Lumpur. During these months, you can expect less rainfall and more pleasant weather. It's a great time for outdoor activities, sightseeing, and exploring the city without the frequent afternoon showers that are common during other times of the year. However, be prepared for higher tourist crowds during these months, especially around major holidays.
Monsoon Season (March to April and September to November): Kuala Lumpur experiences two monsoon seasons. While it's not the ideal time for travel, it's still possible to visit during these periods. The rain showers are typically heavy but short-lived, often occurring in the late afternoon or evening. If you don't mind occasional rain and want to take advantage of lower hotel rates and fewer tourists, this might be a budget-friendly time to visit.
Transitional Months (May and October): May and October mark the transitional months between the wet and dry seasons. The weather can be somewhat unpredictable, with occasional rain showers, but it's generally manageable for travel. Prices may be lower, and crowds thinner than during the peak tourist season.
How to get to Kuala Lumpur
Kuala Lumpur has an international airport that is only a 45 minute drive away from the city center. We flew from Frankfurt am Main to Kuala Lumpur via China Airlines which was a bliss. Normally, we skip the "Premium Economy Class", because it does not seem so much different than the normal Economy Class, but oh boy were we wrong.
Not only does the Premium Economy Class of China Airlines offer you much more legroom to relax. They also have seats that decline without narrowing down the space of the other passengers on the plane. Thereby, the seats decline so much that you can almost lie down. Additionally, China Airlines has a wide variety of entertainment on the flight itself: from literally new movies up to games.
However, the best thing for us was the food! Our first flight was during the day where we made use of the entertainment offered on board. Not only does China Airlines serves you three hot meals during their flight from Frankfurt to Kuala Lumpur, but they also offer you snacks whenever they see that you're awake. You can also order a variety of beverages during your flight: from tea to Coke Zero. I honestly felt more relaxed after my flight from Frankfurt to Kuala Lumpur than on a much shorter flight within Europe itself.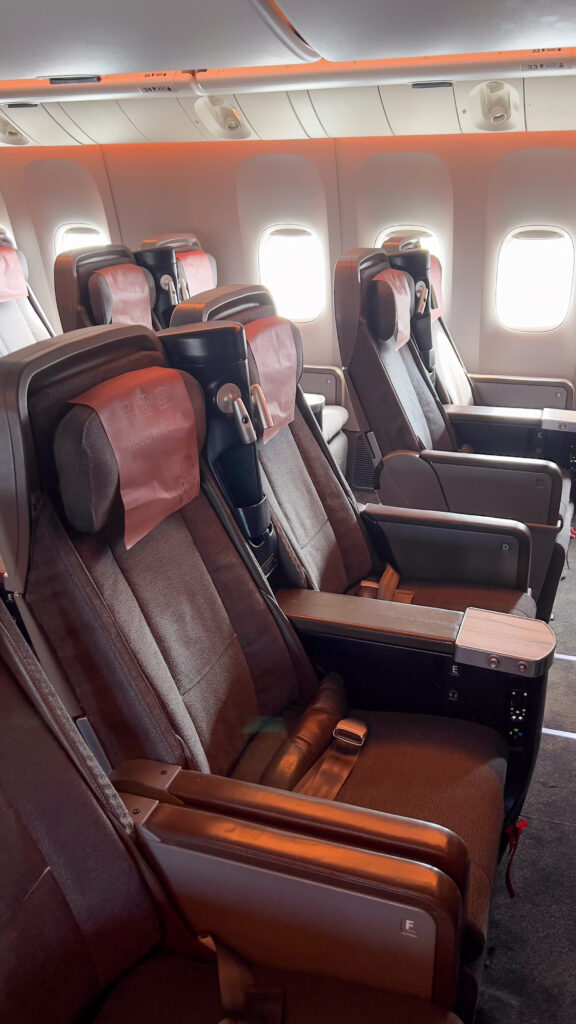 How to get around in Kuala Lumpur
As any bigger city, Kuala Lumpur has a great transportation system. Within our time in Kuala Lumpur, we mostly used Grab, which is like a Malaysian version of Uber. Here you can simply choose a pick up and drop off point and then see how much it will cost you.
Where to stay during your 2 days in Kuala Lumpur
During your 2 days in Kuala Lumpur, you don't want to use your precious time on walking back and forth which is why we'd recommend a hotel that's located directly within the city centre. Since we visited Kuala Lumpur two times (two days before going to Borneo and then before flying back home), we stayed in two different hotels: The Melia Kuala Lumpur and the Berjaya Times Square which are both next to Bukit Bintang, also called "the Golden Triangle". It's one of the busiest places in Kuala Lumpur and famous for its night markets and night life in general.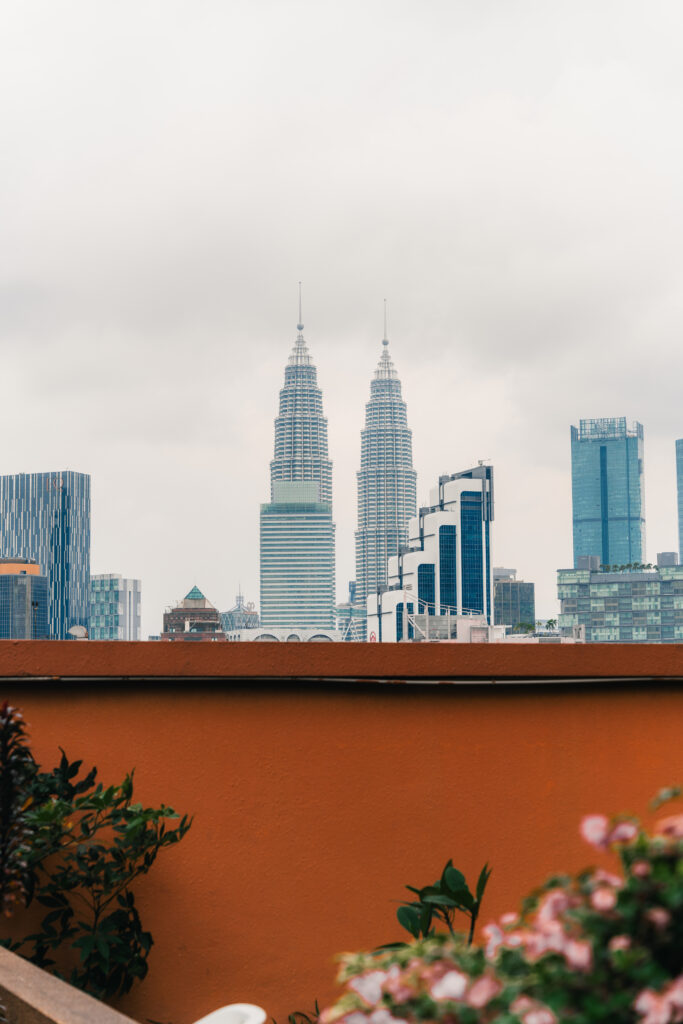 Your perfect 2 days in Kuala Lumpur itinerary – Overview
DAY 1 / Thean Hou Temple, Little India, Federal Territory Mosque, Central Market, Petaling Street, Petronas Towers.
DAY 2 / Batu Caves, Merdeka Square, KL Tower, Jalan Alor
Kuala Lumpur in 2 days: How to see the best of the city
There's something for everyone when visiting Kuala Lumpur: from tranquil temples to bustling night markets. Kuala Lumpur, or KL as the locals like to call it, offers endless things to do. Since I've included the city's highlights within this itinerary, feel free to mix it up to your own needs.
Day 1 in Kuala Lumpur: Culture & Malay Food
Your first day in Kuala Lumpur is all about culture, getting lost in the colourful streets, tasting typical Malay food and finishing the day at the Petronas Towers.
Thean Hou Temple
Built in 1987, the Thean Hou Temple is a gorgeous six-tiered Buddhist temple dedicated to the Chinese sea goddess Mazu. It's a must-see when visiting Kuala Lumpur as it's not only full of culture and history, but also one of the most Instagrammable places in Kuala Lumpur.
Wander around and marvel at the beautiful architecture strewn with hundreds of dangling red lanterns, pay the Chinese Medical Herbs Garden a visit, try your luck at the Wishing Well and see the cute Tortoise Pond.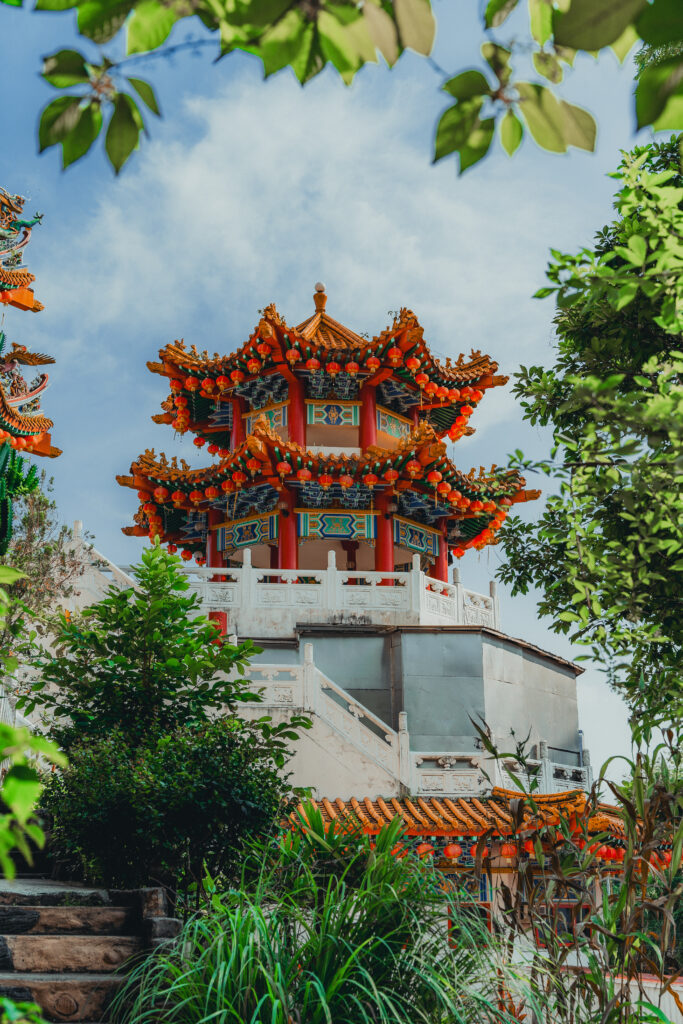 Little India
Little India, or Brickfields, is one of the most colourful and vibrant neighbourhoods in Kuala Lumpur. Filled with history, culture, amazing food, and cute little shophouses selling all kinds of goods.
Federal Territory Mosque
Afterwards, go to the famous Federal Territory Mosque where you'll be able to join a free guided tour through the mosque and learn about its history. Don't miss this amazing photo spot at the end of the tour! They will let you take as many videos and photos as you'd like to.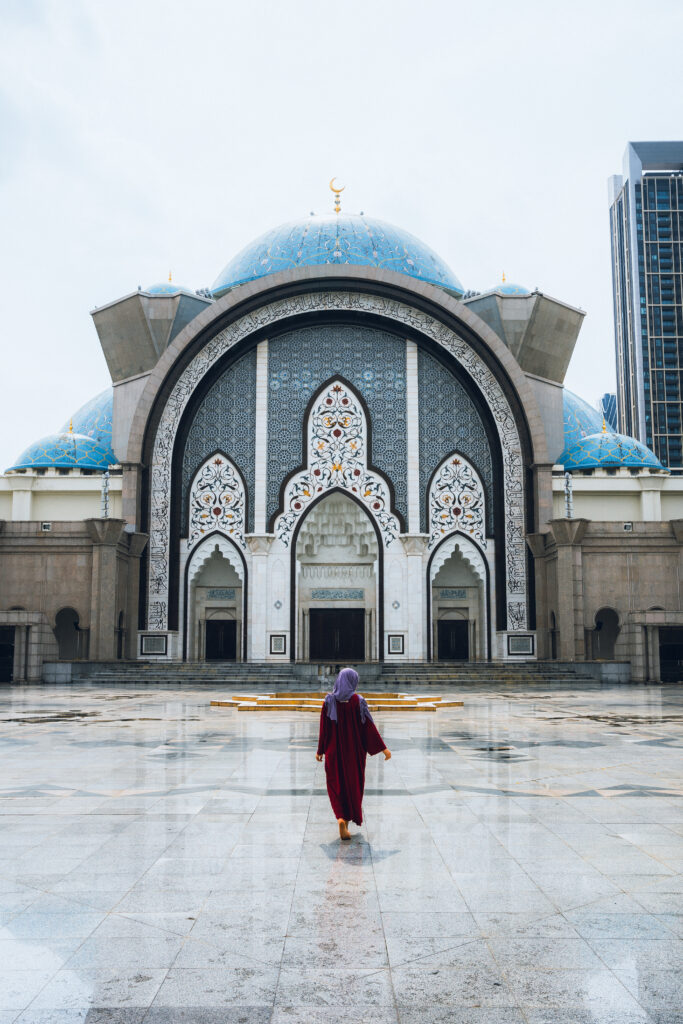 Central Market
The Kuala Lumpur Central Market was first built in 1888 as a simple wet market. Over the years, the market has transformed in many ways. Today, the Central Market is a Heritage Site and one of the most popular places to visit in Kuala Lumpur.
Don't miss the second floor when visiting this place. Whilst the first floor is full of all kinds of artisan goods, batik artworks, handcrafts, souvenirs and cute boutique stores, the second floor is where you'll find restaurants and a food court.
Chinatown
Right next to the Central Market is Chinatown. Nestled right in the heart of this vibrant neighbourhood, you will find one of Kuala Lumpur's most bustling markets on Petaling Street. Petaling Street is full of stores and stalls selling all kinds of stuff and this market is always full of people no matter which time of day you go, so get ready to join the crowds!
When visiting Chinatown don't miss out on – of course – the Chinese food. If you dare, you can also try Durian here. Durian is a famous fruit in many Asian countries, Malaysia included. It's hard to describe what it tastes like, but we'd definitely advise you to go for the smallest piece you can find.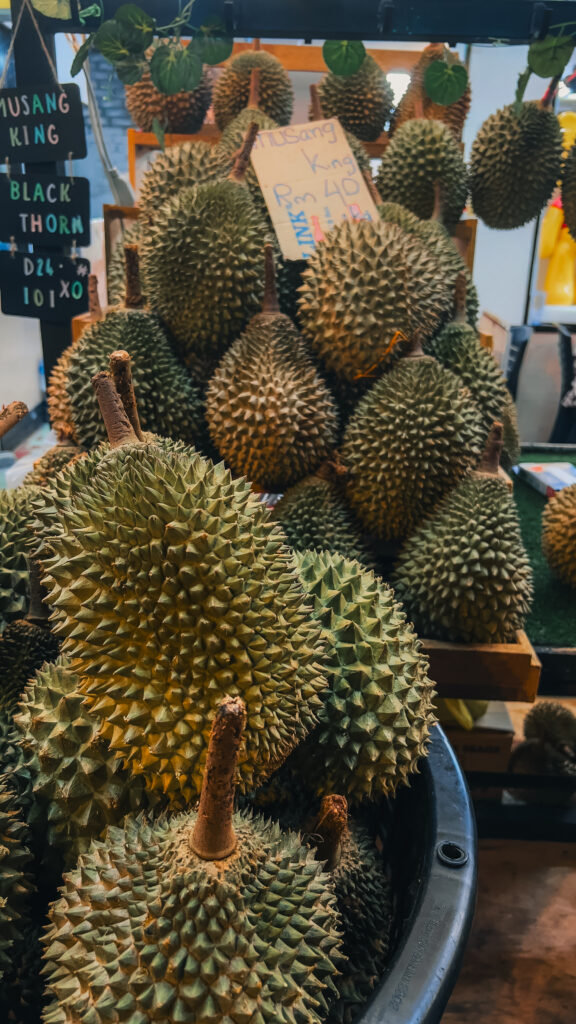 Petronas Towers
End your first day of your Kuala Lumpur itinerary by visiting the city's most iconic landmark and the world's tallest twin towers. The Petronas Towers are 451.9 meters tall and a truly architectural wonder. Surrounded by skyscrapers and the beautiful KLCC Park at its base, this is one attraction you cannot miss.
For a bird's-eye view of the magnificent cityscape, you can visit the Observation Deck. Just a heads up, the tickets for the Petronas Towers sell out fast and they're closed on Mondays. However, you can still go to the Kuala Lumpur Tower from which you can see the Petronas Towers then as well.
Tip: Go to the Petronas Towers in the evening as they have water shows on 8pm, 9pm and 10pm.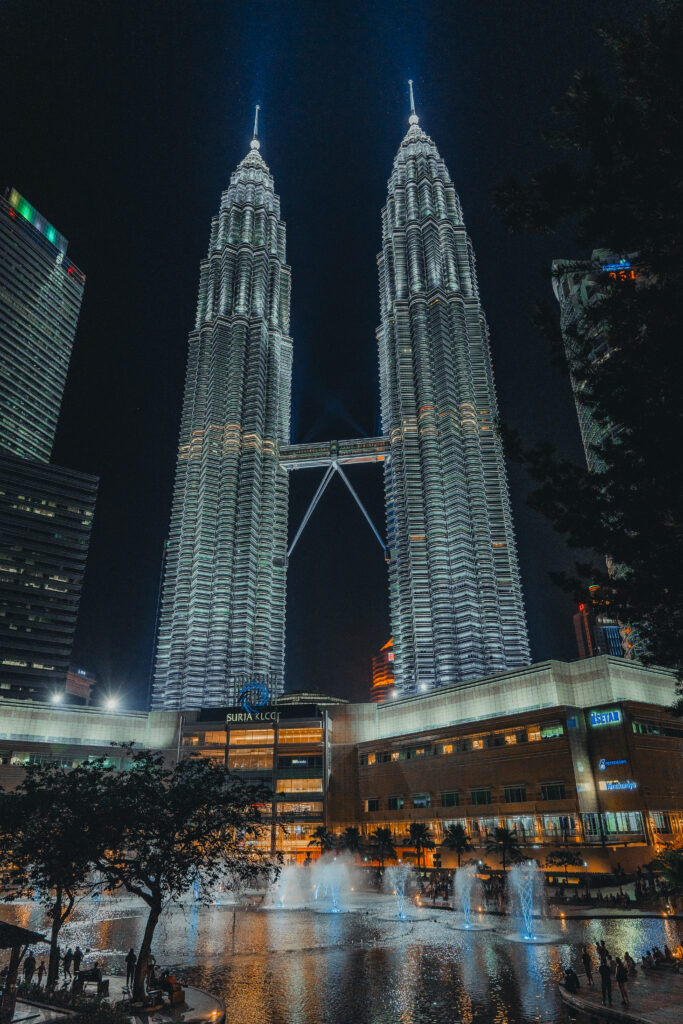 Day 2 in Kuala Lumpur: Batu Caves & Street Food
On the final day of your 2 days in Kuala Lumpur itinerary, you'll visit one of Malaysia's most iconic attractions, the Batu Caves. Afterwards, immerse yourself in nature as you wander along with treetop canopies in Kuala Lumpur's very own rainforest. End the day at one of the city's bustling night markets and vibrant nightlife scene!
Batu Caves
Visit the Batu Caves right in the morning of your second day in Kuala Lumpur as they can be very crowded during the day. We actually went in the afternoon which is was okay since it was raining, but you'll have a much better experience when visiting without all the people standing in front of you!
Besides exploring the temples at the base of the cave, snapping photos of the stairway, and marveling at the towering statue of Murugan, it's worth tackling the 272 steps to the top. This is the only way you can get a glimpse of the cave's ancient limestone interior.
Tip: Wear something that can get a little dirty if it rained beforehand or if it is still raining. After visiting, our shoes were full of little splashes.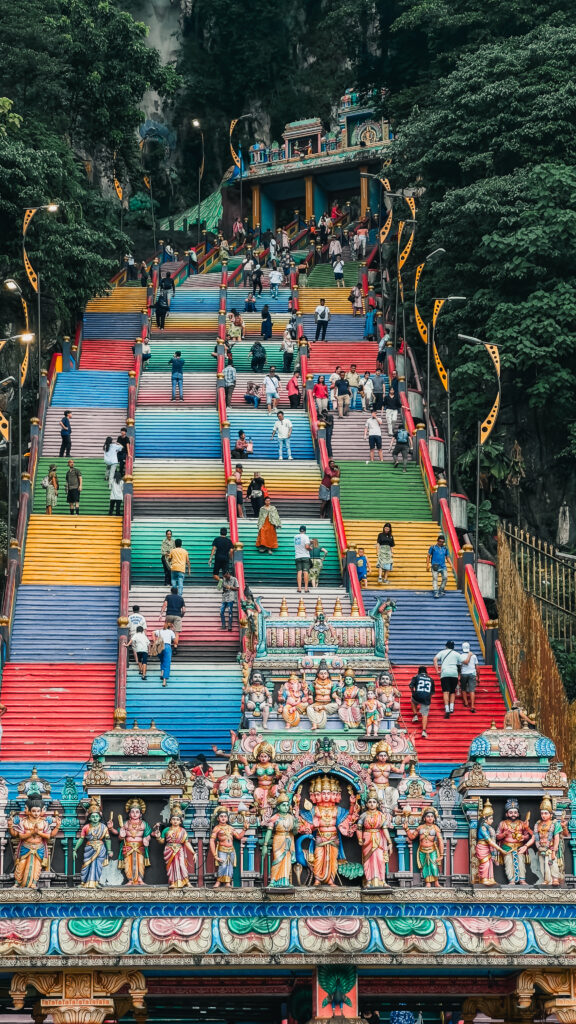 Merdeka Square
After visiting the Batu Caves, it's time to see another highlight: Kuala Lumpur's Merdeka Square. This is actually an independence square as Malaysia has been a British colony until 1957. Visit the popular Merdeka Square and roam around. You can also find cute cafés and great restaurants in this area.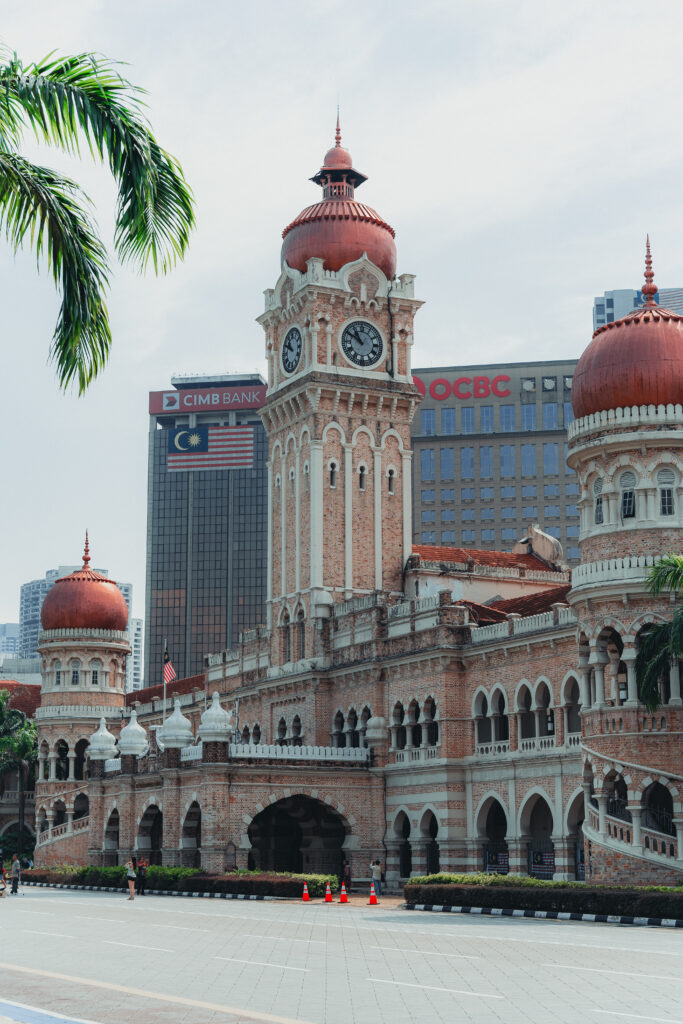 Menara KL Tower
Towering 421 meters above the city, the KL Tower is the world's seventh tallest telecommunications tower and another top attraction to add to your 2 days in Kuala Lumpur itinerary. It's also one of the best options to get a great view of the city's skyline as the Observation Deck and the Sky Deck offer 360 degrees views of the city. From here, you can also see the Petronas Towers!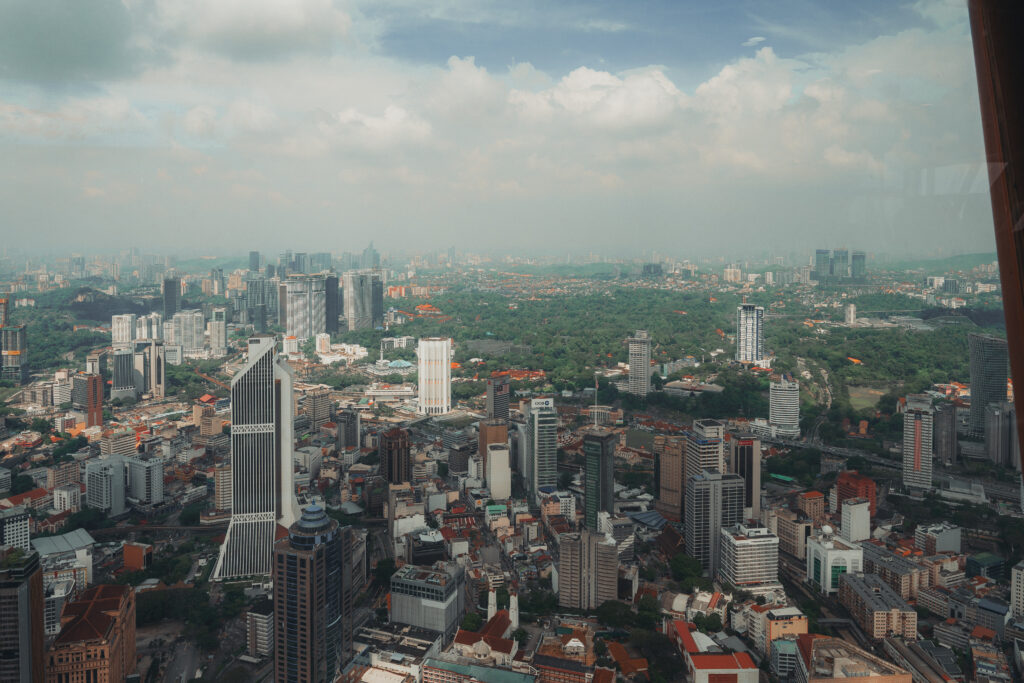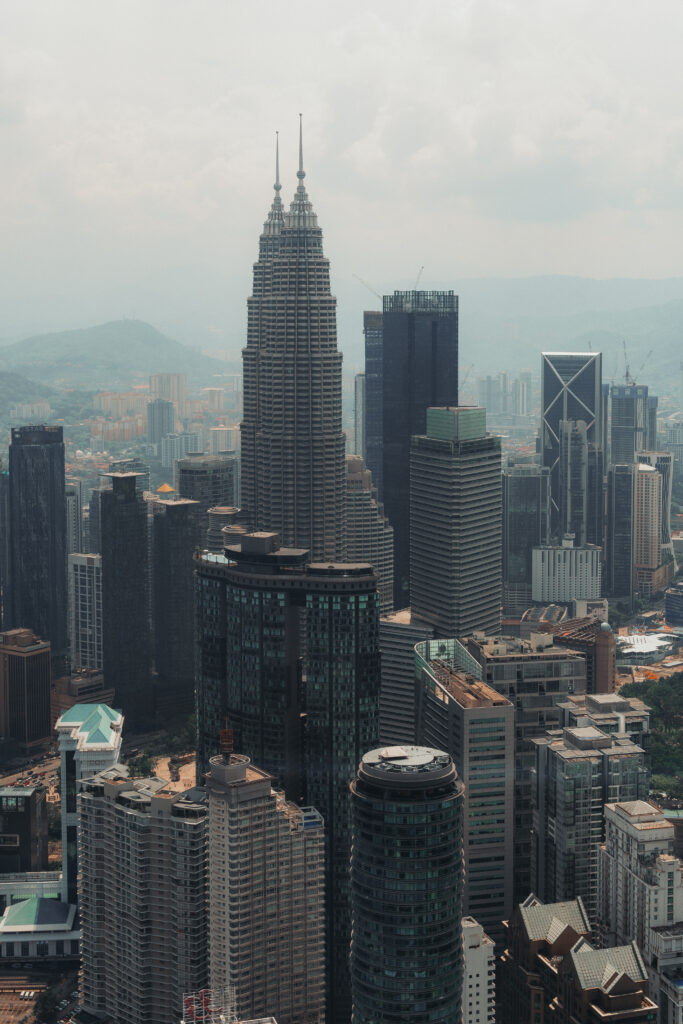 Jalan Alor
End your day at the amazing Jalan Alor street food market. It's been one of our favourite places when visiting and it's hands down the perfect spot to grab seafood, hawker food, and authentic Malay cuisine.
The best time to visit is after sunset as the area comes alive at night when the street is jam-packed with hawker stalls.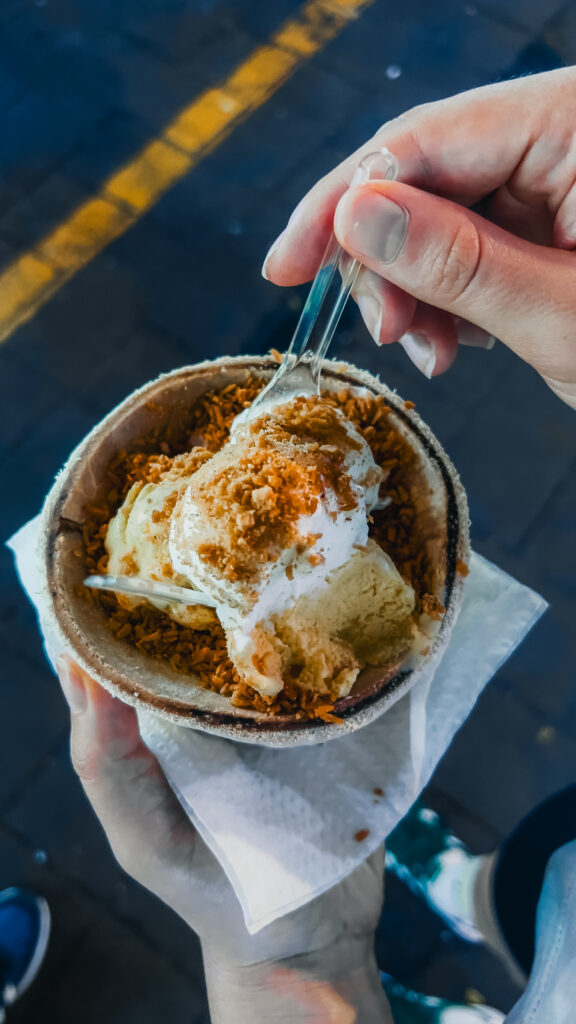 Now that wraps up our 2 days in Kuala Lumpur itinerary! We really hope you like it and that it will help you make the best out of your stay. You want to read more about Malaysia? Then check out our other blog posts here. Or simply visit the Malaysian Tourism Board as they have a great collection of know-how and experiences.
Here are some other blog posts you might like: