Famous for its canals, beautiful houses, and 'coffee shops,' Amsterdam has so much to offer. Last weekend was the first time I went to Amsterdam, even though this city is only a three-hour car ride away from our home. I totally fell in love with Amsterdam. The city, the people and everything about it is a dream.
Sometimes it feels like the most popular reasons why people visit Amsterdam is the public use of marijuana and there are even travel guides on where to find the best one, but this city offers so much more than this.
Here are 11 things you can't miss when visiting Amsterdam.
Eat local food
Amsterdam is full of food options. It is popular for Stroopwafel, Herring, Kibbeling and Oliebollen as well as for Dutch Apple Pie. Make sure to eat breakfast at one of the local restaurants. If you are in the centre of Amsterdam, there is De Bakkerswinkel. It's a beautiful restaurant with a great ambience. They provide breakfast, brunch and lunch as well as some other sweets. On top of this, the coffee is delicious.
De Bakkerswinkel | 08:00 – 17:30 Mon-Fr; 09:00 – 18:00 Sat & Sun | €€ | Location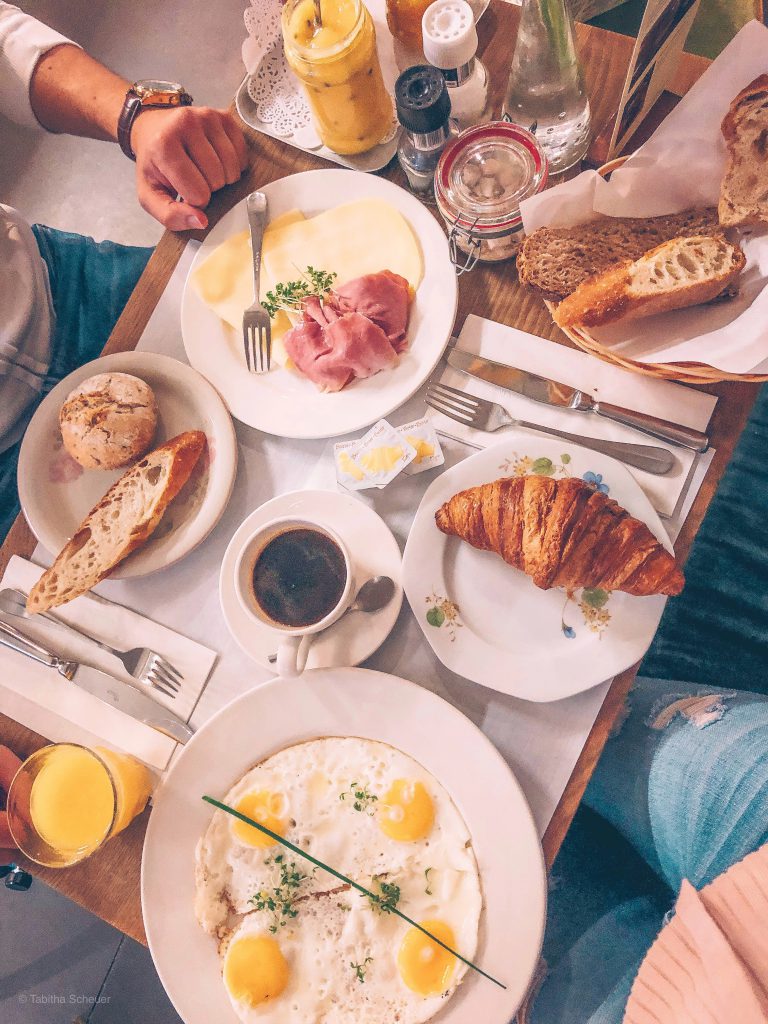 Go to Bloemenmarkt
This place is open since 1862. The Bloemenmarkt (Flower Market) is the worlds only floating flower market and it is insanely beautiful. Even if you aren't – like me – a girl who loves flowers, you will feel like you walked into a fairytale storybook here. I absolutely loved it. If you're living not that far away, you can also take some bulbs home to plant in your own garden.
Bloemenmarkt | 09:00 – 17:30 Mon-Sat; 11:00 – 17:30 Sun | Location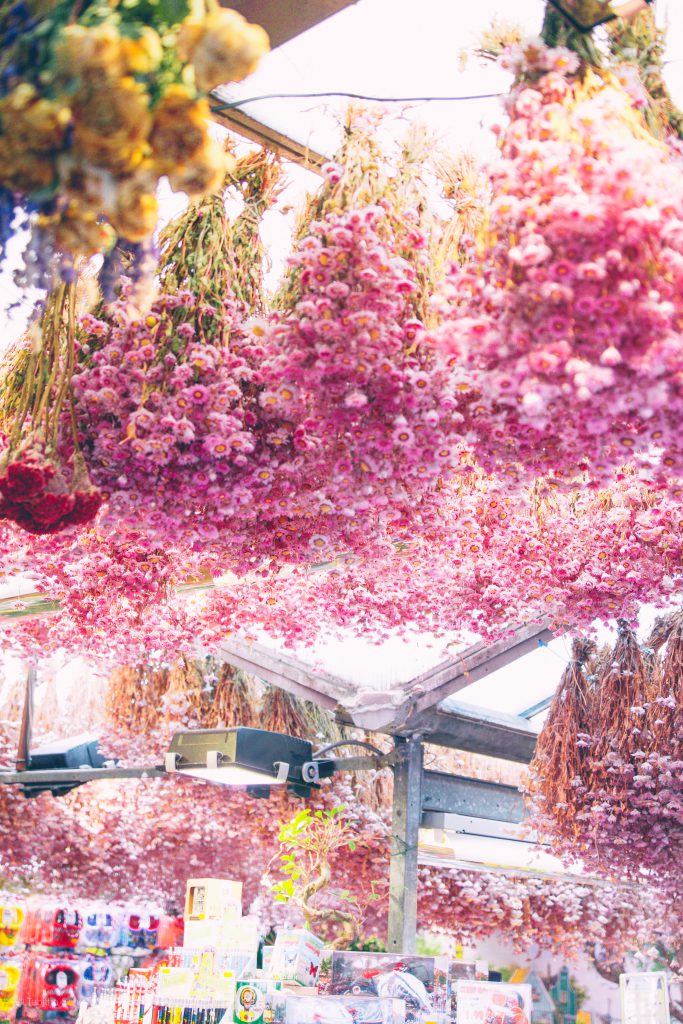 Rent a bike
If Amsterdam is the first city in the Netherlands that you'll visit, let me tell you that you will see one thing throughout the entire country: Bikes. And even more bikes. Cycling is a common mode of transport in the Netherlands, 36% use it as their main transport. Hence, you should consider to rent a bike and travel the city like a local! It's the best and fastest way to get around the town. Just make sure to lock them up!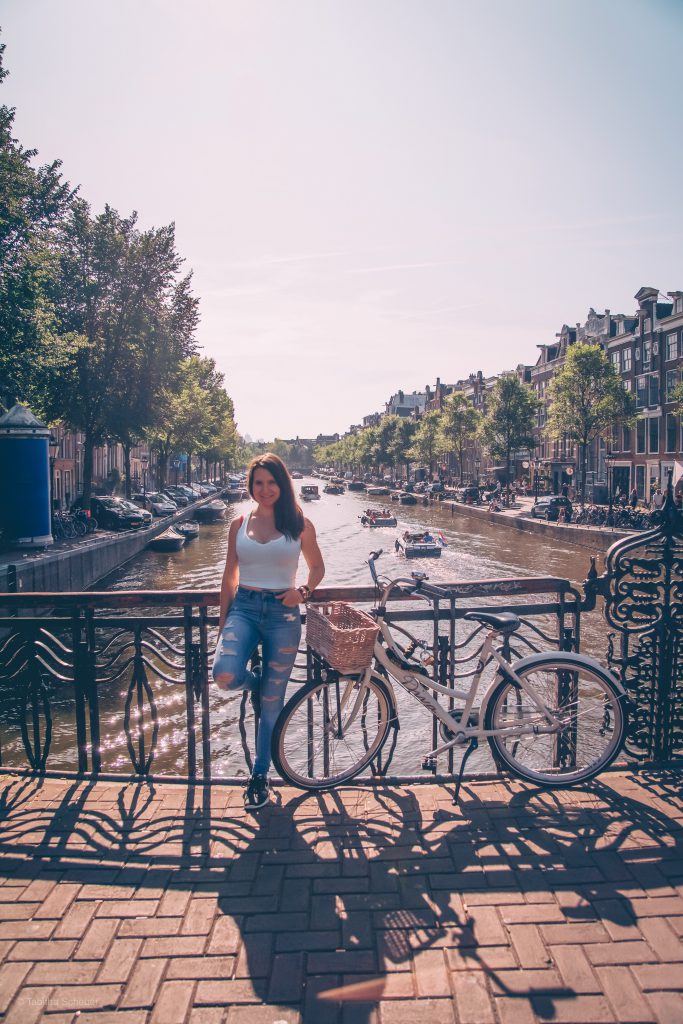 The Anne Frank House
Have you ever read the Diary of Anne Frank? Anne Frank was hiding in Amsterdam with her family during the Nazi occupation of the Netherlands. Unluckily, the family was apprehended in 1944, and Anne Frank died in the Bergen-Belsen concentration camp in 1945. The dairy of Anne was retrieved by Miep Gies, who gave it to Otto Frank. The diary has since been published in more than 60 languages and is a "must-read" if you are interested.
You really can't go to Amsterdam and not visit the Anne Frank house. Inside the house you can see documents, photos, and belongings of the people hidden here. Anne Frank's original diary and notebook are also displayed.
I had read the book when I was around 16 years old and thought I knew what I was walking into, but just standing in those rooms where Anne and her family lived and hid for years is such an indescribably feeling. Bring tissues.
Anne Frank House | 09:00 – 22:00 Mon-Sun | €10 per adult | Location
Try a Stroopwafel
This popular Dutch food is made from two thin layers of baked dough—like very skinny waffles. This can only be made better by the fact that it's stuck together with caramel syrup. You can find these in local stores, food trucks, and bakeries throughout Amsterdam. They come in mini versions or the size of your face. The one we've tried is from Van Wonderen Stroopwafels, which I would recommend if you're into warm and fresh Stroopwafels.
Van Wonderen Stroopwafels | 10:00 – 22:00 Mon-Sun | €€ | Location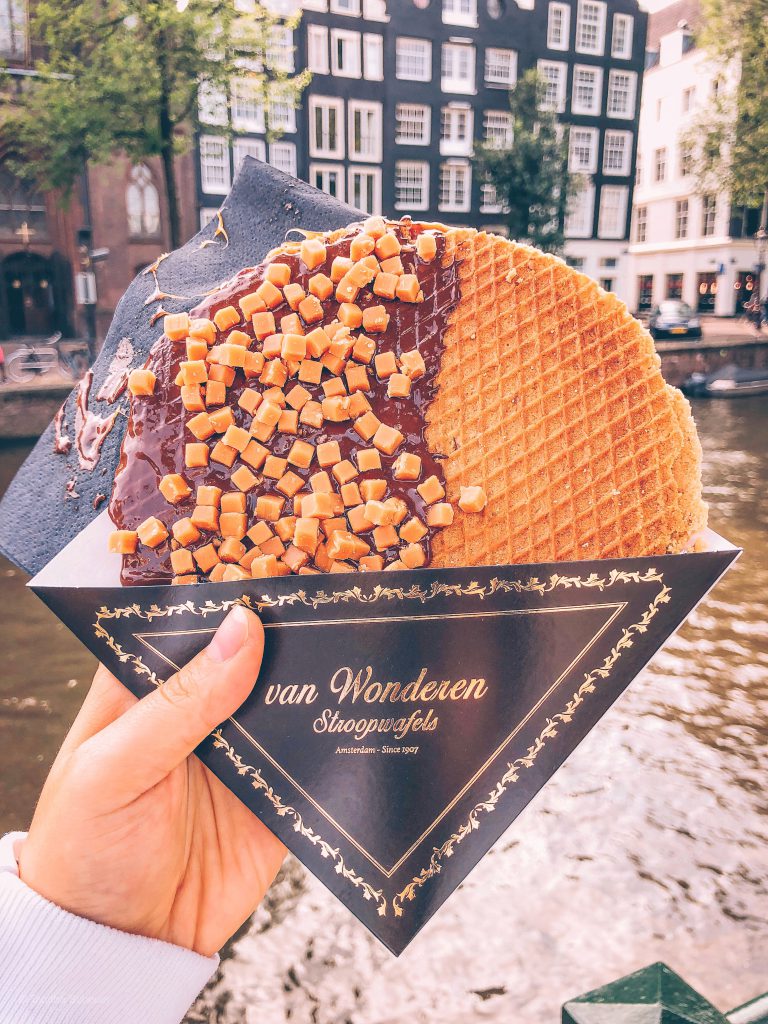 Walk through the Red Light District
I would highly recommend to do this during the day, if you want to explore the Red Light District and be aware that taking pictures is forbidden.
It's clean and taken care of, and I felt safe all the time but I would not want to go during the night. The government has tried to make it a safe place for the woman, free from pimps and abuse. It is regulated, follows rules, and pays taxes. The woman are working for their livelihood so leave your judgements at the door and just experience it for what it is, regardless of whether or not you agree.
Red Light District "De Wallen" | Location
Eat some fries
After I told you where to find some good breakfast and sweets, I would really recommend to head to Vlaams Friteshuis Vleminckx. It claims to have the best fries in Amsterdam and according to how many people were waiting in front of their shop, I'd sign this. You're eating belgian fries, not dutch ones. But I really love belgian fries and if you're looking for lots of sauce options (they have everything from Ketchup to Hawaii Sauce) to your crunchy and still soft fries, give it a try.
Vlaams Frieteshui Vleminckx | 12:00 – 19:00 Mon; 11:00 – 19:00 Tue-Sun | €€ | Location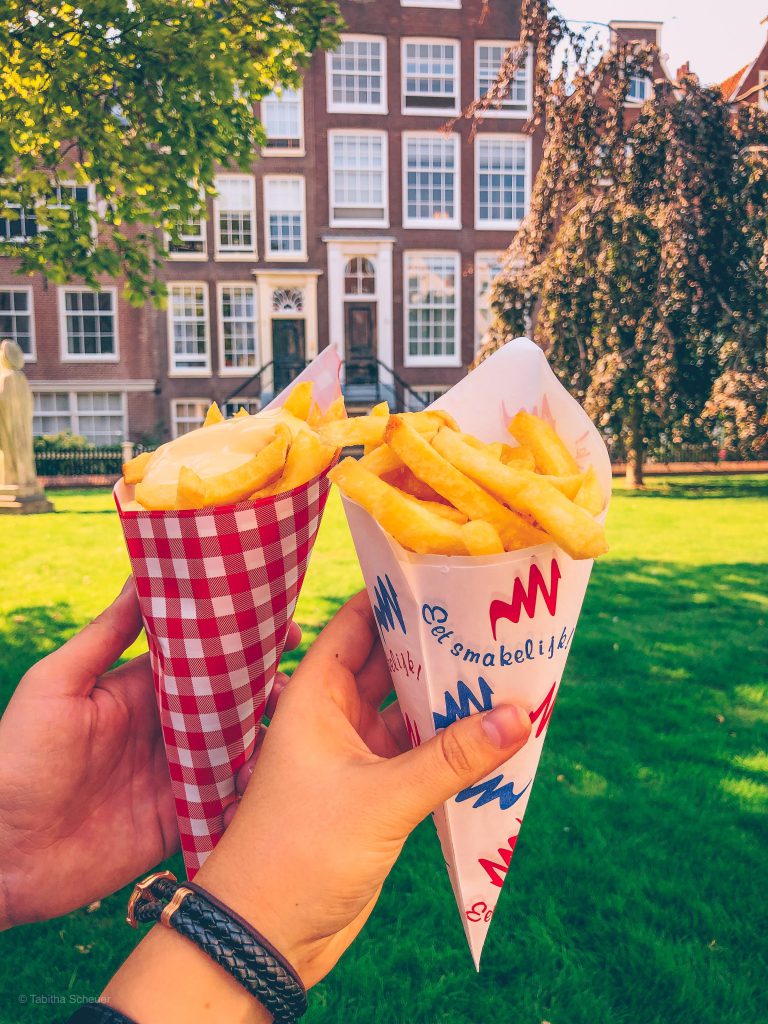 Explore Amsterdam's independent shopping streets
When talking about shopping in Amsterdam, you might already heard of the popular chain-stores on Kalverstraat, but I recommend to head to the lesser-known independently owned shops on "The Nine Streets". Here, you will see both vintage and designer boutiques along the canal. On top of this, there are plenty of cozy cafés to grab lunch, if you are still hungry.
The Nine Streets – De 9 Stratjes | Location | Website for overview of the shops and opening hours – also opened on Sundays
Take a canal cruise (at night)
After all this walking, consider to take a canal cruise. It's a very romantic, and unique experience – especially in summer when the sun arises or sets.
Moreover, you could easily get around the city by water. Amsterdam has some great hop on hop off canal cruises that will take you to some of the popular areas in the city, and provide some great views while doing so. It's a beautiful way to see the city, especially when you are only for one day in Amsterdam.
Get your ticket right in the morning and start your day by some hop on hop off sightseeing experiences on the water. You can use the ticket for the rest of the day.
1 hour evening canal cruise | 17:00 – 22:00 Mon-Sun | €13 per adult | Cruises depart every 20 minutes
Hop on hop off as much as you like | 24 hours Mon-Sun | €20,50 per adult | €25 for boat and bus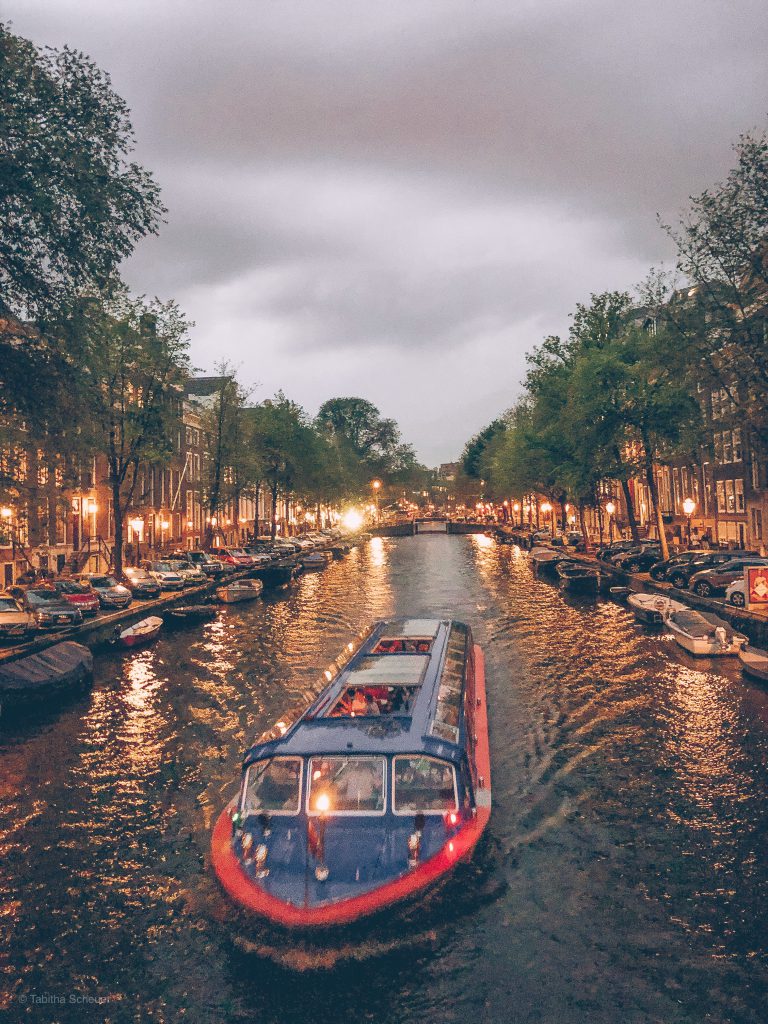 Visit Begijnhof – Amsterdam's hidden treasure
Begijnhof is a hidden treasure inside Amsterdam. It is one of the oldest hofjes, a group of historic buildings. Originally, it was a Béguinage which are architectural complexes created to house the beguines: lay religious women who lived in communities. It is actually hidden behind a door in the busy Spui but although it is right in the heart of the city, Begijnhof feels incredibly peaceful.
Begijnhof | 09:00 – 17:00 Mon-Sun | free | Location
Albert Cuyp Market
This is one of Amsterdam's best street markets and you will find street food, souvenirs, fresh fruits and fish along with clothing, flowers and batteries. Yes, batteries. Name it, and it's here. This street market has over 260 booths. If you're curious about herring, be sure to sample pickled or raw herring here.
Albert Cuyp Market | 09:00 – 17:00 Mon-Sat; Closed on Sundays | free entry | Location
Related: Amstergrammable, the best Photo Spots in Amsterdam.
Love this post? Share & pin it!