Vienna, Austria definitely is one of the most beautiful cities in Europe; full of stunning landscapes, beautiful architecture, and rich culture it literally is a traveler's dream! In today's post, I want to show you some of my favourite pictures that I took in Vienna, inspiring you to visit this beautiful city somewhat soon.
Photos of Vienna, Austria
Vienna is such a photogenic city that it is impossible to not be happy snappy all the time. Within this post, I will show you 30 pictures of Vienna that will make you want to visit Vienna – even when it's cold and snowy!
Karlskirche | St. Charles Church
I shot this picture early in the morning – which is around 8am during winter – and it was such a magical moment! When I was standing there, the lights in the church were still on and it started to snow. Couldn't have wished for a better start of the day.
Burggarten
I never would have thought that the Burggarten in Vienna would be so empty, but due to the weather there were very few people around and so it happened that I also had this space to myself! Lucky me.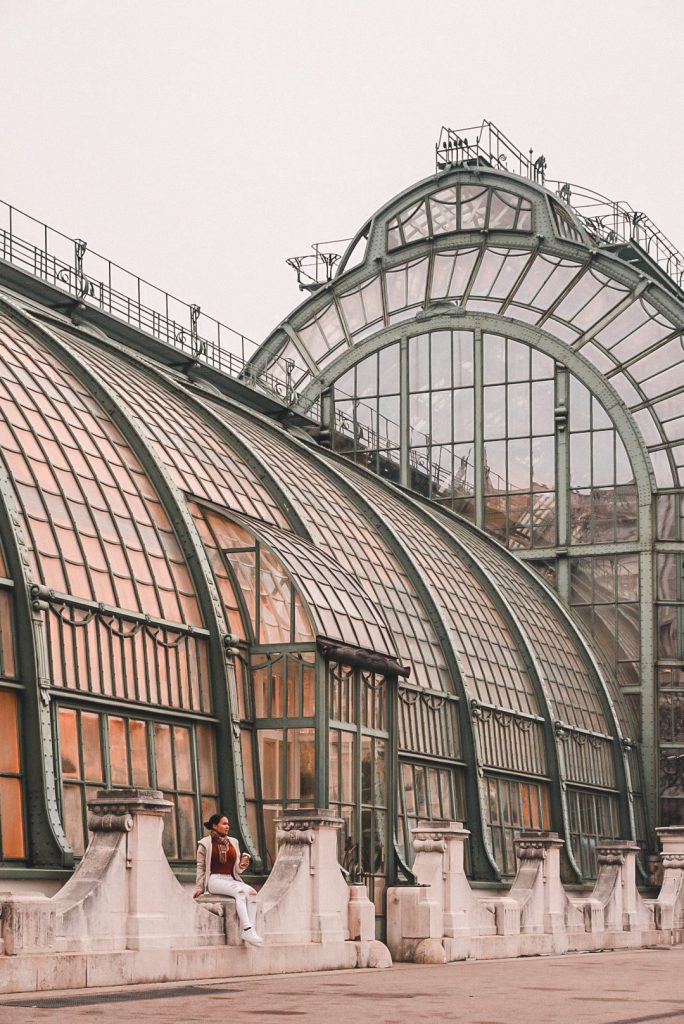 Vienna State Opera
The Vienna State Opera is a very special building! It is beautiful from the outside and inside and makes you suspect how magnificent the famous Vienna Opera Ball must be.
Are you searching for the most instagrammable places instead? I got you covered!
Belvedere Palace
When I arrived at Belvedere Palace in the morning, it was incredibly beautiful! Hardly any people around, complete calmness, twittering birds and a crunching layer of snow. This palace is truly a dream.
Peterskirche | St. Peter's Church
I love how this church peers shyly between the two buildings. Actually, the Peterskirche in Vienna is one of my favorite buildings in the city!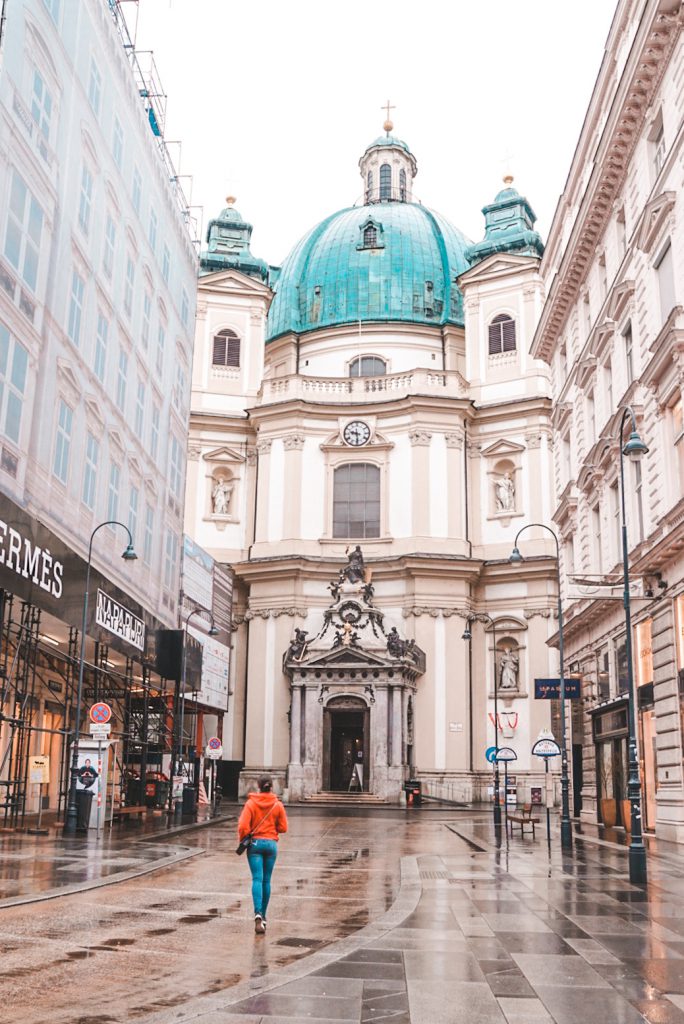 Wiener Prater
A visit to Vienna is not complete without the Vienna Prater, is it?. Even though it was partially closed due to the weather, I loved the popping colors of the ferry wheel.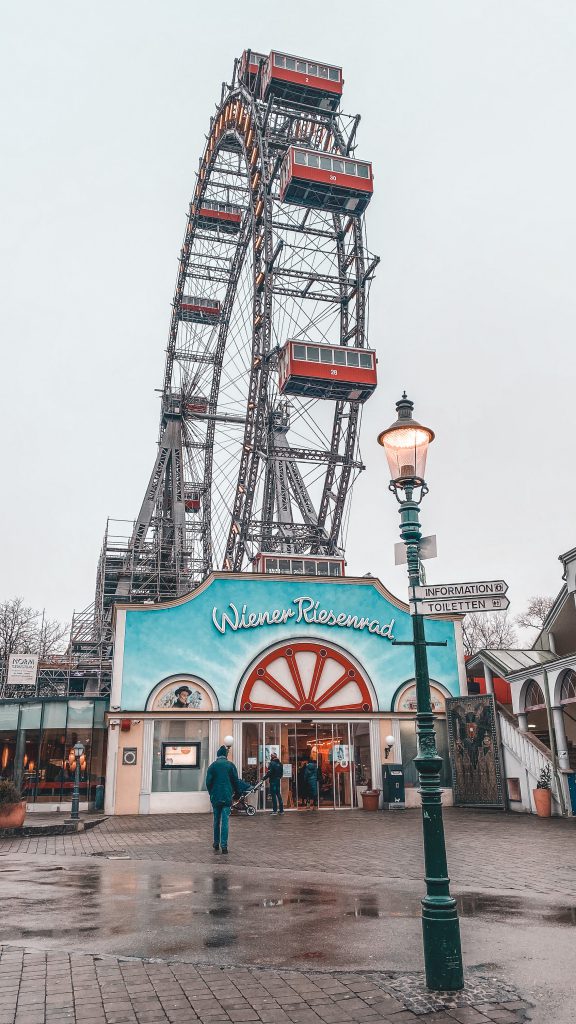 The Hundertwasser House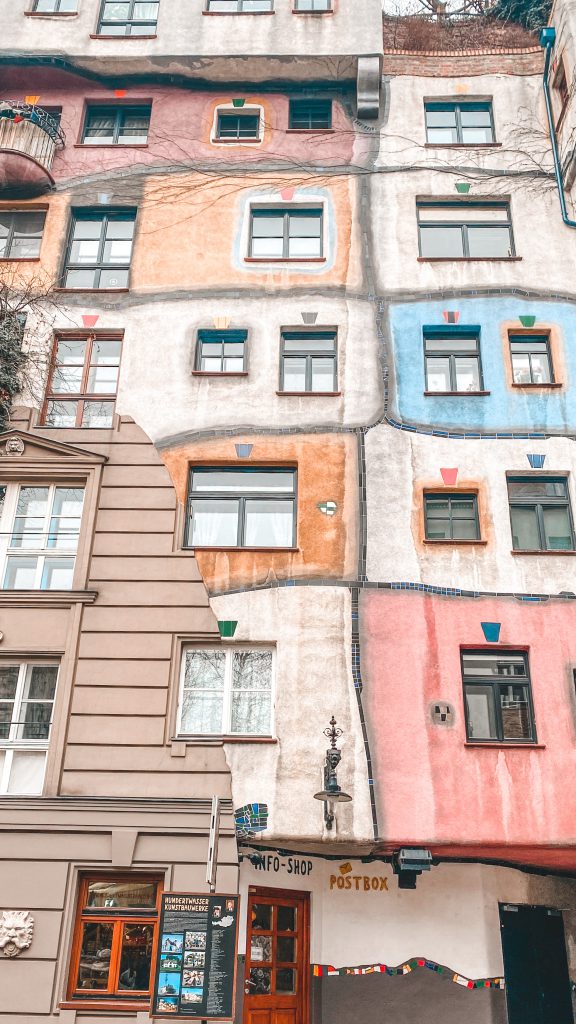 Hofburg Imperial Palace
The Hofburg Imperial Palace in Vienna is just unreal; the complex is huge, and you can hardly beat it in terms of beauty. It houses museums and the famous Spanish Riding School.
Read more about it here.
Vienna's beautiful inner city
Vienna's inner city is truly a feast for the eyes! You can hardly decide where to look first and you will always be surprised by new, architecturally hardly surpassable buildings.
Maria am Gestade, Vienna's oldest church
Maria am Gestade is the oldest church in Vienna. The stairs in front of her make them special.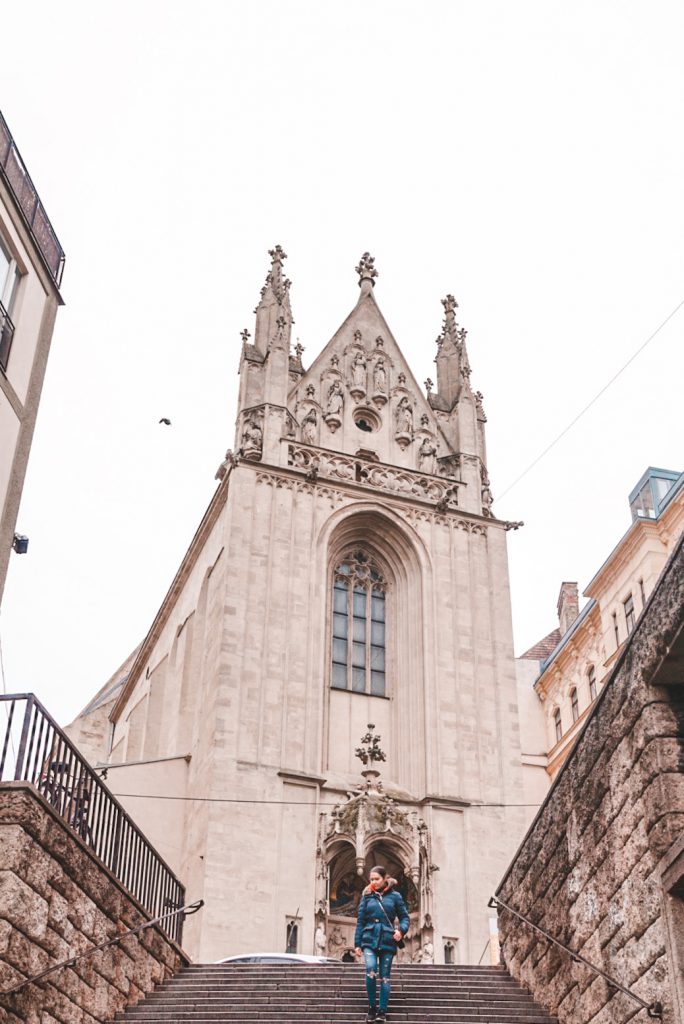 Maria-Theresien Platz
Maria-Theresien Platz in Vienna is surrounded by two museums that are extremely popular. The perfect activity on a cold, rainy day!
Read more about what to do in Vienna here.
The university and the palace of Justice
The University of Vienna and the Palace of Justice are by no means the two most beautiful that I have seen.
Last, but not least: All the delicious food!
I mean, Austria is generally known for delicious food, but Vienna is home to the most famous cake in the world: the Sachertorte. You will also read "Sachertorte" in other cafés or shops, but you can only get the original in Hotel Sacher or its café. I admit, it's a bit pricey but totally worth it!
Related: Vienna Instagram Spots.
Pin this post!