During our several road trips through Italy, I fell in love with one city in particular: Florence. This city just puts a spell on you. It begins with delicious food, beautiful architecture, art history, and sitting in little cafés drinking the best espresso.
In this post, I will tell you everything you need to know for a trip to Florence. If you're still wondering if you should travel to Florence: absolutely yes!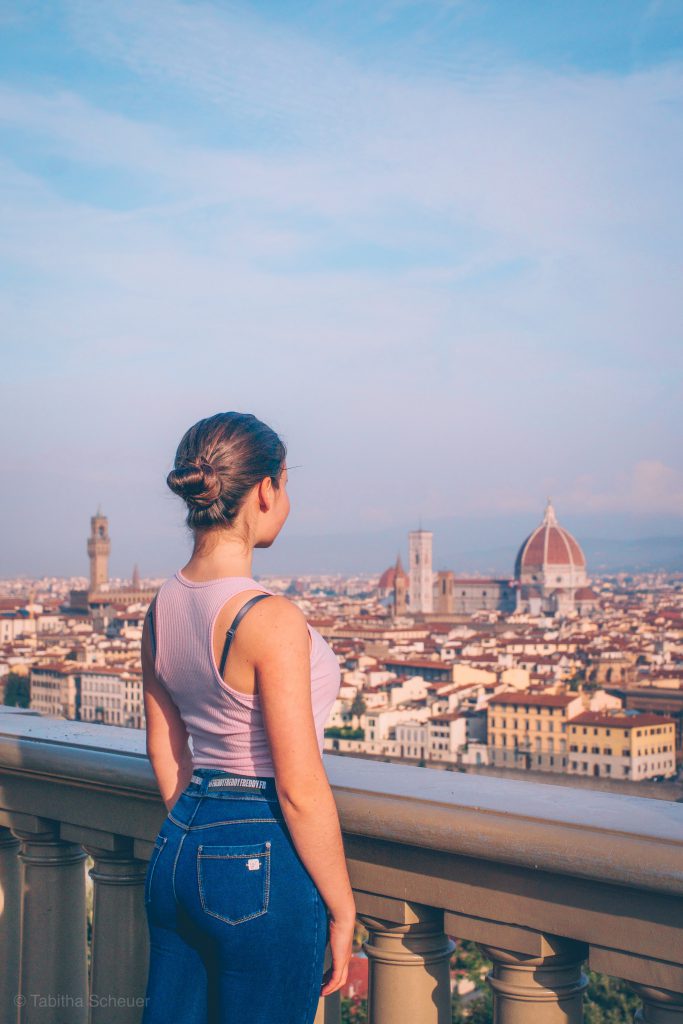 The ultimate guide to Florence, Italy
Florence is one of my favorite places in the world. If I had the chance to travel to Florence I would rather go today than tomorrow.
This love affair began with a road trip through Italy: from north to the south, all by car. The time we spent in the city stole our hearts. I love wandering the cobblestone streets, taking in the historic buildings, get a panini and eat it whilst enjoying the sun, and get an espresso right away.
Florence is famous for its art history, museums, architecture and – obviously – food. Throughout our time in the city, we made sure to find some of the best food spots in the city; I mean – just look at that croissant!
After we went to a restaurant recommendation that we found on another blog and saw the prices (€10 for a croissant btw), we decided to look for something of our own. We found some of the best caffè (espresso) and food! You will find our favorites in this Florence Guide.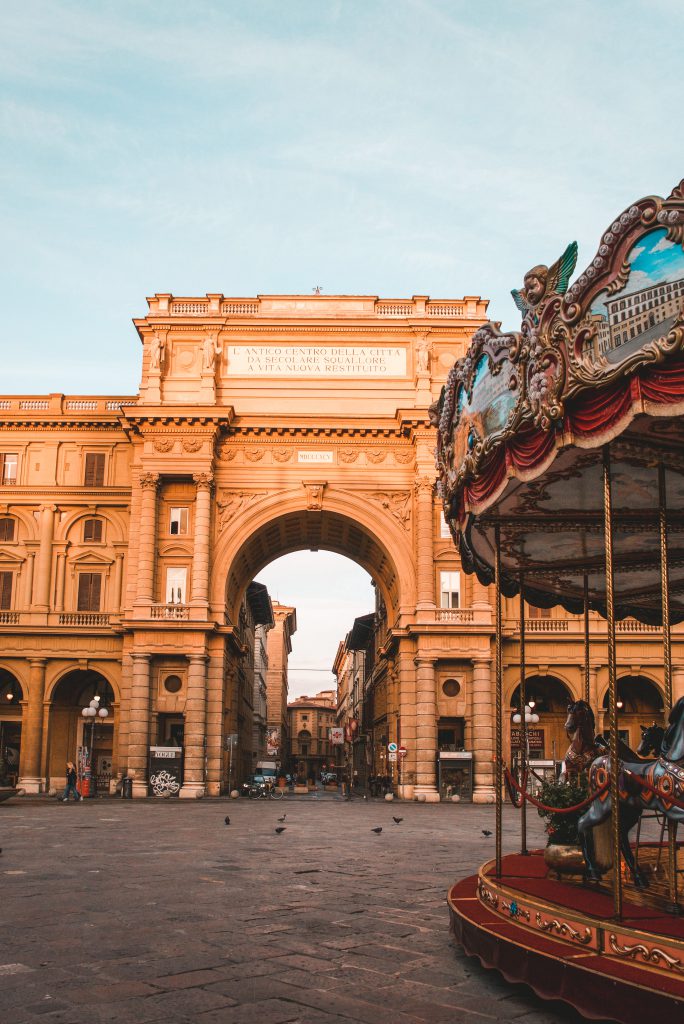 Best things to do in Florence
Florence was the heart of the Italian Renaissance and hence, is home to many masterpieces. You can step back in time by visiting the numerous museums and historic buildings.
Here are some of my favorite places:
THE DUOMO – You cannot go to Florence without visiting the duomo. It is one of the most prominent symbols of Florence. I first saw the duomo in the evening (when we arrived) and was absolutely amazed by this architecture, the heights, the love in every detail. I stood there for a whole 10 minutes just looking at this masterpiece.
PIAZZALE MICHELANGELO – In summer, it is a perfect place to enjoy a bottle of wine while watching the sunset. During the day, it is a very popular place to overview the city. It's breathtaking.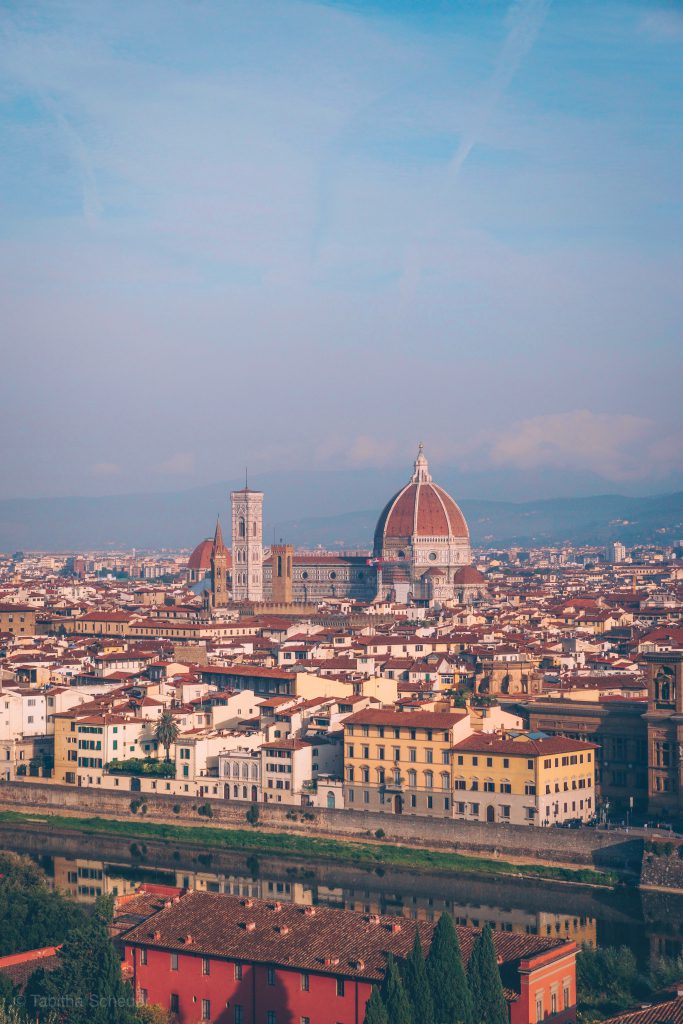 PONTE VECCHIO – Also known as: The bridge with the houses. Florence's oldest, and most famous bridge. It's been the only bridge until 1218. The current version was built after a flood in 1345.
It's also the only bridge that the Germans did not destroy in the city during World War II. Today, the bridge is still full of jewelry shops, but it is said that some people still live in the apartment above the shops.
UFFIZI GALLERY – If you are an art lover, you won't want to miss visiting the Uffizi Gallery. With countless masterpieces, the museum gives an interesting look into the Italian Renaissance period.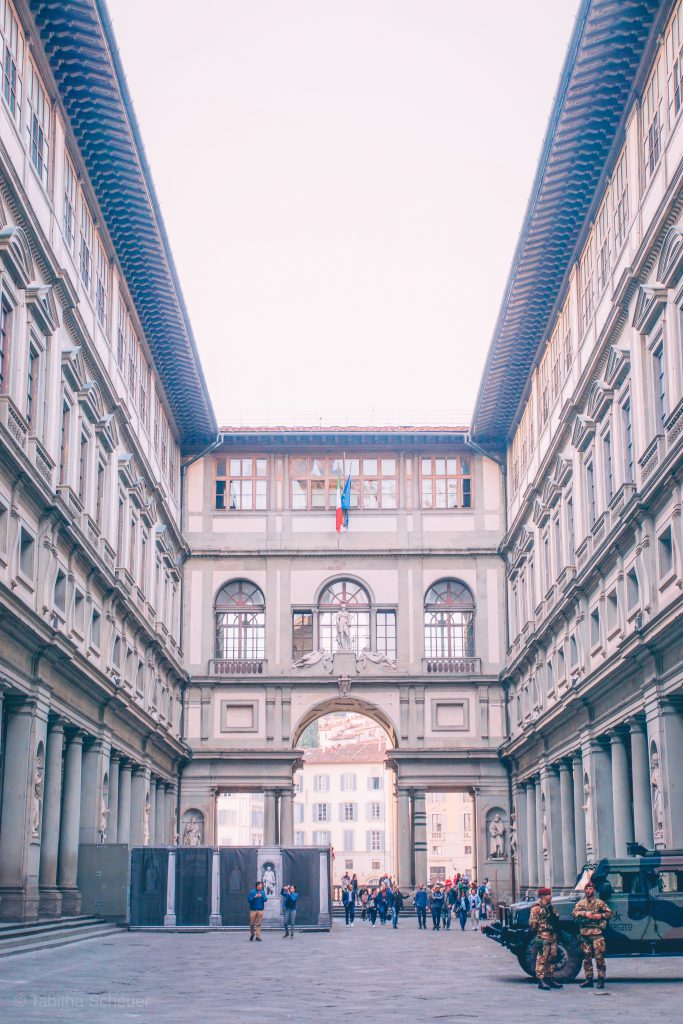 GALLERIA DELL'ACCADEMIA – You absolutely need to reserve your tickets online. We skipped on this activity due to this fact. If you want to see the famous David statue, then you should book it well in advance.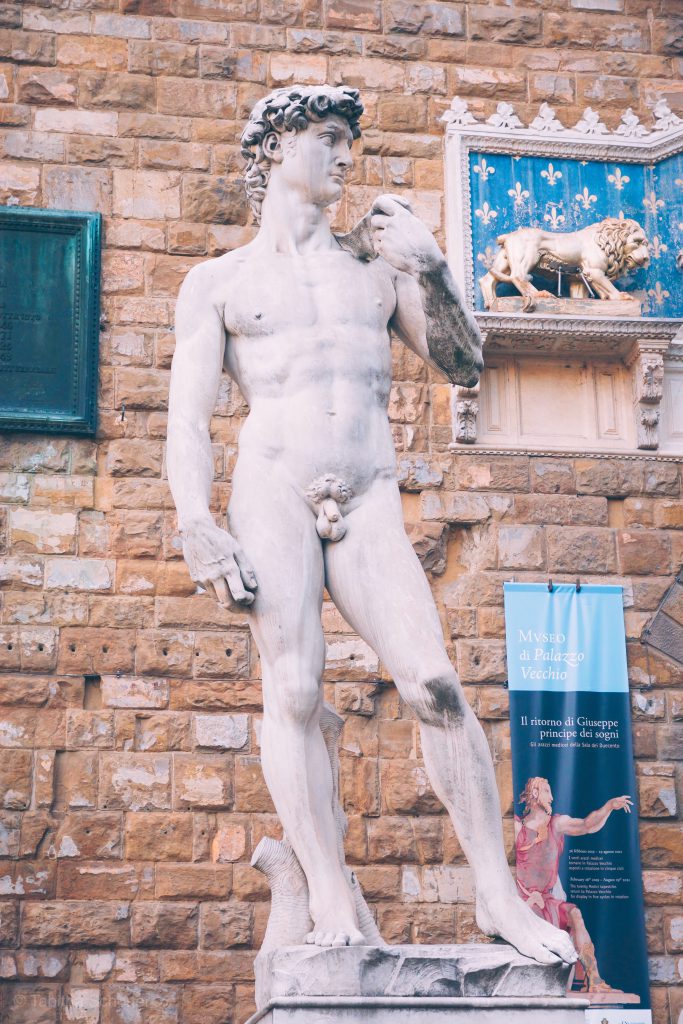 Where to eat in Florence
I mean, how could you not love Italian food? One of my favourite things in Florence is the Florentine steak and panini. Did you know that Florence is famous for its Bisteca alla Fiorentina, Lampredotto, Papardelle al cinghiale and Paninis?
BREAKFAST |
Caffè Perseo – They literally have the best croissants!
New Café – You'll be amazed by the latte art.
LUNCH & DINNER |
La Proscuitteria – This place has the most delicious charcuterie boards with a great ambiance.
All'Antico Vinaio – A very crowded place, but the line will move fast. I promise, you won't regret waiting ~15 minutes.
GELATO |
Santa Trinita – Seriously the best ice cream I've ever had!
La Carraia – Some of the best lemon ice cream.
Vivoli Gelateria – The oldest gelato shop in Florence.
How to get to Florence
BY CAR | Do it as we did and plan a road trip through Italy! You won't regret it, I promise. Florence is easily accessible by car, but once you arrive, you'll want to park on the outskirts of the city. Parking is free on Sunday, but otherwise costs €8 for 8 hours. Do not worry, you can easily walk Florence.
BY TRAIN | If you're already in Italy, taking the train is a popular option. Just search for trains on trenitalia. Tip: The earlier you book the train, the cheaper the ticket is.
BY PLANE | Florence has an international airport, Aeroporto di Firenze-Peretola, located about 30 minutes from the city center. The easiest way to get into the city center is by taxi which generally costs around €25.
MY RECOMMENDATION: If you have more time, I'd hands down go for the road trip. But let's say you just have a long weekend of ~4 days. Then, I would fly into another city (just as flights into Florence can get very pricey) and take the train to Florence. Usually, this will only set you back €10-15.
Where to stay in Florence
During our stay in Florence, we booked with Airbnb. It cost us €40 per night and it was a good decision since we did this trip very spontaneously and the Airbnb we had was superb: Clean, hosted by nice people, and also included some food. Yum!
If you want, you can save up to €40 for your first trip.
Sharing is caring! If you liked this post, I'd be happy if you'd pin it to one of your boards.