Home to a million-and-a-half people, historical sites, pretty squares, fascinating museums, magnificent churches, and rich architectural heritage, Munich has far more to offer than just Oktoberfest. No matter if you want to stroll around in the English Garden, see impressive churches, or admire ancient sculptures, there's something for everyone in Bavaria's capital.
If you're in Munich for a weekend, I recommend to switch over to this itinerary on a weekend guide to Munich. If you are visiting Munich for a day, then this is the perfect itinerary for you. Whichever way you'd like to travel Munich, it's definitely one of the best German cities you could visit.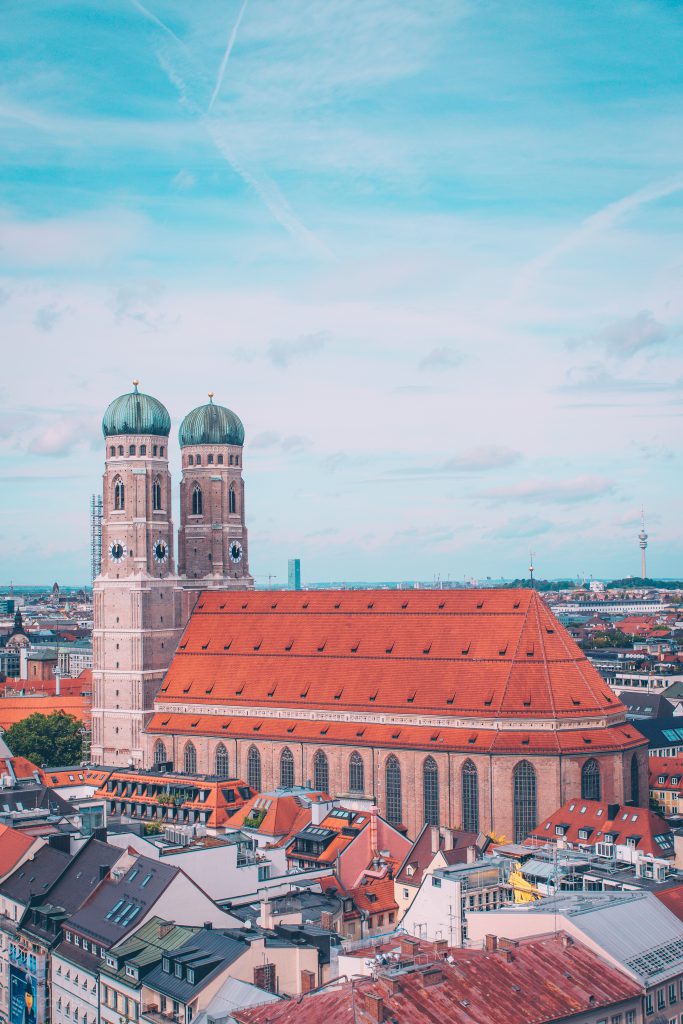 DAY 1 AM / Explore the local culture
DAY 1 PM / Everything around Marienplatz
DAY 1 Evening / Eat like a local at Hofbräuhaus am Platzl
Why go to Munich?
Get yourself some delicious beer in one of the plenty beer gardens
Attend Oktoberfest like a local
Explore one of the most beautiful cities in Europe
Enjoy the combination of the facilities of a modern city with a rich cultural history and diversity
Beautiful state of the art buildings, streets, and lots to explore
Day 1 AM / Explore the local culture
Viktualienmarkt
Begin your first day in Munich by grabbing breakfast at the popular local market called Viktualienmarkt. The Viktualienmarkt is a food market and square in the center of Munich nearby the Marienplatz. It opened in 1807 and was originally a farmer's market which has evolved into a gourmet food market. Now, you can find over 140 stalls offering fruit, cheese, flowers, meat, and much more. There is also a beer garden here that seats around 600, so you can buy food from the market stalls and enjoy a beer with your meal. In the winter, you can also buy warm Glühwein if it's too cold for beer! Sounds way too good to be true and is definitely the perfect start for your stay in Munich.
Viktualienmarkt | 08:00 – 20:00 Mon-Sat; Closed on Sun | Location
Church of the Holy Spirit
Church of the Holy Spirit or Heiliggeistkirche is a 14th century church, built in Gothic style. Its interior is decorated with sculptures and beautiful paintings and frescoes. This church is also known as the Holy Ghost Church.
I loved the beautiful interior! Although it might not look like this from the outside, it is an incredible experience inside.
Church of the Holy Spirit | 07:00 – 18:00 Mon-Sun | Location
Marienplatz
Make your way north to Marienplatz, the center square of Old Town Munich, and a hub for main attractions in the city. It has been Munich's main square since 1158, so there is a lot of history among the cobbled streets surrounding the square. Perfect to enjoy your day in Munich, as you won't have to travel far distance. By doing so, you'll have more time to enjoy each sight.
Make sure to arrive in time to see the famous Glockenspiel. It performs up to three times a day, depending on the season.
Marienplatz | 24 hours | Location
Day 1 PM / Everything around Marienplatz
New Town Hall
A huge Gothic style building, home to the Glockenpsiel of Munich, directly located at Marienplatz.
The famous Glockenspiel is every day at 11am, 12pm, and 5pm from March until October. It lasts for 12-15 minutes.
New Town Hall | 09:00-18:00 Mon-Sat; Closed on Sun | Location
Old Town Hall
Built in the 15th century in Gothic style, this building was a completely destroyed during World War II and was later restored. It's now home to a toy museum, still super beautiful to admire from outside. As it is only a few metres away from New Town Hall, it's a quick visit for your day in Munich.
Old Town Hall | 10:00-17:30 Mon-Sun | Location
Church of St. Peter
Being one of the most beautiful churches I've ever seen, I'd highly recommend to spend some time here. Many people only run in there in order to get views of the town square below. But – really – try to pause for a moment and go explore inside the church. Even if you only have one day in Munich, this will totally be worth it.
Afterwards, take the stairs up to the top. It's no less than 299 stairs until you reach the top. If the staircase didn't steal your breath away, these views sure will.
Church of St. Peter | 09:00-18:00 Mon-Sat; 10:00-18:00 Sun | €2 for students; €3 per adult | Location
Church of our Old Lady & Devil's Footstep
Located closely to the Marienplatz, the Church of Old Lady is an iconic symbol and landmark of the Bavarian capital. This is definitely something you cannot miss even if you're only for 24 hours in Munich.
Germans lovingly call it 'Frauenkirche'. The Cathedral Church of Our Lady dates back to 1488, and is the main church of South Bavaria. The signature feature of the church is a rogue footprint found near the door which is said to be from the devil himself.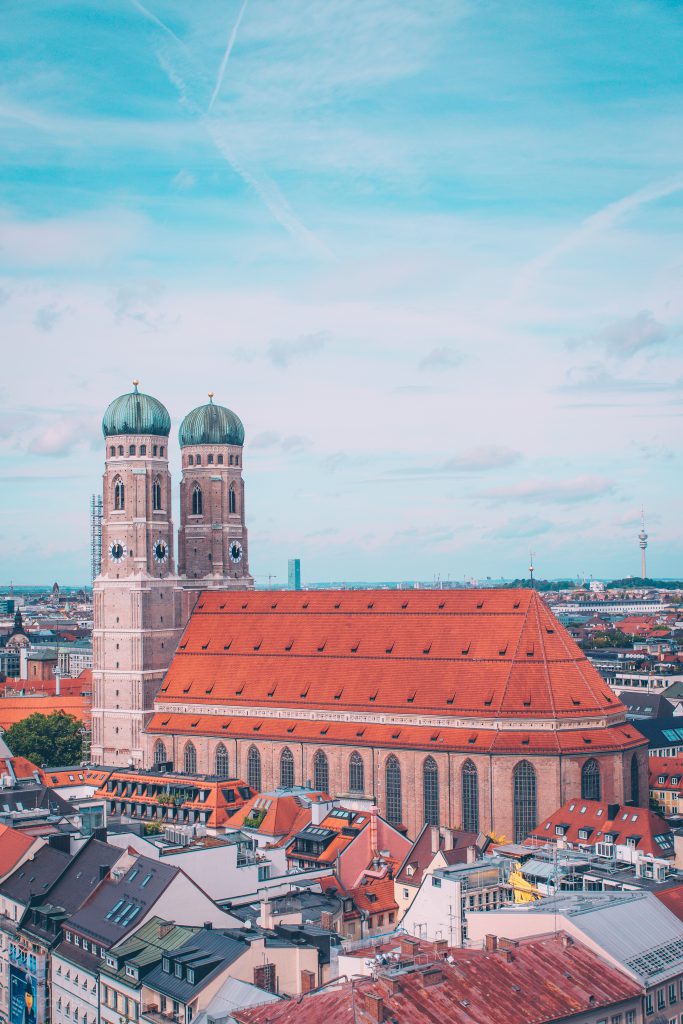 Back in the day, building a church of this size would take many years. Approximately around 80 years or more. Hence, you can imagine the surprise of the people when this particular church was completed in just 20 years.
However, the legend has it that the devil himself assisted in the building of the church, giving the reason as to why it was completed so fast. The devil wanted a church to be built with no windows, so that he could enter the house of God and spread his vile teachings while being obstructed from the light of day.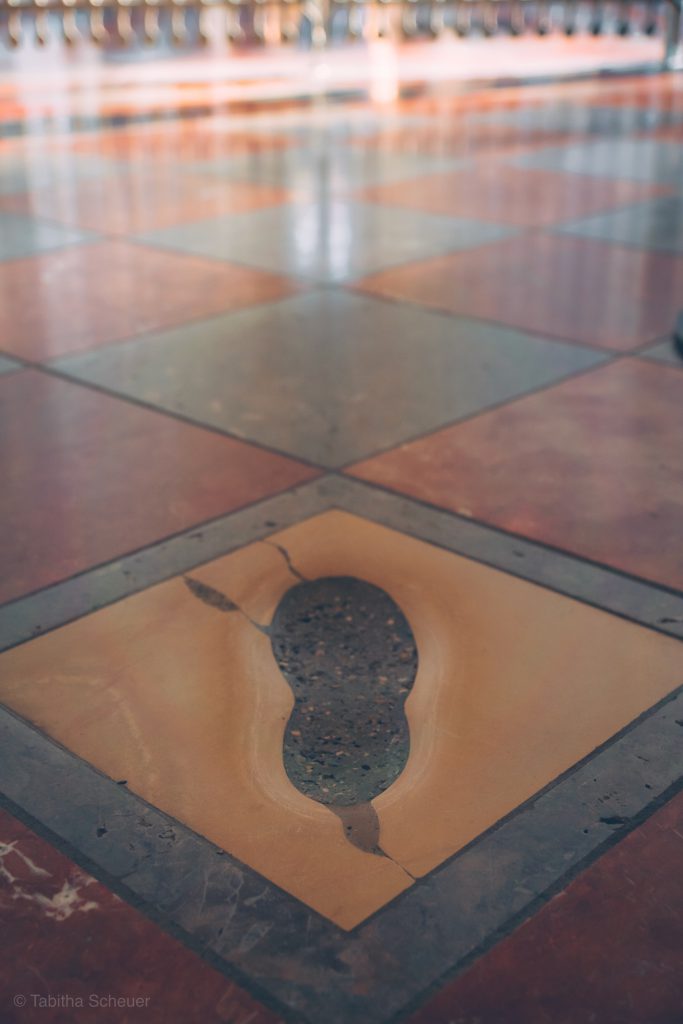 Now, the builders were quite clever and constructed the back of the church without windows. When the devil would enter, he would think the church was built without windows. Much to his surprise, the day the church was finished, the devil went to the front of the church where he discovered massive windows letting in the light from the heavens.
Raging, he stamped his foot and disappeared leaving a large footprint in the back of the church.
Church of our Old Lady | 07:30-20:30 Mon-Sun | Location
Bavarian State Opera
The National Theater is a historic opera house, home of the Bavarian State Opera, Bavarian State Orchestra and the Bavarian State Ballet.
Bavarian State Opera | Location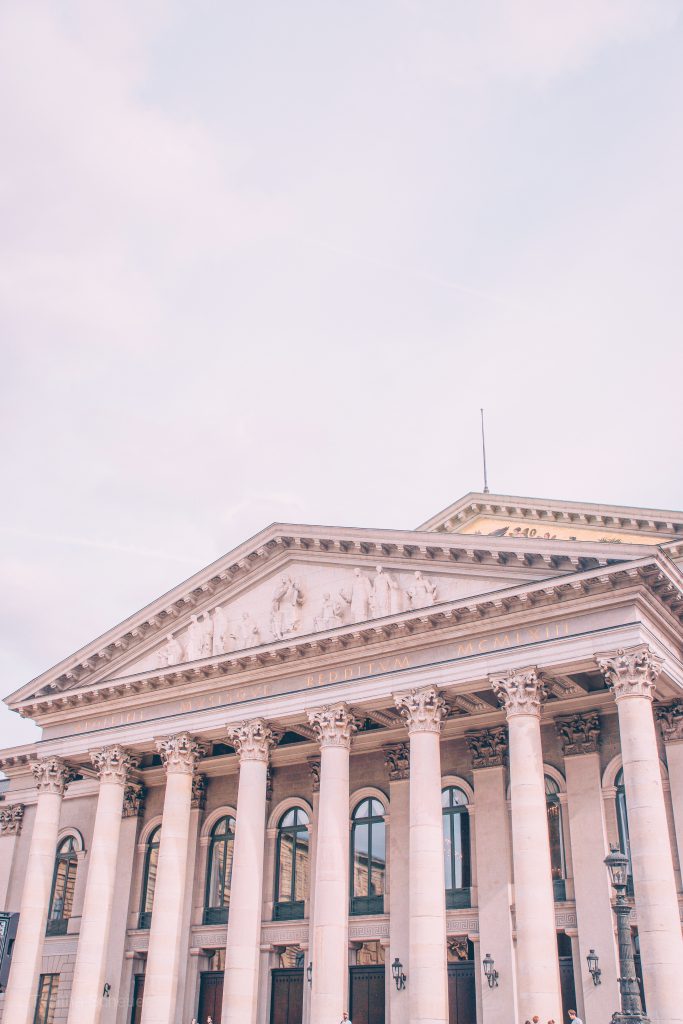 Cuvilliés Theatre
Built in 1755, this theatre is built in the Rococo style, famous for its tiered layers and box seating.
Aside from the stunning architecture, operas are still performed here till this day so be sure to grab yourself a ticket to get 'the full experience'.
Unfortunately, we didn't have had enough time to do so, but it is one of the most important theatres in Germany.
Cuvilliés Theatre | 14:00-18:00 Mon-Sat | €3.50 | Location
Munich Residenz
I can't recommend a visit to the Munich Residenz enough, I've never been so overwhelmed and awed with a royal palace than at The Residenz Munich. It's the former royal palace of the Wittelsbach monarchs of Bavaria. The Wittelsbach were a royal family who ruled over Bavaria. With 130 rooms to visit, each of which are more luxurious than the last, you definitely won't be bored here.
Munich Residenz | 09:00-18:00 Mon-Sun | €12 | Location
Odeonsplatz
The Odeonsplatz is a stunning 19th century square encircled by elaborate buildings with ornate architecture. Its located to the north of Marienplatz and is also closer to the Munich Residenz. Plan to pend about 30 minutes or more here.
Here, you can also find the famous Feldherrnhalle. It was commissioned in 1841 by King Ludwig I of Bavaria to honor the tradition of his army. You will see 2 Bavarian lions in the structure, one of which stands with its mouth open and other with mouth closed. This symbolizes the importance of speaking against the rulers but not the church.
This square has been the site of many events and struggles including Hitler's failed "Putsch" attempt in 1923 (Beer Hall Putsch).
Odeonsplatz | 24 hours | Location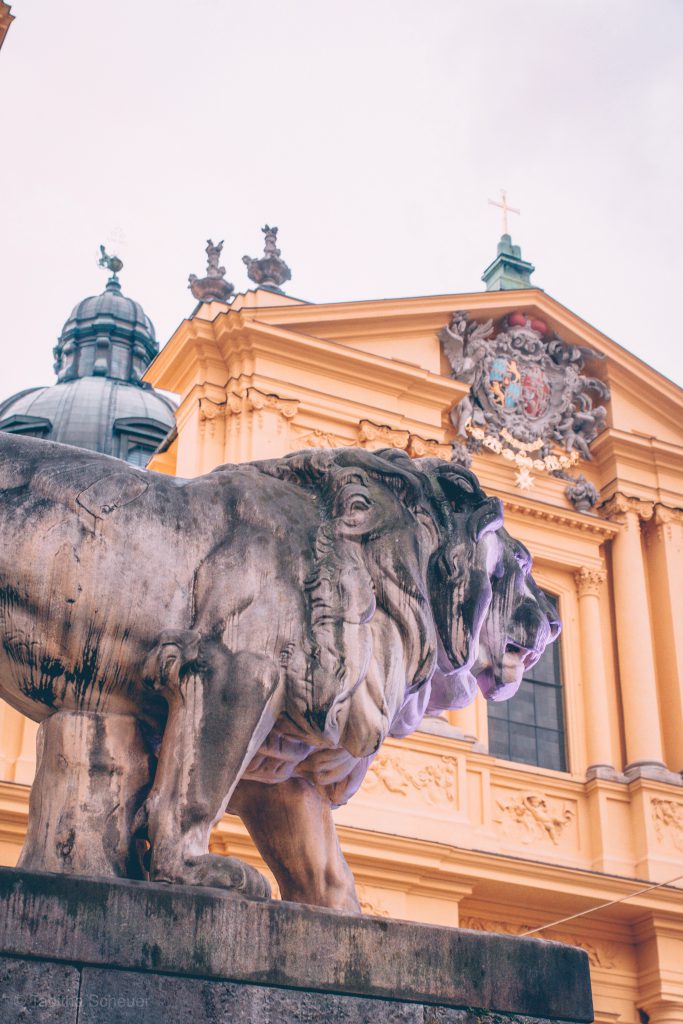 Day 1 Evening / Brezn and beer in a traditional beer hall
After you made it through this Munich itinerary, I'm sure you are hungry. What about Brezn and beer in a traditional beer hall? If you're travelling during summer months, you can – of course – choose a beer garden as well.
The Hofbräuhaus in Munich is a beer hall and Bavarian restaurant dating back to 1589. During Oktoberfest, the Hofbrau tent is the largest of all, holding nearly 10,000 seats (in addition to 1,000 seats inside the beer hall). As we visited Munich for Oktoberfest, it was one of a kind. It is not only the oldest beer hall, it has an absolutely incredible atmosphere.
Hofbräuhaus am Platzl is also very popular among the locals. You can take a guided brewery tour here except for Fridays and weekends.
Hofbräuhaus am Platzl | 09:30-22:30 Mon-Sun | €€ | Location
All the information you need to help plan your own Day in Munich itinerary
I believe that a little pre-planning, research, and understanding what you are looking for in a destination, will help make your travels far more successful. Here's some further information I think you might need to plan your own Day in Munich itinerary.
Best time to go to Munich
The best time to visit Munich is from March to May: fall's crowds have long since departed, and summer's peak season hasn't yet hit. But, if you are one of the millions who want to party at Oktoberfest, you will need to pack some warmer clothes and a coat. I visited Oktoberfest in 2019, and can say that it's really worth to be experienced at least once. Nevermind, I'd say it's better to travel Munich in calmer months. Oktoberfest takes place every year at the second-last weekend in September until the first weekend in October. Accommodation, transportation, and everything else will be much more expensive during these days.
How to get to Munich
You can easily get to Munich by train, car or fly to Munich Airport. From Munich airport, you can take the S1 or S8 S-Bahn trains. They depart from the airport for the city center every 20 minutes. The journey will take approx. 45 minutes and will cost you €11.20.
Getting around in Munich
Subway or tram are the primary ways to get around in Munich. Every place that is not covered by them can be easily reached by bus.
If you want to explore the city on foot, you can reach the most important points in the city centre within a short time.
Otherwise, staying as a tourist in Munich Day Tickets for public transport are the best option. These tickets allow for unlimited travel on all Subways, S-Bahn trains, trams and buses from the time validated until 6:00 am the next day. A day ticket will set you back €6.70.
Related: Photo Spots in Munich.
Love this post? Pin it for later!