Amsterdam, a popular European travel destination where many people come to spend a few days or even a week. But, it's also very common for visitors to only have one day in Amsterdam. This may be due to a layover, a river cruise, or perhaps just a planned day trip from a nearby city.
I definitely would recommend to spend more than one day in Amsterdam, if possible, but you can also see and do a lot with a limited amount of time. Maybe you decide to come to this beautiful city again at a different time.
So, if you are short on time in the Dutch capital, here's how to make the most out of Amsterdam in only one day.
Itinerary for one day in Amsterdam
DAY 1 AM / Local Breakfast, Canal Cruise & Museums
DAY 1 PM / Lunch, Local Markets & Begijnhof
DAY 1 EVENING / Enjoying the sunset at a canal
Why go to Amsterdam?
Beautiful canals to get lost at
Stroopwafels
Local markets
Old, pituresque buildings
Delicious food
Begijnhof, one of the oldest hofjes
Day 1 AM / Local Breakfast, Canal Cruise & Museums
I really tried to keep this itinerary more low-key. Obviously, it is possible to pack in more activities, but – at least to me – half the fun of Amsterdam is getting lost along its gorgeous canals.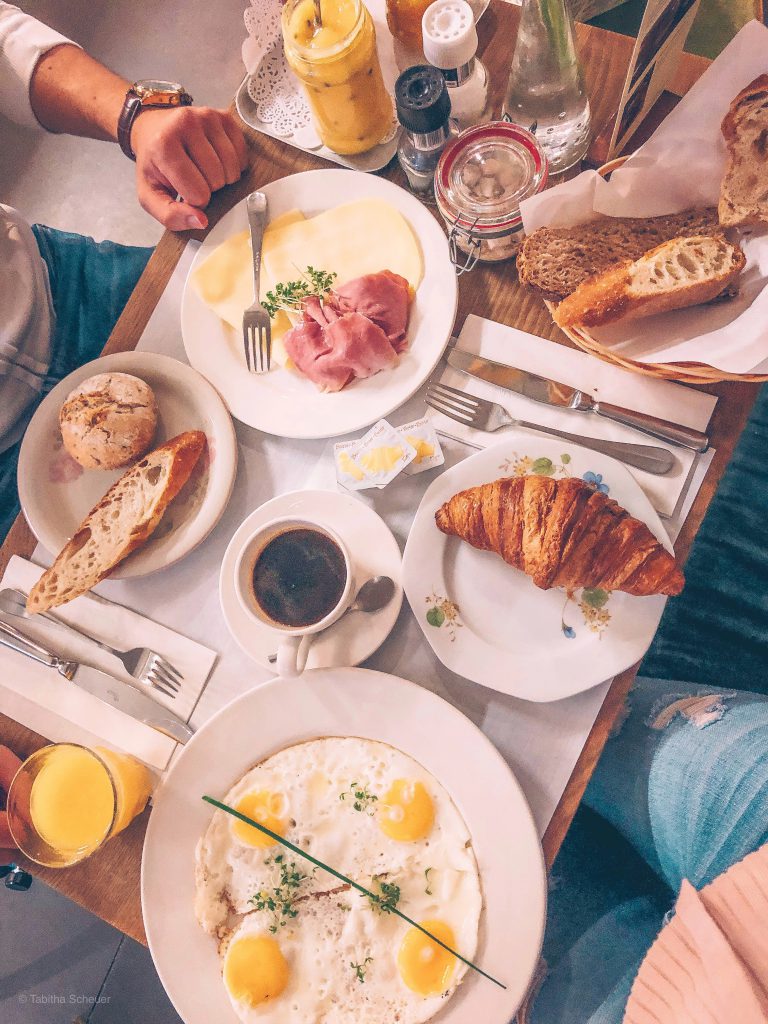 Local Breakfast
Start your day in Amsterdam by getting yourself a delicious local breakfast. We ended up with some eggs, croissants, bread, brioche, orange juice and coffee. Cheese, ham, and different jams made it perfect! If you're in Amsterdam, try to get to De Bakkerswinkel and enjoy some good food – be sure to try the jam. The mango & passionfruit one was my favorite.
De Bakkerswinkel | 08:00 – 17:30 Mon-Fr; 09:00 – 18:00 Sat & Sun | €20 | Location
Canal Cruise
I really love walking through cities, but every time I'm in Amsterdam, I end up nearly being killed by a bike. Or a car driving too fast. The bike culture in Amsterdam is huge. If I've learned one thing: Don't stop. No matter where you go and if you're nearly being killed by a bike – do not stop, never. Just walk your way, and it'll be fine. I made the mistake to stop (for a bike) and I don't know how they manage to do so, but it felt really risky. I guess it's just really uncommon that someone stops by and they don't anticipate this behavior.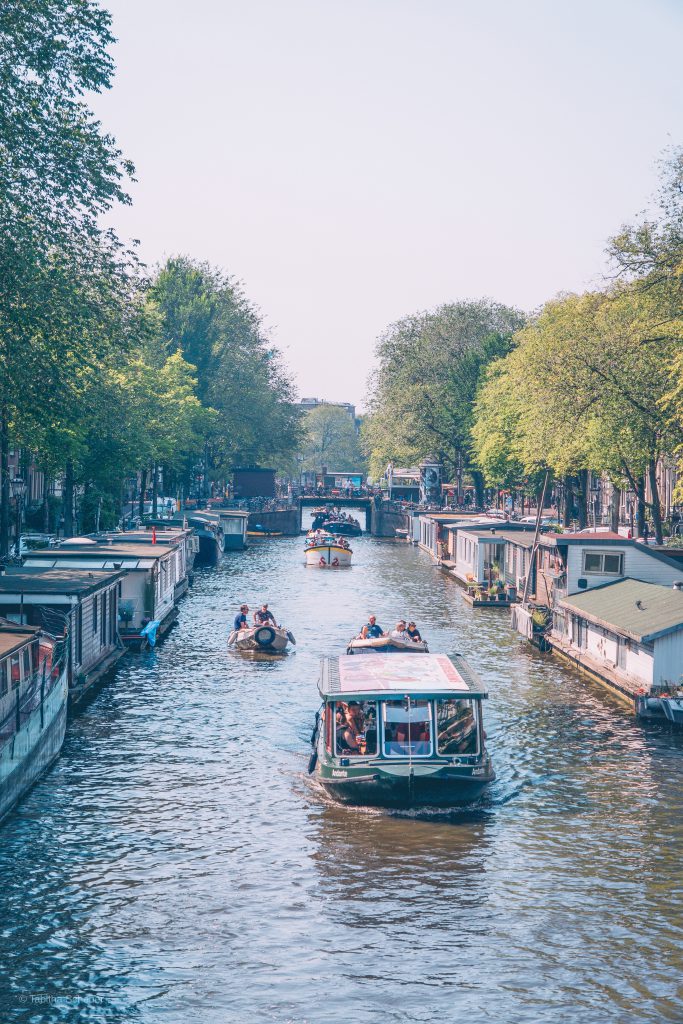 Anyways, besides being killed by a bike, there are plenty other reasons to do a canal cruise. You'll get a unique experience of Amsterdam by doing so. Plus, it's not that expensive. An hour ride only costs around €13. Amsterdam has some great hop on hop off canal cruises that will take you to some of the more popular areas in the city, and provide some great views while doing so.
Canal Cruise | various offers in Amsterdam, usually available until 10pm | €13
Visit one of Amsterdam's Museums
Amsterdam has a seemingly endless number of really impressive museums. With only one day in Amsterdam, you will not have enough time to explore them all. Pick one and take your time there. I suggest choosing the Anne Frank House.
It's best to decide ahead of time which one you would prefer because I absolutely recommend getting skip-the-line tickets in advance.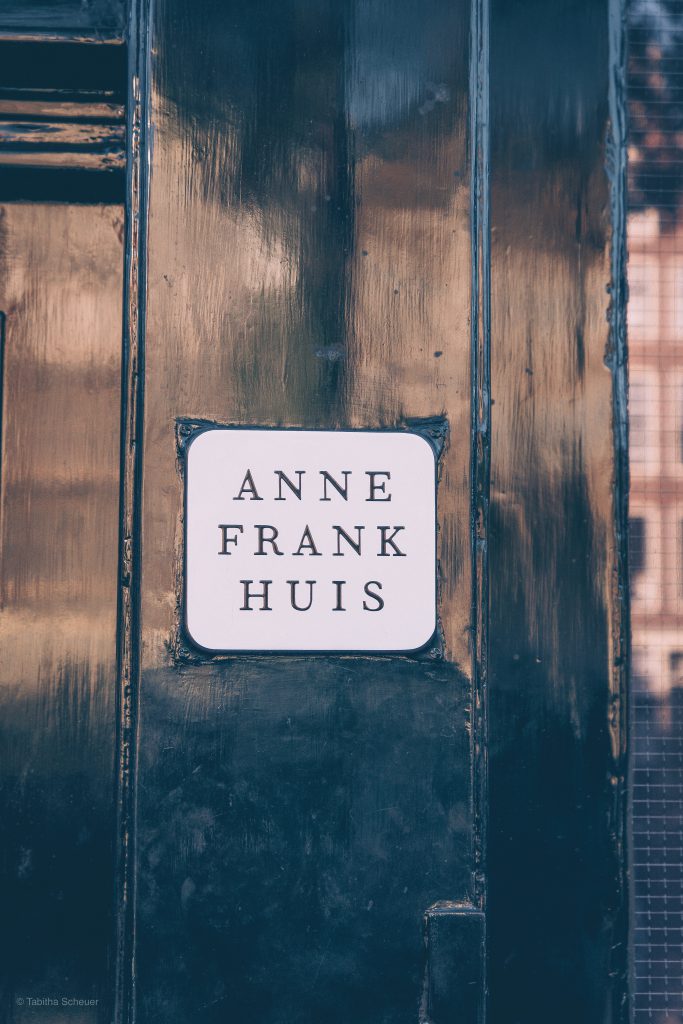 Especially the Anne Frank House gets really crowded once it's opened. Since you only have one day in Amsterdam, I suggests to spend the time with something better than standing in line.
Anne Frank House | 09:00 – 22:00 Mon-Sun | €10 per adult | Location
Day 1 PM / Lunch, Local Markets & Begijnhof
Grab Lunch in Jordaan
Jordaan is a local neighbourhood in Amsterdam and, I think, one of the coolest parts of the city. It's also where the Anne Frank House is located.
The streets are pretty to wander, and there are plenty of shops, cafés and restaurants. Take a look at the menus as you walk by and see what sounds good for you. If the weather is nice, grab a seat outside and watch the world go by. I really love doing so.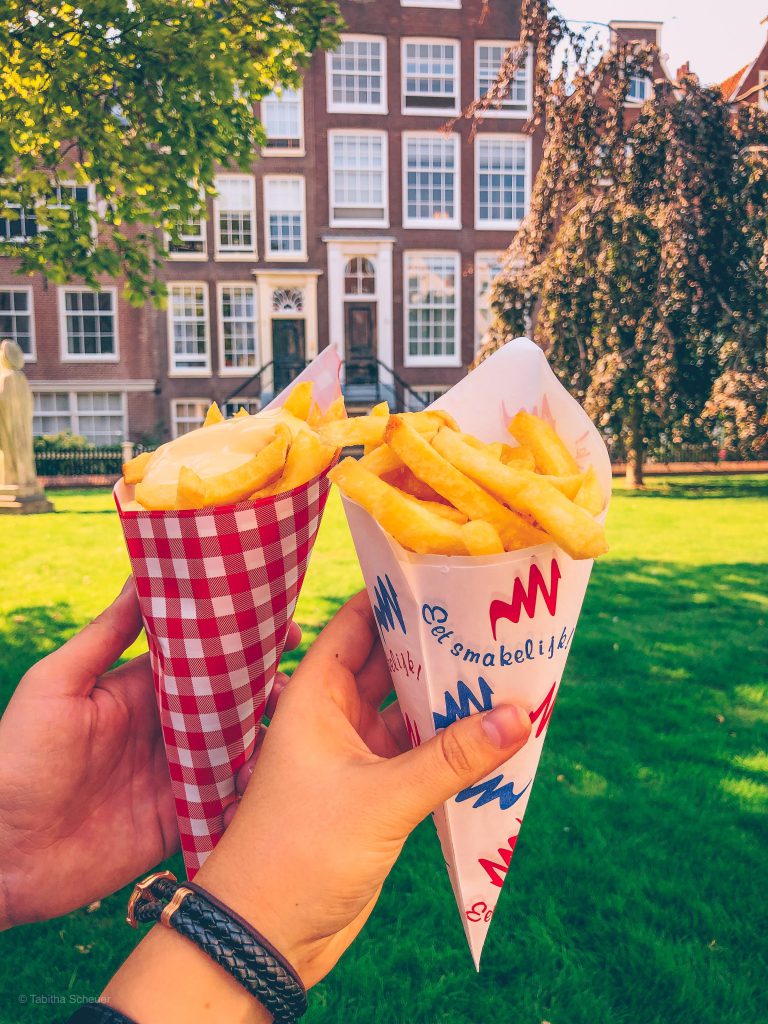 If you're more the person to get some 'to go'-Food, then I'd recommend to grab some fries and stroll around.
You definitely should not miss a Stroopwafel when visiting Amsterdam. Still warm, filled with caramel and topped with chocolate, and more caramel. You can choose between a great range of toppings, or eat it plain without anything but caramel.
By the way, if you're interested in a Stroopwafel recipe, click here for my favorite one.
Vlaams Frieteshui Vleminckx | 12:00 – 19:00 Mon; 11:00 – 19:00 Tue-Sun | €7 | Location
Van Wonderen Stroopwafels | 10:00 – 22:00 Mon-Sun | €8 | Location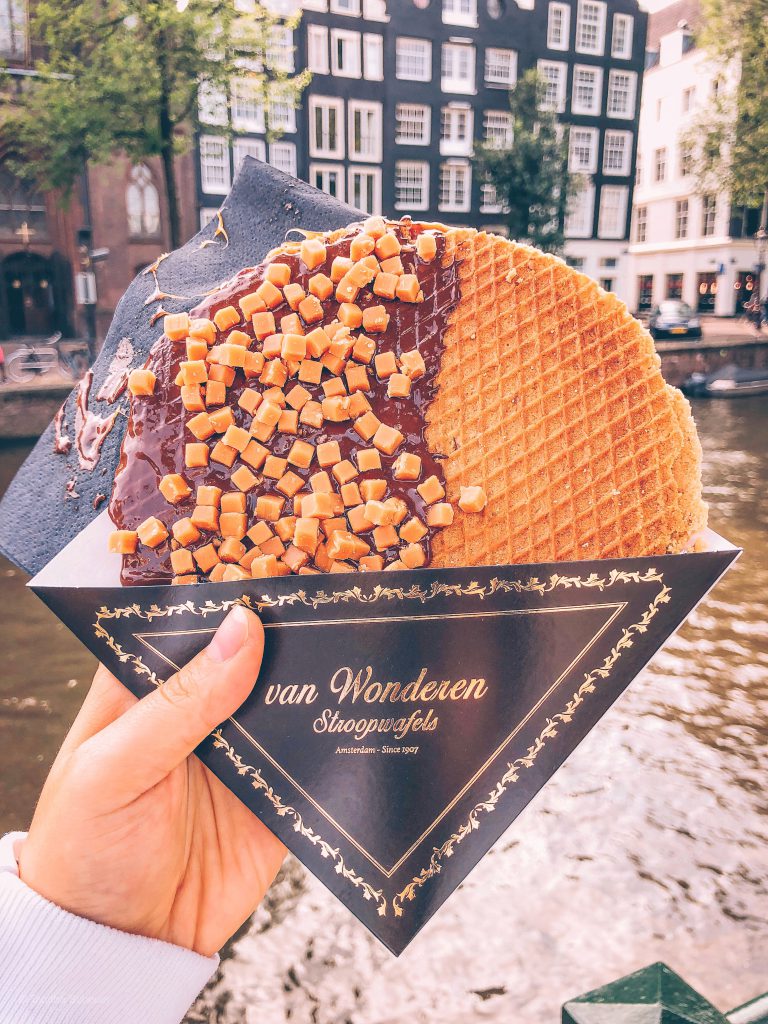 Local Markets
This is one of the experiences I loved the most: the local markets. It might seem like a strange suggestion for a one day in Amsterdam itinerary, but it's definitely worth your time.
Visit world's only floating flower market (Bloemenmarkt) and Albert Cuypmarket.
The Flower Market has been around since 1862 and is an important part of the city. You can find all kinds of flours here as a single flower, bouquets or even bulbs that you can take home. It's a colorful, but crowded place.
The Albert Cuypmarket was my highlight during our Amsterdam trip, and I'd really recommend to stroll around the market. You will find everything from food to clothing here. I didn't buy anything, but I enjoyed the experience nonetheless.
Bloemenmarkt | 09:00 – 17:30 Mon-Sat; 11:00 – 17:30 Sun | free entry | Location
Albert Cuypmarkt | 09:00 – 17:00 Mon-Sat; Closed on Sundays | free entry | Location
Visit Begijnhof
Begijnhof is a hidden treasure inside Amsterdam. It is one of the oldest hofjes, a group of historic buildings. Originally, it was a Béguinage which are architectural complexes created to house the beguines: lay religious women who lived in communities. It is actually hidden behind a door in the busy Spui but although it is right in the heart of the city, Begijnhof feels incredibly peaceful.
Begijnhof | 09:00 – 17:00 Mon-Sun | free | Location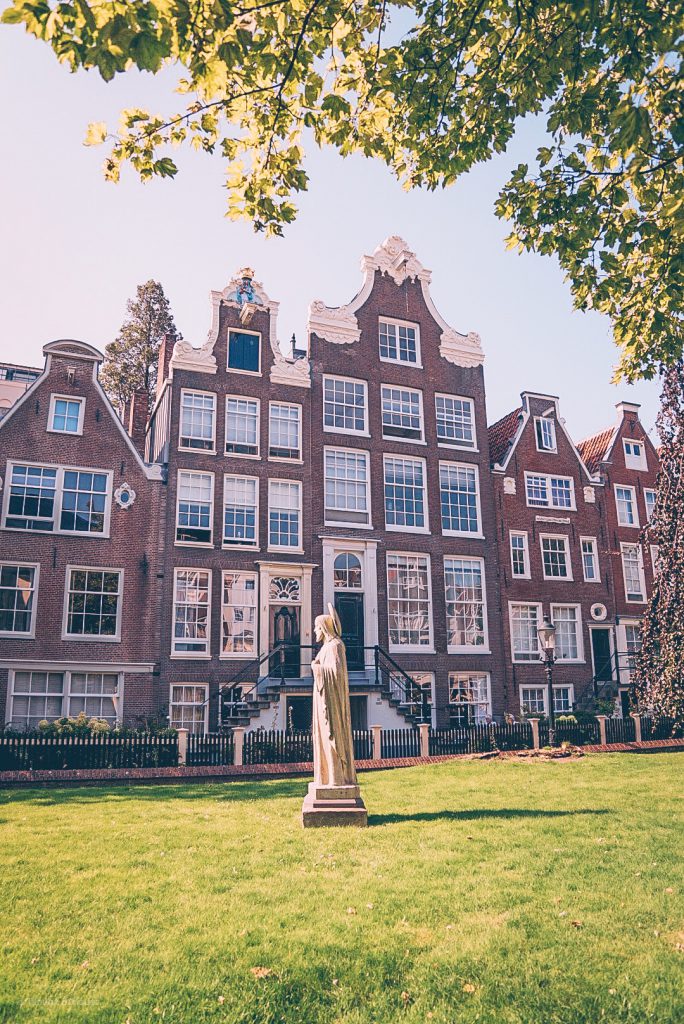 Visit Dam Square
If you have some time left, make sure to visit Dam Square. It is the heart of the city. Here, you will find all the kitschy tourist souvenir shops, higher priced cafés and restaurants. But you will also have the opportunity to see the Royal Palace, National Monument and Nieuwe Kerk, an incredible beautiful church.
Dam Square | all day long | free | Location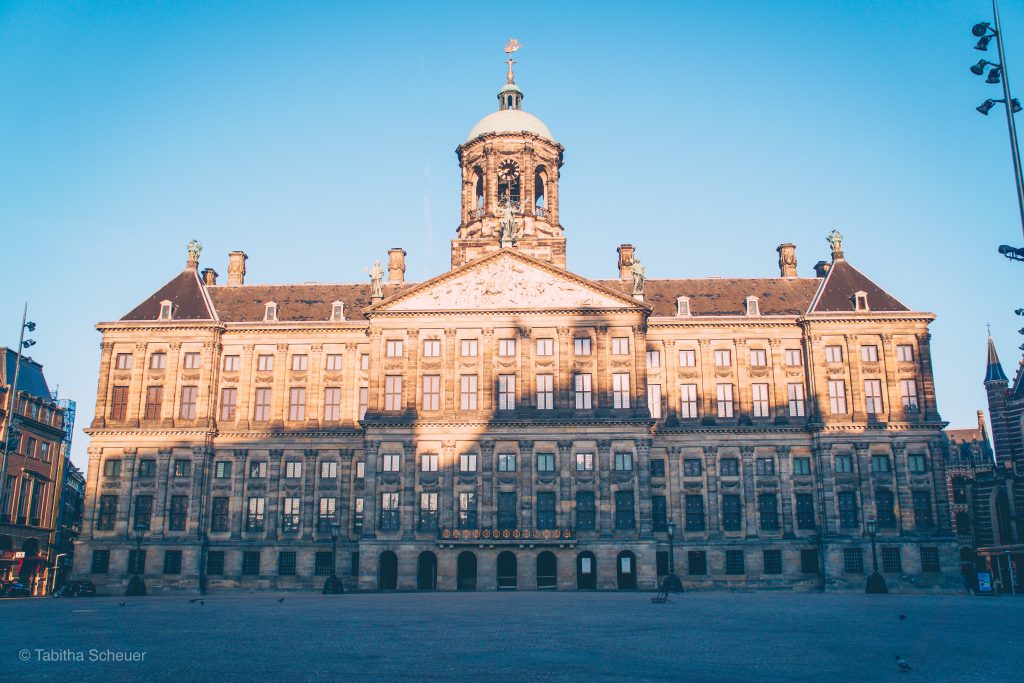 Day 1 Evening / Enjoy the sunset at a canal
Grab dinner at one of the local restaurants, but be sure to enjoy the sunset at a canal. It was incredible beautiful to see the sun go down at such a pituresque place. Plus, the people living in the houses were absolutely funny and made a tiny 'show', because they knew that many people were taking pictures of the houses they live in.
Dinner for two | costs around €35 – just walk by some restaurants and grab what sounds good to you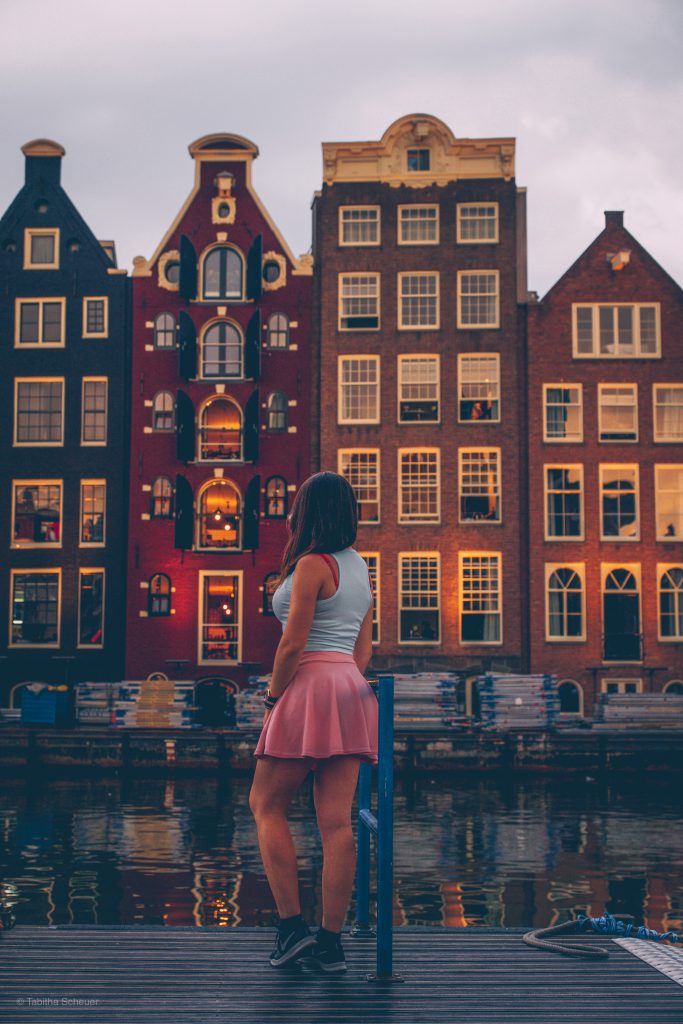 If you're curious about the Red Light District you can, of course, book a tour. I wouldn't suggest to wander around on your own. Especially since there is a lot of history in this area. Be sure that you don't take any pictures, it's strictly forbidden.
Enjoy the evening sun at one of the beautiful canals | free | Location
Curious about my other Amsterdam Posts? Check them out here.
All the information you need to plan your own Amsterdam itinerary
I believe that a little pre-planning, research, and understanding what you are looking for in a destination, will help make your travels far more successful. Here's some further information I think you might need to plan your own 1 Day in Amsterdam itinerary.

Best time to go to Amsterdam
Amsterdam is beautiful year-round, but spring and early fall are th best times to visit because you will get to see the blooming tulip fields, or enjoy incredible beautiful walks around the canals.
How to get to Amsterdam
Amsterdam Schiphol is the nearest airport. You can easily take the train into the city center. It only takes 20 minutes, and costs €5. A taxi wouldn't be much faster, but more expensive.
If you're living only 200-300km away, I suggest using the train to get to Amsterdam or take the car. It's far cheaper than flying from Dusseldorf to Amsterdam, for example.
Tip: If you're traveling by car, make sure to book a parking spot in advance. Parking in Amsterdam is incredibly expensive, and gets even more expensive when you haven't book one around 24 hours ahead.
Getting around in Amsterdam
All the destinations in this itinerary are within walking distance, but you can easily use one of the canal taxis, hop on hop off buses, or the tram. Taking a 'normal' taxi would probably be the most expensive version without being faster. I suggest to walk, or take a canal cruise.
Costs of my itinerary
The total cost of my Amsterdam itinerary, for two people, was €161.
With Sep 2019 exchange rates of €1.11 to the US Dollar; this equates to $177,49.
TOTAL COST
for 2 people, excluding transportation & accomodation
€161
€70 of food and drink for 2 people
€25 parking fee
€20 Anne Frank House
€26 for Canal Cruise
Related: How to spend a weekend in Amsterdam.
Pin this post for later!