When booking a trip to Marrakech, we not only wanted to stay in a typical Riad but also wanted to test different Riads in different price categories. Riad Al Jazira is also located in the Medina of Marrakech, but it is a little away from the Souks and Jemaa El Fna as well as other sightseeing spots. Here's how we experienced our stay at Riad Al Jazira.
Riad Al Jazira, Marrakech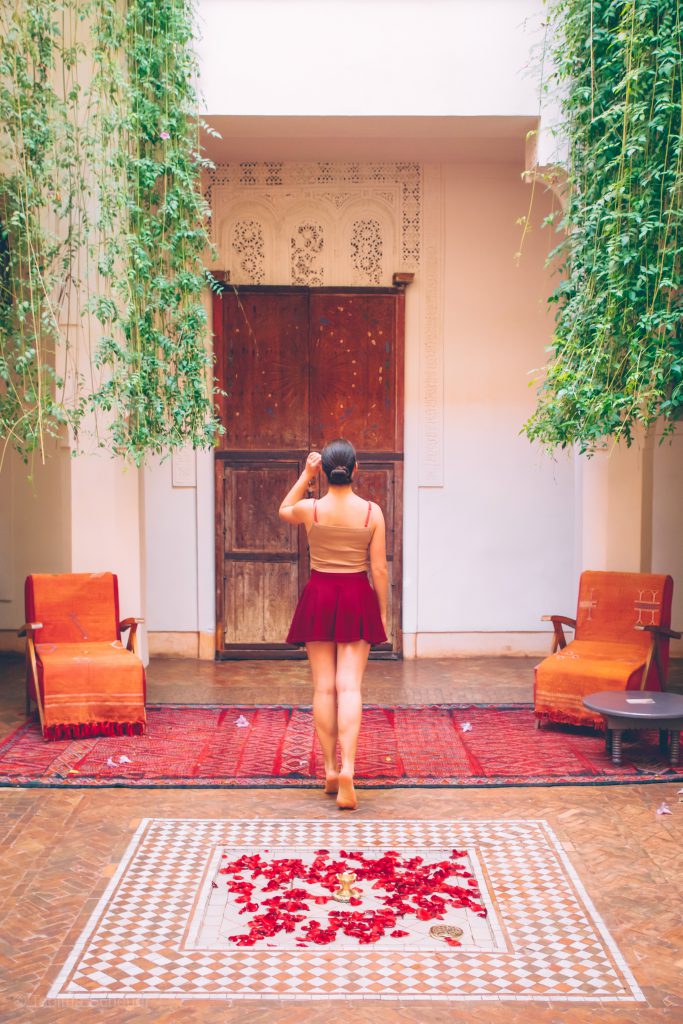 What is a Riad?
A riad, in simplest terms, is a Moroccan guesthouse. But the term actually refers to the type of building the guesthouse is housed in. The word "riad" means something close to "garden", and so a riad will have an interior garden.
The rooms in a riad will be situated around a central courtyard garden, often with a fountain or pool. Technically, accommodations without a garden should be called a "dar", but the terms riad and dar are somehow used interchangeably, especially when you're searching for a place to stay in Marrakech.
Transfer to the Riad
As it was the third Riad we visited in Marrakech, we did not need any transfer from the airport to the Hotel. After thinking that we now know a little bit better about Marrakech, we went on foot. We actually found it, but I have to say that it is very hidden and that I would never have gone through the small tunnel to the Riad alone. If it is your first time in Marrakech, I would definitely organize a transfer.
After we arrived at Riad Al Jazira, the staff did not handle our luggage and was, in fact, somehow unfriendly.
Check-in
We sat down at the pool area to complete our check-in. We arrived around 3pm and our room was ready.
Design
Hotel & Spa Riad Al Jazira definitely has a very nice design; with a beautiful pool, several fountains and beautiful seating as well as a huge terrace from where you can enjoy an exceptional sunrise.
While completely subjective, we really loved the design of the Riad.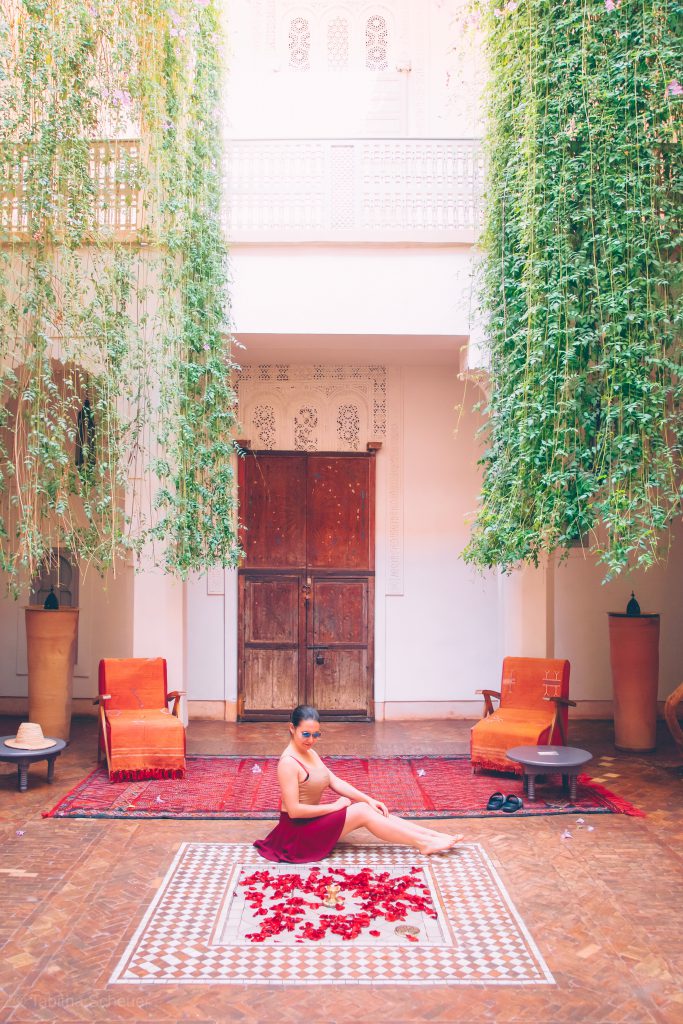 Rooms
We stayed in a standard double room, which is the smallest category (10 sq.m. to be exact) the property offers. Nevertheless, we liked it a lot – although the bathroom comes with no window and is, indeed, a bit dark.
The only negative point I would like to note is that it is very loud at night and especially in the morning. Therefore, we could not sleep well.
Common areas
Hotel & Spa Riad Al Jazira offers a total of three different common areas: the pool area with seating, another courtyard and a terrace.
Unlike in large European hotels, you won't fin da lobby here. It's rather a small reception at the entry. However, this won't bother you at all since it makes you feel more homely.
Spa & Wellness
In Marrakech almost every Riad has its own spa area; and so did Hotel & Spa Riad Al Jazira as well. It comes with a typical hammam and other massages or treatments that you can book for a fee. As we always walk a lot when we're in cities, we really appreciate having a good spa to relax for an hour or two before dinner. The wellness at Riad Al Jazira was not exceptional compared to the Riad we stayed before.
Food & Beverage
As I already mentioned here, many Riads do have independent restaurants and that's the case here. If you want to have dinner at the Riad, you need to go to a different area with a separate restaurant. It's only a few hundred meters away though.
Breakfast comes at the property and consists of typical Moroccan food. We had orange juice, tea, pancakes, and jam. I must say that compared to previous Riads, the breakfast is rather small and already tasted as if it had stood longer, while we always got it freshly prepared at other properties.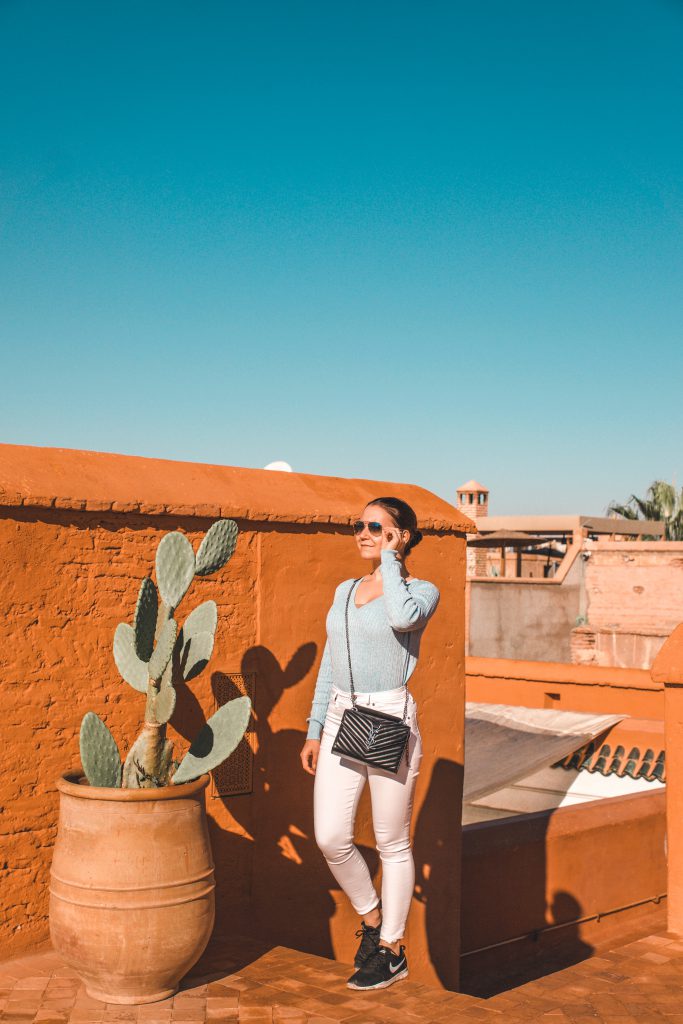 Service
Generally speaking, the service was not good. I am very sorry, but when I come to a hotel or Riad, I like a warm welcome and a staff that does not ignore their guests.
In particular, we sat one hour at the breakfast before we were even served some tea. Then, we had a can of tea but no glasses or mugs. When we got the tea glasses, however, the tea was already cold. Then it continued to take quite a long time for the food to come. We definitely waited 1.5 hours before we could eat.
Furthermore, we found the "higher level" staff to be rather unfriendly, whereas we have to say that the lady who cleaned the common areas was very friendly and nice. Ultimately, it makes a big difference whether you are looked at with a grim expression or someone smiles briefly.
Value for money
Hotel & Spa Riad Al Jazira is in the medium price range. Base rooms tend to go for about €75 per night whereby the deluxe rooms are close to €150 per night. For Moroccan standards, this is of course a lot of money, and we think that it's not really worth the price.
The Riad is really very nice and absolutely suitable for photos, but I would also like to be able to relax on a vacation. Unfortunately, this was never really possible here at any time.
Summary
All in all, this Riad could not convince us. Everything we wanted to see and visit is around 2km away and the riad is also in a residential area. Residential areas are generally known to have a labyrinth structure, which is why we got lost on the way several times.
Pin this post & read again later!